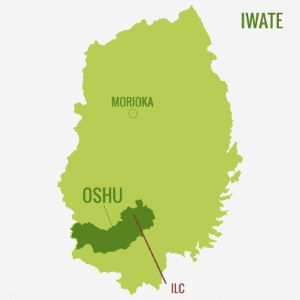 The ILC Relay is a series of interviews everyday people who are learning about, and working for, the ILC. Our next relay runner is Mr. Kotaro Watanabe, an employee at Oshu City, which contains the northern part of the ILC candidate site.
Profile
Kotaro Watanabe
ILC Promotion Division Staff
General Coordination and Policy Planning Department
Oshu City Government.
Originally from Oshu City
When did you first hear about the ILC?
I first heard about the ILC in 2013, at a lecture. I'd worked in Oshu City since 2007, but I hadn't heard the word "ILC" before that. At the time, I felt shocked preparations were being made for such a huge international project to come here, and confident that the ILC would transform this area's future. Soon after, I was given the opportunity to work at Iwate prefecture's ILC section for a year.
When I was working at the prefecture, the site evaluation committee was deciding where to build the ILC within Japan, so workers had one job: steadily preparing the massive amount of materials that the site evaluation committee needed. Not glamorous work, but rewarding work, because it was our chance to promote Tohoku.
A big turning point was when the ILC candidate site was announced, four years ago on August 23rd.  As a crowd of reporters looked on in a room in the prefectural office, we watched the press conference on live TV. When I heard that announcement— "We determine the Kitakami site to be best suited to the ILC"— that was the most rewarding moment I'd had in my life.
This is the 5th year I've been working with the ILC. We expect the Japanese government to make its decision between this fiscal year and the next. I, and the people of Oshu City who have been working to support this project for much longer than I have, are all thinking "Now the moment has finally come!"
Currently, my job is building enthusiasm for the ILC to encourage the Japanese government's decision, and working on elementary and middle school classes. I hope these kids, who will be our future leaders, will be inspired by our classes to connect their dreams with the ILC. The ILC holds countless possibilities: for many new jobs, and not just for researchers, and new business chances from the researchers and tourists who gather to visit the ILC. Without a doubt, the ILC will become a point of pride for this area and a local source of strength.
What do you think will happen to our jobs the next few years?
Hmmm, I wonder! I know we'll be busy….Right now, our main job is to build enthusiasm for the ILC, but after the decision is made to host the ILC, I think our jobs will take a sharp turn toward full-fledged preparation for ILC researchers.
For example, Oshu City will be one of the cities containing the ILC candidate site, so we'll need infrastructure for research facilities (city roads, water and drainage systems…).
Oshu City has been working with Oshu International Relations Association for 4 years (since the Kitakami site was selected) to put support systems in place for foreign people like the city's multilingual newsletter, and OIRA's volunteer medical interpretation system. However, we'll need to prepare even more thoroughly, for example translating more paperwork and signage into foreign languages.
It's been a year since I went on a vacation to see CERN, which is a model case for the ILC. I teach children about the ILC, so I needed to see and feel what CERN was like, to experience not just the research facilities, but the environment surrounding CERN.
Around 90,000 tourists visit CERN each year. The day I visited was no exception: there were tourists everywhere. I joined the free tour of CERN, but I was also really lucky that former LCC Asian Director Dr. Akira Yamamoto was at CERN and did me a huge favor by guiding me around.  The facilities that the general public could enter were limited because of terrorism concerns. The cafeteria now needed a badge to enter, but I was able to go in and see it thanks to Dr. Yamamoto.
Now, I want to talk about three things I felt the ILC will definitely need based on what I saw:
An Outdoor Café
I visited during the weekend, but the outdoor café at CERN was filled with young researchers. They were chatting, or playing card games. People getting together to relax and chat will bring about new ideas and connections. I think this kind of place will be vital. I hope for an ILC campus open to the public with restaurants serving local food where residents and tourists can gather as well.
International Cooperation
CERN places importance on "science for peace," and even the workers at the fire station within CERN are stationed through international cooperation. I felt that everything, not just the research, was being run by countries working together.
Symbolic Face for the Public
At CERN's "Globe" visitor center, local people and tourists can learn more about CERN'S history and purpose and is seen as a symbol of CERN itself.
What final messages do you have for our readers?
My final message is about Oshu City's ILC City Development Vision, which was completed in April 2016. The vision outlines a course of actions to make Oshu even more wonderful, emphasizing what ways we can link the ILC to our hopes and dreams for the area, not what the ILC will do.
For example, the elementary and middle school ILC classes I'm working with now: in the future, I'd love for ILC researchers to come to schools for these classes. I want foreign researchers and their families to feel at home in our community, so that various cultures can make this area diverse, and new connections between people can be formed. Through these new connections, we want to build a vibrant city together.
Welcome to Oshu!
(Oshu ILC Promotion Division has Facebook and Twitter accounts posting in English and Japanese: please follow us!)
Oshu ILC Promotion Division Facebook
Japanese
ILCリレーでは、ILC実現のためにオール岩手で取り組んでいる姿を発信するために、ILCに興味がある、ILCに取り組んでいる岩手県民の方々にインタビューし、海外までお届けします。今回は、岩手県奥州市役所の渡邉浩太郎さん。

プロフィール: 渡邉浩太郎さん
奥州市 政策企画部 ILC推進室 主任
出身地 奥州市

【ILCに関わるようになったのはいつ頃からですか。】
私が初めて国際リニアコライダーのことを知ったのは平成25年度のILC講演会を聴いたときです。私は平成19年度から奥州市職員ですが、その講演会を聴くまでは、「ILC」という言葉すら聞いたことがなく、「まさか、こんな世界的なビッグプロジェクトがこの地域で行われようとしているとは!」と、衝撃を受けたことを今でも覚えています。私は、ILCがこの地域の将来を変貌させるプロジェクトであると確信し、その後、岩手県のILC担当部署に1年間派遣される機会をいただきました。

私が、岩手県で仕事していた頃は、研究者等により組織された「ILC立地評価会議」が、ILCを日本のどこに建設するのが最適か、その候補地を決める作業を行っていました。当時のILC担当の仕事は、この「ILC立地評価会議」が求める膨大な資料を作成するという地道仕事…。しかし、東北の良さをPRできる絶好の機会であり、やりがいのある仕事でした。

最大のターニングポイントは、ILC建設候補地が決定された、4年前の8月23日でした。県庁の一室で多くの記者とカメラマンが見守るなか、ILC建設候補地発表記者会見をライブ中継で見ていました。「ILCの建設候補地として、北上サイトを最適と評価する」という発表がされた時が、いままでの人生で、一番達成感のあった瞬間だったと思います。

ILCとの関わりは、今年で5年目になります。ILC誘致の政府判断は、今年度から来年度にかけてと見込まれており、5年間取り組んできた私にとって、また、私よりずっと前からプロジェクトを応援してきた奥州市民にとっては、「遂にここまで来た!」という思いです。私は現在、ILCの政府決定を後押しするため、奥州市でILC実現に向けた地域でのさらなる機運醸成や、ILC運用開始後に地域の将来を担う小中学生へのILC出前授業に取り組んでいます。私はこの授業で、子どもたちが自分の将来とILCを結びつけるきっかけになってほしいと願っています。ILCは無限の可能性を秘めています。ILCの研究者以外にも、ILC研究所に関連して必要となる仕事は数多く存在し、また、ILCをきっかけとして集まってくる研究者・観光客等のためのビジネスチャンスも必ず生まれます。ILCは間違いなくこの地域の誇りとなり、ILCにより郷土を愛する心が育まれ、それが地域の力になるはずです。

【誘致が決定したら、今の仕事はどう変わると思いますか?】
 んー。どうなるんでしょうかね・・・。忙しくなるのは決まっていると思いますが・・・。今は、ILC実現に向けた市民機運醸成が、主な仕事ですが、誘致決定後は、ILC研究所・外国人研究者等を迎えるための準備へとガラッと変わっていくんだと思います。
例えば、奥州市は、ILCの地元自治体になる訳ですから、研究所のためのインフラ整備(市道、上下水道等)が必要になるかも知れません。

ソフト面では、奥州市国際交流協会と連携し、4年前(建設候補地決定)からILC実現を見据え、外国人(研究者・市民・観光客)向けの支援(医療通訳派遣システムの構築、多言語情報紙の発行等)を充実させてきました。
しかし、誘致が決定したら、さらにいろんなもの(看板や書類等)を多言語化したりするなど、外国人向けの支援をさらに充実させなければならないでしょう。

私は1年程前に、個人的にCERN(セルン:欧州原子核研究機構)を見学してきました。CERNはILCのような国際研究所のモデルケースであり、子どもたちにILCのことを教えるにあたり、どうしても自分の目で見たかった、その雰囲気を感じたかったから。研究所の中だけでなく、その周辺がどのような環境なのか、肌で感じたかったからです。

CERNを訪れる観光客は年間9万人にも及ぶらしく、私が訪れた日も、多くの観光客で溢れていました。私は、CERNが開催している無料の見学ツアーにも参加した他、幸運なことに、CERNに滞在中の元LCCアジア地域ディレクター山本明先生に案内していただくことができました。テロの影響もあり、一般人が入ることができる施設はかなり限定的で、かつては一般開放されていたカフェテラスも、IDがないと入ることができませんでした(私は先生のおかげで入ることができました。)。CERN見学を通して私がILCにも欠かせないと感じた3点をお話したいと思います。

「みんなが集うカフェテラス」
私が訪れた日は、休日でしたが、CERNのカフェテラスには、若い研究者達で溢れていました。何をしているのか見ていると、雑談したりカードゲームで遊んだりしていました。みんなが集まってしゃべったり、遊んだりする中から、新しいアイデアや新しい出会いが生まれる。私は、こういう場所はILCにも絶対に必要と考えており、治安の良い日本にILCができた場合は、地域に開かれたキャンパスになって、地域住民や観光客等も集える産直レストランみたいなものができたらいいなと思っています。

「国際協力の仕組み」
CERNは「平和のための科学」を主眼としており、研究所内の消防署職員も、「国際協力」で派遣されてくるとのこと。研究だけでなく、ありとあらゆるものが「国際協力」で運営されていることを実感しました。

「シンボリックな交流施設」
グローブと呼ばれる交流施設は、地域住民や観光客が、CERNの歴史や概要について知ることができる施設で、今やCERNの象徴的な施設になっています。

【読者に対してのメッセージをお願いします。】
最後に、読者に対してのメッセージですが、奥州市では、ILCを市のまちづくりに活かすために「奥州市ILCまちづくりビジョン」を策定(平成28年4月)しました。これは、さらに魅力的な奥州市となるための行動指針であり、ILCが地域に何をもたらすかではなく、ILCをどのように私たちの夢や希望につなげていくかということを重要視しています。

例えば、私が今行っているような小中学生への出前授業は、いずれは、ILC研究者の皆さんを講師にお呼びして開催したいですし、外国人の研究者の皆さんやその家族の方々も、この地域に溶け込んで生活して欲しい。そうなることで、多様な文化が交じり合い、新たな出会いが生まれる。私たちは、ILCによって生まれる新たな出会いを通じて、皆さんと一緒に活気のあるまちをつくりたいと思っています。

Welcome to Oshu!

※奥州市ILC推進室のフェイスブック、ツイッターでILC関連情報を発信(英語・日本語)していますので、「いいね」「フォロー」をよろしくお願いします。

Facebook
https://www.facebook.com/OshuILC/

Twitter
https://twitter.com/oshu_ilc