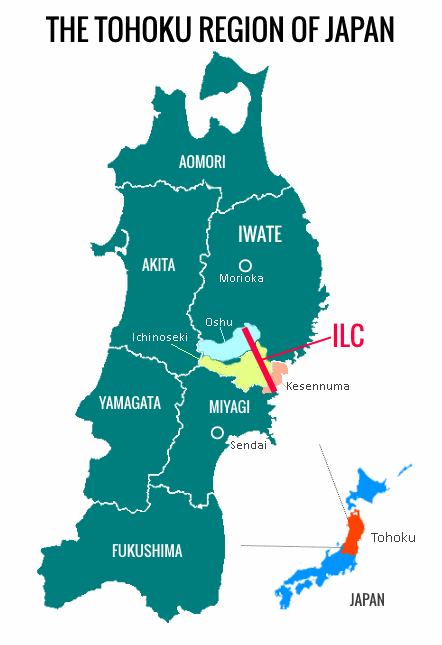 Iwate Prefecture
A large prefecture in northern Japan, Iwate is home to the Kitakami candidate site for the ILC.
Miyagi Prefecture
Directly south of Iwate, Miyagi holds both Kesennuma and Sendai cities in its borders.
Oshu City
The ILC's northern end will lie in Oshu, which is also home to the Mizusawa National Astronomical Observatory.
Ichinoseki City
The ILC will pass through Ichinoseki, one of the largest cities in Iwate.
Kesennuma City
The southern tip of the ILC will lie in Kesennuma City. The city is hard at work rebuilding from the 2011 earthquake and tsunami.
Morioka City
The capital city of Iwate, and the host of the Linear Collider Workshop 2016.
Sendai City
Home to Tohoku University, Sendai is the urban center of the entire Tohoku region.
THE KITAKAMI MOUNTAINS ILC CANDIDATE SITE
The Kitakami mountains are a range of gentle, rolling mountains in Iwate and Miyagi with a thick granite bedrock – perfect conditions for an underground particle accelerator. Kitakami is a name with a lot of history in the region, such as the Kitakami River, Kitakami City, and even THE KITAKAMI TIMES!
For the future
If the ILC becomes a reality, about 10,000 researchers and their families around all over the world will come with their families to live in the area. An international hub of knowledge will be formed in our backyard, with leading edge research that will inspire new industries: medicine, IT, biotechnology, and many more. The ILC will be a great beacon of hope to the people of Tohoku, Japan, and the rest of the world. The entire region is joining together to make it a reality.