It's been decided: the 2016 LCWS will be held in Morioka City from December 5 – 9, 2016. LCWS workshops are held on a rotating basis every year in Europe, Asia, and North America, with last year's being held in Whistler, Canada. This year's LCWS will see hundreds of researchers from around the world gather in Iwate Prefecture, home of the proposed site for the International Linear Collider. There, they will proceed with talks about making the ILC a reality. Please visit their official website for details on registration and more.
The workshop itself is being run by the Linear Collider Collaboration, and the local governments and other related organizations are working with them to hold the event. We in the local government of Iwate feel that this will be a wonderful chance for researchers around the world to learn more about the Kitakami mountain site, and through this international conference held in our area, we will communicate our passion for the ILC throughout Japan and the rest of the world.
Foreign researchers and other visitors have traveled to the cities of Oshu and Ichinoseki to see the Kitakami site for the ILC up close, but this will be the first opportunity for many to visit Morioka, the capital of Iwate.
We hope you have a chance to explore Morioka, which literally means the "hill of good spirits and prosperity". To help you do that, we've compiled some of the best places to visit while you're here.
Table of Contents
Morioka in a nutshell
Morioka is in Iwate, a prefecture in the north of Japan that also hosts the candidate site for the ILC. As prefectural capital, Morioka is home to around 300,000 people. The area boasts a long history, a booming craft culture, and charming old buildings left from its time as a castle town. The feudal castle of Morioka was torn down in the 19th century, but its castle foundations remain as a beautiful park. In fact, the large rocks that make up the foundation walls are made of granite – the same sturdy bedrock that makes the Kitakami candidate site suitable for ILC construction.
The city center is fairly walkable but also has good bus service. Morioka is also your hub to the rest of Iwate and northern Tohoku via Morioka Station and the JR East train lines.
The LCWS will be in December, and with temperatures averaging at around 1 degree Celsius, you don't want to forget your coat!
Morioka Station
The heart of it all. Morioka Station is around two hours away from Tokyo Station via the shinkansen (bullet train). Around the station are many hotels and eateries, and a shopping mall (complete with souvenir shops) is adjacent to the station. Aiina and Malios, the venues for the LCWS, are a minute's walk from the west exit, so the station will be your hub while in Iwate. There are large bus terminals directly outside both the east and west exits from which you can travel around the city.
Touring Morioka
Morioka is a very walkable city, with many historical sights and things-to-do within a twenty minute radius of the station. You can use the following as a guide, but also know that you can reach many of these places with the Dendenmushi loop bus – all trips are 100 yen! (see the English map here)
Morioka Station
Morioka Eki

Lots of shops, hotels, and restaurants. You can take the train to other parts of Iwate and of Tohoku.
Closest Dendenmushi stop: Morioka Eki Higashi Guchi

Kaiun Bridge
Kaiunbashi

From this bridge, you'll get a great view of the Kitakami River and Mount Iwate. A nice spot for pictures!
Closest Dendenmushi stop: Kaiunbashi
Odori Street

Odori

Odori Street is "Main Street", and there are a lot of shops, restaurants, and other facilities in this area.
Closest Dendenmushi stop: Yanagishindo, Saien Kawatoku Mae, Morioka Joato Koen
Morioka Castle Site Park
Morioka Joato Koen
Morioka Castle Site Park is a gorgeous park with granite stone walls left from the castle that used to exist here. Enjoy a nice stroll through the park, then also visit the Morioka History and Culture Museum near the river.
Closest Dendenmushi stop: Morioka Joato Koen
Morioka History and Culture Museum
Morioka Rekishi Bunkakan
Learn about the various customs and festivals that are held in Morioka throughout the year on the first floor of this museum. The 2 floor has more info, but requires an admission fee.
Closest Dendenmushi stop: Morioka Joato Koen
Rock Splitting Cherry Tree
Ishiwarizakura
An old tree grows out of a massive rock outside of the Morioka District Courthouse. This is a testament of the power of nature, and a symbol of the tenacity of the Iwate people. In December, the tree will be supported by a number of ropes and poles in order to keep it strong during the winter.
Closest Dendenmushi stop: Iwate Idai Mae, Kencho Shiyakusho Mae
Hoonji Temple
Hoonji

For those who'd like a long walk. (From the castle park, it's a 15 minute walk to get to Hoonji.) This temple is home to the 500 statues of Buddhist disciples. Each statue has its own personality, and they say there are statues of even Marco Polo and Kublai Khan.
Closest Dendenmushi stop: Honchodori Icchome
Mitsuishi Shrine 

Mitsuishi Jinja

The namesake of Iwate, which means "Rock Hand" in Japanese. Three large rocks stand in the middle of the grounds, which are said to bear the handprint of a mischievous ogre. Can you find it?
Closest Dendenmushi stop: Honchodori Icchome
Nakatsu River

Nakatsugawa

The perfect place for a leisurely stroll by the river. You'll pass by a small cafe or two, some shops, and the historic old Iwate Bank headquarters, designed by the same architects who designed Tokyo Station. Shopping and bus stops are also available right by the bank.
Closest Dendenmushi stop: Morioka Bus Center
Sakanacho Shopping District 

Sakanacho Shotengai
A shopping area beloved by locals. You'll find pottery, tea, Japanese sweets, books, and a wealth of other things to buy in this area.
Closest Dendenmushi stop: Morioka Bus Center
Morioka Bus Center
Morioka Basu Senta
You can use these buses to get back to Morioka Station, or venture further out into Iwate. (Information as of July 2016)
Closest Dendenmushi stop: Morioka Bus Center
Hachimancho Area
Hachimancho
This street leads up to the Hachimangu Shrine (don't miss the huge red gates!) and has a number of shops that sell Morioka craft goods and local sake.
Closest Dendenmushi stop: Morioka Bus Center
Morioka Hachimangu Shrine
Morioka Hachimangu
A large Shinto Shrine with massive red gates. Pray for good luck here.
Closest Dendenmushi stop: Morioka Bus Center
Natayacho Historic Area
Natayacho

A grouping of machiya, which are old dwellings built when Morioka Castle was still standing. There is also a historical center talking about the machiya and the history of the city.
Closest Dendenmushi stop: Saien Kawatoku Mae
Morioka Tenmangu Shrine
Morioka Tenmangu
Another large Shinto Shrine. It's a bit of a hike to get here, but they say that the god of studying resides here. Also famous for its rather peculiar guard-dog statues.
Closest Dendenmushi stop: Morioka Bus Center


Morioka Cuisine
Of course, Morioka is a place where you can try many different types of Japanese food, from ramen, sushi, sukiyaki, and more. But there are also three noodle dishes unique to Morioka that you won't want to miss!

All-you-can-eat soba noodles. Your waitress will serve you bowl after bowl of bite-sized noodle portions, and will stack up the bowls so you'll know how much you ate!

Flat noodles served with cucumbers and a meat & miso sauce. The chef who created the dish first tried zhajiangmian while he was in China, and Jajamen is what he came up with when he tried to make a version back home in Morioka.

Inspired from Korean naengmyeon noodles, reimen are springy noodles served in a chilled kimchi broth. Refreshing and spicy.
Attractions on the outskirts of Morioka

Try Japan's famous hot springs in Tsunagi, a hot springs village (onsen-kyo) about 30 minutes outside of Morioka's city center. Bathe in water with a number of healing properties – some facilities even have rotenburo, or outdoor baths. Soak in luxury while you breathe in the fresh December air!

Cast iron kettles. Indigo-dyed fabrics. Morioka has a rich culture of handmade crafts, and you can stroll through this park to see craftsmen working on their products. You can also try making crafts yourself! (Reservation are required for craft workshops)

A museum dedicated to all things Iwate. Learn about history, geology, plant and animal life, and more. Don't miss the room where you can try on samurai armor!
Accessible by train from Morioka
These areas can be reached by trains from Morioka Station. Search for times and transfers using Hyperdia.com in English, Japanese, or Chinese.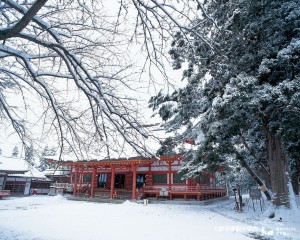 They say that this is the Golden Land of Zipang that Marco Polo wrote of in his travelogue…
Our World Heritage Site HIRAIZUMI is a window into an 800 year old society, from the Buddhist temple of Chuson-ji to the Pure Land Gardens at Motsu-ji. Don't miss the Konjikido at Chuson-ji, a massive Buddhist altar covered in gold leaf and mother-of-pearl inlay.
Closest station: Hiraizumi Station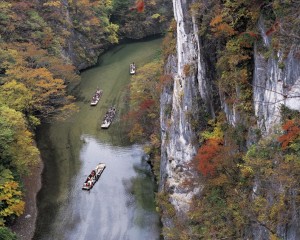 Take a boat ride up and down a small river surrounded by tall cliffs. In December, the boats are equipped with heated tables to keep you warm. You can also purchase small stones engraved with kanji characters. Try to throw them into a faraway grotto for good luck!
Closest station: Geibikei Station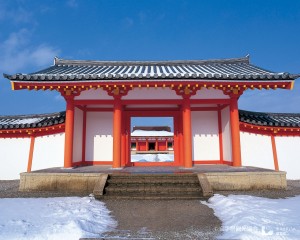 This land used to be ruled by a clan called the Fujiwara; this park celebrates that heritage with its recreations of a 1,000 year old palace. Take pictures dressed in kimono like those in the imperial court used to wear, and then sample some local food at the nearby restaurant.
Closest station: Mizusawa-Esashi Station (Shinkansen). Please note that the park is only accessible by taxi from the station.

Off the beaten path
There's a lot you can get to easily using the trains, but Iwate is a huge prefecture. If you have the time and inclination, consider visiting the coast and its many attractions. All of these sites will be easier to get to with a rental car, but it is possible to take public transportation as well.
*Train times can be searched with Hyperdia.com.
Northern coast
Kuji City is home to the ama, the female divers who harvest sea urchin. The city is also home to the largest deposits of amber in Japan, and is also near Ryusendo Cave, which boasts some of the deepest, clearest underground lakes in Japan. Consider also taking a ride on the Sanriku Railway, which is a local railroad you can use to travel southbound on the coast.
By train: Take the shinkansen from Morioka Station to Ninohe Station. Transfer to the JR bus "Swallow-go", taking it east to Kuji Station.
Central coast
Jodogahama Beach in Miyako City is a gorgeous outcropping of rocks that are said to represent the Buddhist Pure Land. Also close by is the Taro Kanko Hotel, a tsunami-destroyed structure now preserved as a memorial to the disaster. Educational tours are available to help visitors learn about the disaster and the lessons learned.
By train: Take the JR Yamada Line from Morioka Station to Miyako Station. Once you arrive at Miyako, you can take a taxi or bus to Jodogahama or the Taro Kanko Hotel.

Southern coast
Getting to this area from Morioka is quite a trip! But it's worth it. Eat ramen topped with freshly caught Pacific saury at the Goishi Coast, and take some pictures of the one-of-a-kind rocky outcroppings. A short distance up the coast on the Sanriku Railway is Kamaishi City, a fishing village overlooked by a massive statue of Kannon, a protective Buddhist deity. Kamaishi is also home to another World Heritage Site, the Hashino Iron Mining and Smelting Site.
If you can, try to visit the Miraculous Lone Pine Tree in Rikuzentakata. This single pine is the only one left standing from a massive forest of pine trees wiped away by the 2011 tsunami.
To Kamaishi
By train: Take the JR Kamaishi Line from Morioka Station to Kamaishi Station.
To Ofunato (From Kamaishi)
By train: Take the Sanriku Railway South Rias Line south from Kamaishi Station to Sakari Station.
To Ofunato (From Morioka)
By train: Take the shinkansen from Morioka to Ichinoseki Station. Transfer to the JR Ofunato Line and take it to Kesennuma Station. Transfer to the BRT (a bus replacement service) to Sakari Station.
To Rikuzentakata
By train: Take the shinkansen from Morioka to Ichinoseki Station. Transfer to the JR Ofunato Line and take it to Kesennuma Station. Transfer to the BRT (a bus replacement service) to Rikuzentakata Station. (For the Miraculous Lone Pine Tree, get off at the Kiseki no Ipponmatsu Station)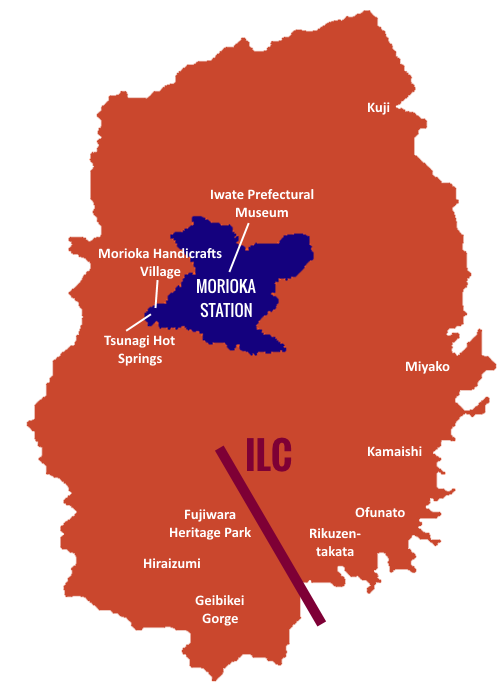 Further information
Official information on visiting Iwate. You can also search for hotels on this site!

For people with dietary restrictions


It may be difficult to find a restaurant that can serve food according to your specifications. The following website may be helpful to you: http://www.vegietokyo.com/

Information for Muslim travelers


There are very few places that serve halal food in Iwate, but there are restaurants throughout Morioka that serve non-Japanese vegetarian options. You may also consider contacting restaurants beforehand to see if they can set up a suitable menu. For more information: http://www.japan-guide.com/e/e2302.html

Foreign language guidance


Visit the Northern Tohoku Information Booth in Morioka Station 2F

Volunteer English-speaking guides are available by reservation.

Winter sports


Iwate is one of the best places to do winter sports in the whole country! Over 20 ski areas can be found throughout the prefecture, from the northern highlands to the coastal hills. A Trip to Iwate keeps a list of some of the more famous ski areas, which can be found here.
Many of the photos on this page were supplied by the Iwate Tourism Association.  If you have any questions about the content of this article, please contact the author at amanda-krips(AT)pref.iwate.jp.