I recently went to the Open Factory Five-Senses Market (Gokan-ichi) that was held on November 8th (Fri) through 11th (Mon). This event was held to encourage consumers to check out local participating companies in the southern Iwate region (Ichinoseki City/Hiraizumi Town/Oshu City) in order to deepen their understanding of their products as well as get them a few more fans. This year was the second time the market has been held, so I'd like to talk about how I came to participate in the market as well as my thoughts on the experience.
Why I participated
You're all familiar with the Linear Collider Workshop 2019 that was held for five days from October 28th in Sendai City, Miyagi Prefecture, right? Researchers from around the world were gathered in Sendai, so we knew it would be the perfect change for us to showcase the traditional craft culture of southern Iwate. We didn't just want to set up a display booth – we also wanted to present researchers with their own piece of Iwate traditional craft culture, so we consulted with Kyoya Somemonoten, a fabric-dyeing workshop in Ichinoseki.
Kyoya Somemonoten is a historic establishment, opening its doors over a century ago. But it's also a company that challenges itself to try new things, like promoting itself abroad and collaborating with large-scale companies. We had a difficult request for them – "Make us something that integrates both the ILC and tradition" – yet they took it on and created an ILC-themed tenugui (a small piece of fabric now largely used for decoration).
Mr. Hachiya, head of the company, is also a member of the Five-Senses Market Executive Committee, so he came to the LCWS 2019 venue to help us talk about the ILC tenugui, Iwate's traditional crafts, and the Five-Senses Market project. The international researchers told us it was wonderful that local companies are doing things like this to participate in the ILC, and I think we were able to convey the charm of Iwate's traditional craft culture to the researchers. And because I met Mr. Hachiya through LCWS, it led to me taking part in the Five-Senses Market.

The ILC Tenugui Design
The straight lines represent the accelerator, and the curves show the colliding particles. The radial design stretching outward is filled with traditional Japanese patterns like "Shippo (a circle-like pattern)," "Asanoha (a star-like pattern)," and "Seigaiha (a wave-like pattern.")

LCWS 2019
Mr. Hachiya reached out to other companies so that we could borrow things like Hidehira-nuri lacquerware and taiko drums for our display. We explained the tenugui and its significance to everyone we handed them out to.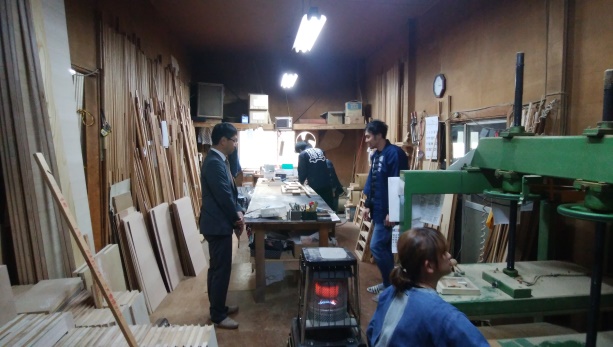 The Five-Senses Market
Just like the name says, at the Five-Senses Market, you could:
–See the artisans' skill
–Hear them do their work
–Touch raw materials and completed products
–Taste (food) products
–Smell the fragrance of raw materials
I visited five of the participating companies: Kyoya Somemonoten (fabric dyeing), Ochiya (lacquerware), Iwate Meijo (sake brewing), Iwayado Tansu Workshop (wooden chests and other woodworking), and Oigen Castworks (cast-iron). I'd love to write about each single place, but I think that would get a little long, and as the Japanese proverb says, "Seeing (for yourself) is better than hearing (about it from me)." I'd really love for you to visit these places yourself, and they'll be holding the Five-Senses Market next year!
Each company had their craftspeople thoroughly explain the background and manufacturing process of each product, and I was really able to see for myself the amount of effort that goes into each piece – the charm and value of traditional crafts is difficult to understand when you just see it on sale at a store. I also just assumed that Japanese artisans = wizened old men, but there were many young craftspeople who were not only inheriting the tradition of each craft, but also challenging themselves to try new things, leading to new traditions. As an aside, for the "taste and smell" portion of the market, I bought some delicious sake from Iwate Meijo and shared it with my coworkers. (Of course, we can't drink during the work day, so we enjoyed a glass at a work party celebrating the close of LCWS 2019).
Lastly, I'd like to thank Mr. Hachiya who created the ILC Tenugui, and all of the other companies who helped us put together our display for LCWS, as well as the companies I visited during the market. Thank you so much!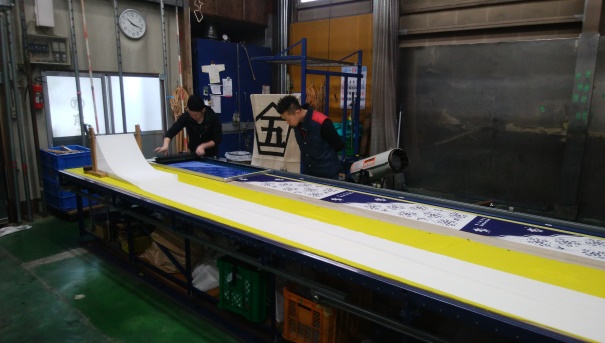 Kyoya Somemonoten: The fabric-dyeing process
On a single long piece of fabric, artisans dye brilliant patterns by hand. I was able to handle many different kinds of fabric.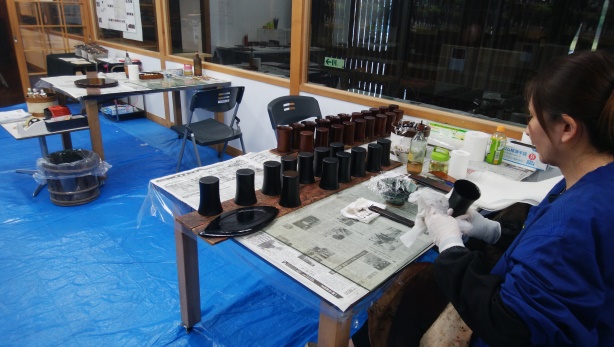 Ochiya: Applying a lacquer undercoat
Artisans paint many thin layers of lacquer on the items. They also have lacquerware items on display that were discovered in ancient ruins.

Iwate Meijo: Washing the sake rice
Workers were right in the middle of making this year's sake. You could smell the sake throughout the factory.

Iwayado Tansu Workshop: Woodworking
Here, craftsmen are cutting trees into materials for the wooden chests. The wooden poles to the left each contain a different design plan for each type of chest.

Oigen Castworks: Inside the shop
We couldn't take pictures inside the factory, but inside you can see sparks flying from hot molten iron and artisans making cast iron kettles from molds. I was surprised how easily craftsmen were able to handle tens of kilograms of iron.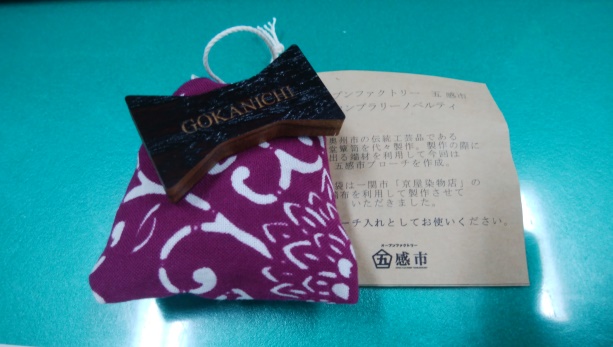 The Prize from the Five-Senses Market Stamp Rally
If you visited five factories taking part in the Five-Senses Market, you could get a prize like this. This is a brooch. There were also tenuguis and chopsticks available.
Japanese
製品を全身で味わう「オープンファクトリー五感市」

11月8日(金)~11日(月)に開催された、「オープンファクトリー五感市」(以下五感市)に参加させていただきました。このイベントは、消費者が岩手県県南地域(一関市・平泉町・奥州市)の伝統工芸や食産業などの「ものづくり」の現場を見学することにより、製品への理解を深め、企業のファンになってもらおうという取組で、今年で2回目の開催となります。今回は、五感市に参加した経緯や感想をご紹介したいと思います。

五感市に参加した経緯:
皆さん、国際学会リニアコライダーワークショップ2019(LCWS)が、10月28日(月)から5日間、宮城県の仙台市で開催されたことはご存知でしょうか。世界中の研究者の皆さんが仙台に集まるこの機会に、岩手県では県南地域の伝統工芸品をPRすることにしました。さらに、展示するだけではなく、伝統工芸品を活用したノベルティを研究者の皆さんにお渡しできないかと考え、一関市の染物屋「京屋染物店」に相談することにしました。

京屋染物店は、創業100年を超える老舗でありますが、海外へのプロモーションや、大手企業とのコラボ製品の開発など、新しいことにもどんどん挑戦していくチャレンジ精神のある企業です。私たちの「ILCと伝統の融合」という難しいオーダーにも応えていただき、「ILC手ぬぐい」が完成しました。

また、同社の蜂谷専務は五感市の実行委員でもあることから、LCWS2019の会場にお越しいただき、ILC手ぬぐいをはじめとする伝統工芸品や五感市の説明などにご協力をいただきました。海外の研究者の方からは、「地元企業がILCに参画することはとても素晴らしい」という感想をいただき、研究者の皆さんに岩手の伝統工芸品の魅力を伝えることができたと思います。このLCWSを通じた蜂谷専務との出会いが、五感市に参加するきっかけとなりました。

【写真】
ILC手ぬぐいのデザイン
加速器をイメージした直線や、衝突後の粒子の飛翔がデザインされています。また、放射状に「七宝」「麻の葉」「青海波」という伝統柄があしらわれています。

【写真】
LCWS2019の様子
蜂谷専務から他の企業にお声がけいただき、秀衡塗の漆器や太鼓などをお借りして展示しました。また、手ぬぐいの意味も一つひとつお伝えしながらお渡ししました。

五感市に参加して:
五感市はその名の通り、企業を訪問し、「職人の技を見て」「作業する音を聞き」「素材や製品に触れ」「製品を味わい」「染料や素材の匂いを嗅ぐ」ことができるイベントでした。

実際に訪問させていただいたのは、「京屋染物店」「翁知屋」「岩手銘醸」「岩谷堂タンス製作所」「及源鋳造」の5か所です。本当は訪問した場所すべての感想を書きたいのですが、長くなってしまいますし、「百聞は一見に如かず」ですので、皆さんにも実際に足を運んでいただきたいと思います。(来年も開催されると思います!)いずれの企業でも、作り手の方から製品の背景や工程の説明を丁寧に解説いただき、普段販売されている商品を見るだけでは感じ取ることが難しい「手間」=「価値、魅力」を直接感じることができました。また、伝統工芸品というと昔ながらの職人というイメージが強かったのですが、若い職人の方も多くいて、伝統を継いでいくとともに、新しい取組にもチャレンジされており、それがまた新たな伝統となっていくものと思います。余談ですが、「味と香り」については岩手銘醸の商品を購入し、同僚と共有することもできました。(勤務中はお酒を飲めませんので、後日宴会の席でおいしくいただきました!)

最後に、ILC手ぬぐい制作からご協力をいただいた蜂谷専務をはじめ、LCWSに出展協力いただいた皆様、訪問させていただいた企業の皆様には大変お世話になりました。ありがとうございました。

【写真】
京屋染物店:手ぬぐいの染め工程
一本の長い生地に、手作業で次々と鮮やかに染めあげていく様子。様々な生地もあり、触らせていただきました。

【写真】
翁知屋:漆の下塗り工程
何度も重ね塗りをして仕上げていきます。このほか、遺跡から発掘された漆器も展示されていました。

【写真】
岩手銘醸:洗米工程
今シーズンの仕込みの真っ最中でした。お酒の香りが場内に広がります。

【写真】
岩谷堂タンス製作所:製材工程
材料となる木の切り出しをしています。左奥に並ぶ木の竿は、一本一本が異なるタンスの設計図なのです。

【写真】
及源鋳造:ショップ写真
場内は撮影不可です。溶けた熱い鉄から出る火花や型から鉄器を取り出す様子などが見られます。数十キロある鉄を軽々と扱う職人に驚きました。

【写真】
五感市スタンプラリーノベルティ
五感市にちなみ、5か所回るともらえるノベルティの一つです。こちらはブローチになります。このほか手ぬぐいや箸などがありました。