Written by Taiga Okamoto
Special Thanks to Sarah Chu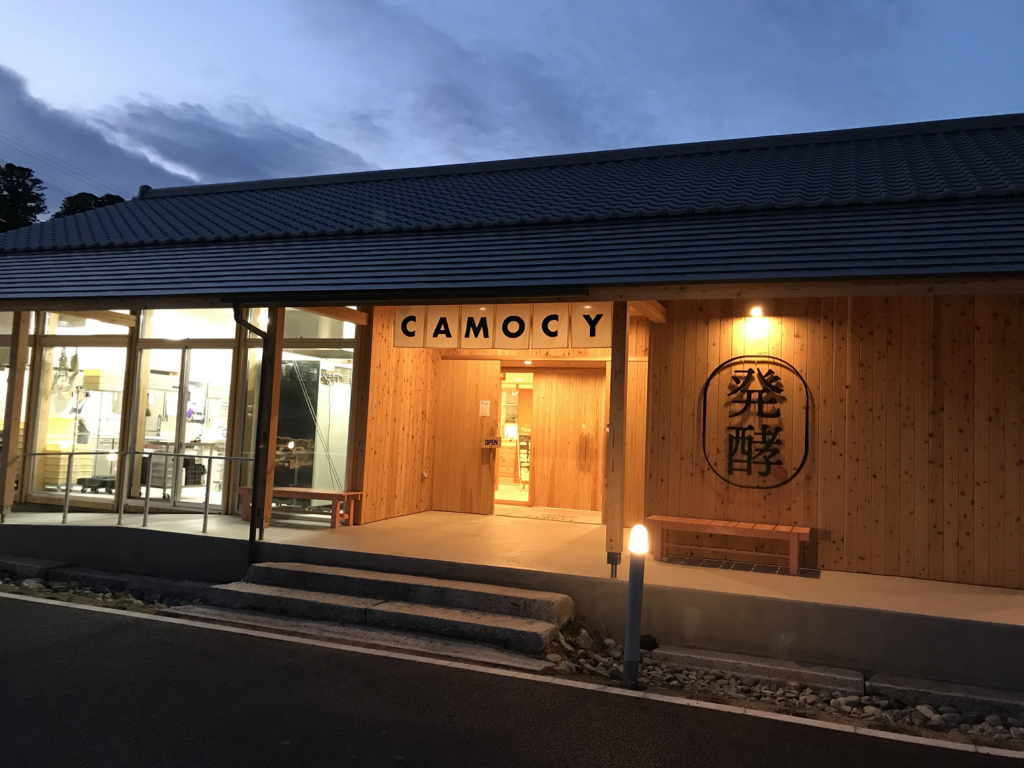 Before we begin, please allow me to note that the original article regarding the topic has been written by Ms. Sarah Chu, who is a great person as well as a great friend who had helped me right after I had moved into Ofunato.
The time, effort and passion she has put into the original article is very heartwarming, which is why I had taken this chance to touch upon the topic myself and also link the original work here for those of you who are interested.
https://www.visitkesen.wixisite.com/kesenandbeyond/single-post/camocy-rikuzentakata-s-fermentation-facility
Kindly understand that the permission to reference her work as well as utilizing her pictures has been granted by the author herself, and wish you all who have read this to also take a look at the original work as well.
Stepping slightly South-West from Ofunato City, where I currently work, you will find Rikuzentakata City. Rikuzentakata, similar to Ofunato, had taken severe damage from the Great East Japan Earthquake in 2011. Yet even through the hardships, the people here have continued to live strong.
CAMOCY, which the facility I would like to introduce to you all today, is one of many iconic facilities that had been built since the disaster in Rikuzentakata. The name CAMOCY comes from the word "kamosu" meaning to brew or ferment in Japanese. Since its opening in year 2020, December 17th, this facility has strived to keep the people's head high and bring back the lively atmosphere which once filled these streets.
I had been introduced and brought to this facility by none other than my good friend Sarah, and I must say this this was an astounding experience.
The appearance of the facility does look new, but with the exterior in addition to many of the interior furniture being comprised of wood, you can almost physically feel the warmth that this place provides. Not only does the warmth comes from the wooden textures, but I feel that the warmth also comes from the thoughts and emotions the residents here hold toward the old Town of Kesen as well as the hopes for the future of Kesen.
Now, although they call it a 'fermentation' facility, once you enter the building you will see that the interior is quite large with a cafeteria like space in the center and approx. 7 shops surrounding it. The overall lineup of shops within this building are food related, hence a large percentage of the people come in with the intention to eat. But there are souvenir shops along with café style stores goods in addition to a bakery with freshly baked goods, so you're more likely to accommodate those friends who tends to want a little bit of everything.
I've yet to try the food and/or services available in all the stores, but the Yagisawa Restaurant's 「南部どりのステーキご飯」(AKA. Nanbu Chicken Steak Rice) I had was far beyond what I had expected and I can't wait to try out the others.
The Nanbu Chicken that is used here is a brand of chicken that is raised and farmed within the Iwate prefecture. I will note that all menus here in CAMOCY are tied to delicacies within Iwate so please buy and help support Iwate!!
The entire cuisine comes with a total of 6 plates.
The Main Dish (Top Left)
*Pork Miso Soup (Bottom Right)
Pickled Daikon Radish (Middle)
A plate with 4 different Condiments (Middle Right)
**Nanbu Ironware Kettle with hot broth inside (Top Right)
An Empty Bowl (Bottom Left)
Now, allow me to first say, this way beyond amazing. And I don't mean to make enemies or break ties with friends but I feel that you will never be able to find something of this quality for the same price anywhere in the States,
But, well… there is a catch…
This is a little different compared to a regular rice bowl because there is a 'proper' way in how this is eaten, and I understand that this can defer people from trying.
*Note: The ingredients within the Miso Soup can change
**Note2: The Nanbu Ironware Kettle, (or 南部鉄器急須 in Japanese) is a special ironware kettle crafted and forged within Iwate and is famous throughout Japan for its durability, thermal conductivity, as well as its heat retainment.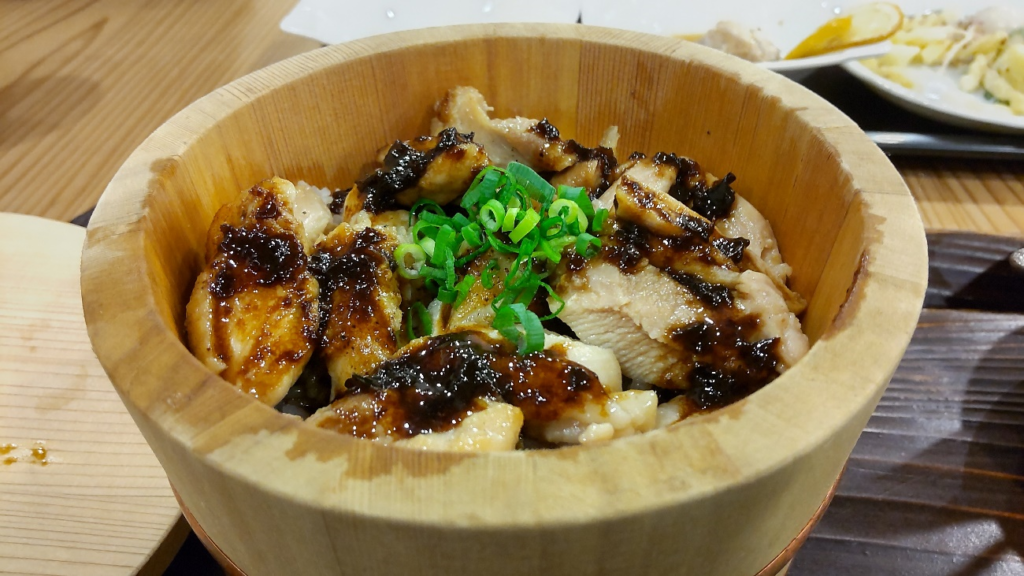 If you have ever eaten a Japanese Cuisine called "Hitsumabushi" in Nagoya, this is prepared to be eaten in the same way so feel free to just skim along. But for those who do not know and wish to learn, kindly continue reading.
Split the main dish into 4 as each portion will be eaten separately.
Take out 1/4 of the dish along with the rice onto the empty bowl and enjoy as is.
Once the first portion is eaten, re-serve another portion into the same bowl but this time add condiments you are provided with (advise you to not put in everything at once and keep some for later) and enjoy the taste of how the condiments compliments the dish.
Place the third portion onto the bowl, add the condiments of your liking and add the broth from the kettle to make a mini-rice porridge.
After the mini-porridge is eaten, you are free to eat the for the last portion however way you like! (Ex. with/without condiments/broth)
This 'proper way' of eating is not something that is forced upon the customer, but is something that is suggested in order to taste the meal in its full potential so, feel free to dig in as you wish. Of course, you are always free to tweak it, for example to split the dish into 3 portions or switch up the orders as well. (※ When you make the mini-porridge I strongly suggest you to use the rice bowl!)
But just because I am a Hitsumabushi freak, allow me to explain the concept of this Hitsumabushi style way of eating. This style is in order to savor the original flavor of the ingredients along with the chef's intended taste, but be given the freedom to mix and match the condiments to enhance the experience. The mini-porridge is actually my favorite part as it allows you to take a breather and be given a new mixture of tastes, all to have you enjoy the 'Final Portion' in the best way you feel would make the sitting even better.
But I digress.
I've managed to rant on in regards to one dish out of many here in CAMOCY, but as I had mentioned before, they have 7 different shops here in addition to a terrace for the warmer season. From freshly baked breads, refined organic cacao drinks, hand craft beer and a souvenir section filled with fermented foods like miso, soy sauce and local sake. CAMOCY has much more to provide, but I will cut it short as the details of each stores are written with care in the original article linked below.
https://www.visitkesen.wixisite.com/kesenandbeyond/single-post/camocy-rikuzentakata-s-fermentation-facility
If you ever have the chance to visit the area, kindly stop by CAMOCY!!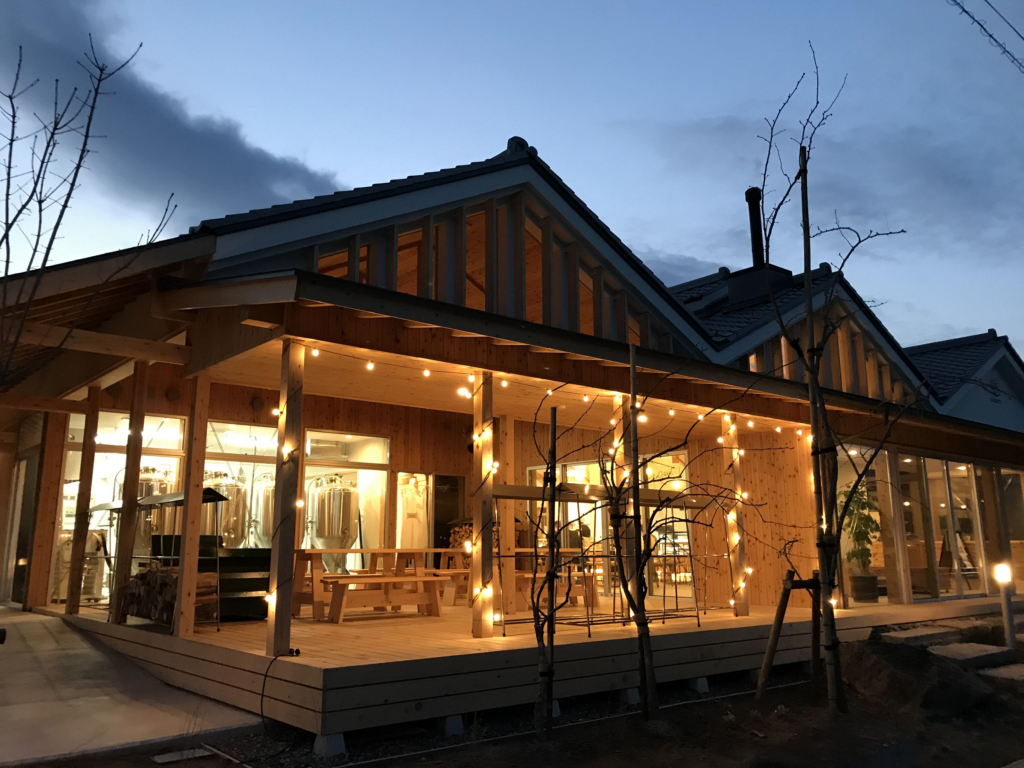 Official website: https://camocy.jp
Please note that their website is only available in Japanese.
Address: 74-1 Kesen-cho, Rikuzentakata-shi, Iwate, Japan 029-2204
Facility Opening Hours: 10am – 9pm (weekdays), 9am – 9pm (weekends)
Facility closed on Tuesdays
Opening Hours (of Individual Stalls):

Yagisawa Restaurant
11am – 9pm (Last order at 8.30pm)
Bakery MAaLo
10am – 6pm (weekdays), 9am – 5pm (weekends and public holidays)
Every Wednesday is White Bread Day (open 11.30am – 6.30pm)
DELI and BENTO gentil
11am – 7pm
Contact No.: 070-1362-6219
CACAO broma
10am – 6pm (Last order at 5.30pm)
Contact No.: 080-1693-3148
Rikuzentakata Microbrewery
11am – 9pm (Last order at 8.30pm)
Contact No.: 070-4283-0852
2 Tsubo
11am – 7pm
Contact No.: 03-6416-8025
Shimin Energy
9am – 5pm
Contact No.: 0192-53-2612
CAMOCY Hakko Market
11am – 7pm
Contact No.: 080-2345-5162
ATELIER TERRACE
11am – 7pm (Mon, Wed, Thu, Sun)
11am – 10pm (Fri, Sat)
Japanese
CAMOCY(カモシー) ~陸前高田の発酵パーク~
作者:Taiga Okamoto
Special Thanks:ご協力頂いたSarah Chuさん
【写真① 発酵パークCAMOCY】

本題に入る前に、本記事の土台となっている記事を書いた大変素晴らしい友達のSarah Chuさんに改めて深謝申し上げます。私が大船渡に引っ越した当初から色々とサポートして頂いており、感謝してもしきれません。
また、彼女が書いた記事は大変温かく、陸前高田市の復興を心から願っていることが伝わりますので、是非とも下記リンクから元の記事も読んでいただけると幸いです。
【URL】
なお、元の記事内の写真や情報の引用については直接お伺いしたうえでの許可を得ておりますのでご理解頂けますと幸いです。

私が勤めている大船渡市からやや南西に行ったところに陸前高田市があります。陸前高田市は、大船渡市同様、2011年の東日本大震災で大きな被害を受けていますが、それでも強く前向きに進んでおります。
今回紹介させて頂きたいのはそんな陸前高田市が震災後に復興のシンボルの一つとして建てられた陸前高田市の発酵パーク、CAMOCYについてです。CAMOCYは日本語の「醸す」という言葉から名づけられており、住民の心の支えとなりながらも賑やかだった頃の雰囲気を少しでも引き継ぐために2020年12月17日に設立されました。

この施設に私が初めて訪れたのは友人のSarahさんからの紹介でして、非常に衝撃的且つ素晴らしい経験をさせて頂きました。
本施設の見た目は新しくて新築にも見えますが、外見とインテリアに木材を多く使用しており、見ているだけでも自然と暖かさを感じられました。また、やはり古き気仙を思う住民やこれからを託そうといった思いによって保たれる暖かさなのかもしれません。

さて、このように「発酵パーク」とは呼ばれているものの、入り口を通りますと約7店舗のお店が食堂のような大きな中央エリアを囲んでいる空間があります。こちらのほとんどが飲食関連ではあるものの、食事処、お土産店、カフェ、あるいはパン屋と言った様々な種類のお店が並んでいるため、色々なものが少しずつ欲しい友達等にはぴったりではないでしょうか?

と、このように宣伝してはいるものの、CAMOCYに並ぶ食事をまだ全て堪能できておりません。ですが、初めて訪れた際に食べた「発酵食堂やぎさわ」の「南部どりのステーキご飯」は想像していた以上に美味で、それを食べたとたんにCAMOCY内にならぶ他の料理も美味しいのだと確信しました!
また、今回紹介する南部どりは岩手県内で育ったブランドの鶏です。この鶏を利用する「発酵食堂やぎさわ」だけでなく、CAMOCYに並ぶ他のお店も岩手の特産を利用しておりますので岩手を応援したい方は是非ともお立ち寄りください。
【写真② 南部どりステーキごはん】
今回頼んだ料理はこちらです。
- メインディッシュ (左上)
- *豚汁 (右下)
- 漬物  (中央)
- 薬味皿 (右)
- **南部鉄器急須 (右上)
- お茶碗 (左下)

先ずは率直な感想ですが、文句なしに、且つ、飾りをあえて使わず申し上げると本当に本当に美味しかったです。もちろん敵を増やすことや友達との縁を切るつもりもありませんが、比較すること自体がおこがましいのではないか思っているものの、おそらく私の母国である米国ではこの値段でこの質と美味しさはどこに行っても見つからないと思います。
とは言ったものの、この美味しさには裏があります・・・
こちらは通常の丼とは少々違い「正しい」食べ方が存在しており、こういった手順が存在するものに対して苦手意識を持つ方がいるのは理解しております。

*メモ1 : 豚汁は日によって違う汁物になることがあります。
**メモ2 : 南部鉄器急須とは岩手で作られている特殊な急須でして、熱伝導率、保温性、長持ちであることで全国的に有名な急須です。

【写真③ 南部どりステーキご飯】
「南部どりステーキご飯」の食べ方ですが、名古屋のひつまぶしと同様な手法ですので、ご存じの方は先に進んで頂いて結構です。ただ、ひつまぶしをご存知ではなく、「正しい」食べ方に興味を持って頂いたのであれば続けて読んでください。
1. 先ず、桶内の料理を4等分にしてください。
2. 4等分の一つをお茶碗に移し、そのままでご賞味ください。
3. 一杯目を食べた後に更に1/4をお茶碗に移し、ご自由に薬味を加えて食べてください。(後で使うため、多少は残すのをおすすめします。)
4. 3つ目の1/4をお茶碗に移した後に薬味を少し加え、更に急須に入っている出汁を注ぎ、ミニ茶漬けのように食してください。
5. 桶に残った1/4をお茶碗に移し、最後はご自由に薬味や出汁を足してください。

この「正しい」食べ方ですが、食事を最大限に楽しむために考えられた手法ではあるとされていますが、絶対になぞらないといけない訳ではありません。4等分ではなく3等分にしてもいいですし、食べる順番を変えても問題ありませんのでご自由にお食事頂いて結構です。(※ミニ茶漬けをする際に桶からお茶碗に移すことは強くおススメします!)
とはいえ、私自身が大のひつまぶし好きなのでこの食べ方について簡単に解説致します。この食事方法は記載された順番に沿って食事することによって料理人が考えた最初の味から薬味による変化とその過程を味わうことができます。また、変化を食す側に授けることで味の範囲を広げつつ食べること自体を楽しませてくれます。
個人的に一番好きなのはミニ茶漬けでして、一息つかせながらもお肉の油とソースと出汁が掛け合わされて極上の味が生まれる素晴らしい体験ができ、そこから続く「最後の一杯」への挑戦心と期待をさせてくれて非常に楽しませて頂きました。

さて、話を戻しまして。
CAMOCYに並ぶ数多くの商品の一品に少々熱が入ってしまいましたが、先ほど記載した通り、ここには7店舗と更には暖かい気温ではテラスも開放されます。また、焼き立てのパンが並ぶパン屋、オーガニックなカカオを使用したドリンク、クラフトビール、更には味噌、醤油、地酒等の発酵食品が並ぶお土産屋もあります。
私はまだほんの一部しか紹介できませんでしたが、下記リンクにあります元の記事には各店舗の説明が丁寧かつ詳細に記載しておりますので、興味があれば是非ともご覧ください。
【URL2】

近くに寄ることがあればぜひCAMOCYにお立ち寄りください!!

【写真④ CAMOCY外観】