It's been 3 years since COVID-19 changed all of our lives. As with the rest of the world, Oshu, Iwate, has put various infection control measures in place. But how has COVID-19 impacted the lives of people in Oshu? Further, what are things like now? This article will address these questions.
Masks
As a preventative measure against COVID-19, most people living in Japan masked up on a regular basis – a situation that has continued to this day. Mask wearing has never been mandatory in Japan, only recommended. However, Japan's had a long culture of wearing face masks, and it's easy for most people to do, since they get used to masks at an early age. Japan also has a plentiful variety of masks, so even though I was unused to them at first, I was able to find a type that was comfortable for me, and now it's about as normal as wearing a pair of socks. If you get the chance to visit Japan, I encourage you to take a look around and see if you can find a mask style that appeals to you.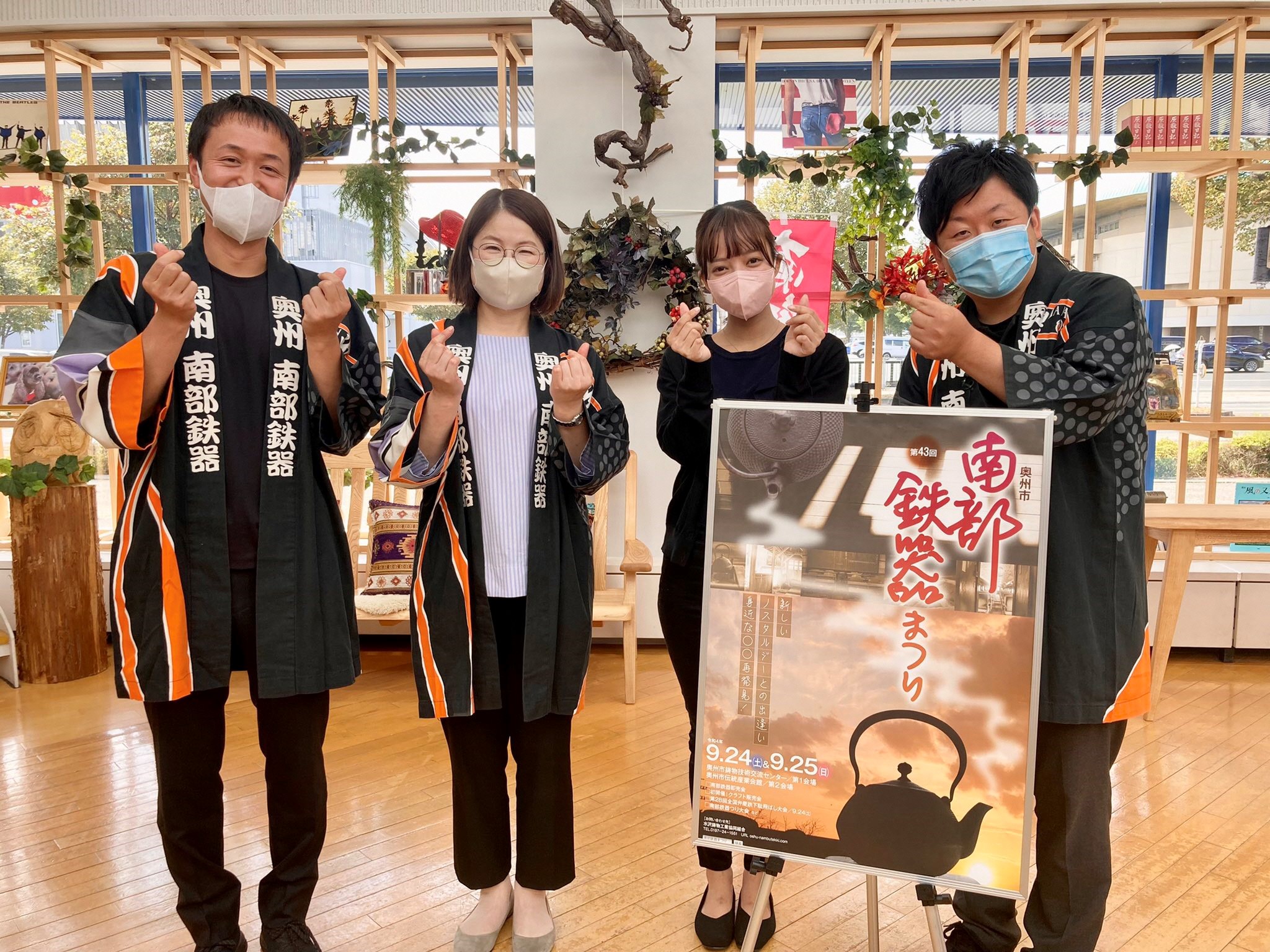 Everyone's wearing different types of masks for last year's Nambu-Tekki Ironware Festival.
Festivals
In 2020, basically all events and festivals were canceled, and in 2021 and 2022, they variously had to be canceled, postponed, adjusted, or scaled down. But for 2023, it looks like more events will be able to commence as usual. For example, in Oshu, the Iwate Oshu Kirameki Marathon may be held as a full event, and the Hitaka-Hibuse Festival is planned to go forward normally. This year, I can't wait to experience Oshu's local festivals for the first time.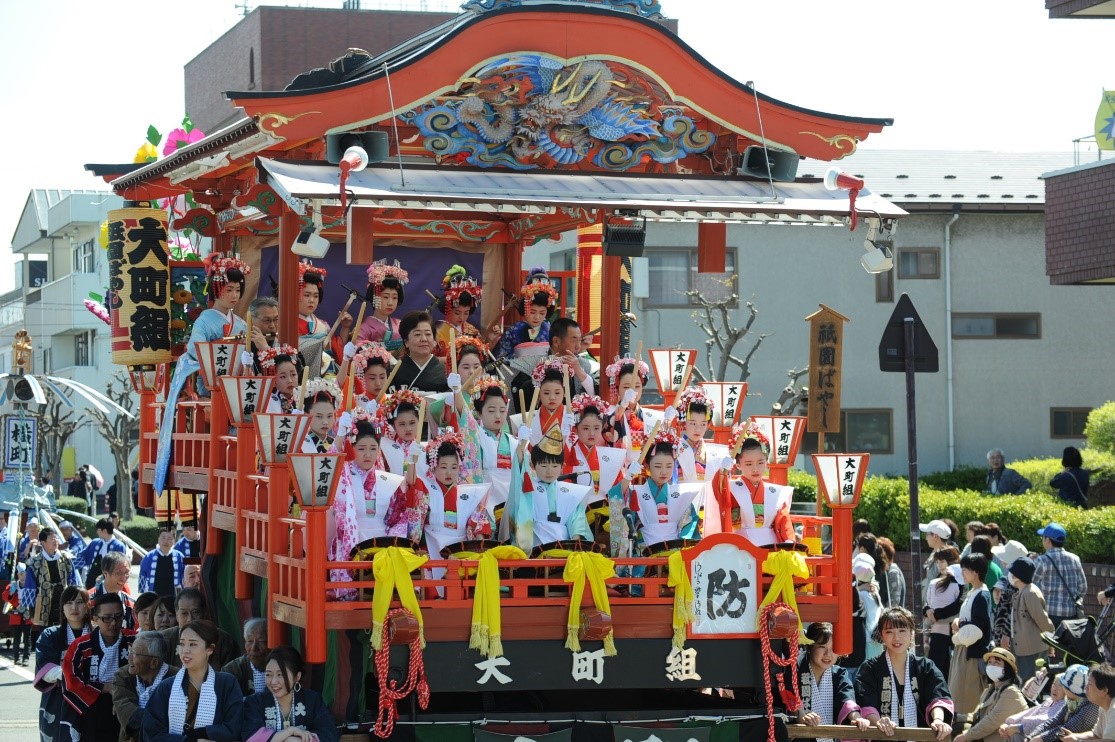 Floats from the Hitaka-Hibuse Festival from several years ago.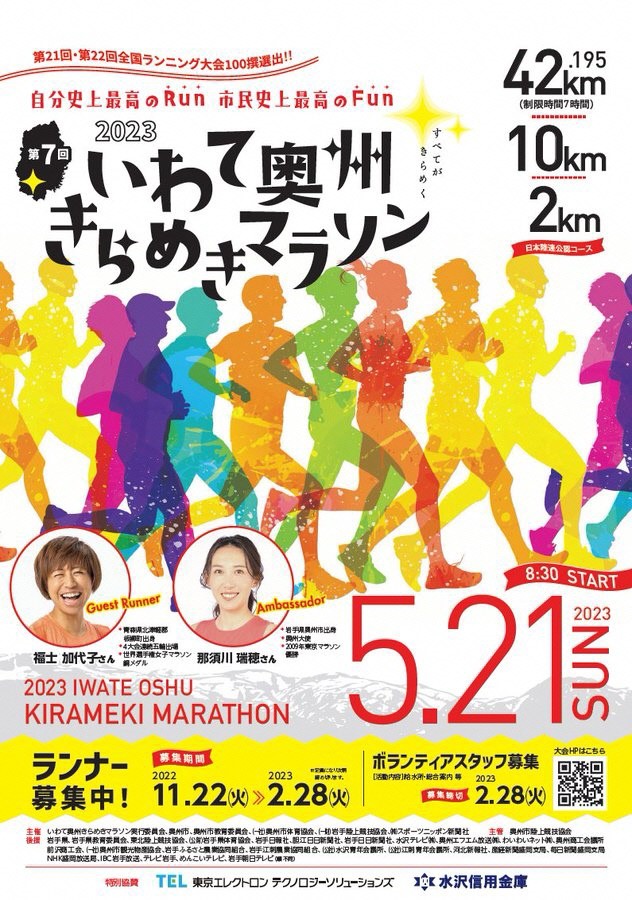 The 2023 Kirameki Marathon Flyer: a full marathon, 10K, and 2K will be held.
Daily Life
Most Oshu residents, along with most of the rest of the world, limited their non-essential and non-urgent outings in 2020. But starting in 2022, people gradually started going out more, and it seems like typical outings will be possible in 2023.
Currently, there aren't any limits on everyday life, but there are optional infection control measures that are being carried out. For instance, many facilities, places of business, etc. still have temperature checks and hand sanitizers at the entrance, and as mentioned above, almost everyone is still masked up. Restaurants, bars, and similar are now operating as normal, but you might be asked to wear a mask.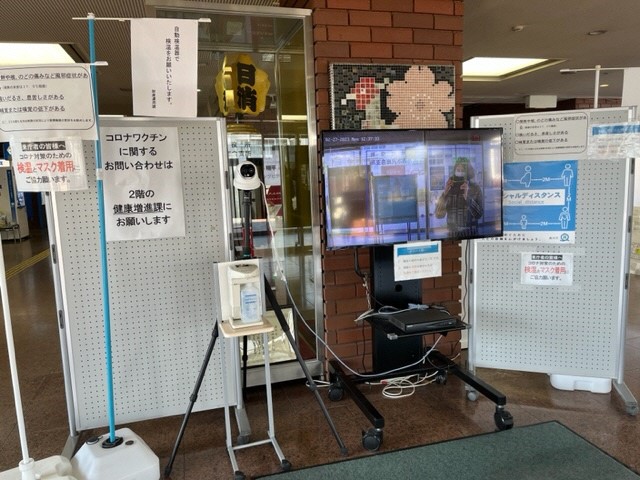 The hand sanitizer and temperature checking station near the entrance of Oshu City Hall.
Tourism
Last year, the limitations on entering Japan were re-adjusted, and now, as a rule, there's no quarantine period upon landing – you can enter the country with either a negative test certificate or a vaccine certificate. Right now it's winter in Japan, which is the tourism off-season, but it will be springtime soon, which of course brings cherry blossom season, and perhaps more tourists. Oshu's ready to finally welcome plenty of new visitors.
As a final note: starting May 8th, 2023, the Japanese government's plan is to move COVID-19's classification (per the Infectious Disease Law) from Class II to Class V, which would put it in the same class as seasonal influenza. With this change, I think regular life will slowly but surely start to return. Going forward, I'll be sure to enjoy Oshu's many festivals and events, and I'm looking forward to sharing them on this website!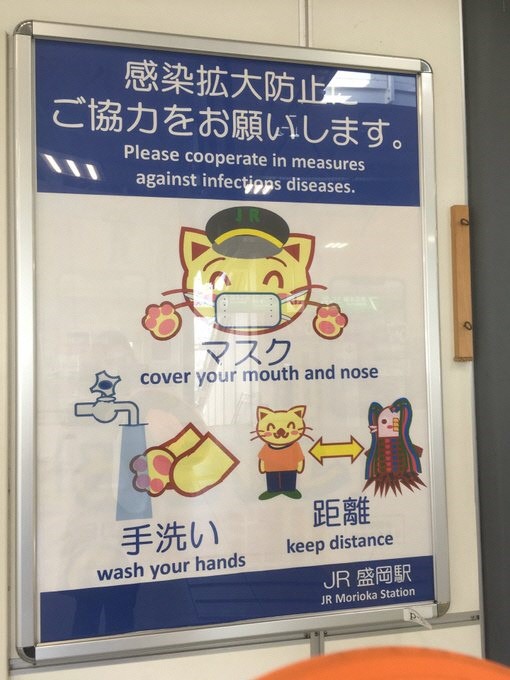 A poster at Morioka Station that uses cute illustrations to explain infection control measures.
Japanese
2023年のコロナ~奥州市の状況は?

新型コロナウイルス感染症の流行によってライフスタイルが変わり3年がたちます。世界中の取組みと同様、岩手県奥州市でも感染拡大防止のため、様々な取組みが実施されてきました。奥州市の人々の暮らしが、新型コロナウイルス感染症の流行でどのように変わってしまったか、また、現在どのような状況なのかをこれから説明していきます。

マスクについて
新型コロナウイルス感染症対策として、日本に住む多くの方々は日常的にマスクを着用し、現在もその状況が続いています。日本では、マスク着用は強制ではなく、あくまでも推奨とされています。
しかし、日本には昔からマスクを着用する文化があり、幼い頃からマスクを着用することに慣れているため、マスクの着用はそれほど困難なことではないようです。私自身、最初は着用になじめませんでしたが、日本はマスクの種類も豊富なため快適なマスクを見つけることができ、今は靴下を履くことのように当たり前に着用しています。日本を訪れる機会がありましたら、ぜひ好きなマスクスタイルを探してみてください。

祭り・イベントについて
2020年からほとんどの祭りやイベントは中止され、2021年から 2022年にかけても中止や延期、または変更、縮小を余儀なくされました。しかし、2023年にはイベントを通常どおり行う機会が増えそうです。例えば、奥州市では「いわて奥州きらめきマラソン」や、恒例の日高火防祭も開催される予定です。今年初めて奥州市の地元の祭りを体験できることをとても楽しみにしています。

日常生活について
2020年には、世界の人々と同様、多くの奥州市民も不要不急の外出を控えることとなりました。しかし、昨年から人々は徐々に外出するようになりました。2023年は、通常通りの外出が可能になりそうです。
現在、日常生活に「制限」はありませんが、任意の「感染防止対策」は実施されています。例えば、多くの施設や事業所などの玄関には検温器や手の消毒液は設置されています。また、前述したとおり、マスクを着用している人は現在も多く見られます。飲食店などはすでに通常どおり営業していますが、マスクの着用は勧められることでしょう。

観光・旅行について
 昨年から日本への入国制限が見直され、原則待機期間が不要となり、検査証明書、またはワクチン接種証明書を提示すれば入国できるようになりました。
日本は冬なので、観光はオフシーズンですが、これから春にかけて桜の開花時期となり、多くの観光客が訪れるかもしれません。久しぶりに奥州市に多くの観光客が訪れることを歓迎します。
最後に2023年5月8日から日本政府の方針で新型コロナ感染症の感染症法上の位置づけが2類から、季節性インフルエンザと同様の5類になる予定です。この変更に伴い、少しずつ日常が取り戻されていくことと思います。今後、奥州市の様々な祭りやイベントなどを体験して、当サイトで紹介できることを楽しみにしています。