About Yoshiyuki Tateno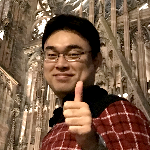 I'm 38 years old, and I grew up in Iwate. And I love nature very much. I work now in the Iwate Prefectural Government in the ILC Promotion Office. I love Starbucks, and I consider it my duty on the weekends to read a book while drinking a coffee at Starbucks.
April 2019
04.04.19 Pets in Iwate
January 2019
01.17.19 ILC Relay ⑮
October 2018
10.11.18 Let's Climb Mount Iwate!