This article was written by the staff at Ofunato City, and translated by Olivia Lee. 
The Great East Japan Earthquake and Tsunami: An Enormous Unprecedented Disaster
On March 11, 2011, the eastern region of Japan that faces the Pacific Ocean, including Ofunato City, was hit by an unprecedented disaster which snatched away countless irreplaceable treasures and lives.
Due to the massive magnitude 9.0 earthquake and tsunami, in Ofunato 340 people were confirmed dead, and 79 people were declared missing. A total of 5,592 buildings in the city suffered damage, with 2,791 of them being completely destroyed—the city's economic costs from the damage surpassed 107.7 billion yen.
The great tsunami pulverized the coastal area of Ofunato, including the townscape, the main roads and the port facilities. It destroyed numerous key foundations and industries which were core to the city's development, and wreaked havoc on the region's economy.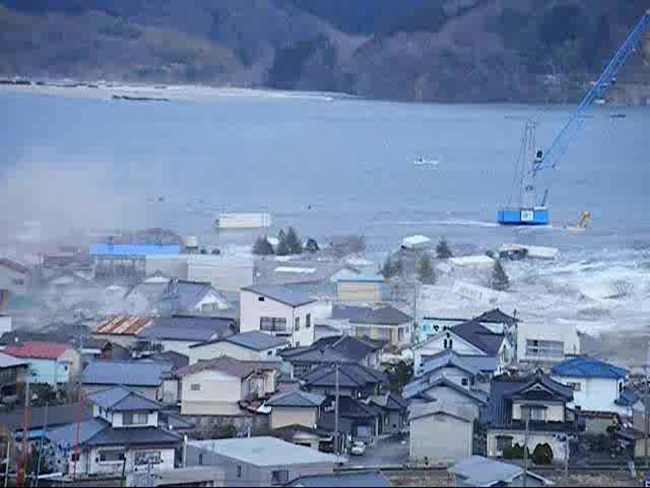 The tsunami approaching.
Support we received from both within Japan, and the world
For those of us in Ofunato, we were struck by uncertainty and despair following the disaster.
However, immediately after, many people from within Japan, and all over the world came to do search and rescue activities in our city, and supplied us with relief supplies.
We are truly grateful for the immense, borderless support we've received. We will never forget our gratitude for this support.
Our Steps Towards Recovery
Following the disaster, more than 8,700 residents throughout Ofunato had to live in 60 evacuation centers. In addition to establishing and building the evacuation centers, Ofunato City also had to ensure 1,800 emergency housing units. These efforts were held alongside the management and disposal of roughly 854 thousand tons of debris left from the tsunami damage.
After this, in October of 2011, Ofunato City created a 10-year rebuilding plan, and the city began to work towards recovery and development. The plan covered a wide range of reconstruction issues, and had 258 sections in it.
Ten years have passed since then.
Now, 99% of recovery projects have been finished. However, we now face new issues for the future, such as how to make use of the empty land left from the disaster, and how we should develop our city in its post-disaster stage.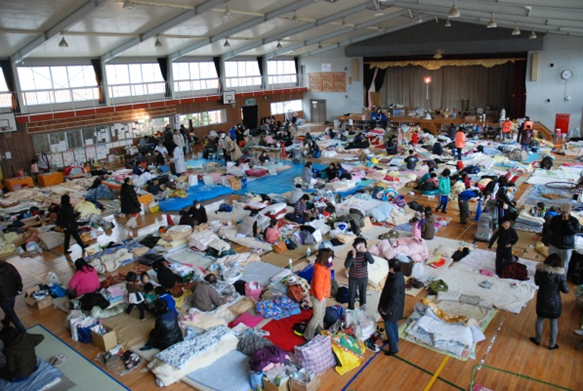 People living in the evacuation center.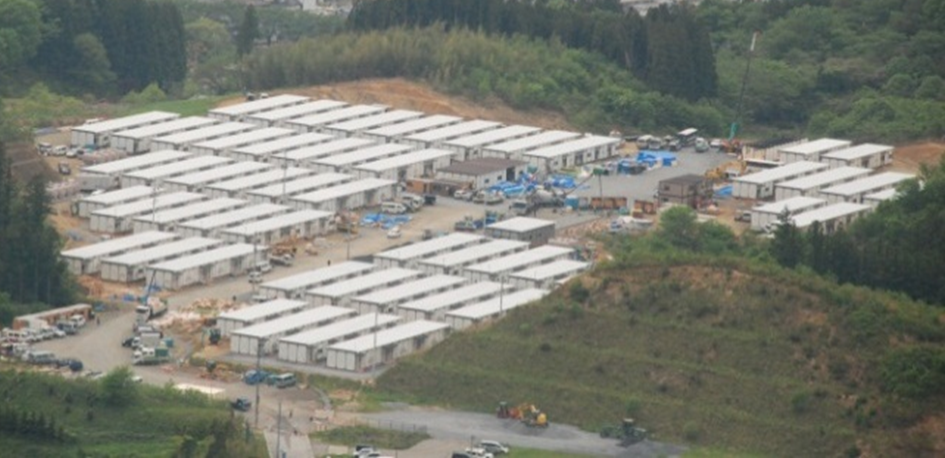 The emergency disaster housing.
Onto the next stage
Ofunato is currently facing issues including decreasing population and decreasing birthrate alongside the need for technological advancement and internationalization in the city. In particular, the working (people aged 15~64) population is decreasing, which comes with the large issue of decreasing local activity. To combat this, we are working on emergency plans that utilize available resources and increase local activity, in order to form a sustainable society.
While the implementation of Ofunato's rebuilding plan is now almost completely finished, we must now work towards creating a framework so we can continuously develop our post-disaster city in new ways.
We have high hopes that the ILC will be an important framework for future development, and that it will contribute to production and revitalization in the region. Furthermore, we believe that the ILC will fulfil the dreams and wishes of local children and young adults, and that it will create crucial possibilities for the future.
We will continue to strive for the betterment of our city as it enters its post-disaster stage. While COVID-19 is currently making travel difficult, we hope that you can come to see the newly rebuilt Ofunato once the pandemic calms down. We sincerely look forward to seeing you.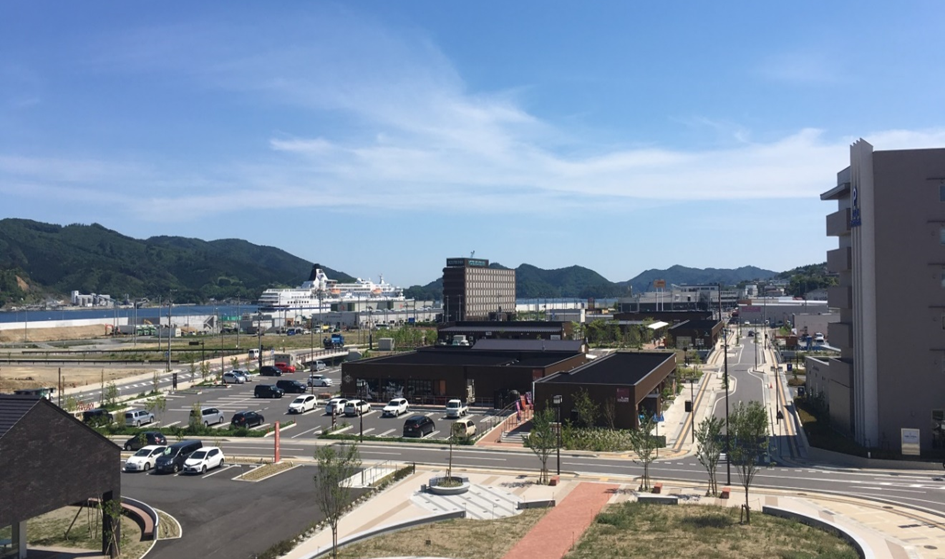 The downtown area, 10 years after the tsunami
Japanese
【復興10年、そして次なるステージへ】

未曾有の大災害
2011年3月11日、当市をはじめ、太平洋に面する東日本一帯が未曾有の大災害に見舞われ、数多くの尊い人命と財産が失われました。
マグニチュード9.0の大地震と津波により、大船渡市では死者340人、行方不明者79人の人的被害と、5,592世帯に建物被害が発生、うち2,791世帯が全壊し、被害総額は約1,077億円に上りました。
大津波は、沿岸部の街並み、主要道路や港湾施設など、これまで当市の発展を支えてきた各種都市基盤や産業基盤を破壊し、地場産業や地域経済に大きな打撃を与えました。

 [写真]
 津波来襲時の様子

国内外から寄せられた多くの支援
大災害による不安と絶望のなか、直後から日本国内だけでなく、世界各国から捜索救助活動や救援物資の提供など多大な支援をいただきました。
国という枠を超え、様々な形でご支援いただいたことに心より感謝申し上げます。
私たちは、この大恩を決して忘れることはないでしょう。

復興に向けた歩み
震災発災後は、最大で60か所に8,700人以上の市民が避難所生活を余儀なくされ、市ではただちに避難所を開設するとともに、1,800戸あまりの応急仮設住宅の確保、約85万4千トンのがれき撤去などに奔走しました。
その後、2011年10月に、10か年の大船渡市復興計画を策定し、復興へのまちづくりに着手しました。計画では、258項目もの多岐にわたる事業を復興事業として掲げました。
あれから10年が経過しました。
復興事業は既に99%が完了していますが、被災跡地の利活用や復興後のまちづくりの展開など、将来に向けた課題も浮き彫りとなっています。

 [写真]
 避難生活の様子

 [写真]
 応急仮設住宅の様子

次なるステージへ
当市では、人口減少や少子高齢化の進行、情報化や国際化の進展、地球規模の環境問題などへの対応が求められ、特に生産年齢(15~64歳)人口が減少し、地域活力の低下が懸念される中で、地域資源を最大限に活用しながら活力を生み出し、持続可能な地域社会を構築することが大きな課題であり、その対策の実施が急務となっています。
大船渡市復興計画が概ね完了のめどが立っている一方で、復旧・復興から新たなまちづくりへの移行期において、より豊かな将来を展望する上では、持続的に発展するための新たな枠組みが必要になります。
 ILCは、新たな枠組みの一つとして、震災からの復興はもとより、復興後のまちづくり、地域の再生・創生にも大きく貢献するものと期待されるほか、将来を担う若者や子ども達をはじめ、多くの人々に夢や希望、そして、未来を切り開く可能性を与えるものと考えています。
 私たちは、これから復興後の次のステージに向けがんばってまいります。
 いまだに新型コロナウイルス感染症の影響が続いておりますが、このコロナ禍が終息した際には、ぜひ皆様のご支援により復興を遂げた大船渡市の姿を見にいらしてください。
 心よりお待ちしております。

 [写真]
 震災後10年を迎えたまちの様子