The New York Times recently named Morioka City of Iwate Prefecture on its list of 52 places to visit in 2023. It's not technically a ranked list, but to our delight, Morioka City was placed 2nd, right below London. As a long-time resident of Morioka, I've long known about the beauty of this place and yet I never imagined it being placed next to LONDON on a list! But it's true: Morioka is as beautiful and enjoyable as any one of the world's major cities. It's buried treasure just waiting for you to unearth it.
Journalist and writer Craig Mod already showcased great spots like Nagasawa Coffee, Booknerd, Café Jazz Johnny's, and Azumaya's wanko soba, so I thought it would be a great idea to show off other spots a traveler might want to visit if they're wandering by foot through the city.
Most people stay in hotels located near Morioka Station or its main street Odori. You'll see lots of people congregating day and night, going shopping, eating out, or meeting up with friends. But let's head out into the brisk winter air, and get away from the city streets. Walk north towards the Kitayama residential area. It can be a little slippery in the wintertime, so remember to bring sturdy boots if you plan on being here December-March.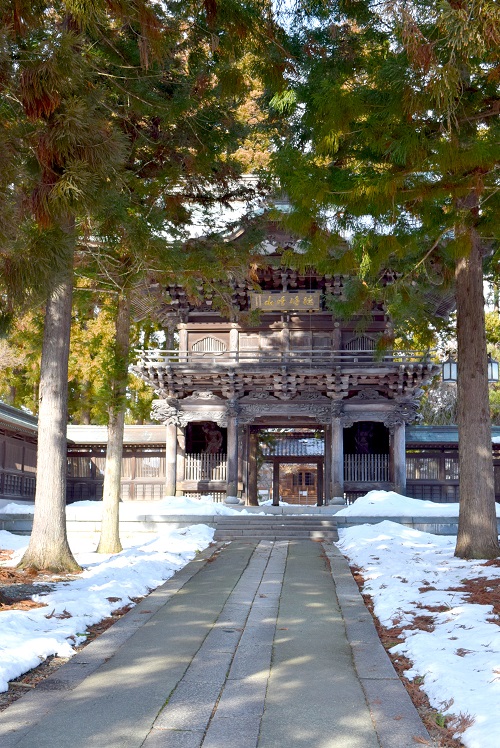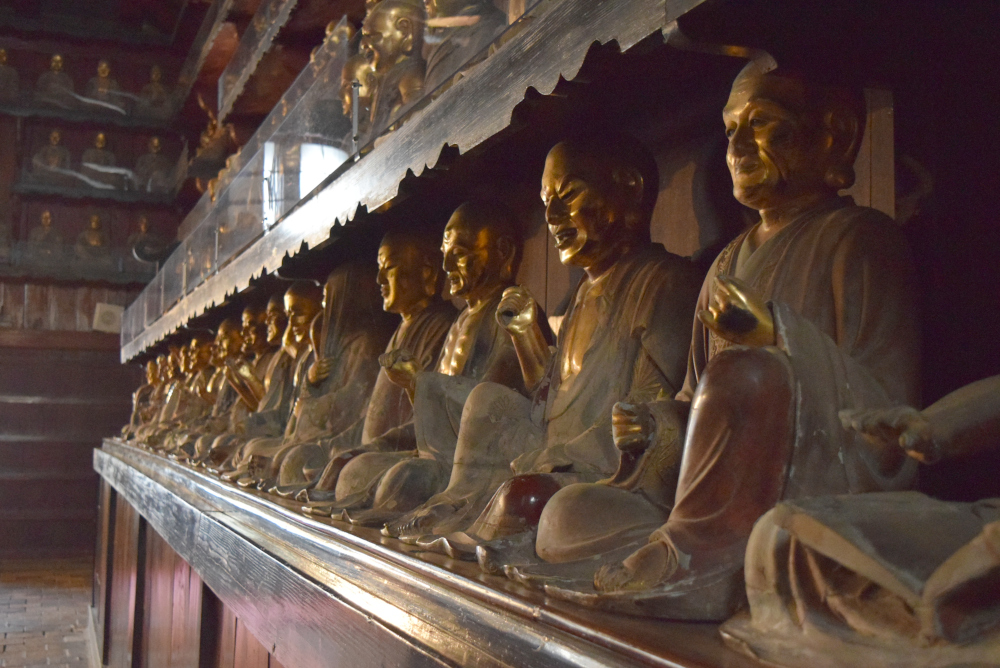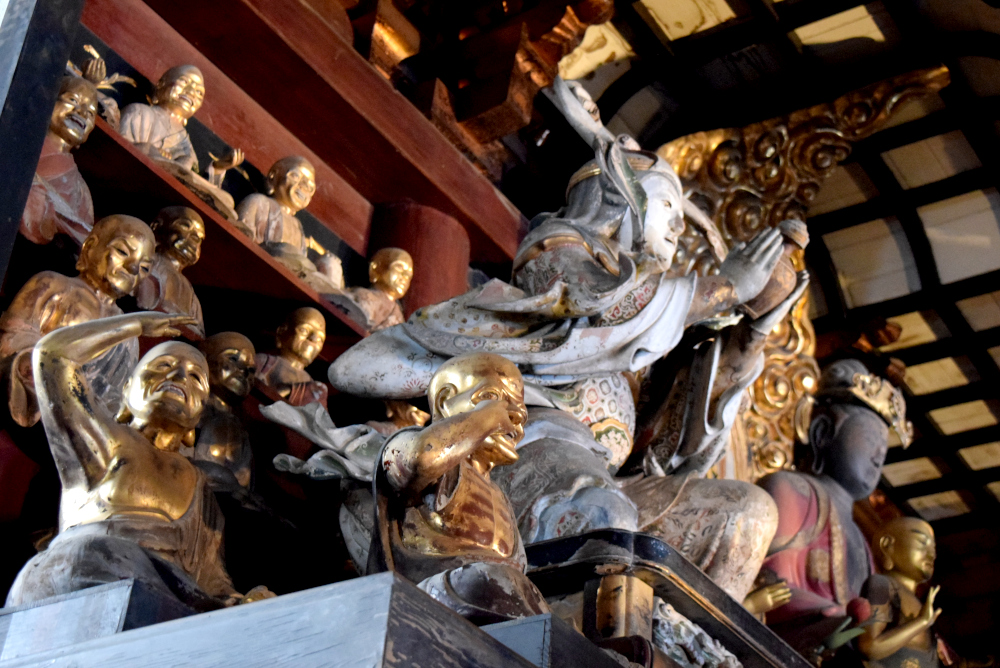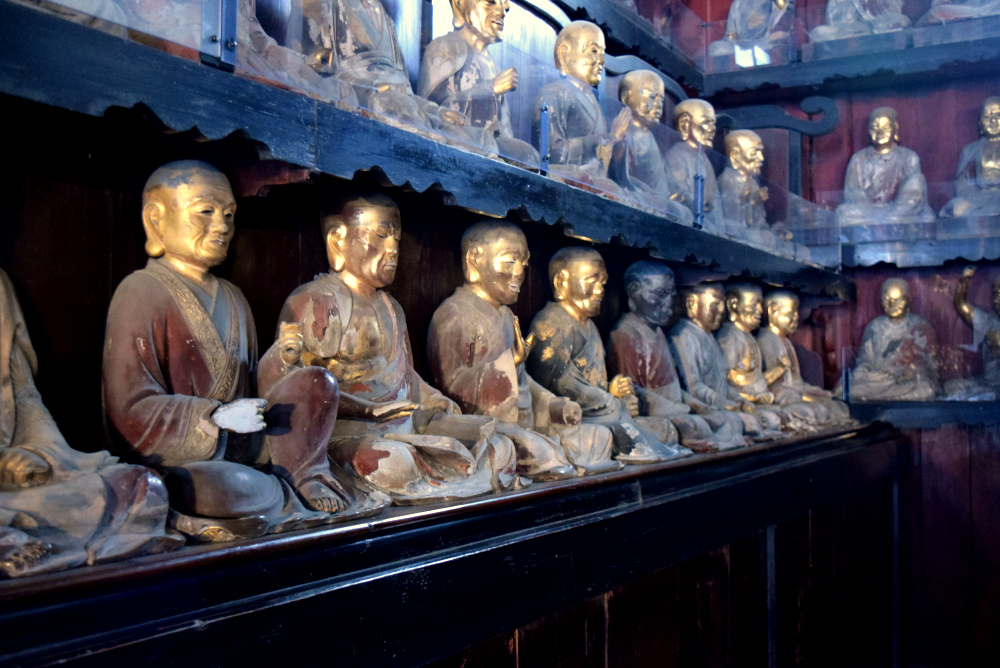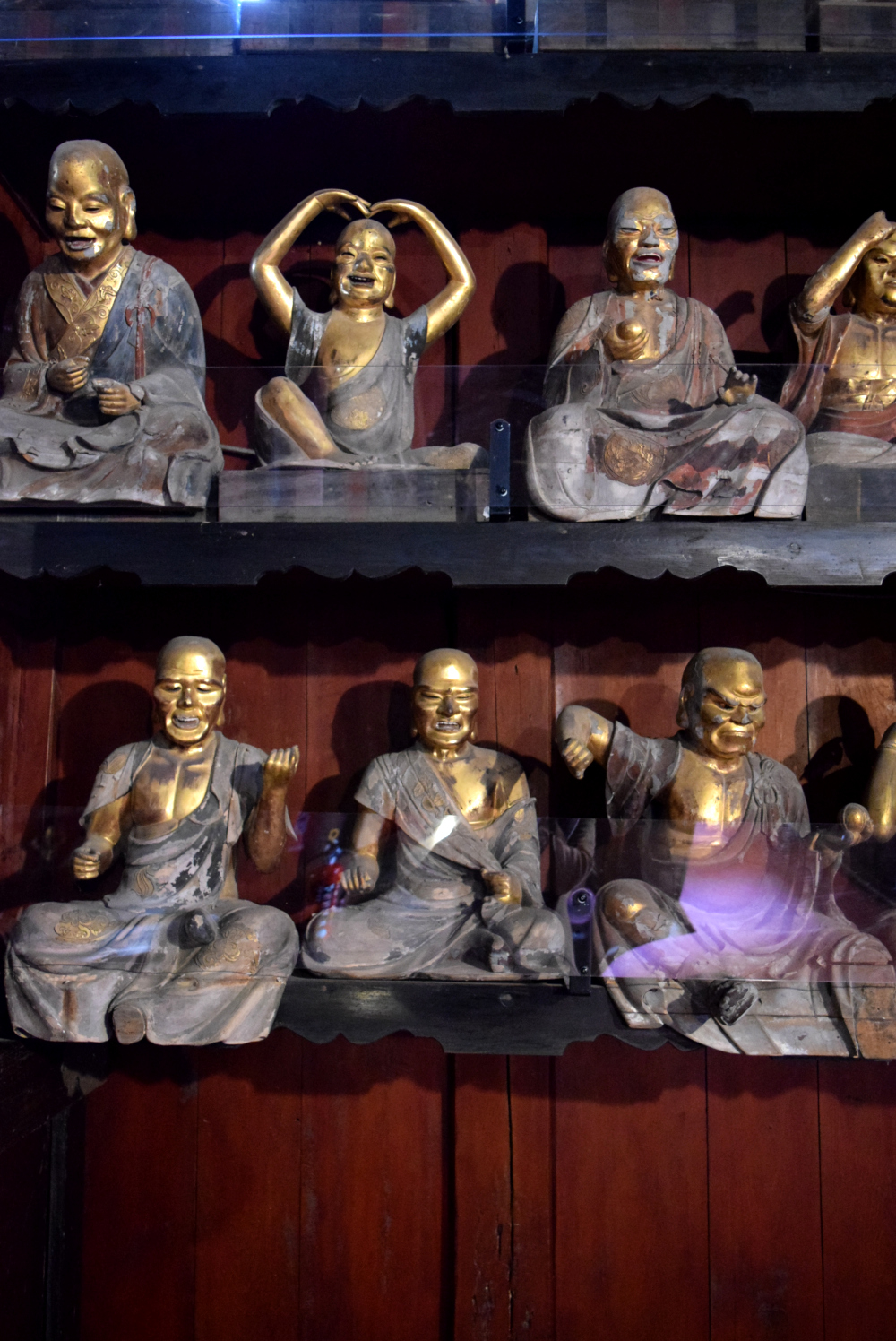 Hoon-ji Temple
Address: 31-5 Nasukawa-cho, Morioka City
Hours: 9:00-16:00
Admission: 300 yen per adult, 100 yen per child
I like to visit this space whenever I need something extraordinary and ethereal to calm me. This temple is home to the 500 Rakan, a large number of Buddhist statues all in various poses and emotions. Each statue is about the size of a toddler, and they all have a different expression. Some are happy and laughing, drinking in the others presence. Others are stern or morose. Others still are calm and serene. But they're all important. There's a strange energy here that I feel, and it always grounds me. They call this a "power spot" in Japanese so hopefully you can gain a little power yourself from their curious expressions before we head out on the rest of our walk.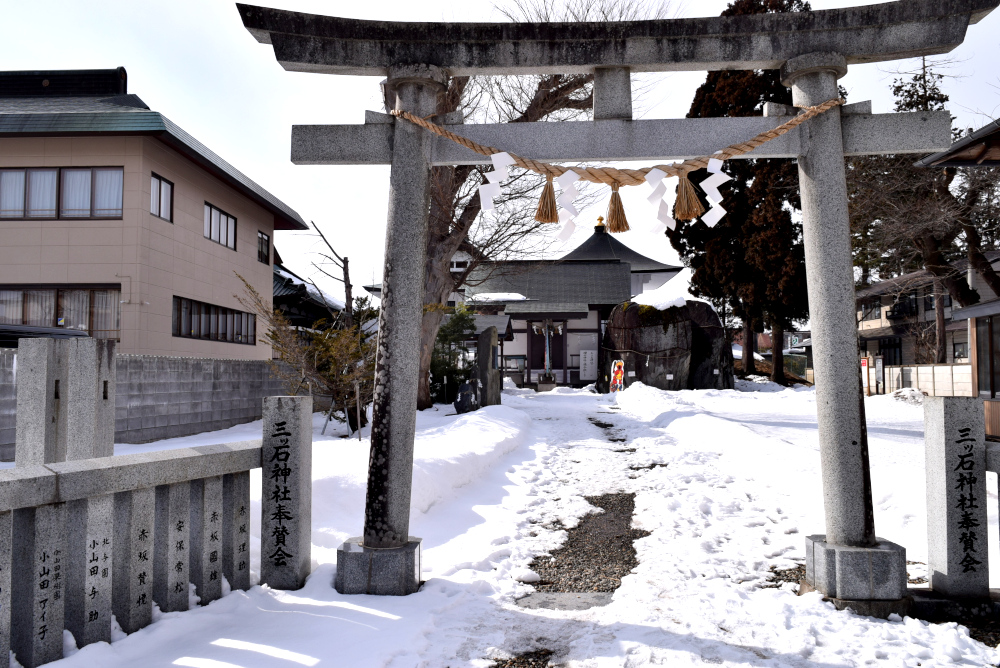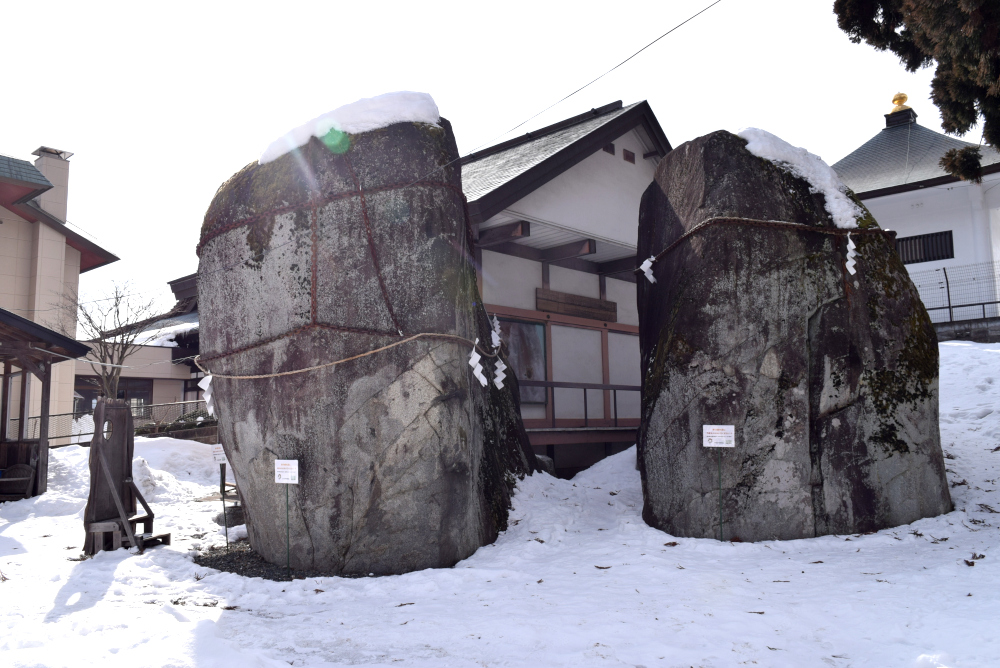 Mitsuishi Shrine
Address: 2-1 Nasukawa-cho, Morioka City
Hours: It's always open, but it's not illuminated at night, so we recommend heading there during daylight hours.
Admisson: Free
About 5 minutes walk to the south will bring you to the doorstep of Mitsuishi Shrine. This small, unassuming shrine is shaded by trees; you might even miss it if you don't know what you're looking for. But this humble shrine birthed the legend that came to name this whole prefecture. Iwate in Japanese is written with two characters: Rock (岩), and Hand(手). Within this shrine is a humongous rock that is said to have a handprint on it.
Long ago, an oni demon came to torment the people of the village. The people desperately prayed to the god Mitsuishi to save them, and so Mitsuishi shackled the oni to these rocks and demanded it leave the village posthaste. The oni agreed, and left his handprints on the rock as a testament to his promise. They say you can see the faint outline of them on the rock on rainy days…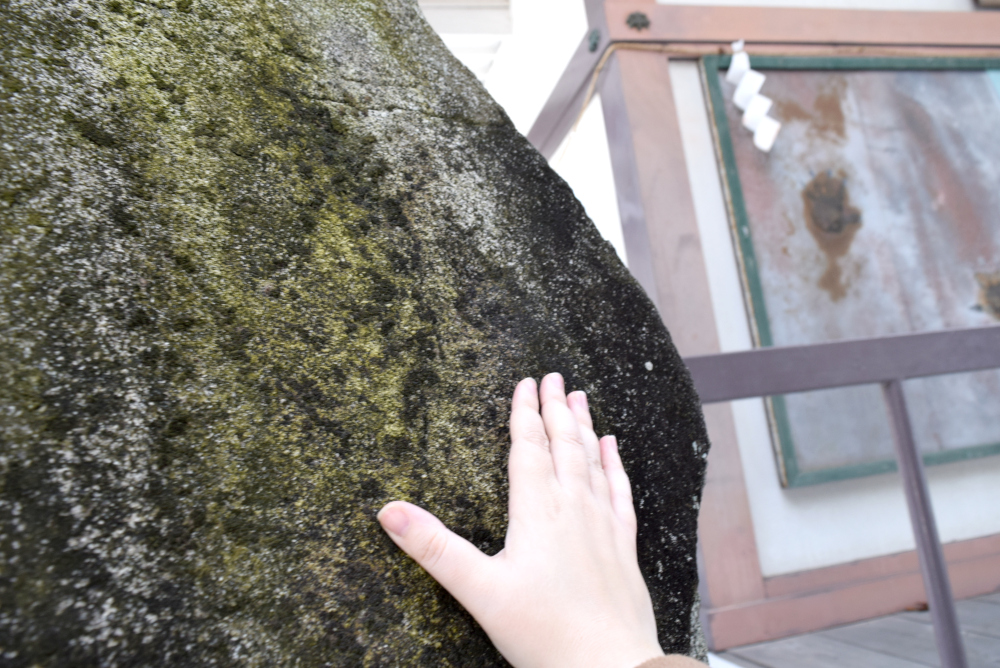 Can you see the handprints? A lot of people have come to leave their own handprints on this rock. You're touching history here.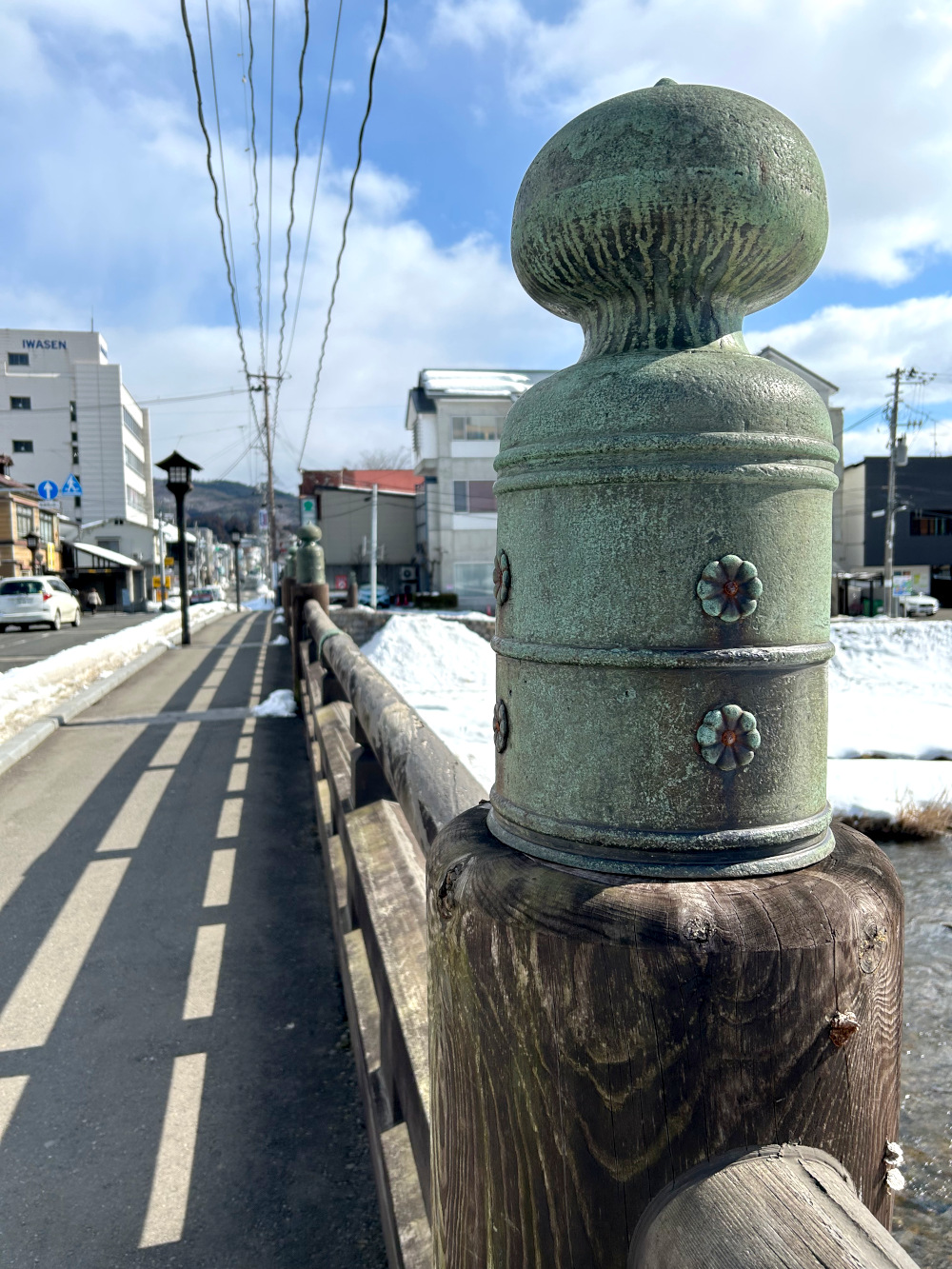 Kaminohashi Bridge
Address: 1-4 Kaminohashi-cho, Morioka City
Let's walk towards the river. Morioka is home to three large rivers and many tributaries, so there are many old, historic bridges crisscrossing the town. Probably the most famous is Kaminohashi. This bridge is home to traditional onion-shaped "giboshi" ornamental pillars. People gather on this bridge in the fall to see salmon swimming upstream in the Nakatsugawa river. Right now, there are swan gathered on the river, cooing out greetings to passersby.
The air is cold, but the town is alive with history. There's a small museum visible from here; let's check it out.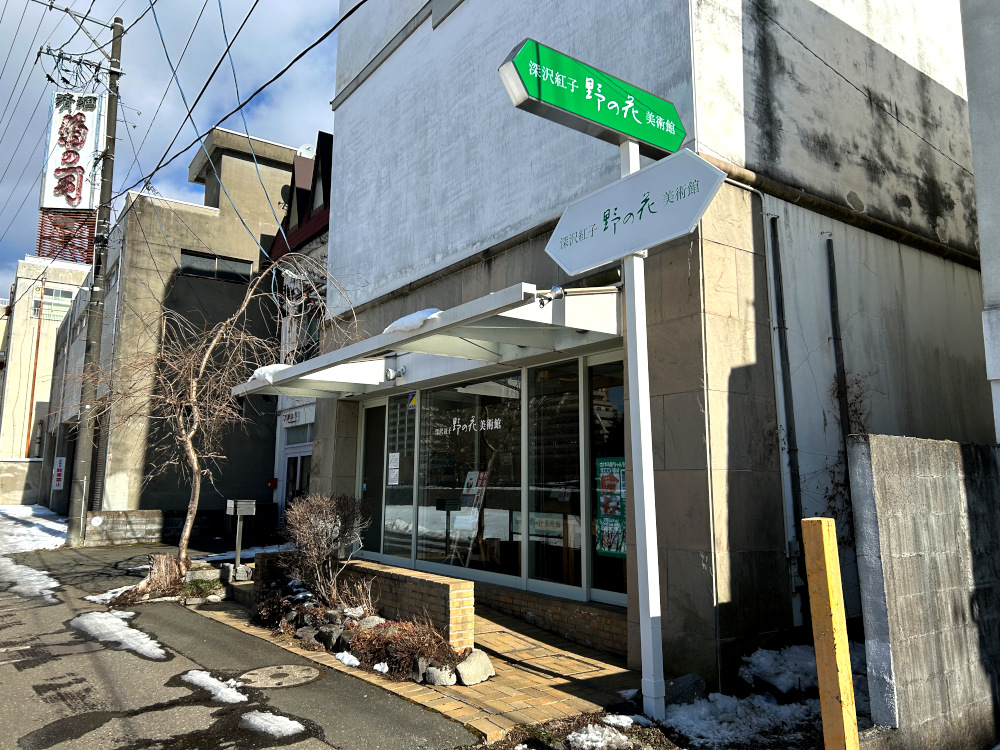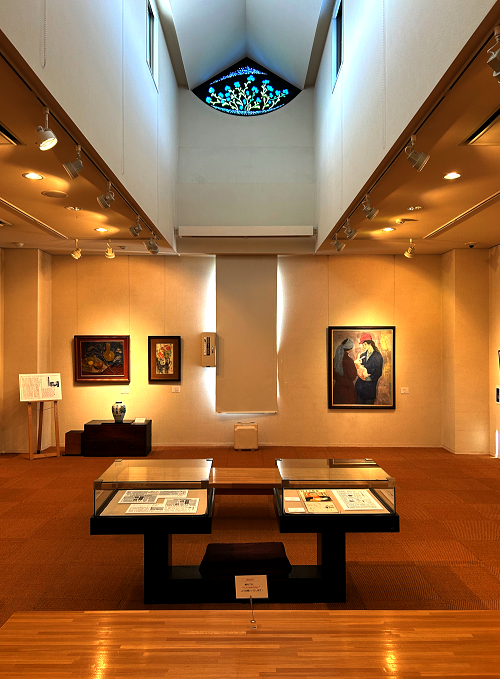 Fukazawa Koko Nonohana Art Museum
Address: 4-8 Konya-cho, Morioka City
Hours: 10:00-17:00 (closed on Mondays)
Admission: 500 yen per adult, 300 yen per university/high school student, 200 yen per child
More information at their homepage (Japanese only)
This small museum is home to the works of Fukazawa Koko, an artist born in Morioka in 1903. She is known for her lifelong devotion to drawing wild flowers (nonohana), which is where the museum got its name. She especially loved the Forget-Me-Nots (wasuregusa) that grew on the banks of the Nakatsugawa river. A brilliant painter, her works appeared in local newspapers and magazine covers, and she worked with her husband, a fellow artist, to spread the joy of art to the youth of Japan.
The head of the museum, Ms. Hiroshima Yasuko, and the curator, Ms. Watanabe Kaoru, were thrilled to take me through the exhibits, and even presented me with a few postcards with Ms. Fukazawa's wildflower art on them. There's even a small café on the first floor right by the wide windows, so you can see the passerbys walking by the riverside. Art, nature, and local culture – a very pleasant afternoon!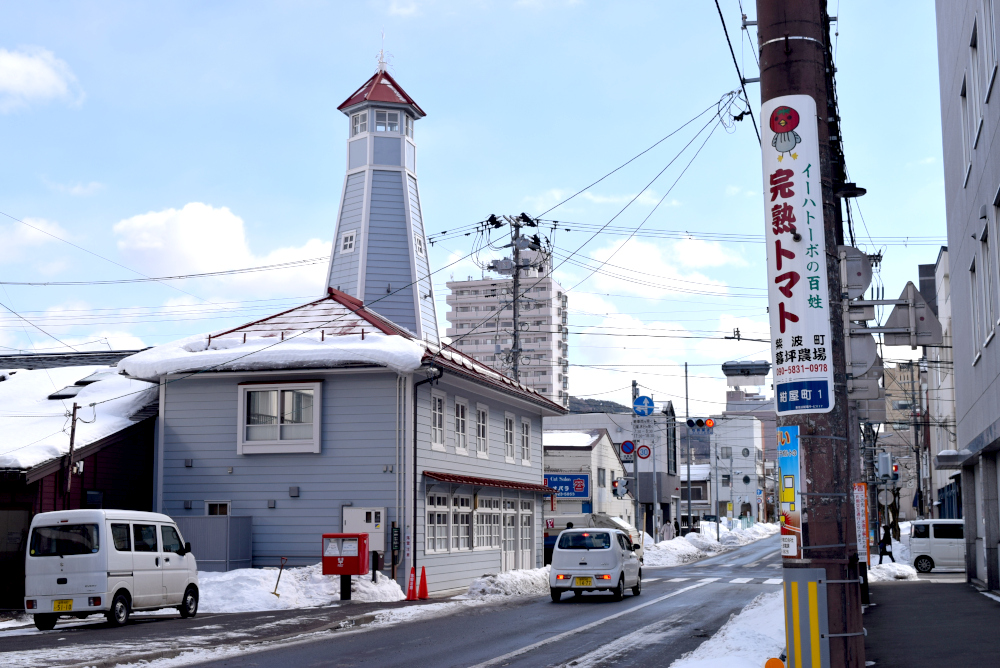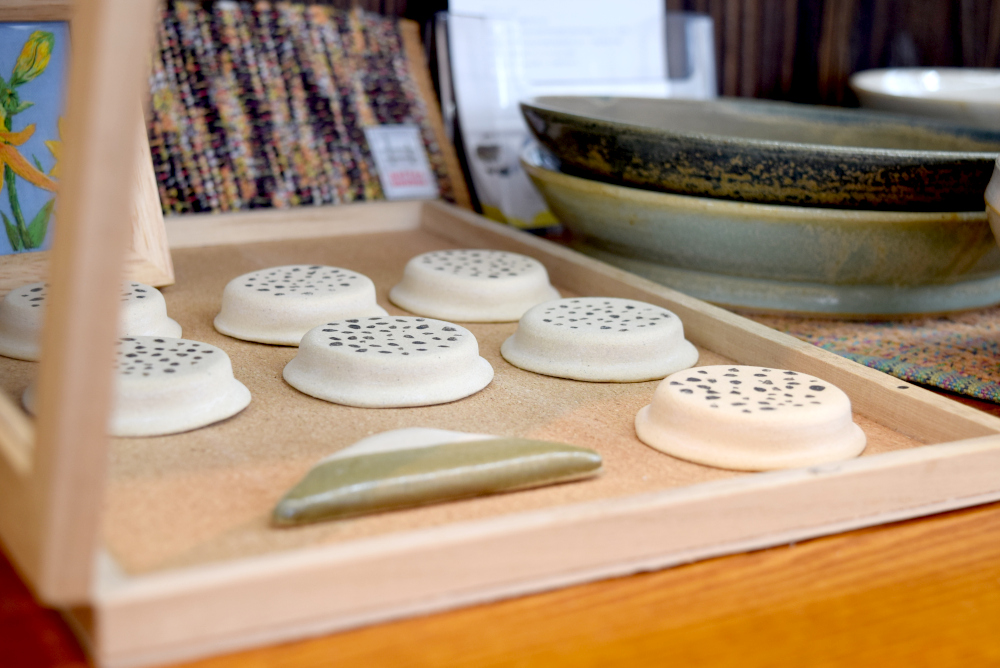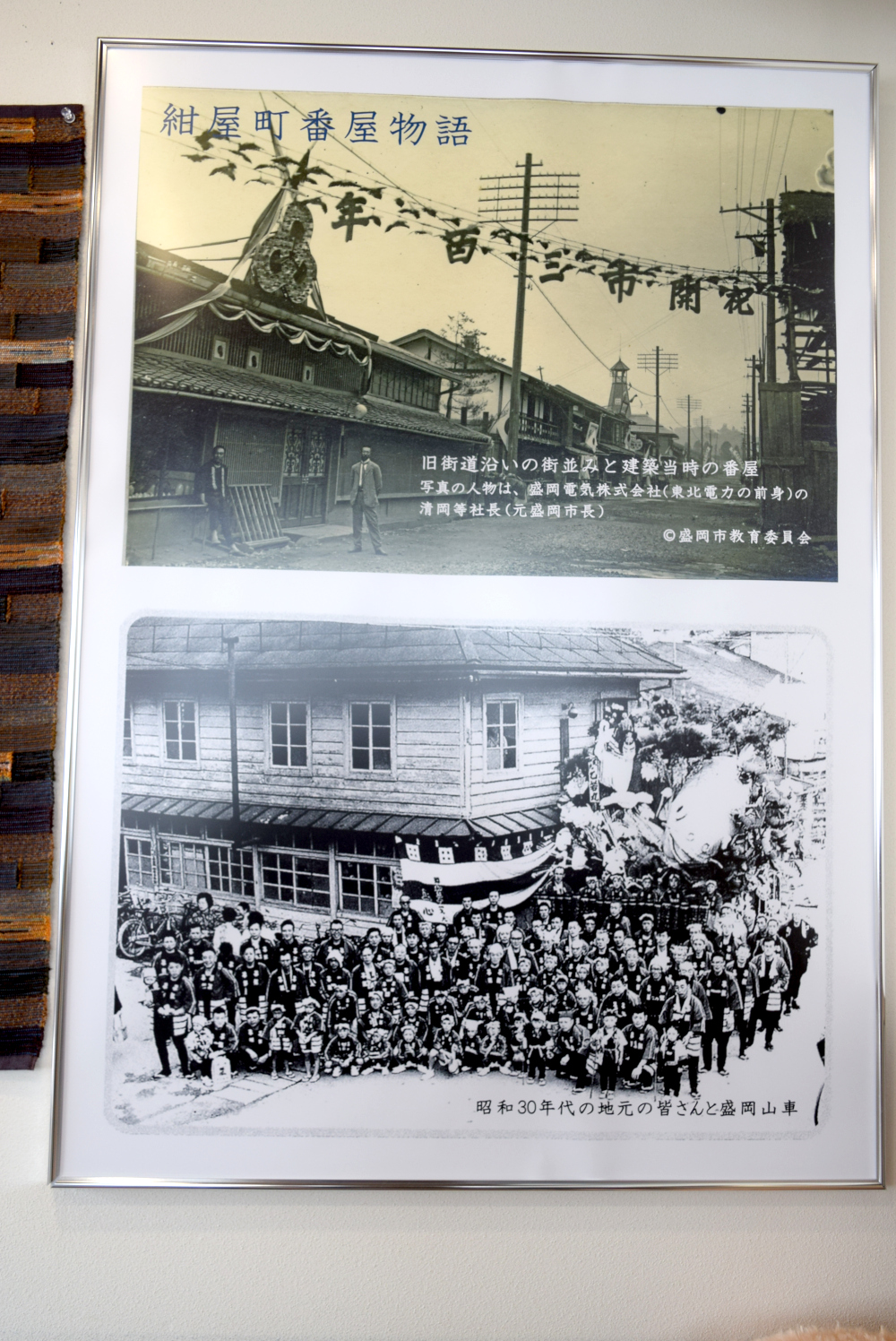 Konyacho Banya Café
Address: 4-34 Konyacho, Morioka City
Hours: 10:00-17:00 (closed Mondays)
More info on their homepage (Japanese only)
This café and gift shop is located in the Konyacho district. It almost looks like a lighthouse on the banks of the Nakatsugawa, but was originally used as a fire station (completely with fire trucks) for the local firefighting division. It was used in this way until 2005, and stood as a local monument until refurbished as a café and reopened last year in 2022. I stood before the entrance, a simple wooden sliding door, and cautiously slid it open.
The proprietor, Mr. Iwabuchi Koji, was waiting to greet me and regaled me with tales of Konyacho's history as a commercial and residential district. The shop owners of the area have an interest in and ties to Europe, and in the Banya shop, Mr. Iwabuchi carries various knickknacks from overseas as well as from local makers. The coffee was very nice; on offer are two special house blends called "Mori" and "Oka." (The beans are from Fukosha, a coffee roaster in the next town over)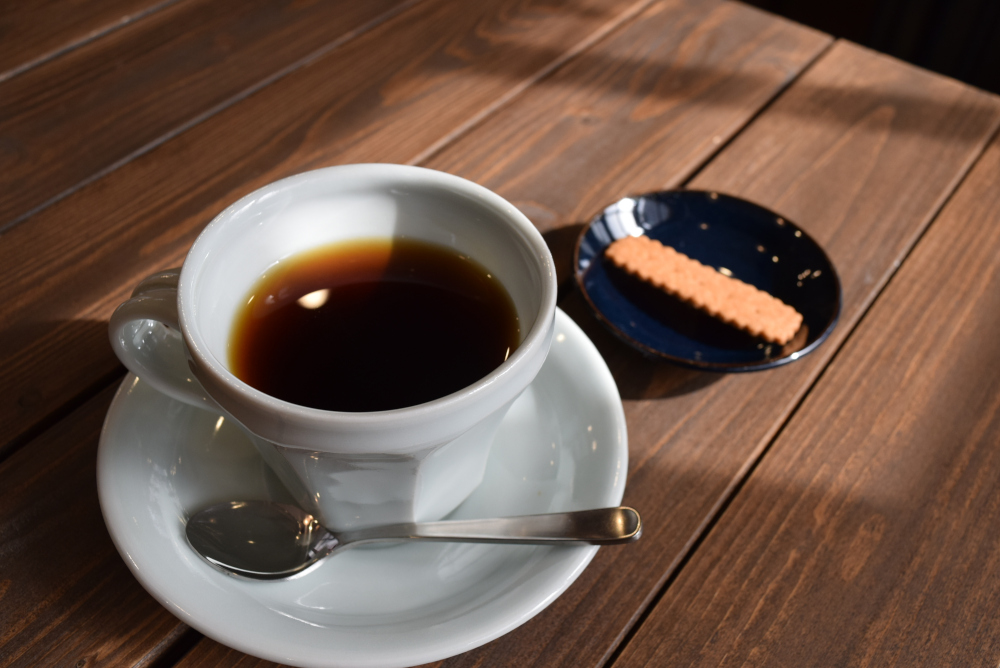 The smell of freshly baked senbei crackers wafts through the air. Across the street is the famed Shirasawa Senbeiten, which sells Nanbu senbei, a type of wheat cracker that the Iwate area is famous for. Let's head over and get some souvenirs.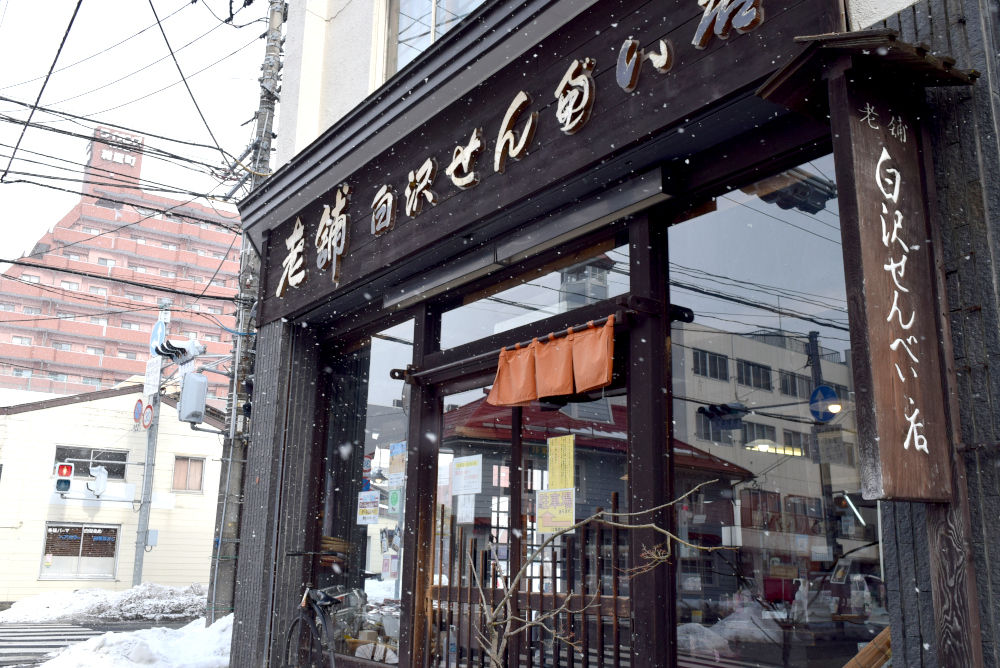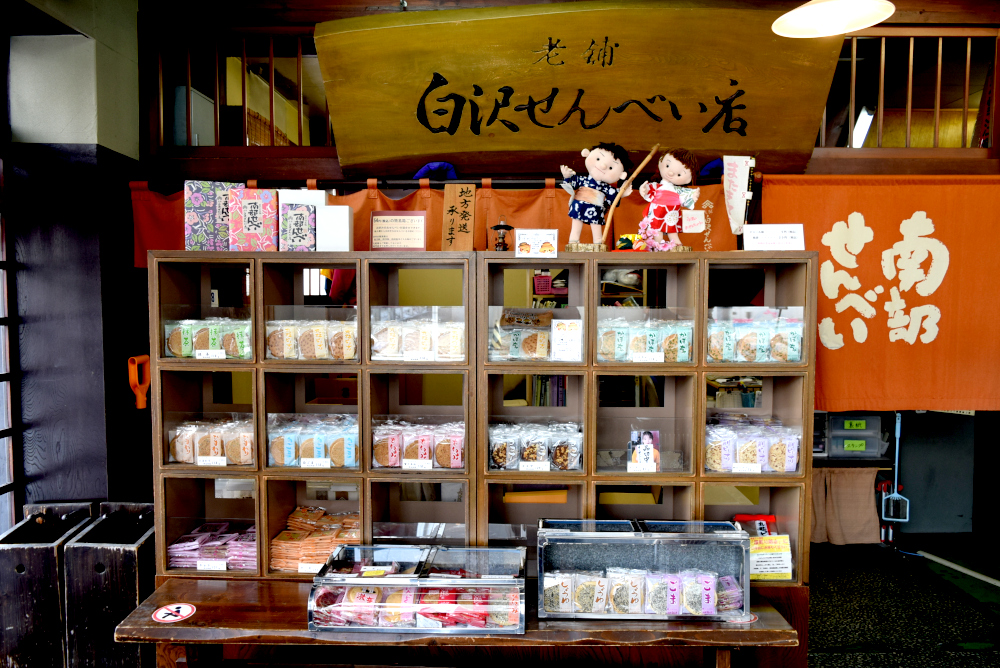 Shirasawa Senbeiten
Address: 2-16 Konyacho, Morioka City
Hours: 9:00-17:00
More info on their homepage (Japanese only)
Senbei are traditionally made from rice flour, but Nanbu senbei are made of wheat. These are slightly sweet, with a cookie like texture, and are filled with things like peanuts, pumpkin seeds, or flavored with soy sauce or sesame. Shirasawa even sells crackers filled with chocolate. The shop's owner is prolific on social media, and often shows off pictures of the shop's staff (his daughters) dressed in the Shirasawa uniform.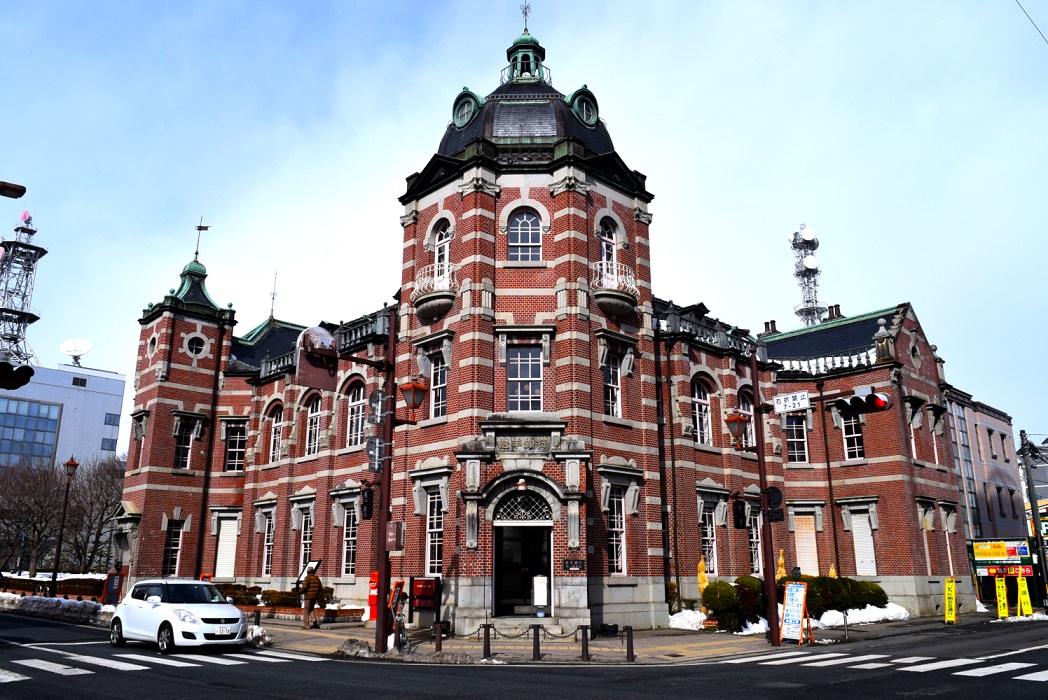 Bank of Iwate Red Brick Building
Address: 1 Chome 2-20, Nakanohashidori, Morioka City
A wander through Morioka is always benefited from a pass by this old red brick building. Perhaps the most famous building in all of the city, it was built in 1911 by Manji Kasai and Kingo Tatsuno, who also designed many other famous buildings such as Tokyo Station. The building is open to the public and often hosts various exhibits.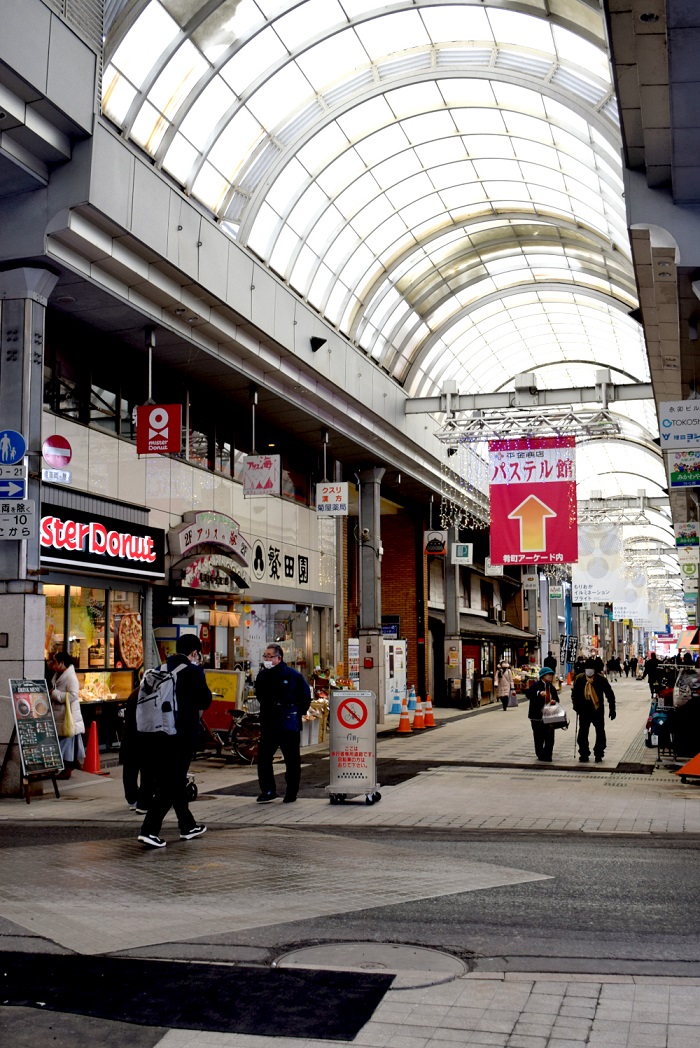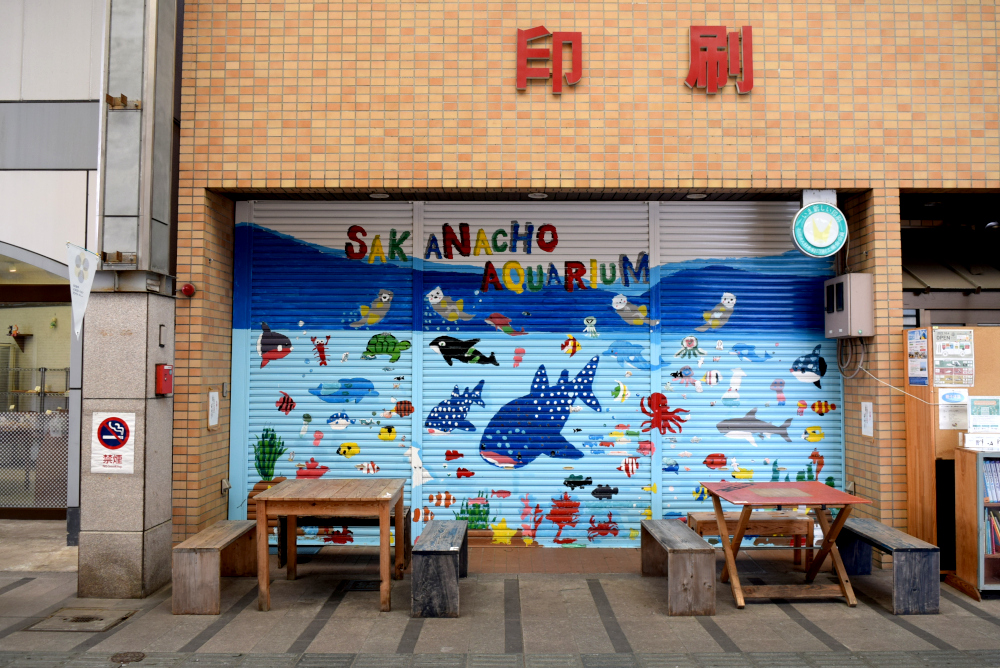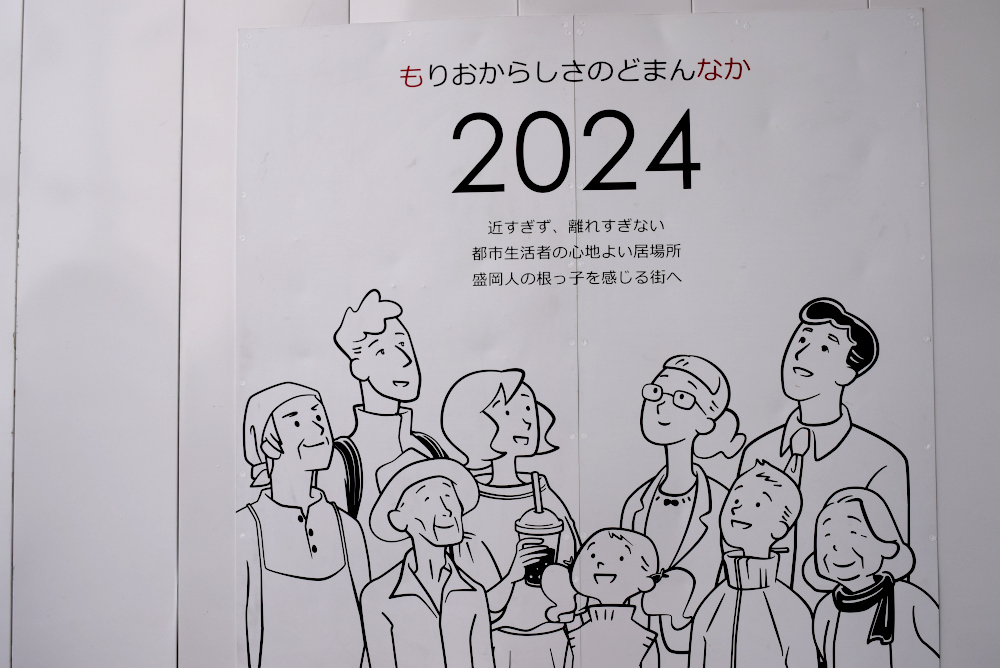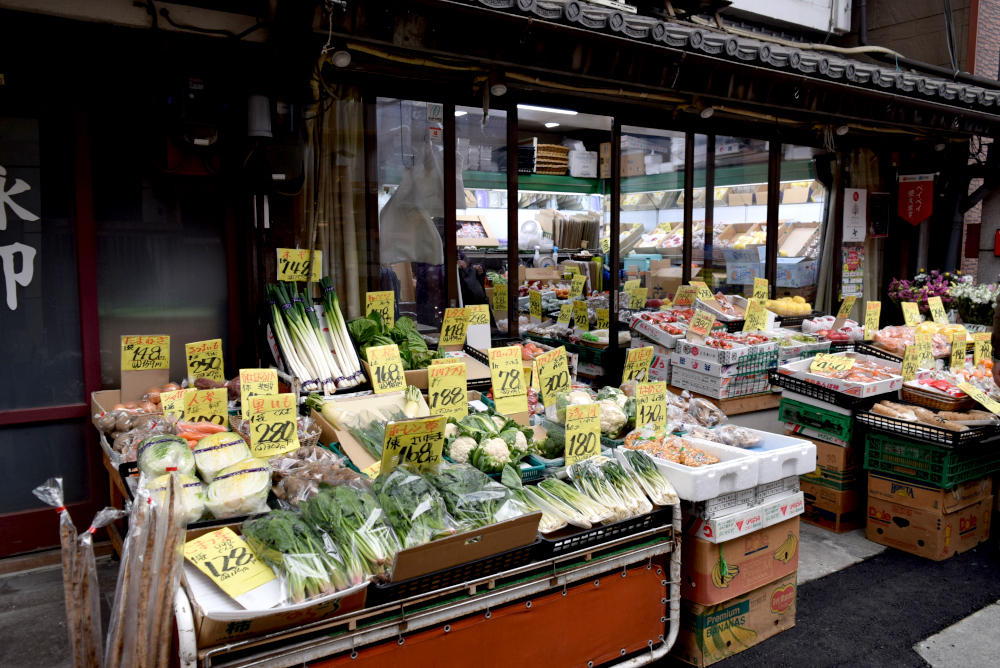 Sakanacho Shopping Arcade
Address: 8 12 6 Sakanacho, Morioka City
A visit to this area of town isn't complete without a quick jaunt up and down the Sakanacho shopping district. These types of commercial districts, covered with a roof and closed to traffic, used to be very popular in Japan, but have lost favor in the face of large chain stores and an increasingly car-friendly society. Some shops are shuttered here, and a large commercial facility called "Monaka" is currently under construction for a 2024 open date, so it's a quiet street. But there are tea shops, candy shops, a grocer, apparel shops, a café or two, a bookstore, and even a Mister Donut. This is where the people of Morioka shop and live their lives.
If you're here in August, the street is adorned with handmade streamers and decorations for the Tanabata Festival. The area vibrates with energy, filled with festival goers clad in cotton yukata and little children hoping to scoop up a goldfish from a festival game.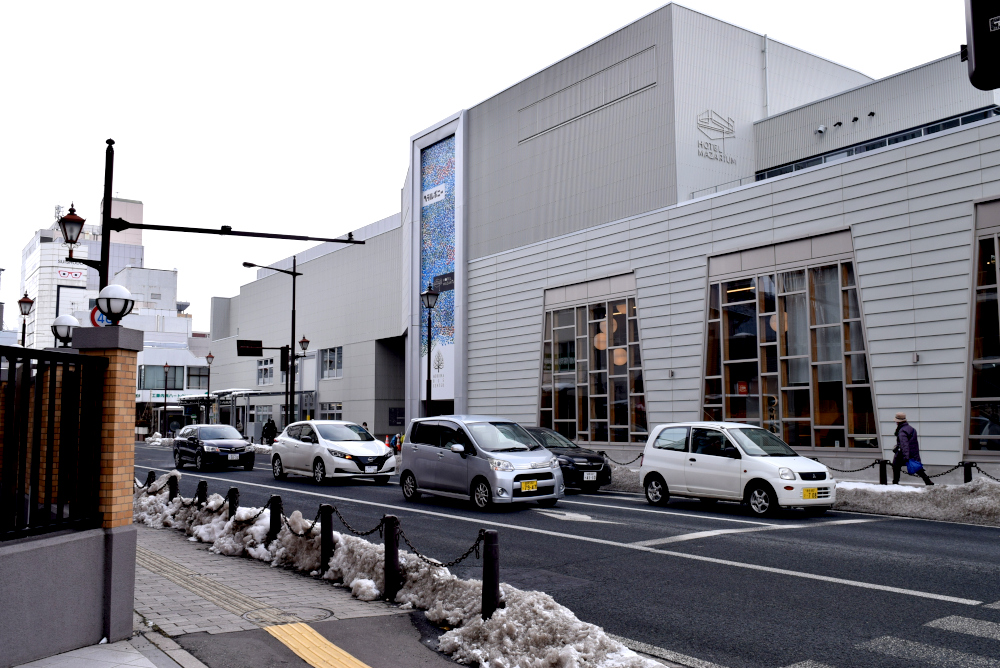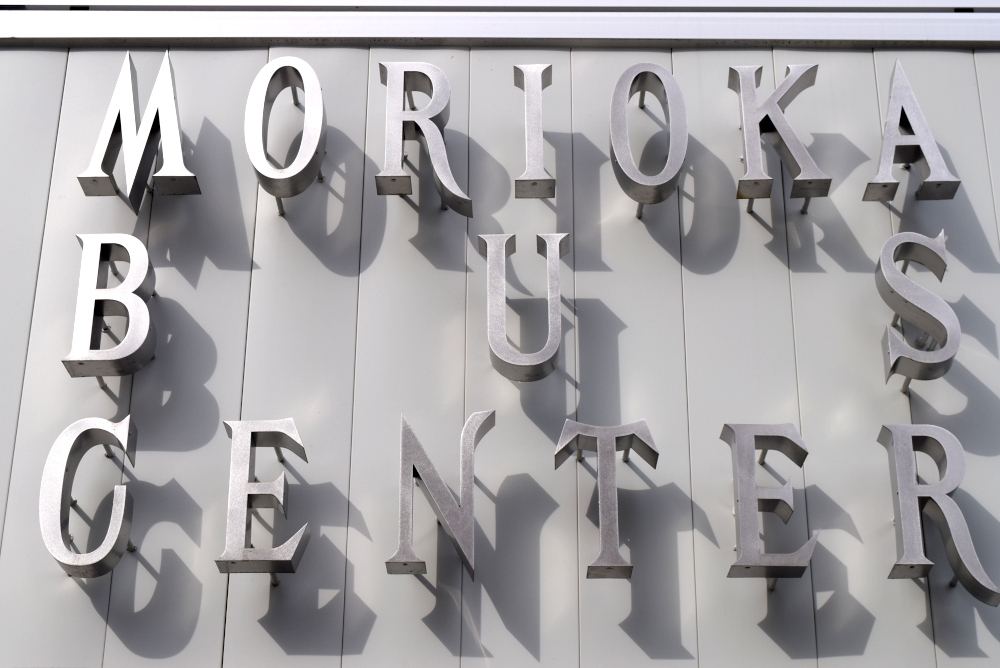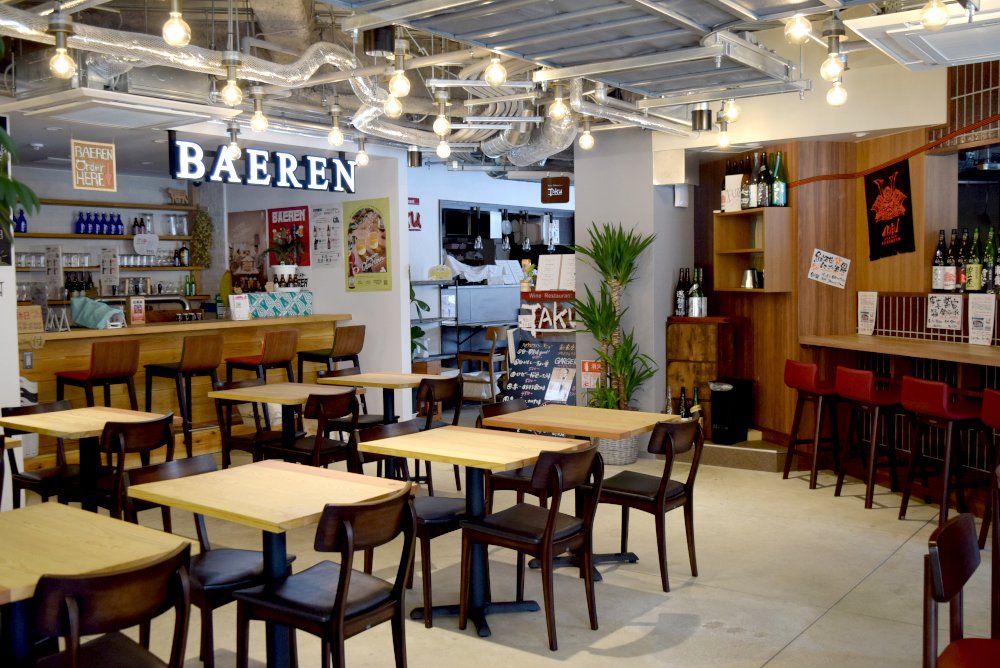 Morioka Bus Center
Address: 1 Chome 9, Nakanohashidori, Morioka City
Hours: West Building 6:00-22:30, East Building 7:00-20:00 (Individual shop hours vary)
More info on their homepage (Japanese only)
It'll be dark in an hour or so, so it's time to head back. We're right by the newly built Morioka Bus Center so let's take a quick look before we take a bus back towards Morioka Station. (You can walk back into town too; it's maybe a twenty minute walk back to the station)
This local hub is a new facility opened last year. A bus ticketing center and shopping complex, it has shops, restaurants, a hotel and even a spa facility. Jazz lovers who visited the Jazz Café Johnny mentioned in the NYTimes – there's a jazz museum inside the bus center as well.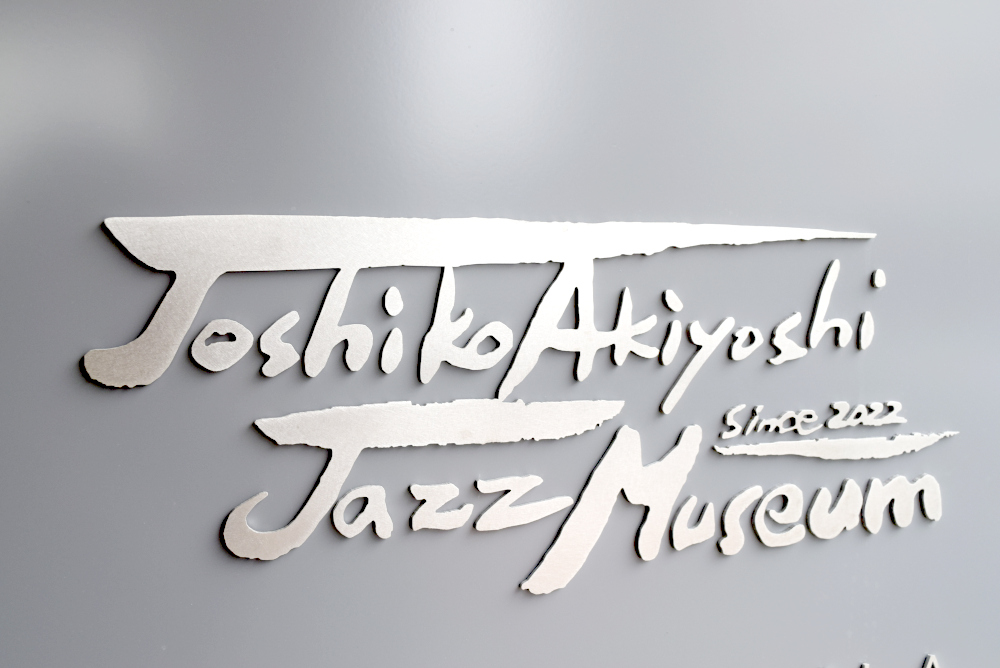 I may have been living for Morioka for almost 15 years, but as you can see, just when I thought I knew everything about the city, there were more discoveries awaiting me. I just love this city. This is the place for me. I can't imagine being in any other city in the world.
Japanese
盛岡市を散策しよう!
盛岡市はニューヨーク・タイムズ紙に認められた散策に最適な場所


先日、ニューヨーク・タイムズ紙が発表した「2023年に訪れたい52の場所」に、岩手県盛岡市が選ばれました。これは順位付けされているわけではないのですが、嬉しいことに盛岡市はロンドンのすぐ下の2番目に掲載されています。盛岡に長年住んでいる私は、この場所の素晴らしさを昔から知っていましたが、まさかリストの中でロンドンの隣に並ぶことになるとは予想もしていませんでした。でも、本当なんです。盛岡は世界の主要都市に負けないくらい美しく、楽しい街です。盛岡市は発掘されるのを待っている宝物のようなものなのです。

さて、ナガサワコーヒー、ブックナード、カフェジャズジョニーズ、東家のわんこそばなどは、クレイグ・モド氏がすでに紹介しているため、旅行者が今後、盛岡市を散策する際に、他に訪れるべきスポットを紹介したいと思います。

多くの人が宿泊するホテルは、盛岡駅や中心部の大通りに面しています。大通りにはショッピングや食事、友人との待ち合わせなど、昼夜を問わず多くの人が集まっています。でも、せっかくなので、冬の爽やかな空気の中、市の中心部から少し離れてみましょう。「北山」という住宅街を目指して北へ歩きます。冬場は滑りやすいので、12月~3月に訪れる予定の方は、丈夫なブーツを忘れずに持ってきてください。


【報恩寺】
 住所:盛岡市那須川町31-5
 拝観時間:9:00~16:00
 拝観料:大人300円、小人100円

報恩寺は非日常的な空間を味わいたいとき、心を落ち着かせたいときに訪れたい場所です。このお寺には、様々なポーズや感情を持った仏像がたくさんある「五百羅漢」があります。仏像は幼児ほどの大きさで、それぞれ異なる表情をしています。ある者は幸せそうに笑い、他の者は険しい表情で、また他の者は冷静で穏やかな表情をしています。でも、みんな大切な存在なのです。この場所には不思議なエネルギーがあり、いつも心が落ち着きます。日本語では「パワースポット」と呼ばれるこの場所で、彼らの不思議な表情から少しでもパワーをもらって、残りの散策に出かけましょう。


【三ツ石神社】
 住所:盛岡市那須川町2-1
 拝観時間:いつでも拝観できますが夜間はライトアップされていないため、日中に行くことをおすすめします
 拝観料:無料

南へ5分ほど歩くと、三ツ石神社があります。木陰にある小さな神社で、何の神社かわからないと見過ごしてしまいそうです。しかし、この地味な神社から、岩手県の県名の由来となった伝説が生まれました。岩手県は2つの文字で表記されています。岩(rock)、手(hand)。この神社には、手形のついた巨大な岩があります。

伝説はこう伝えられています。昔、この村に鬼がやってきて、村人を苦しめました。そこで、三ツ石という神は鬼をこの岩に縛り付け、すぐに村から出て行くようにと命じました。鬼はそれを承諾し、約束の証として岩に手形を残しました。雨の日には、岩の上にかすかにその輪郭を見ることができるそうです……

手形が見えるかな?たくさんの人がこの岩に自分の手形を残しに来ています。ここで歴史に触れていますね。


【上の橋】
 住所:盛岡市上ノ橋町1-4

川に向かって歩きましょう。盛岡には3つの大きな川と多くの支流があるため、古い歴史のある橋がたくさん架かっています。最も有名なのは、おそらく「上の橋」でしょう。この橋には、玉ねぎの様な形をした「擬宝珠」と呼ばれる装飾柱があります。秋になると、中津川を遡上するサケを見るために人々がこの橋に集まります。今、川には白鳥が集まっていて、道行く人に挨拶をしています。

空気は冷たいですが、この街には歴史が息づいています。ここから見えるところに小さな博物館があるので、行ってみましょう。


【深沢紅子 野の花美術館】
 住所:盛岡市紺屋町4-8
 開館時間:10:00~17:00(月曜休館)
 入館料:大人500円、大学生・高校生300円、子ども200円

1903年に盛岡で生まれた画家、深沢紅子(ふかざわこうこ)の作品を集めた小さな美術館です。深沢は生涯、野の花を描き続けたことで知られ、美術館の名前もこれに由来しています。特に中津川のほとりに生えていた勿忘草(わすれなぐさ)を愛しました。画家として活躍し、地元の新聞や雑誌の表紙を飾ったほか、同じ画家である夫とともに、日本の青少年に芸術の楽しさを伝える活動も行いました。

館長の廣嶼康子さんと学芸員の渡邊薫さんは展示品の案内をしながら、深沢さんの野草の絵を描いた絵葉書を数枚プレゼントしてくれました。1階の広い窓際には小さなカフェもあり、川辺を歩く人たちを見ることができます。アートと自然、そして地域の文化に触れる、とても楽しい午後です。


【紺屋町番屋カフェ】
 住所:盛岡市紺屋町4-34
 営業時間:10:00~17:00(月曜定休)

紺屋町界隈にあるカフェ&ギフトショップです。中津川のほとりにある灯台のような建物ですが、もともとは地元消防団の屯所として使われていたものです。2005年まで屯所として使用された後、カフェとして改装され、昨年2022年に再オープンするまで、地元のモニュメントとして立っていました。シンプルな木の引き戸の入り口の前に立ち、慎重に引き戸を開けます。

店主の岩渕公二さんが出迎えてくれ、紺屋町が商業と住宅の街であった歴史を語ってくれました。この地域の商店主はヨーロッパに関心があり、番屋には海外や地元のメーカーの小物も置いてあります。また、「モリ」と「オカ」という2種類のハウスブレンドのコーヒーがありました。(豆は隣町の焙煎所「風光舎」のものです。)

おや?焼きたてのせんべいの香りが漂ってきましたよ。向かい側には、岩手県が誇る南部せんべいの名店「白沢煎餅店」があります。おみやげを買いに行きましょう。


【白沢せんべい店】
 住所:盛岡市紺屋町2-16
 営業時間:9:00-17:00

せんべいといえば米粉が一般的ですが、南部せんべいは小麦粉で作られています。ほんのり甘く、クッキーのような食感で、ピーナッツやかぼちゃの種、しょうゆやゴマで味付けしたものなどがあります。白沢せんべい店は、チョコレートの入ったおせんべいも販売しています。店主はSNS上で、お店のユニフォームを着た店員(娘さんたち)の写真をよく披露しています。


【岩手銀行 赤レンガ館】
 住所:盛岡市中ノ橋通1丁目2番20号

盛岡を散策する際には、この古い赤レンガの建物に立ち寄ることをお勧めします。1911年に、東京駅を設計したことで知られる葛西萬治と辰野金吾によって建てられました。この建物は一般に公開されており、しばしば様々な展示会が行われています。


【肴町商店街】
 住所:盛岡市肴町8-12-6

この街を訪れたら、肴町商店街をぶらぶらと歩いてみるのもおすすめです。かつて日本では、アーケード商店街が人気を博していましたが、大型チェーン店の進出や車社会になったことで人気がなくなってきています。シャッターを下ろした店もあり、2024年のオープンに向けて大型商業施設「モナカ」が建設中なので、静かな通りです。でも、お茶屋さんやお菓子屋さん、八百屋さん、アパレルショップ、カフェが1~2軒、本屋さんもあります。盛岡の人たちはここで買い物をし、生活しているのです。

8月には七夕祭りが開催され、手づくりののぼりと飾りで彩られます。浴衣を着たお祭りの参加者や、金魚すくいをする小さな子どもたちで、活気に満ちています。


【盛岡バスセンター】
 住所:盛岡市中ノ橋通1丁目9番地
 営業時間:西館6:00~22:30、東館7:00~20:00(店舗により異なります)

あと1時間ほどで暗くなるので、そろそろ帰りましょうか。新しくできた盛岡バスセンターのすぐそばなので、ちょっと施設内を見てから、バスに乗って盛岡駅方面に戻りましょう。(駅まで歩く場合は、20分くらいかかります)。

盛岡バスセンターは、昨年オープンしたばかりの新しい施設です。チケットセンターの他にショッピング施設やレストラン、ホテル、温泉施設もある複合施設です。ニューヨーク・タイムズに掲載されたジャズ喫茶ジョニーを訪れたジャズファンは、バスセンター内にあるジャズ博物館にも足を運んでみてはいかがでしょうか。

私は盛岡に来て約15年が経ちますが、盛岡を知り尽くしていると思いきや、まだまだ新たな発見があるものです。私はこの街が大好きです。やはりここは私の居場所です。盛岡で暮らすと他の場所での生活が想像できなくなります。