While living in Ofunato City, I had the chance to take traditional Japanese dance (Nihon Buyo) lessons from a professional dancer, for about half a year. Personally, performance arts tend to be out of my comfort zone, and I had no experience with dance or performance when I was in my home country, the U.S. However, I decided that living abroad would be a good chance to try something new, and I began taking private Nihon Buyo lessons after moving to Ofunato. Even if you're not interested trying out dance in particular, Japan is abundant in traditional arts. Many expats pick up traditional arts like calligraphy, flower arrangement, tea ceremony or taiko drums while they live in Japan. In my experience, most locals are more than willing to invite foreigners to try out an array of traditional arts. This is especially true for Iwate Prefecture, which along with being rural, has many close-knit communities full of friendly and welcoming locals. Although I learned standard Nihon Buyo, Iwate is also full of local performance arts, which differ depending on the area of the prefecture. Whether you come to live near the ILC candidate site or to visit any other region of the prefecture, there are endless opportunities for trying out traditional arts.
Although I only took Nihon Buyo lessons for a short amount of time, I had the opportunity to perform a couple times at local events. This included performing at a festival, at a temple, and on stage at a theatre hall. Because I was a complete beginner, I learned a couple dances which are usually taught to small children who are just starting out. While I'm far from experienced enough to teach on Nihon Buyo, there are several intriguing details I noticed about the art through taking lessons and performing. Firstly, attire is important to this dance type. Depending on the season and formality of the performance, yukata or kimono are worn, which are both traditional Japanese garments.
Attire for Nihon Buyo: Yukata or Kimono
A yukata is a traditional Japanese garment, which is usually made out of cotton. It's more casual and lighter than a kimono, and is often worn at summer festivals or as a bathrobe when people stay at hot spring inns. I had the opportunity to wear a yukata to my lessons every week. Although I had worn a yukata in the past, before taking dance lessons, it took me a while to get used to wearing a yukata by myself. For my first couple months, I had to follow a tutorial video every time I wore the yukata, and had to spend time readjusting the garment, only for the fit to still turn out uneven. Even in Japan, many locals don't know how to properly wear a yukata on their own, and they need to have it professionally fitted when they go to dance in local festivals. Thankfully, after a few months of trial and error, I eventually got used to wearing a yukata by myself.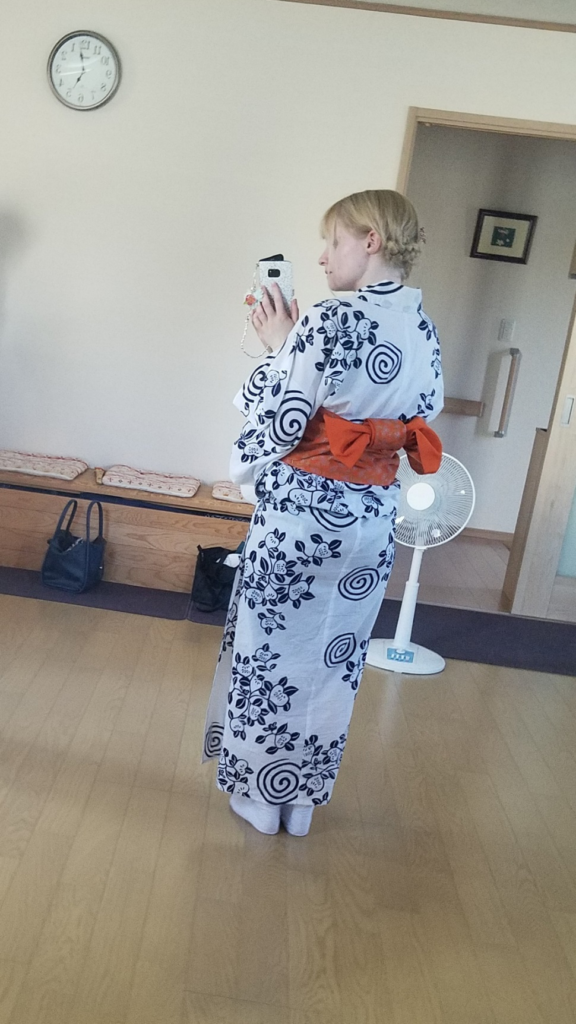 This is a photo showing the back of me wearing a yukata, which I would wear to my dance lessons. The obi waist tie shown here is tied in a simple butterfly knot.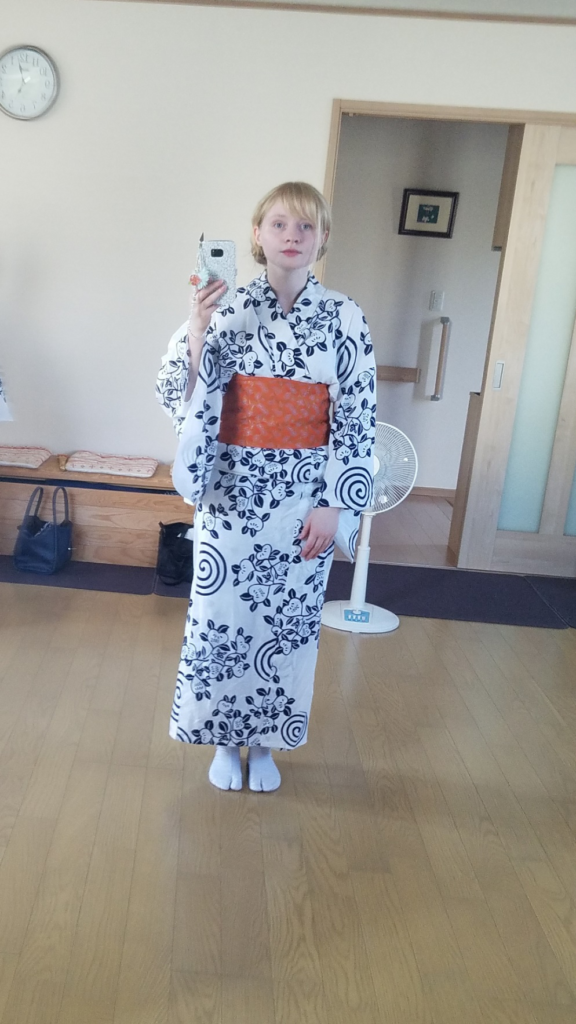 This photo shows the front of a yukata. One important aspect in wearing a yukata or kimono is the front collar. For general wear, the right side of the front collar should go under the left side. This applies to when you are wearing the yukata yourself, referring to your side; when putting it on someone else, the right side would go over the left side. If the right side is folded over the left side, it is associated with funeral wear and will be seen as taboo in normal settings like Nihon Buyo. In this photo, I'm wearing traditional Japanese socks, called tabi. These are the socks that performers usually wear while performing Nihon Buyo on stage.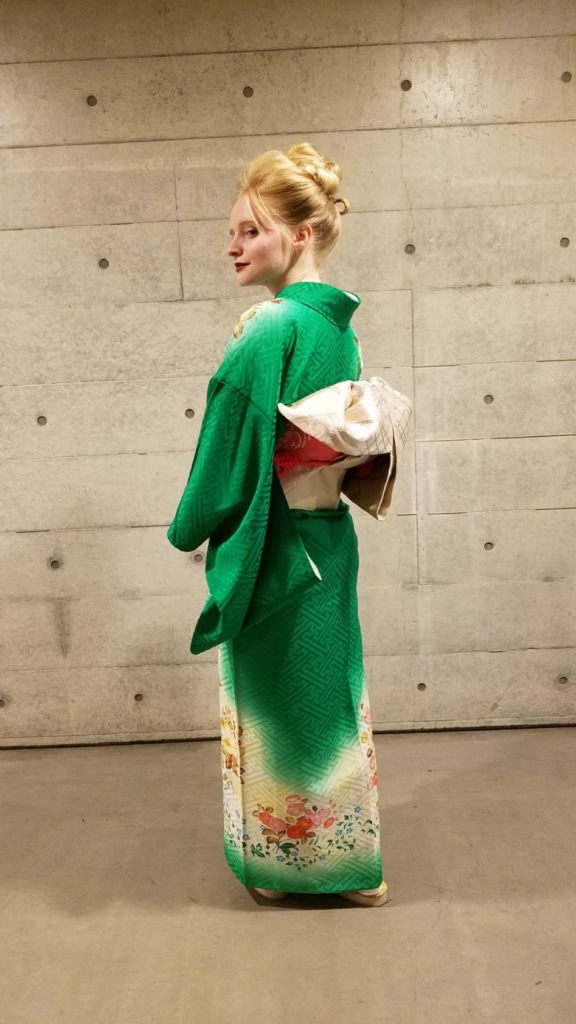 This photo shows a kimono that I borrowed from my dance teacher. Kimono are often made from silk, like the one shown here. A kimono is also worn with more layers (Japanese undergarments called juban) underneath it than a yukata, and it is very difficult to properly wear on your own. During this performance, the other dancers and I had professionals come in to put the kimono on us.
The main prop of Nihon Buyo: the sensu fan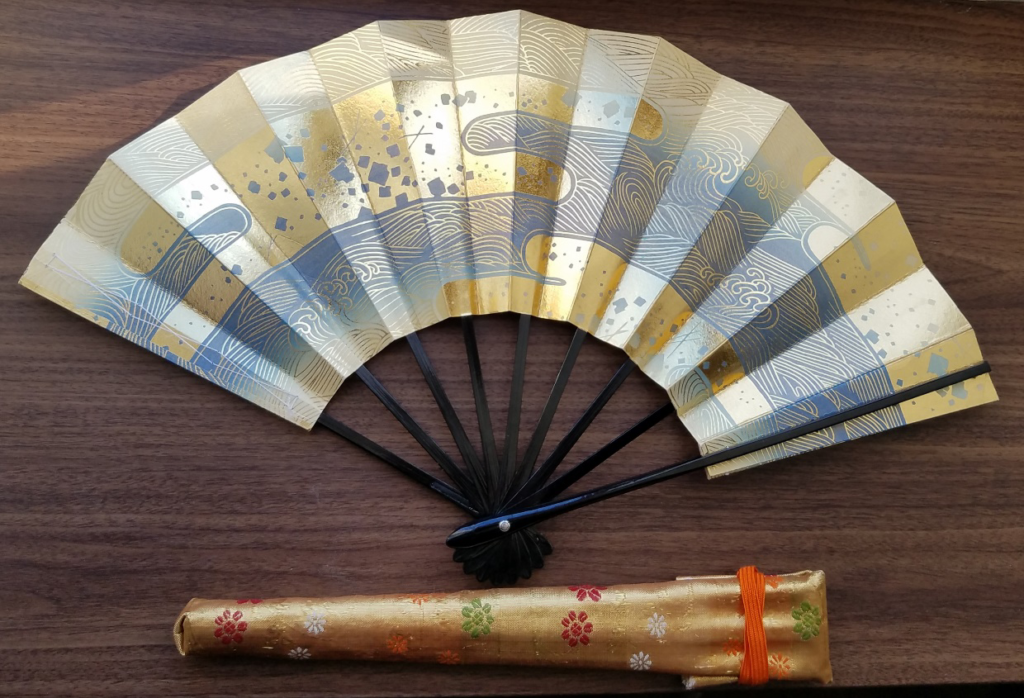 This is the beautiful sensu fan that I used during my lessons. I received it from a local friend, and it used to be used by her elderly mother when she danced in the past. She and her mother graciously told me that they would much rather have it be used by someone, rather than it just sit at home as a memento.
One specific detail I noticed about Nihon Buyo is how precise specific movements need to be. For instance, the fan needs to be opened, held and closed in specific ways.
The below video demonstrates how I was taught to handle the sensu fan.
[Video] https://youtu.be/KHQojovqz6E
During a dance, the sensu can be used to represent many things to help show a story. The first dance I learned in my lessons was to the song, Sakura Sakura, which refers to cherry blossoms in Japanese. During the dance, you wave your arm while lightly shaking the hand that's holding the fan, which represents the cherry blossom petals fluttering down. One of my main impressions of Nihon Buyo, which is also shown in this example, is that the dancer performs a story, as if to show they are in their own world. A detail showing this, is that the dancer is to keep their gaze centered while dancing on stage. This way, the dancer doesn't shift their gaze or make eye contact with the audience while they perform, because through their dance, they are acting out a scene. The formality of Nihon Buyo depends on the situation, however. For instance, when it came to doing casual line dances at festivals, my teacher encouraged me to smile and even interact with the audience.
To get a glimpse of what Nihon Buyo looks like, you can see the below video of me performing a simple dance on stage. While the video of me dancing shows a performance by a beginner, you can view more dramatic and intricate performances by professional Nihon Buyo dancers online or at performances held all over Japan.
[Video] https://youtu.be/dKrJWCpKOTs
Through this experience, I gained a new appreciation for traditional Japanese arts, and I was also able to challenge myself to try something new. Whether you visit Iwate as a tourist, or move here one day, you're sure to have an unforgettable experience if you give traditional performing arts a try.
Japanese
日本の伝統芸能:日本舞踊

[写真]

大船渡市に住みながら、半年ぐらい日本舞踊のレッスンをプロフェッショナルの先生から受ける事が出来ました。地元のアメリカでも踊りや出演の経験が無かったのですが、海外に住み、新しい事に挑戦するために折角の機会だと思い、レッスンを受け始めました。日本は伝統芸能と伝統美術が盛んな国なので、日本に住む多くの外国人は、舞踊をはじめ、書道や生け花、茶道、和太鼓など、様々な伝統を習っています。地元の方々が外国人にも分け隔てなく接し、伝統芸能などの体験を勧めてくれます。岩手県は田舎ですが、そこに暮らす人々は受け入れる力が強く、地元の方々が外から来た人たちを優しく歓迎しています。私は一般的な日本舞踊を習ったのですが、その地域だけに伝わる伝統芸能も多くあります。いつかILC建設候補地に来訪される方々も候補地周辺だけでなく、岩手県の随所で伝統芸能を体験する機会があるでしょう。

日本舞踊のレッスンを受けたのは短い期間でしたが、何回か出演する事が出来ました。地域の祭りやお寺、そして市民ホールの舞台で披露しました。舞踊は一度も習ったことがない初心者でしたので、私が習った踊りは普段小さな子供が教わる演目でした。そのように、日本舞踊を指導できるほどの経験はありませんが、自分の体験や、自分が面白いと思った事について紹介したいと思います。
はじめに、日本舞踊は服装が重要です。踊りの季節やフォーマルさにより、日本の伝統的な服装である浴衣、又は着物を着ます。

日本舞踊の服装:浴衣と着物

浴衣は、日本の伝統的な服装であり、コットンで出来ている事が多いです。着物より軽く、カジュアルな服装なので、夏祭りや温泉旅館などでよく着られています。日本舞踊のレッスンを受けていた時は、毎週着る機会がありました。レッスンを受けるより前に浴衣を着た経験はありましたが、自分で着る事に慣れるまでには時間がかかりました。レッスンを受け始め、最初の数ヶ月はその都度インターネットで着付け方の説明動画を見ながら着ていましたが、それでもよく間違えていました。日本人でも自分で浴衣を着られないという方は多く、夏祭りなどで着用する場合、プロフェッショナルの方に着付けをお願いしています。数ヶ月着付け方の間違いを繰り返してきましたが、ようやく自分で着る事に慣れてきました。

[写真]
浴衣を着た後ろ姿の写真です。この浴衣を毎週のレッスンで着ており、写真に写っているような蝶結びで帯を結んでいました。

[写真]
浴衣の手前の写真です。浴衣を着る際、大切なポイントの一つは襟の事です。一般的には、自分から見て右の襟が下、左の襟が上になります。(他の人に着付ける時は、向かって左側が下、右側が上になります。) 右襟が上になると、死者の着方として縁起が悪いため、タブーとされています。
写真に写っている履物は日本の伝統的な靴下で、「足袋(たび)」と言います。舞台で日本舞踊をする際は、基本的に足袋を履いています。

[写真]
上の写真では、踊りの先生から借りた着物を着ています。こちらに写っている着物のように、絹で出来た着物が多いです。着物の下に、浴衣の場合より多くの襦袢(じゅばん)と呼ばれる和装用下着を着用し、自分で卒なく着るのは非常に難しいです。写真を撮影した出演当日も私や他の出演者が着物の先生を呼び、着付けをお願いしました。

日本舞踊の一番大事な道具:扇子
[写真]
写真にある美しい扇子を日本舞踊のレッスンに使っていました。地元に住んでいるおばさんの友達からいただいたのですが、その方のお母さんが昔使っていたそうです。友達とお母さんが「家のどこかに置いておくより、誰かに実際に使ってもらった方が嬉しい」と言っていただきました。
日本舞踊について気づいた事の一つは、小さな動きでも的確でなければいけないという事でした。扇子もこのように、開き方や持ち方まで決まりがあります。

以下の動画では、日本舞踊の際に習った、扇子の開き方と持ち方をお見せします。
[動画]

日本舞踊では、物語を表すために、扇子で様々な物の形を表現しています。レッスンを受け、最初に習った踊りは「さくらさくら」でした。腕を振りながら扇子を持った手を優しく揺らす動作が、ひらひらと舞う桜の花の様子を表しています。踊り手が、舞台上だけまるで演目の世界になっているかのように見せる事が重要です。例えば、踊り手が踊りながら、視線を真っ直ぐにする事も大切です。あちらこちらを見たり観客の目を見たりしないで、踊り手が自分で場面を演じているのです。しかし、日本舞踊の厳しさはその場面により、祭りで皆とはしゃいで踊るような時だと、先生に微笑んだり見ている人たちに声をかけたりしてもよいという風に教えられました。

以下の動画では、初心者である私が舞台で比較的演じやすい踊りをしています。もっと複雑で卓越したプロフェッショナルの踊りに興味があれば、インターネットの動画や日本で開催されている日本舞踊の演目で実際に見る事が出来ます。
[動画]

この経験を通じて、日本の伝統芸能について更に関心を持つようになり、新しい事にも挑戦出来ました。観光客としても、移住者としても、岩手県を訪れる機会があれば、伝統芸能を体験すると忘れられない思い出が出来るでしょう。