During the autumn months, many houses in Ichinoseki have a curtain of orange hanging from their eaves. These are all persimmons drying in the sun ready to be consumed in December. Historically, dried foods (kanbutsu) were an essential part of welcoming the winter months to make sure that there's a steady supply of nutrient rich fruit and vegetable to fall back on. There are many benefits of dried foods which include the addition of nutritional value, the reduction of food loss, depth of flavor, saving energy as refrigeration isn't needed, and having a source of essential vitamins and minerals in times of disaster.
Although there are many types of dried foods around the world, let's have a look at some that you may find in the mountainous Ichinoseki countryside during the autumn and winter months.
Hoshigaki (dried astringent persimmon): These you can't miss! The vibrant orange in contrast to the clear, autumn skies is one of my favourite scenes of autumn. I mention astringent persimmon (known as shibugaki in Japanese) as it's the type of persimmon that is abundant in the Japanese countryside. Unlike sweet persimmons, these are unpalatable due to the bitterness from their high tannin content. By drying them whole without their skins, they transform into a sweet, jellylike snack. The skins can be used to sweeten pickled Chinese horseradish and the slightly unripe ones can be repurposed to make persimmon vinegar. Processing the astringent persimmons into something edible is something I find fascinating.
We went to Oimatsu in Hanaizumi, Ichinoseki, to see how their beautiful dried persimmons are made. On a good year, they will hand make 10,000 dried persimmon. From picking them from the tall trees, peeling each carefully using knife and peeler, hanging them on special rope; it's a true labour of love. The secret to the beauty of Oimatsu dried persimmon though, is their colour once dried. Usually, they are eaten or sold more of a blackish, brown colour but Oimatsu has a secret up their sleeve to make them a golden orange. Is it food dye? Perhaps they peel the outer layer? Oimatsu in Hanaizumi once had a thriving sulfur industry, and it's by smoking the persimmons in sulfur that restores them to their original color. Of course the natural process of drying foods is dependent on the cool, dry weather, but we've actually had quite a warm autumn. It's my hope that everyone's efforts this year will bear fruit.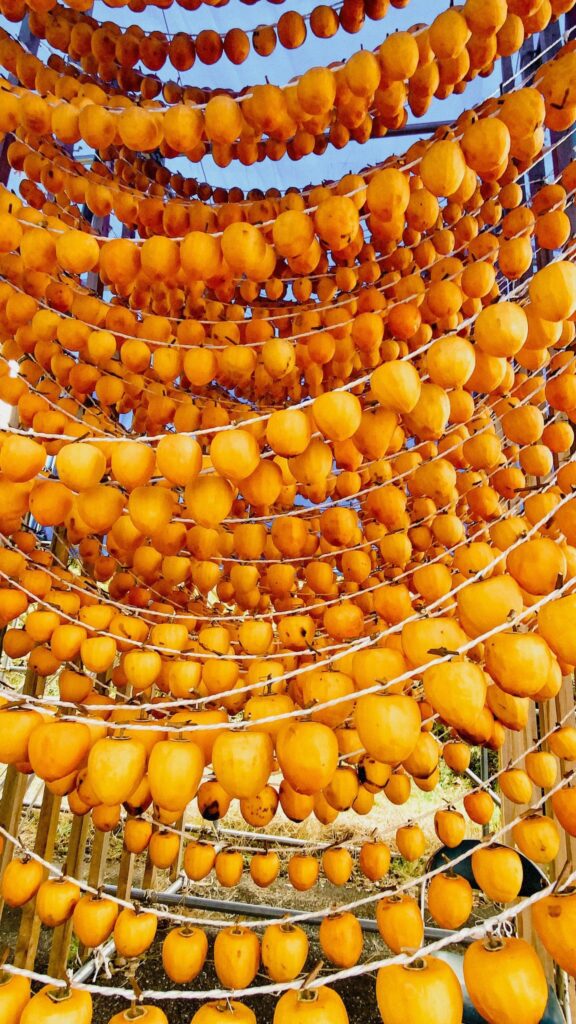 ①Dried astringent persimmon
Dried Shiitake mushrooms:
Before I moved to Japan, I had never heard of people eating fresh shiitake mushroom since I'd only seen the dried ones at the Asian grocery store. It wasn't long until I realized that fresh and dried shiitake are a staple in Japanese households. Due to the undeniable umami content of dried shiitake which is said to be ten times of that of fresh shiitake, it's often used when making dashi stock, a foundation of Japanese cuisine.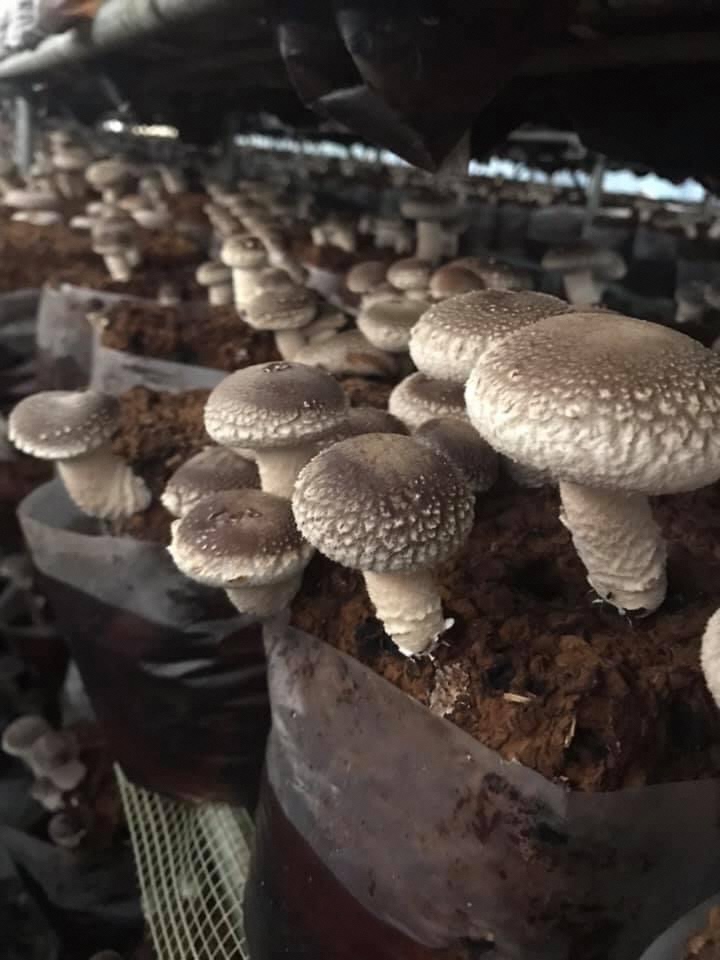 ② Dried Shiitake mushrooms
Shiitake mushrooms are an important produce of Iwate Prefecture as it's the third largest producer of fresh (nama) shiitake in the country. Ichinoseki is famous for dried shiitake, produced in the traditional 'genboku' style which are cultivated on logs rather than sawdust blocks known as 'kinsho' cultivation. Ichinoseki's abundant hardwood trees were once used to produce charcoal, but as the use of gas became the norm, the industry needed to change. The trees were then used to make genboku style shiitake. Genboku shiitake can only be harvested in either spring or autumn; if in season, you may see fresh genboku shiitake at the shops but most of the produce is dried to be sold throughout the year. My husband is a kinsho shiitake grower and mainly sells fresh shiitake as production can last the whole year due to the controlled environment. When helping at his farm, I see the amount of shiitake that do not meet the market standards, whether it be that they are too big or small when harvested, not perfectly round or the cap of the mushroom is not the desired shape. For the fresh shiitake that do not meet the cosmetic standards, we either slice or dry them whole, turning what would have been waste into a consumer product.
Shimidofu (frozen-dried tofu) and shimimochi:
Shimidofu has a history of over 150 years in Ichinoseki. Processes include ageing them in refrigerators, hanging them outside with grass rope to be dried by exposing the tofu to cold winds and sunlight. Once completely dry, they have a sponge-like texture and are often used in Japanese hot pot to soak up the umami from meats and vegetables.
And of course, this can't be an Ichinoseki article without the mention of mochi. Ichinoseki also freezes it's mochi by first boiling it in hot water and then hung out on a cold night to dry. It is then usually put under the eaves of houses to dry further. The mochi can be restored by soaking it in water and then frying it up.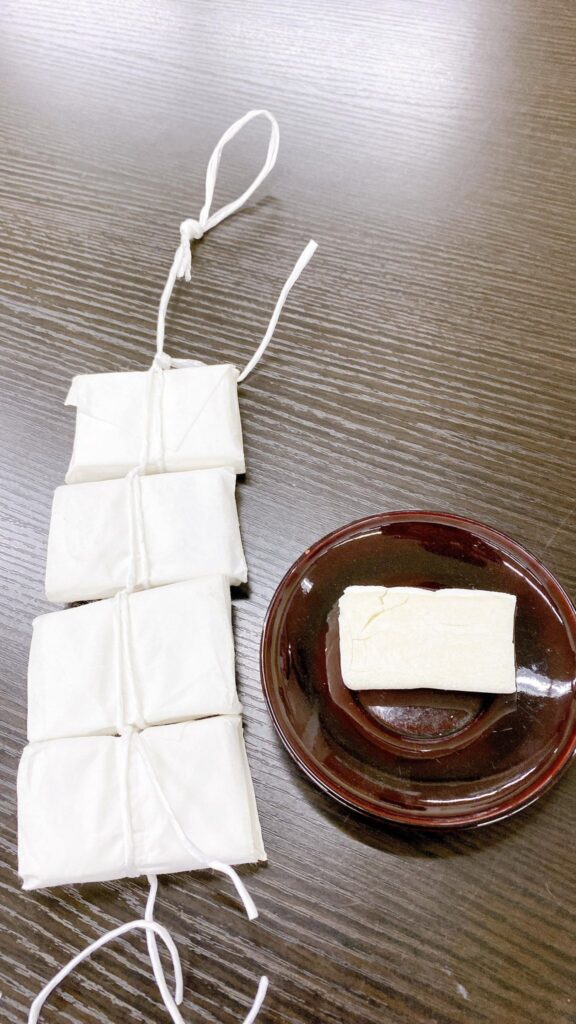 ③ frozen-dried tofu
Japanese
冬備え、乾物
一関の多くの家では、秋に軒先からオレンジ色のカーテンが垂れ下がっています。
これらは柿なのです!太陽の下で乾燥させ12月には干し柿を食べられるようになります。歴史的に、乾物は冬の数ヶ月の間も、安定して栄養豊富な果物や野菜を常食することができるように準備された頼りになる食料です。乾燥食品には、栄養価の高さや、食品ロスの削減、エネルギーの節約(冷蔵が不要なため)、災害時の必須ビタミンやミネラルの供給源など、多くの利点があります。世界にもさまざまな種類の乾物がありますがここでは秋冬の一関の田園地帯で作られる乾物を見てみましょう。

干し柿(渋柿):澄んだ秋の空に映える、鮮やかなオレンジ色は私のお気に入りの秋の風景です。渋柿は、日本の田舎に豊富にある柿の一種です。甘い柿とは違い、タンニンの含有量が多いため渋味があり、そのままでは食べられませんが、それらを丸ごと乾燥させることにより、甘くゼリーの様な食べ物に変わります。乾燥した皮はたくあん漬けの甘味を引き出すことに使われたり、完全に熟していない柿を使って柿酢を作ることができます。

一関市花泉町の老松をたずね、おいしい干し柿の作り方を教えてもらいました。豊作の年には、1万個の干し柿を手作業で作ります。実に手が届かないほどの大きな木から収穫し、ナイフやピーラーで丁寧に皮をむき、特別なロープに掛けます。老松干し柿の美しさの秘訣は、仕上がりの色です。通常、干し柿は黒っぽい茶色をしていて販売されたり食べられたりしていますが、老松のものは黄金色をしています。食用色素でしょうか?外皮をはがしているのでしょうか?花泉町の老松では、かつて硫黄産業が盛んでその硫黄で柿を燻すと元の鮮やかなオレンジ色に戻るということです。食品を乾燥させる自然なプロセスは、涼しく乾燥した天候が必要ですが、今年は暖かい秋でした。皆様のご尽力が実りますように。

写真① 干し柿 老松

乾燥椎茸:日本に住む前は、アジア食料品店で売られている干し椎茸しか見たことがなく、生椎茸を食べるということにも馴染みがありませんでした。しかし日本に住み始め、
生椎茸や乾燥させた椎茸が日本の家庭で使われる定番の食材であることに気付きました。干し椎茸のうま味は、日本料理の根幹であるだしを作るときによく使われます。

椎茸は岩手県の重要な農産物であり、国内では第3位の生椎茸の生産地です。一関は、「菌床」栽培と呼ばれるおがくずブロックではなく、丸太で栽培される伝統的な「原木」で生産された乾燥椎茸で知られています。一関の豊富な広葉樹はかつて木炭の生産に使われていましたが、ガスの使用が一般的になるにつれ、木の利用方法を考える必要がありました。

写真② 菌床椎茸

その後、木々を使って原木椎茸を作り始めました。原木椎茸は春か秋にしか収穫できないので旬の時期は店頭で生の原木椎茸が見られるかもしれませんが、ほとんどは乾燥して一年中販売しています。私の夫は菌床椎茸の生産者で、人工栽培のため、一年中生椎茸を中心に販売しています。農場を手伝うとき、収穫時に大きすぎたり小さすぎたり、丸くなかったり、きのこの傘の開き具合が良くないものなど、市場の基準を満たしていない椎茸があることがわかります。見た目の基準を満たしていない生椎茸は、スライスまたは乾燥させることで廃棄せず製品化できます。

凍み豆腐と凍み餅:凍み豆腐は一関で150年以上の歴史があります。冷蔵庫で熟成させたり、豆腐を冷風や日光に当てて乾かすために草縄で外に吊るしたりします。完全に乾くとスポンジのような食感になり、肉や野菜のうま味をよく吸うため、鍋の具材としてよく使われます。
一関と言えば餅。凍み餅の作り方は、お湯で煮てから凍らせ、寒い夜に干して乾かし、家の軒下などに吊るし乾燥させます。凍み餅は水に浸してから揚げると美味しく食べられます。

写真③ 凍み餅