Summertime in Japan can be chaotic. Unlike other parts of the world at similar latitudes, where summers might just be a series of hot days punctuated by thunderstorms, here the weather can veer from cool and rainy, to humid and near-tropical, to clear and sunny. Iwate is no exception – we contend with a rainy season in early summer, the phenomenon of yamase, heatwaves, and even typhoons. But just like with winter, there are myriad tips and tricks for managing these unpredictable months.
The rainy season – called tsuyu in Japanese – is a sort of mini-season that resembles a scaled down monsoon. The rain might be warm or cool, plentiful or scant, but it arrives one way or another, and usually lasts until early July or end of July. It's rarely severe, so there's usually no need to take special precautions, but it can come as a shock if you're more used to straightforward summer heat (like I was.) If you plan on outdoor activities in Japan in June, I'd recommend preparing for rain – whether that means rain gear or an indoor plan B. I'd also recommend getting your camera ready: there are lots of striking photo opportunities during this time.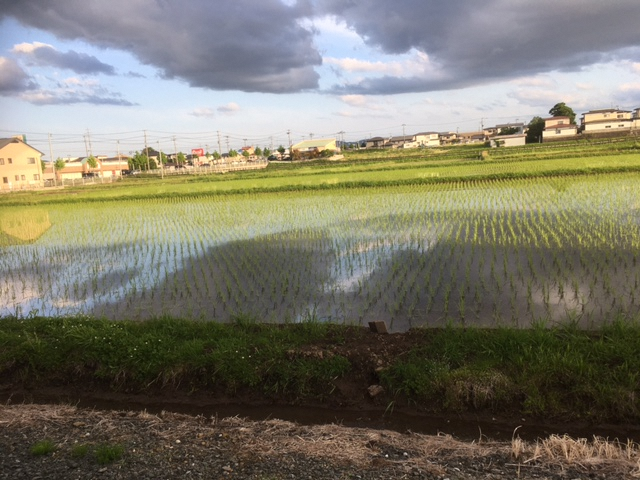 Gray rain clouds in an other wise clear sky, reflected in a newly-planted rice field.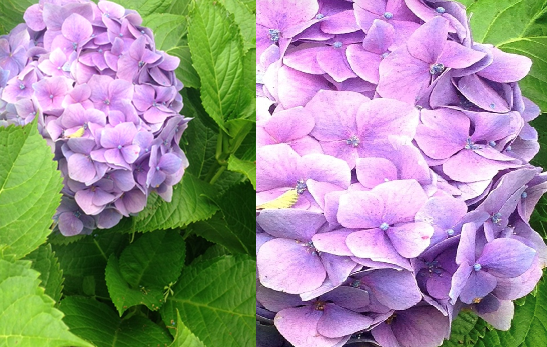 Hydrangeas, a symbol of tsuyu, blossom.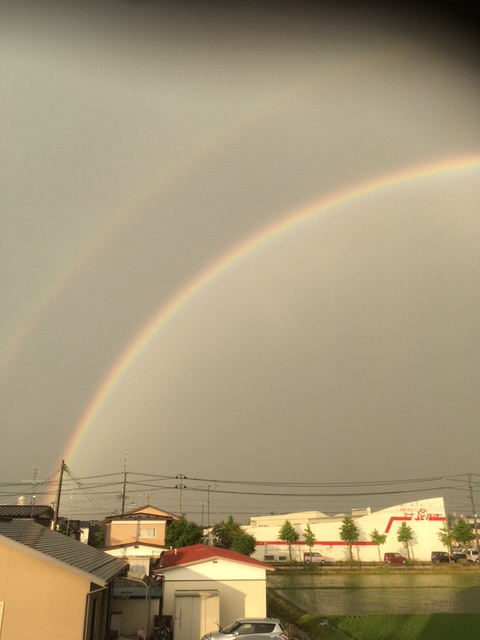 A double rainbow! It was even more vibrant in person.
Tsuyu is a phenomenon across most of Japan, but yamase winds are a northern specialty, so to speak. These are cool winds from the Pacific Ocean that cause unseasonably chilly temperatures and low-lying clouds to form. The effect is particularly pronounced in northern Iwate, in the coastal regions. As with tsuyu, it's not exactly an emergency but it can be a surprise when, in midsummer, fog settles in and the temperature plummets. While the ILC candidate site is more inland and further south, and so less subject to yamase, if you travel further north in the summer months, it's something you may encounter. Like tsuyu, it too makes for great photos as the clouds swirl around mountains and fields.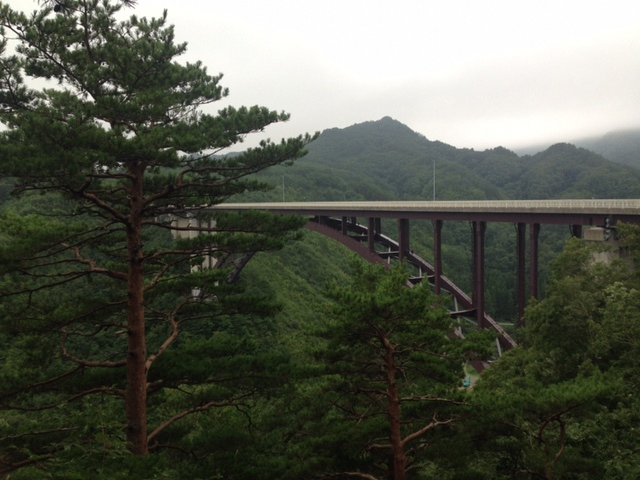 Shiino ohashi Bridge in Tanohata(a northern coastal village.)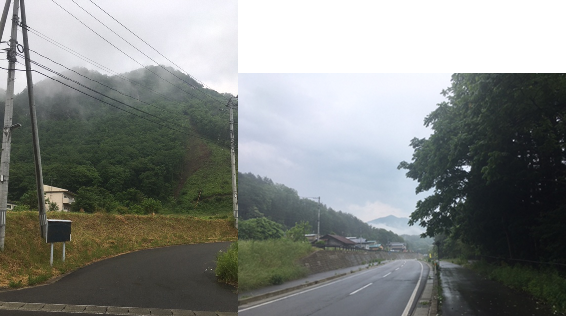 Roadside photos of yamase.
On the other end of the spectrum, in recent years intense heatwaves have become an issue throughout Japan. It goes without saying that air conditioners take the edge off and are installed in most places of business (and sometimes come with apartments), but at the same time, most people try to use eco- and budget-friendly alternatives too. Of these, the humble electric fan is perhaps the preeminent one. It's a Japanese summer essential – they seem to be humming along in all sorts of places. When placed judiciously in a well-ventilated space, they can be surprisingly effective. In fact, my first place in Japan didn't have an aircon, but by opening windows and running the fan, I didn't even miss it. (To be clear, aircon units are popular and used quite frequently as well, I'm just pointing out an alternative that has a place in Japanese culture.)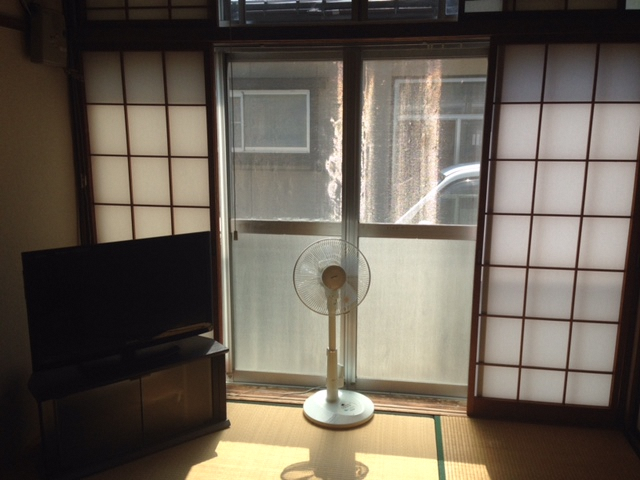 An electric fan in a traditional-style room.
As far as portable ways to refresh, there are plenty of options but in my experience, cooling wipes are a lifesaver. These are wipes with menthol or other cooling chemicals that provide instant refreshment on hot days. Convenience stores carry types for the face, body, or both, plus various fragrances; I think it's best to experiment to figure out what works. Applying one and then sitting in front of the electric fan or aircon after a long, hot day is simply heavenly.
Last but not at all least, typhoons are a possibility all through summer and into early fall. These do require some emergency preparation, since strong winds and rains can cause flooding, power outages, or landslides. It's recommended that people look up hazards for their area and know their nearest evacuation shelter, just in case – as well as keeping up with weather reports, of course. City websites can also be helpful – Oshu, for example, has a page detailing the locations of various evacuation shelters in English, links to multilingual prefectural information, and more. Here is the link: Disaster Preparedness .
In spite of how wild it can get, there's a lot to love about summers here. Summer festivals are beautiful and lively, beaches open up for the season, and it seems like there's a fireworks display somewhere every weekend. Though some of these events have been scaled down, canceled, or postponed, it's always possible to enjoy Iwate's scenery or try some seasonal specialties like watermelon or cold noodles. It's easy to make great memories, and we hope that whether you come to Iwate for a brief excursion or to live for a while, you enjoy your time and are prepared for anything.
Japanese
岩手の夏の楽しみ方
暑さに負けず、夏を楽しむ!

日本の夏の天気は予測しづらいときがあります。例えば日本と同じくらいの緯度に位置する世界の地域では、夏は暑い日が続き、雷雨に見舞われることもありますが、日本では涼しい雨の日や、湿度が高く熱帯のような日、カラッと晴れて暑い日、のように天候が変わります。
岩手も例外ではなく、梅雨、やませ、熱波、そして台風が来ることで、天気が不安定になる時期がありますが、冬のときのように夏のこの時期をやりこなすため様々なコツがあります。

日本語で「梅雨」という「雨の季節」とは、モンスーンを縮めたような短い雨季のことを指します。梅雨の雨は暖かいときもあれば寒いときもあるし、多いときもあれば少ないこともあります。いずれにしても、7月上旬もしくは下旬まで続きます。岩手では梅雨の雨はあまり激しくないので、特別な防災準備は必要ありません。しかし、梅雨は集中的に雨が降る時期なので、夏の直射日光に慣れている人はびっくりするかもしれません。

もし6月に日本で何かアウトドア活動をしたいなら、雨具なり次善策としてインドア活動なり雨の対策をした方がいいと思います。しかし、この時期は雨が上がった後は素敵な景色が広がるので写真の好きな方はカメラも準備してください。

[写真]

梅雨は日本の大部分で発生する現象ですが、やませは東北地方の特徴であり、涼しい太平洋からの風で、夏とは思えないほど冷たい気温や下層雲を招きます。この現象は特に岩手沿岸北部に見えます。梅雨と同じく、やませはただちに危険というものではありませんが、真夏に気温が下がって霧が急に発生したらビックリするでしょう。ILC建設候補地は内陸南部なので、やませの影響を受けませんが、夏に北の方に旅行したら霧が見えるかもしれません。また、雲の取り巻いている山や野原は素晴らしい景色になります。

[写真]
一方で、近年「熱波」は日本どこでも問題となっています。エアコンは役に立ってどの職場にも据え付けられていますが、エアコンの代わりになる環境と財布にやさしい対策もいくつかあります。

この代替品の中で、扇風機は最も主要なものでしょう。まるで夏の象徴のように、あちこちでブーンと動いています。換気のいい場所に置いたら、意外に効果的です。ちなみに、最初日本に引っ越したときに、自分の住んでいた家はエアコンがありませんでしたが、窓を開けて扇風機を点けると、問題なく過ごせました。(誤解しないでいただきたいのは、エアコンはよく使用されていて人気がありますが、今回はエアコンの代わりになるものを紹介しているということです。)

持ち運びしやすい暑さ対策グッズとしては、たくさんの選択肢がありますが、自分の経験では、氷冷シートにいつも助けられています。暑い日に拭いたとたんさわやかに感じさせるメンソールなどひんやりするシートです。コンビニでは様々な種類を提供していますので、試してみた方がいいと思います。長くて暑い一日が終わったらシートで体を拭いて、扇風機かエアコンの前に座ることは最高です。

最後に台風は初秋まで発生し、それに伴って強風・雨による洪水や土砂崩れ、停電などの恐れがあり、防災準備をしなければなりません。念のため近所の危険な場所を調べたり、最寄りの避難所を調べたり、最新の天気予報を確認することは大事です。また、地方のホームページで英語・多言語のページがあれば役に立ちます。例えば、奥州市の場合は避難所の住所等や県の防災情報へのリンクなど整備しています。

天気が荒れても岩手の夏はいい点が多い。美しくて賑やかな夏祭りとか、海水浴場が開設されるとか、花火大会も毎週のようにどこかで開催されています。今はコロナによりイベントは中止・延期・縮小されていますが、いつでも岩手の景色を楽しんだり、季節の美味しいものを食べたりすることができます。岩手に過ごす時間に関わらず、十分準備をして、夏を楽しんでください。お待ちしております!