Shohei Ohtani, the phenomenal two-way player for the LA Angels, was born in Oshu city and learned to play ball here. This city is known for its production of fresh apples and top-tier beef, which has gotten rave reviews domestically and overseas – and these goods can be purchased in the USA and elsewhere, if you search around. But as his record-breaking games have made him a major figure, you might be wondering about the kind of impact Ohtani's made on his hometown. The short answer is that Oshu is incredibly proud of Ohtani, and expresses it in all sorts of ways.
First off, Oshu City Hall has established an official Shohei Ohtani Hometown Cheer Squad. It was formed in August 2018, and as the name suggests, the group's main goal is to root for Ohtani. They carry out a wide range of activities to do this – for one example, Ohtani Day.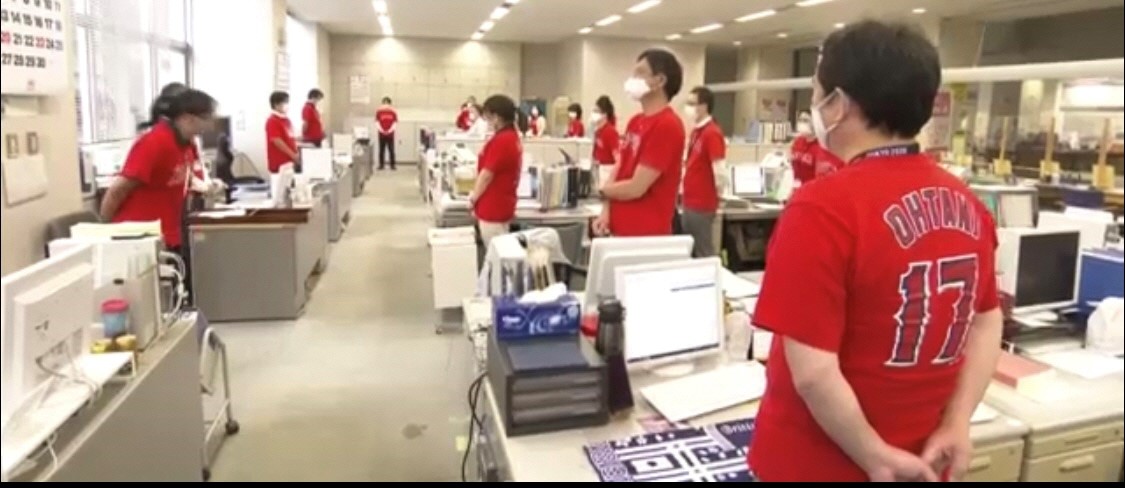 Touching base in the morning on an Ohtani Day.
Since his number is 17, on the 17th of every month, members of the cheer squad will don a red Ohtani shirsey before heading to work. They also do public relations events: when Ohtani won American League MVP in 2021, the squad held a watch party at city hall.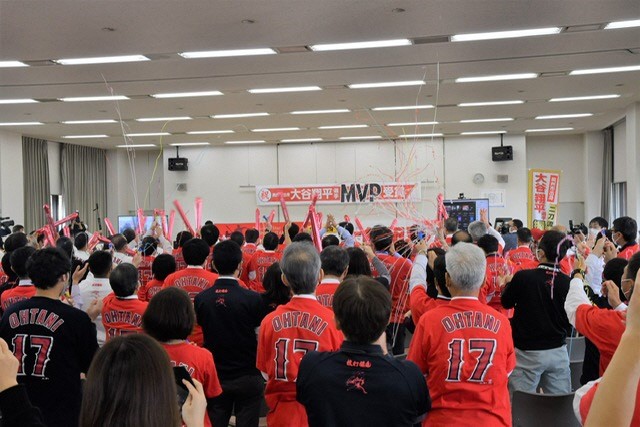 A full auditorium welcomes the news with noisemakers and streamers.
And their enthusiasm isn't limited to big announcements – whenever Ohtani has a game, TVs around the building will be broadcasting it. These are just a few of the things that this organization does, and as Ohtani is always making new achievements, they regularly redecorate city hall, post new photos and videos online, and much more. If you're interested in keeping up with the cheer squad's operations, I definitely recommend checking out their website and social media channels linked at the end of this article.
Besides the hometown cheer squad's projects, Shohei's influence is all around Oshu. If you arrive by bullet train at Mizusawa-Esashi Station, you can see a display of a signed baseball, his uniform from when he played in Japan, and all sorts of other memorabilia.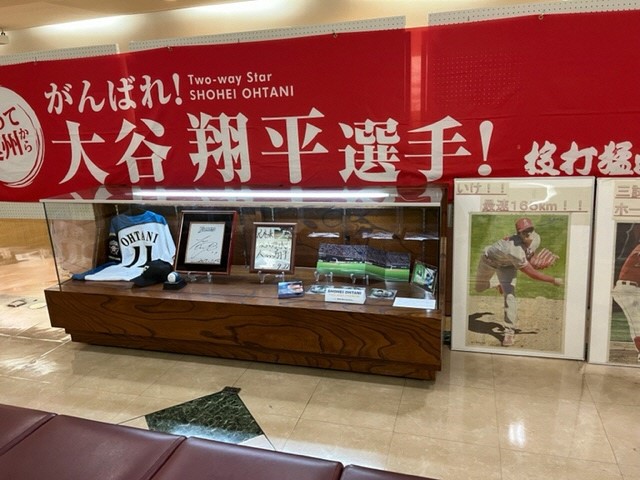 Part of the Ohtani display at the station.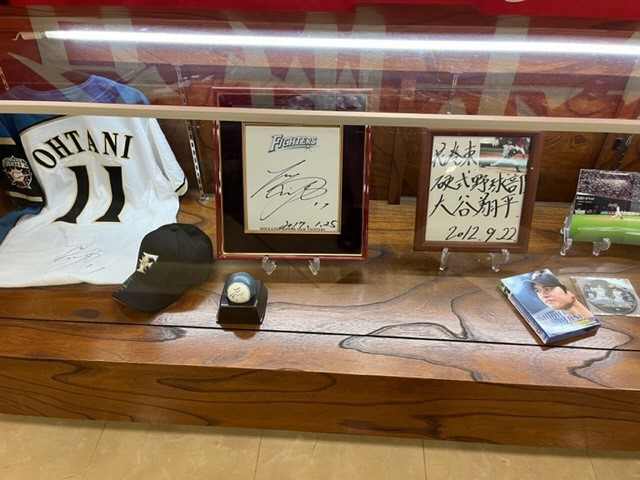 A closer look at some of the memorabilia.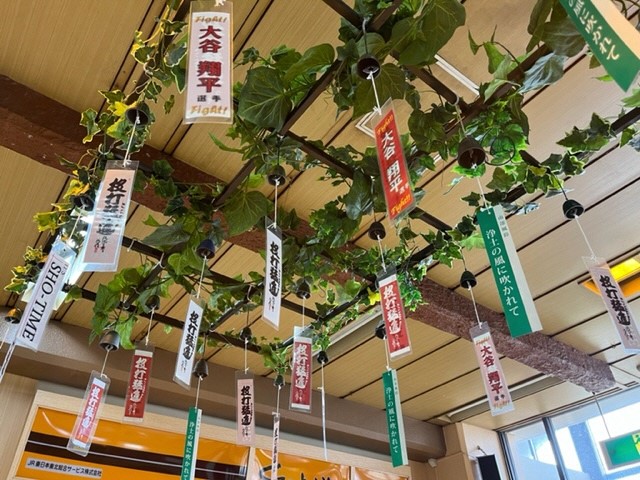 Nambu wind chimes with messages in support of Ohtani.
Then, supposing that you head to Oshu City Hall, you'll be greeted by a podium with a metallic replica of Ohtani's hand in the lobby. (It's right near the TV and an exhibit of his accomplishments in the current season, so you can take a look at those at the same time too.) It was cast in the traditional metalworking style of nambu tekki, which is one of Oshu's signature technologies that continue to this day – and like our agricultural goods, can be found abroad as well.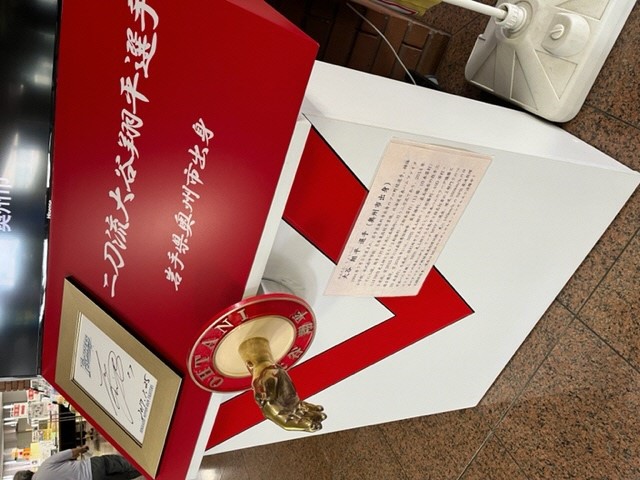 The Angel red podium, with the hand replica ready to shake, plus an autograph.
On a personal note, I hope Ohtani's influence will cause more people to look into his hometown and realize what a special place it is. If baseball fans have the context of understanding where he came from, I think watching his current successes on the global stage will become that much more enjoyable. He's reshaped baseball, and his hometown too, both for the better. We here in Oshu are rooting for him as he shines as a two-way star. In the event that you get a chance to visit our city, don't miss our exhibits and installations that celebrate Shohei Ohtani.
Website and social links:
Japanese
大谷翔平選手へのふるさと応援~It's Shotime!

日本の岩手県奥州市という所は、現在MLBロサンゼルスエンゼルス球団で活躍している大谷翔平選手の出身地です。奥州市は、高級な和牛や新鮮なリンゴなど様々な農産物が盛んに生産されている地域です。これらは日本国内において好評を得ており、アメリカを含め、海外でも売られているので、探していただけたら購入することができます。今日は、大谷翔平選手の故郷では、どんな応援活動が行われているか紹介します。

奥州市では、大谷翔平選手を応援するため、「大谷翔平選手ふるさと応援団」というものがあります。2018年8月に設立され、大谷選手への応援活動に取り組んでいます。様々な応援活動があり、例えば「大谷デー」という事業は、毎月17日に「17」のエンゼルス赤いTシャツを着用し、勤務するものです。また、2021年シーズンMVPに選出された際、市役所で祝う会を開催しました。大谷選手が出場する試合は応援団体施設のテレビで放映しています。ふるさと応援団の活動について最新情報を確認したいなら、奥州市のホームページやSNSをご覧ください。

また、奥州市内には、大谷選手を紹介する所がたくさんあります。奥州市の新幹線駅である水沢江刺駅には、大谷選手のサイン入りボールや日本の球団に所属していた時代のグッズが展示されています。そのほか、奥州市には大谷選手の握手像もあります。この握手像は南部鉄器の技術で造られたものです。南部鉄器とは、奥州市を代表する伝統工芸品であり、この南部鉄器はアメリカでも購入することができます。

大谷翔平選手はこれからも活躍を続け、さらにもの凄い記録を残して我々の記憶に残っていく選手になります。彼の出身地である奥州市のことを、この記事をきっかけに知ってもらい、より詳しく調べてもらえたら、今後の彼の活躍をもっと楽しめると思います。彼の野球界への影響はもちろんのこと、奥州市にもいい影響を与えています。奥州市に訪問する機会がありましたら、応援展示を是非見逃さないでください。