Nestled away in the mountains of Ichinoseki is Kanayama Tanada. Kanayama Tanada is a terraced rice field with 50 uniquely shaped rice fields of about 20 square meters.
Due to the small, unleveled rice fields, most of the work must be done by hand. Such terraced rice fields are rare in Japan, and from 2022, they have been selected as a nationally recognized terraced rice field heritage site. Tourists pay visit from all over the country during the period from when the rice field work begins in April until the rice is harvested in October.
Here are the many faces of the Kanayama Tanada rice fields throughout the seasons.
Which face of the fields do you like?
The brown soil of the March rice fields.
The snow has just melted, and the rice fields are still empty. But little by little, changes will start to appear.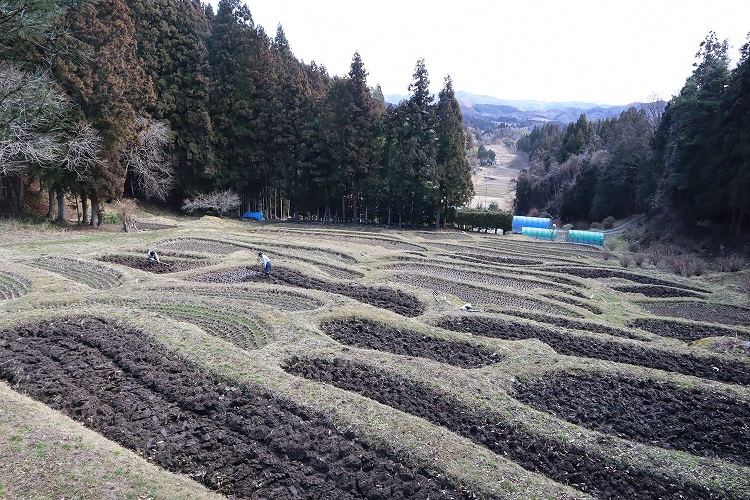 The water filled rice fields of May.
The scenery at this time of year is truly beautiful.
The glassy surface of the rice field reflect the surrounding mountains and the scenery of the land.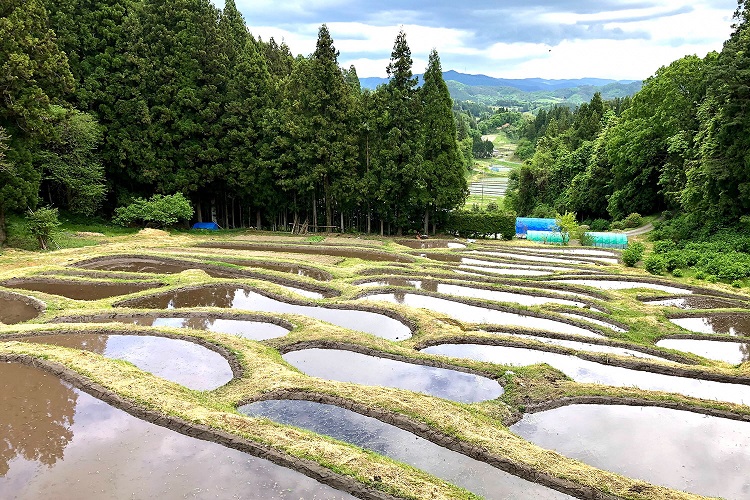 The rice planting is completed in June.
The way the small seedlings sway on the surface of the water is delightful.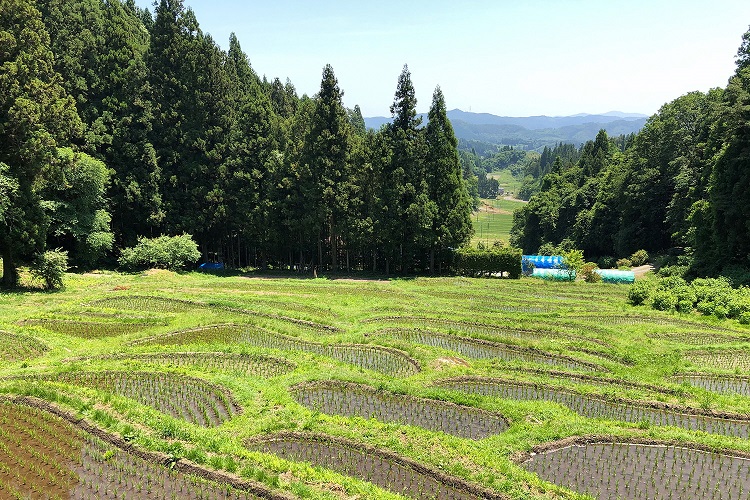 The verdant rice fields of July and August.
Rice grows incredibly fast. The green will increasingly get thicker.
It's hard to maintain the surrounding grass.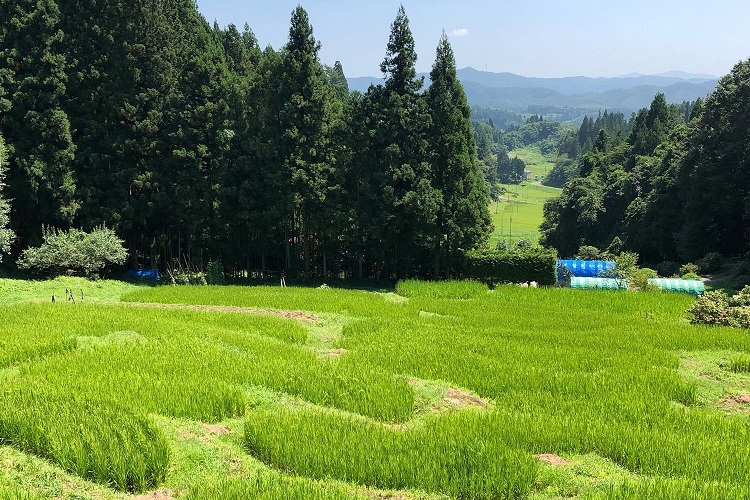 The gradual yellowing of September rice fields.
In October, golden rice plants cover the land, ready for harvest.
Along with the scenery prior to planting, it inspires imagery of the original landscape of Japan.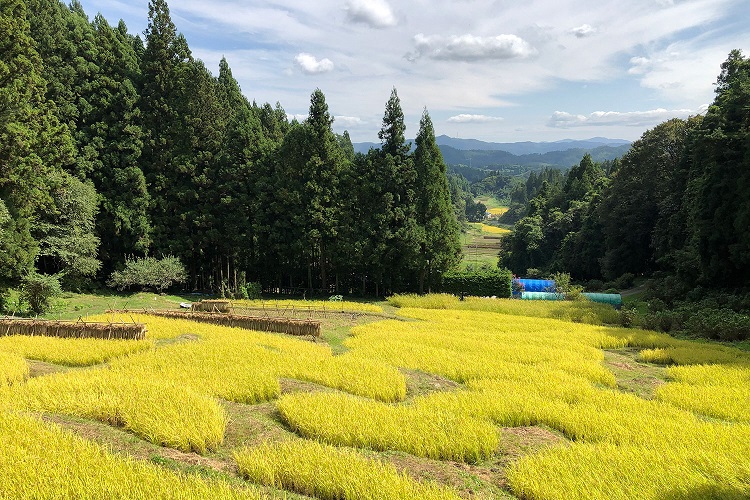 The snowy rice fields of winter.
In the world of silvery white, the faint outline of the rice fields emerges.
It's a period for the land to store water and gather strength for the next season.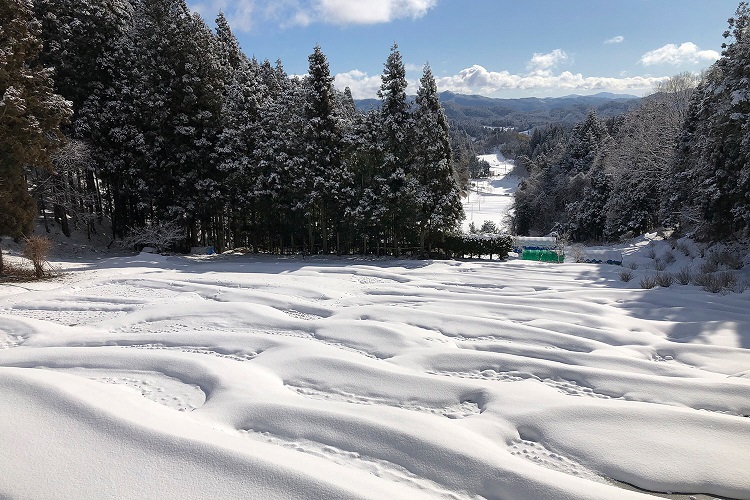 These are the various faces of the Japanese rice field.
Which do you like?
Japanese
一関の金山棚田「田んぼのどの景色がすき?」

一関市にある金山棚田は20㎡ほどの個性豊かな形の田んぼが50枚並ぶ棚田です。

規模が小さく、整地されてない田んぼのため、その作業のほとんどが手作業で進められてきました。そのような棚田は全国でも珍しく、2022年からは国が認定する「つなぐ棚田遺産」にも選ばれています。田んぼ作業がはじまる4月から10月の稲刈りまでの期間に、全国各地から観光客が訪れています。
金山棚田の表情は季節によって変わってきます。その様子をみてみましょう。

田んぼのどの景色が好き?
3月の田んぼは茶色の土の感じ。
雪解けしたばかりで、まだ何もない田んぼですが、周りには少しずつ変化が現れています。
(写真)
5月になると田んぼに水を張ります。
この時期の景色はとても美しい。
田んぼの水鏡が周りの山々や、その土地の風景を映し出してくれます。
(写真)
6月になると田植えもひと段落。
小さな苗が水面で揺れる様子が愛らしさを感じさせてくれます。
(写真)
7・8月になると緑が美しい田んぼになります。
稲の成長はあっという間です。その緑も段々と濃くなっていきます。
周りの草刈りも大変。
(写真)
9月になると、稲が段々と黄色みがかかってきて、
10月になると黄金色の稲が一面に広がり、収穫の時期を迎えます。
田植え前の風景とともに、素敵な原風景です。
(写真)
冬になると、雪が降り積ります。
白銀の世界の中に、田んぼの形がほんのり輪郭を残します。
次のシーズンに向けて、水や力を蓄える期間です。
(写真)
季節それぞれの田園風景。
皆さんはどの季節の田んぼが好きでしょうか?