Since living in Tohoku, I've had many chances to indulge in what nature has to offer. Iwate Prefecture has some of the most stunning mountains; one I particularly like is Mount Kurikoma which can be hiked from Ichinoseki!
Mount Kurikoma (1,626m) also known as Mt. Sukawadake in Iwate, is a volcano that borders three prefectures – Iwate, Akita and Miyagi. It boasts some of the most spectacular autumn foliage in the region and in spring/summer, is a hot spot for alpine flora. In May, when the mountain reopens after the winter, you can hike on the left-over snow. Mount Kurikoma is for everyone. Not only does it have multiple courses which vary in difficulty, the seasons bring a variety of splendors. I highly recommend this mountain to flower and bird enthusiasts!
Mt. Kurikoma Calendar
May: On the 3rd Sunday of May, the mountain reopens for hikers. Trek up the snow and check out the wonderful alpine landscapes. Wildflowers (check list below)
June – September: You can enjoy seeing the wildflowers – their peak's in July. In late September, the peak of the mountain starts to have some autumn foliage
October: early October, peak of the autumn foliage
November~May: From late November, some roads are closed off due to snow. December to February: Ski slopes can be accessed from the Akita side of the mountain.
Mt. Kurikoma Floral Calendar
As one of Japan's top 100 most famous peaks for flowers, there are too many species to name here, but this is a list of the main flowers you can see and the time of year that they bloom.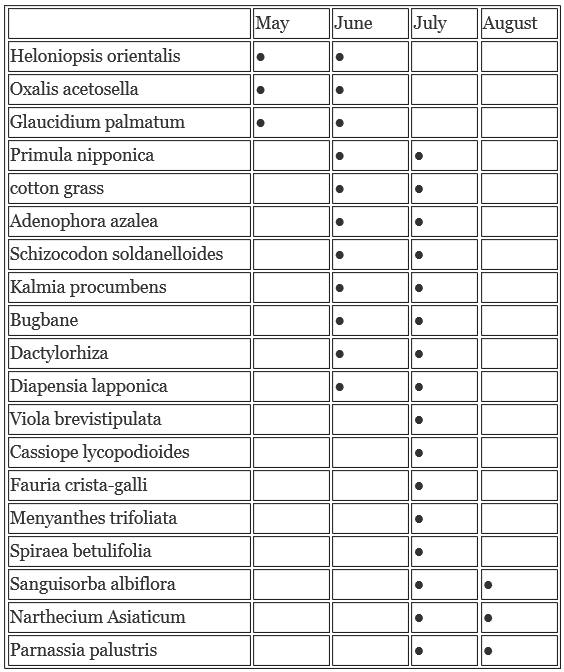 Bird Watching
The swamps and lush forests make Kurikoma a bird oasis. There are over 50 types of birds to spot including the common cuckoo, brown dipper, meadow bunting, grey wagtail, willow tit and turtle dove.
Let's head up the mountain!
There are nine routes up this mountain which vary in difficulty, but the major trails are:
Chuo Course (3km 中央コース ): beginners and families (2hrs)
Higashikurikoma Course (4km 東栗駒コース): for beginner to intermediate (2.5hrs)
Sukawa Course (4km 須川コース): for beginners and families (2hrs)
The Sukawa trail is a course that I recommend for first time visitors. It's a beginner course which has a variety of landscapes and some incredible hot springs known for their various health benefits. I chose to hike at the start of October to catch the autumn foliage.
**NOTE (Autumn 2019): A part of the Sukawa trail is currently closed at the moment, but a detour is available that will still take you to the summit.
What to bring (recommended)
-Backpack, bag cover (if it rains), map/compass, watch, camera, food, 1L of water, plastic bag, tissues, towel, wet tissues, sunscreen, rainwear, cellphone, radio
-Emergency kit, emergency foods, health insurance card
What to wear
Hat, long sleeved shirt, pants that are easy to move in, leggings (protection from bugs), socks, layers, hiking shoes
Side note: I wore sneakers which were okay for the most part, but there are puddles of water which were hard to avoid and if you don't have waterproof shoes your feet will get wet. It gets muddy and slippery so make sure your shoes have grip! 
The Hike
You can follow along with the Google map above. We parked our car at the Sukawa Visitor Center and started our ascent from here. Start from this iconic point and follow the path up ①須川高原温泉 (sukawa kougen onsen).
Next destination on the path is ② 名残ヶ原 (nagorigahara). What I enjoy about the Sukawa Course is that although there is general path, much of it feels open and untouched. For example, this spacious meadow, and further on you'll pass through forests, walk alongside steaming valleys of sulfur and over streams of water flowing down from the mountain.
The third part of this walk is ③苔花台(taikatai). This part showcases the stunning multicolored foliage that Mt. Kurikoma is famous for. You will also walk alongside the dynamic 'Hell Valley' (jigokudani) which has exposed baron rocks steaming with sulfur.
Now we have arrived at one of the most impressive spots on this trail, the bright blue Showa Lake (④昭和湖) – the color contrast of the autumn leaves makes it extra special.
⑤天狗平(tengudaira): Not long until we reach the summit now. Be sure to remember which path you have taken up because there are many ways down the mountain from this point. If you are uncertain, there is a sign which can guide you ↓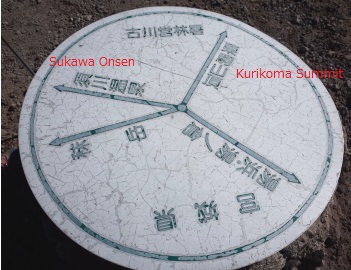 If you want to make it back to the place you started follow 須川温泉 (Sukawa Onsen). The way up to the summit is marked as 栗駒山頂 (Kurikoma Summit).

You're now 1,626m up! Congratulations! You have reached the summit of Mt. Kurikoma ⑥, the heart of the Ou Mountain Range. On a clear day you will be able to see Mount Choukai, Mount Zao and Mount Gassan.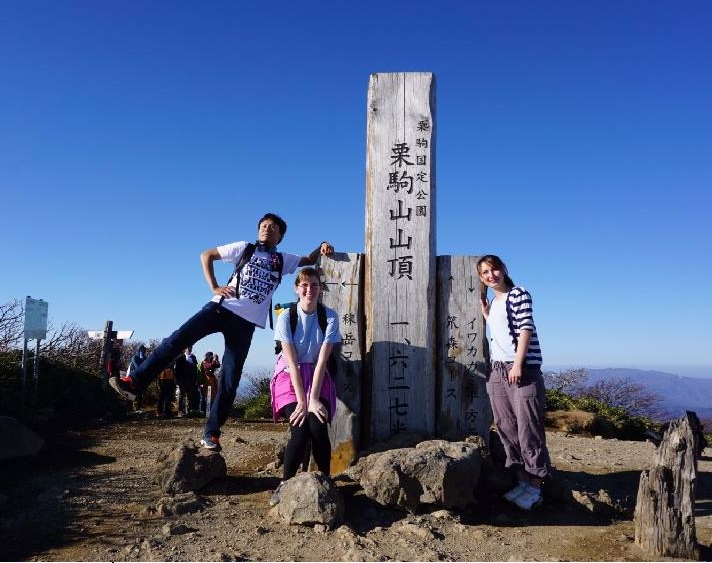 A quick reminder before you head out
Mt. Kurikoma is not an active volcano at the moment, but since Japan is such a seismically active country, that could change someday. Just to be safe, always check the Japan Meteorological Agency's volcanic warnings on their website before you go on a hike on any mountain in Japan.
Japan Meteorological Agency's volcanic warnings for Tohoku
Japanese
栗駒、季節のハイキング

栗駒山(別名:須川岳(すかわだけ))(1626m)は岩手、秋田、宮城の3県にまたがる活火山です。 春と夏にピークを迎える高山植物は美しく、5月の山開き後は 残雪の中を登ることができます。秋はこの地域で最も壮大な紅葉を誇ります。 栗駒山は皆さんが登山に挑戦できる山です。 初心者から上級者コースまであり 季節によって様々な品種の花や鳥を見ることができます。

<栗駒カレンダー>
5月第三日曜日:山開き。雪上ハイキングができます。 高山植物(以下のチェックリスト)をお楽しみいただけます。
6月~9月:高山植物を楽しむことができます。ピークは7月です。
9月下旬:山頂に紅葉が始まります 。
10月上旬:紅葉のピーク
11月下旬~5月下旬:積雪のため道路が閉鎖されます。

<栗駒山高山植物カレンダー>
栗駒山は花の百名山として知られ、種類が多いです。
以下が主要な花と咲く時期のリストです。

【リスト】

<バードウォッチング>
栗駒の沼地と青々とした森が、鳥たちのオアシスとなっています。 カッコウ、カワガラス、ホオジロ、キセキレイ、コガラ、キジバドなどの 50種類以上の鳥が確認されています。

ルート9種類
3km 中央コース (2時間)
7km 表掛コース (6時間)
4km 東栗駒コース (2.5時間)
9km 湯浜コース (6時間)
4km 須川コース  (2時間)
6km 裏掛コース (5時間)
9km 大地森コース (6時間)
5.8km 天馬尾根(2.5時間)
-- 自然観察路

初めての方には須川コースがおすすめです。 初心者向けのコースですが、様々な風景や温泉を堪能できます。 私は10月初旬に秋の紅葉を撮影するためにハイキングをしました。

<持ち物>
バックパック、バッグカバー(雨の場合)、地図/コンパス、時計、カメラ、食品、水、ビニール袋、ティッシュ、タオル、ウェットティッシュ、日焼け止め、レインウェア、携帯電話、ラジオ

緊急用キット、緊急用食品、健康保険証

<服装>
帽子、長袖シャツ、動きやすいパンツ、レギンス、靴下、レイヤー、ハイキングシューズ


① 須川高原温泉から登ります。
② 名残ヶ原:広々としていて気持ち良いです。
③ 苔花台:栗駒山の有名な色鮮やかな紅葉が見られます。地獄谷を通ります。
④ 昭和湖:最も印象的なスポットの一つ。 池のブルーと紅葉の色彩のコント
ラストが素晴らしいです。
⑤ 天狗平:ここまで歩いてきた道を忘れないように。 ここではいろいろな下
り道があるので、迷ったらこのサインがガイドとなります。
⑥ 栗駒山頂:1626m、奥羽山脈の中心です。 晴れている日には鳥海山、蔵王
山や月山などの山を眺めることができます。