"I want to make this city a place where its people can take part and try anything."
These are the words of 27 year old Yo Sakurai who lives in Surisawa, Daito, which is part of the candidate site for the construction of the ILC.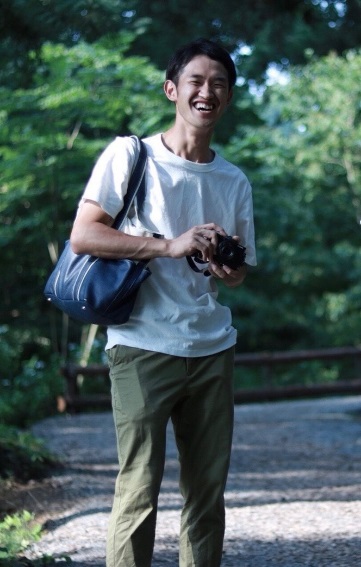 We interviewed Mr. Sakurai to take a look at his involvement in the revitalization of his local community, Ichinoseki City.
Q1) What kind of work do you usually do?
I work in regional development. Previously, while working as a Local Vitalization Cooperator for three years, I learned about things such as product development, sales promotion and event planning. After leaving that position, I continue to work in regional development by organizing various events.
Q2) Can you go into some specifics about what kind of work you do?
From August 13th to 15th, the Surisawa Andon Festival was held. This festival is a quiet event where only the local community would gather. Beginning this year, we started andon* painting workshops and an andon-bar. As a result, we had many more participants than last year.
I also planned an Open Park Project which was held the other day. This was to further relay the benefits of parks. By encouraging citizens to make use of park spaces, our lives can be enriched and we can continue to convey the importance of parks to our future generations. We set up food trucks and held a market.
*An 'Andon' is a traditional Japanese lantern which usually consists of a wooden frame (sometimes bamboo or metal) which is covered with paper. In this district, andons are hexagonal, taking inspiration from crystals which are famous to the area. During Obon (a Buddhist event commemorating one's ancestors), these andons are decorated and prayers are made to the deceased.
Q3) What inspired you to do this kind of work?
As an undergrad, I participated in a workshop that got us to think about revitalizing the local area. There, I was able to get to know many local Ichinoseki companies. It was then that I realized that Ichinoseki has lots of interesting people! That was the first step that led me down this path: meeting many people who I felt I would love to work with one day. Also, by planning and conducting events, I wanted to support those who have a desire to try and challenge themselves in something.
Q4) What kind of events are you planning next?
An 'izakaya* event'. There are young people in the town of Daito who want an izakaya where people can gather. So, for a day, we will rent out a vacant house and try running an izakaya. I am also developing a brand that represents the Daito region, and a community garden.
*An izakaya is a traditional Japanese bar.
Q5) Do you have a dream?
I want to make this a city where people who desire trying new things and challenging themselves gather, a place where interesting people come. A city where people can say what is on their mind (for example 'I want to try this'). You have to dream big! I want to support those kinds of people.
And personally, I enjoy tennis so I would love a have a tennis court in my backyard!
Q6) Do you have any hopes or expectations that come with the realization of the ILC?
With the addition of foreign influences, it would create a new culture. I would love to do a foreign cuisine event. I also believe that we will be inspired by being introduced to interesting viewpoints and ideas that are different than ours.
Q7) Please give us a message for the foreign researchers.
There are a lot of tennis courts here so in terms of tennis, Ichinoseki has you covered! Let's play together. When you come to Ichinoseki, please let me know! I will introduce you to the charms of Ichinoseki and its interesting people!
Japanese
若者による地域おこし in 一関

「まちのひとが何事にもチャレンジしやすいまちにしたい」

そう話してくれたのは、ILC建設候補地である大東町摺沢在住の「櫻井陽」さん(27歳)です。
今回は地元の一関市で地域おこしに取り組んでいる櫻井さんにインタビューしましたので、ご紹介します。

Q1:普段はどのようなお仕事をしているのですか。

「地域おこし」の仕事をしています。以前、地域おこし協力隊として3年間活動した中で、商品開発、販売促進、イベント企画などを学び、地域おこし協力隊を退任した今でも、「地域おこし」として、さまざまイベントなどを企画しています。

Q2:具体的にはどのようなことをしているのですか。

8月13~15日に地元のお祭り「摺沢水晶あんどん祭り」が開催されたのですが、このお祭りは地元の方だけが集まる静かな集まりだったのですが、このお祭りをもっと広めたい、若者も集まるものにしたいと思い、今年から、あんどん絵を描くワークショップとあんどんバルを初めて実施しました。その結果、昨年度よりも多くのお客さんに参加いただきました。

また、Open Park PROJECTというのも先日企画しました。公園の魅力をさらに引き出そうと、公民連携により、公園を活用しながら、私たちの暮らしがさらに豊かなものにならないか、公園を未来の子どもたちにつないでいくことができないかと思い、屋台やキッチンカーを集めて、マルシェを開催しました。

※あんどん…この地域では、水晶の産地であったことから水晶と同じ六角形のかたちをしており、お盆の時期にあんどんを飾り、故人の冥福を祈ります。

Q3:そのお仕事をしようと思ったキッカケを教えてください。

大学在学時に「地元の地域おこしを考える」というワークショップに参加しました。そこでは地元一関市の様々な企業が集まっていて、たくさんの人と話ました。そこで、「地元にはこんなにも面白い人たちがいたなんて!」と気づかされました。たくさんの人と出会い、「このような人たちと一緒に仕事がしたい!」と思ったのが最初のキッカケです。そして、イベントなどを企画・運営していくなかで、「何かにチャレンジしてみたい」という人の思いを実現するお手伝いをしたいと思うようになりました。

Q4:今後企画しているイベントなどはありますか。

居酒屋チャレンジイベントを企画しています。大東町にも若者が集まれる居酒屋がほしいと思い、1日限定で、空き家を借りて居酒屋を開店してみるというものです。ほかにも、大東地域のブランディングやシェア農園などを企画しています。

Q5:夢はありますか。

チャレンジ意欲のある人が集まるまち、面白い人が出てくるまちにしたいと思います。そして、誰もが思ったこと(あんなことをやってみたいなど…)を言える雰囲気のあるまちにしたいと思います。夢は大きく!私はそのような人たちのお手伝いをしたいと思います。

プライベートでは、趣味がテニスですので、自宅の庭にテニスコートを作りたいです!

Q6:ILC実現による効果など期待することはありますか。

海外からの新しい文化ができると思うので、海外の料理をふるまうイベントなどができるといいですね。また、私たちとは違った、面白い視点・発想から、刺激を得られるのではないかと思います。

Q7:最後に海外研究者の皆さんへメッセージをお願いします。

一関市はテニスコートが多くあり、環境が整っていますので、ぜひ、一緒にテニスをしましょう!
また、一関市に来た際には、まず私に声をかけてください!面白い人や一関の魅力をご紹介します!