The following article was submitted by the Southern Regional Development Bureau of the Iwate Prefectural Government, and translated by Amanda Wayama. 
What if, on a trip overseas, you found yourself getting sick and needed to go to a hospital? What would you do if you couldn't communicate your symptoms or describe your illness?
There are many foreign residents who have trouble communicating medical terms in Japanese, or who might not know all the differences between Japan's healthcare system and their own country, making it a nerve-wracking experience to see the doctor.
It would give people great peace of mind to know there was a bridge available to help communication between the foreign patient and the doctor.
To that end, the Oshu International Exchange Association has developed a Medical Interpreter Volunteer system that sends interpreters out to healthcare facilities to make it easier for foreigners to get care. This initiative is set up so that Japanese and foreign residents with knowledge of the healthcare system and interpretation skills can sign up to become medical interpreter volunteers. If a foreign patient requests an interpreter from a healthcare facility, then they can send them one from their list of volunteers.
This is a model case for such a system within Iwate – a progressive approach taken by the Oshu International Exchange Association, with more and more foreign patients using it every year. This volunteer system started in 2015 and currently has 49 volunteers. There are five languages available: English, Chinese, Korean, Tagalog, and Vietnamese. Volunteers are sent to hospitals in Iwate that have signed a Medical Interpreter Volunteer agreement.
A medical interpreter is not just someone who translates the language word-for-word. Doctor-patient discussions need to be straight and direct about highly private matters – even if one feels empathy with the patient, it is necessary to interpret things in a neutral and objective way. You also need better communication skills than average in order to create a relaxing environment and a relationship of trust where a sick patient can speak freely even if they're not feeling at their best.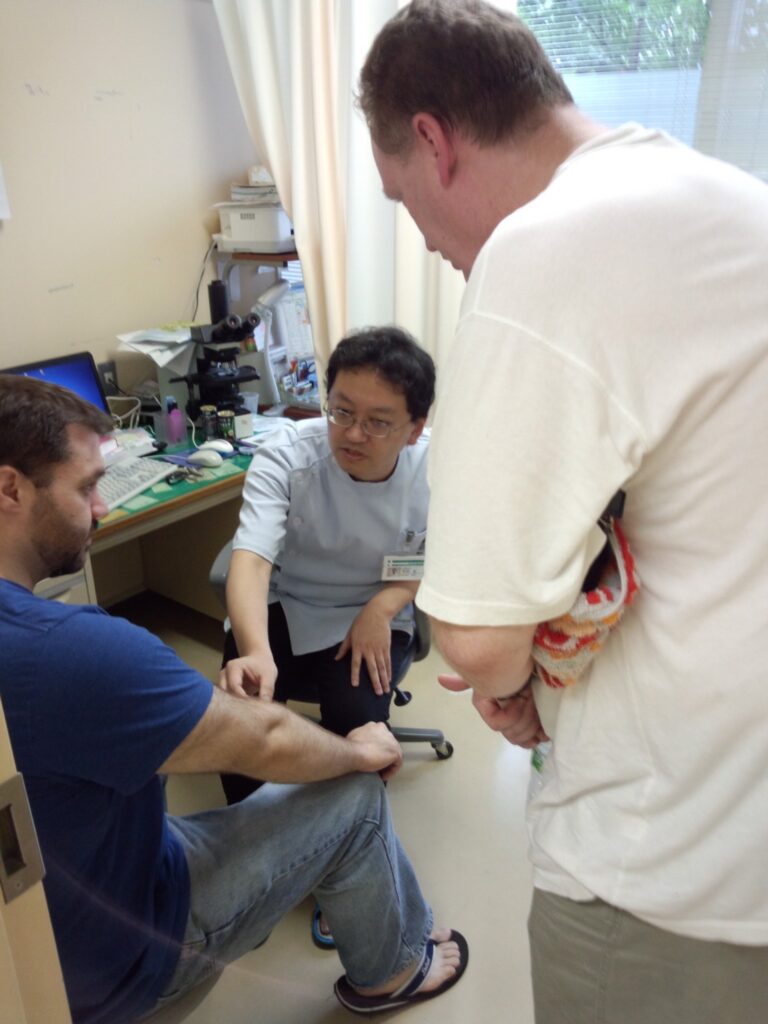 The Oshu International Exchange Association holds training sessions in order to develop the skills of their medical interpreter volunteers. There, volunteers study jargon used in medical interpreting, practice better communication skills, and role-play with people playing the part of the doctor and the patient. Those who have no issue interpreting are selected as volunteers for our list.
We received the following message from the Oshu International Association regarding their Medical Interpreter Volunteer system:
"Living abroad, the number one worry is what to do if sick or injured. Even if you head to your local medical facility, there so many procedures to get through – reception, filling out medical questionnaires, getting seen by a doctor, tests, treatment, surgery, and paying the bill. As part of what we do to support foreign residents and their lives here, we think that having our medical interpreter volunteer system in place makes it so that any foreigner can come here and have peace of mind. On the other hand, medical interpreting requires not only interpreting skill, but also logical thinking when translating. We feel it's a great responsibility to support other people and do something that may affect a life."
When construction begins on the ILC, researchers and their families from many countries will come to live in Iwate. A lot of support systems need to be developed in a number of fields, including housing, education, labor, and of course, healthcare so that they can live comfortably here.
By increasing the breadth of those initiatives, all involved are working hard so that both foreign residents and Japanese residents in the region will be able to live comfortably and form a community of mutual understanding of each other's cultures.
Oshu International Exchange Association: https://oshu-ira.com/
Japanese
誰でも安心して暮らせる街を目指して「医療通訳ボランティア」

 もし、海外であなたが病気になり病院へ行った時、体のどこが痛いのか、またどこの調子が悪いのかを正しく伝えることが出来なかったらどうしますか。
 日本に住む外国人の中には、自分の症状を日本語で上手く伝えることができないことや、日本と外国の病院制度の違いが分からず、日本の病院に通うことに大きな不安を感じる方も多くいらっしゃいます。
 そんな時に、外国人の患者と医師との間の"橋渡し"をしてくれる人がいたら心強いですよね。

 奥州市国際交流協会では、外国人が円滑に医療機関を受診できるように「医療通訳ボランティア」を養成し、派遣する取組を行っています。
 この取組は、医療に関する知識と通訳技術を身につけた、日本語と外国語が堪能な日本人、または外国人を「医療通訳ボランティア」として登録し、外国人の患者から医療機関へ通訳者の依頼があった時に「医療通訳ボランティア」を派遣する制度です。
 奥州市国際交流協会が実施するこの取組は県内でも先進的な取組であり、年々利用する外国人の人数も増えています。

 この医療通訳派遣システムは平成27年から運用を開始し、現在、49名のボランティアが登録されており、対応言語は英語、中国語、韓国語、タガログ語、ベトナム語の5ヵ国語です。「医療通訳ボランティア」の協定を結んでいる県内の病院へ派遣しています。

 「医療通訳」は単純な言葉の変換ではありません。
 患者が医師に話す会話は、とてもナイーブかつプライバシーに関わる内容であり、相手を思いやる気持ちを持ちつつも、中立かつ客観的なスタンスから正確な通訳を行う必要があります。
 また、病気の症状により気分が落ち込んでいる外国人の患者とのコミュニケーションを行うためには、患者が話をしやすいようにリラックスしてもらい、短期間で信頼関係を構築していくことが必要であり、通常のコミュニケーションよりも高いスキルが要求されます。

 奥州市国際交流協会では、そのような「医療通訳ボランティア」を養成するため、研修会を開催し、通訳に必要な医療の専門用語やコミュニケーション技術の習得や講師が医師役、患者役になって行う通訳のシミュレーションを行います。そして、問題なく通訳を行うことができる人がセレクションによってボランティアとして登録されます。
 「医療通訳ボランティア」の取組について、奥州国際交流協会から次のようなメッセージをいただいています。

 「外国で生活していて、最も心配なことの一つは病気やケガをすることです。現地の医療機関へ行っても、受付、問診、診察、検査、治療、手術、医療費等、様々な不安があると思われます。外国人生活支援の一環として、医療通訳派遣システムがあるということは、外国人住民の生活を安心できるものにしていると考えます。一方、医療通訳は、通訳技術はもちろんのこと、倫理的考慮もしながら通訳を行わなければなりません。対人支援の難しさと、命に関わる可能性があるという重い責任を感じています。」

 ILCの建設が始まると、多くの国から研究者、そしてその家族が岩手県に住むようになります。その時、その外国人の皆さんが快適に暮らしていくためには、居住、教育、労働環境そして医療という多くの分野での生活支援が必要です。
このような取組の輪が広がることによって、地域で暮らす外国人研究者・家族、地域住民が快適に暮らし、お互いの文化を理解し合えるコミュニティが形成されるように、関係者が手を取り合って取り組んでいきます。

奥州市国際交流協会ホームページ:https://oshu-ira.com/