Since 2017, Oshu's hosted a road running event known as the Kirameki ("Sparkle") Marathon. It was held as a race with a full marathon, an accompanying 10K, plus a 3K race for children (by themselves or with a parent in pairs.) Anyone and everyone was welcome to join, so it would draw a number of participants, but was canceled in 2020 and 2021, for obvious reasons. Happily though, this year it returned with COVID-19 precautions and in an abbreviated capacity – as a 10K challenge.
Oshu is the kind of place where you can see people walking, biking, and jogging everywhere, thanks to walkable city design. Plus the scenery is beautiful: I'm partial to the spectacular sunsets over the Ou Mountain Range, and it's generally very safe, so running after dark is a totally viable option (with sensible safety precautions, of course.) This environment has produced Mizuho Nasukawa, Oshu native and winner of the 2009 Tokyo Marathon, who now popularizes the Kirameki Marathon as its ambassador.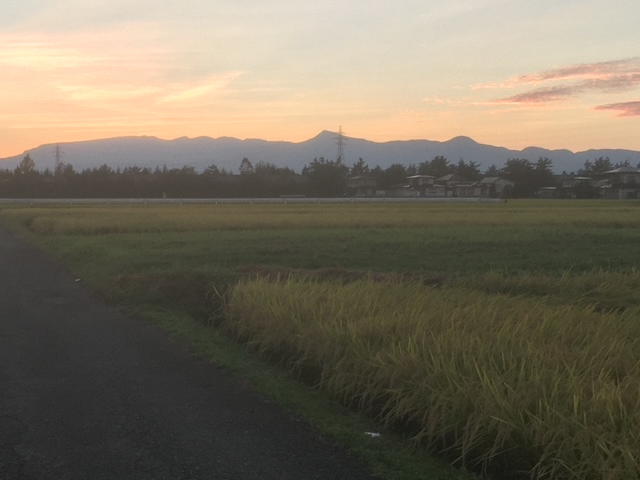 Sunsets make the Ou Mountains really pop!
I'll now talk about what it was like to participate in the Kirameki Marathon. I applied online; as the big day got closer, everyone got an orientation packet explaining all the essential details. All of this – the website and the info packet – were in Japanese, so if necessary, I recommend having an app or a friend to help check the meaning.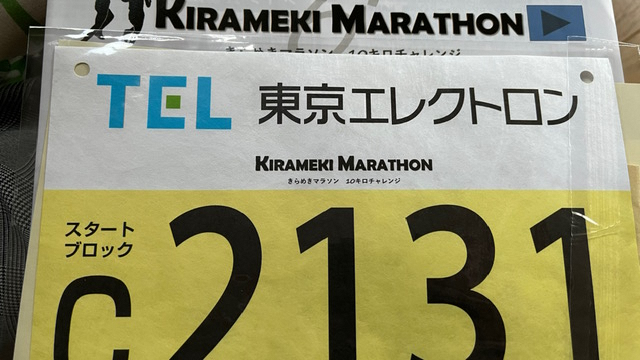 Part of the info packet, with my bib number.
Race day was a bit cloudy, but not too hot or humid: perfect for running. Oshu's in eastern Japan, so the climate isn't nearly as hot compared to the west; on the whole, it's a comfortable area to live in. Furthermore, the Kirameki Marathon is always scheduled for May, which is the ideal season for marathons.
All kinds of people take part in this event, including cosplay runners! These are people who run in full costume as characters from manga, anime, or pop culture to entertain onlookers, especially children. Spectators populated the sides of the road, and their encouragement was really motivational – good news for me, as a new runner with a slow pace. I can honestly credit them with helping me reach the finish line.
The Kirameki Marathon exemplifies some of the best things about Oshu – beautiful nature, signature local goods, and a spirit of community from the cheering onlookers and the hardworking volunteers who made all this possible. Here's hoping for a full marathon next year!
Website: https://oshukirameki.jp/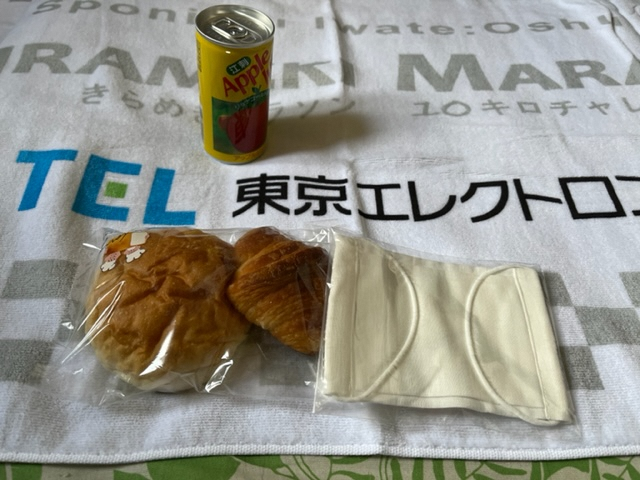 Bread from a local bakery, Esashi apple juice, a mask, and a commemorative towel for all runners
Japanese
奥州市「きらめきマラソン」

奥州市には「きらめきマラソン」というイベントがあります。
2017年から実施されているイベントで、多くのランナーが準備して参加します。
このマラソンは、フルマラソンはもちろんのこと、10kmコースや家族でも参加できる3kmコースが準備されており、誰でも気軽に参加できます。しかし、2020年・2021年は新型コロナウイルス感染症の影響により中止でした。2022年は、コロナ対策のうえ10kmコースのみで開催されました。
奥州市からは2009年東京マラソンで優勝した那須川瑞穂さんというランナーが輩出されており、大会アンバサダーとして参加するなど、毎年イベントを盛り上げています。

奥州市は歩きやすいまちづくりを進めているので、ウォーキングもジョギングも自転車も気軽に安全に楽しむことができます。また、奥州市から見られる奥羽山脈の日没の景色は素晴らしく、ランニングを楽しくさせます。
しかも、治安が良いので暗くなってからジョギングすることも可能です。
ただし、暗くなる環境においては、ランナーは事故に十分に気をつけて運動する必要があります。

最後に、私がきらめきマラソンに実際に参加してみて感じたことをお伝えします。
マラソンへのエントリーはウェブサイトを利用しました。大会が近づくと案内文書が届き、イベントの詳細を確認しました。情報はすべて日本語だったので、必要に応じて翻訳アプリの利用や友人に助けてもらいましょう。
マラソン当日は、暑くもない曇りの天候で、ランニングにはちょうど良く感じる日でした。私が住んでいる奥州市は日本において東に位置します。西と比べて暑くなく、過ごしやすい地域です。きらめきマラソンが開催される5月は特にマラソンには適した季節です。
きらめきマラソンには様々な人が参加していました。中には、観客を楽しませるためにコスプレして参加するランナーもいて、子供たちを楽しませていました。
沿道の多数の観客の応援は、ランナーに力を与えてくれて、今回が初参加の私もその応援に元気づけられました。応援のおかげで私も無事に10km完走することができました。
きらめきマラソンは、沿道で応援する方々や運営スタッフの方々とのふれあいや奥州市のきれいな自然、地元の特産品など、奥州市の素敵なポイントを実感できるイベントでした。来年のきらめきマラソンも楽しみにしています!