July 16th 2022. The day started with a slight mist of rain amidst the 梅雨 ('tsuyu' = rainy season) in the coastline of Iwate. The air was filled with moisture, inducing the sweat to constantly drip in the summer heat. But despite such conditions, I wasn't in the comfort of my room's air-conditioner, and instead I was on a 20min walk towards the venue holding the 7th Professional Sanma Grilling License Exam here in Ofunato, Iwate. The 36 people, including myself, who gathered this day were all showing signs of excitement and anticipation. Some were from Ofunato, but the majority were people outside of Ofunato who have come to grill Sanma at the heart of the region known to be one of the top Sanma suppliers.
This event, although it includes the word "examination," the aim is to advertise Ofunato's specialty, the 秋刀魚, ('Sanma' = Pacific saury) to people in and outside of the city. Ofunato prides the best Sanma and promotes themselves as such, with data stating Ofunato as the city that's pulls in the most Sanma in all of本州 ('Honshu' = main land Japan) under their belt.
But I digress. The event consists of two parts. First, the hands-on learning part, and second, a short lecture course followed by the actual exam. Now, before you say "NO" to the word "exam," let me say that there is absolutely nothing to fear. The Ofunato Tourism & Local Products Association, the group which organizes this event, do wish for the examinees to become a Sanma griller, serve the grilled Sanma to friends and families or even customers, and ultimately promote Sanma. But on top of it all, their main purpose is to have you taste the Sanma firsthand and to create a space where you converse with fellow participants and locals. I'll touch upon my experience later in the article, but for now, allow me to say that the exam is very straight forward and the lecture they give before the test will provide you wtih plenty of time and tips for the 20-question multiple choice exam.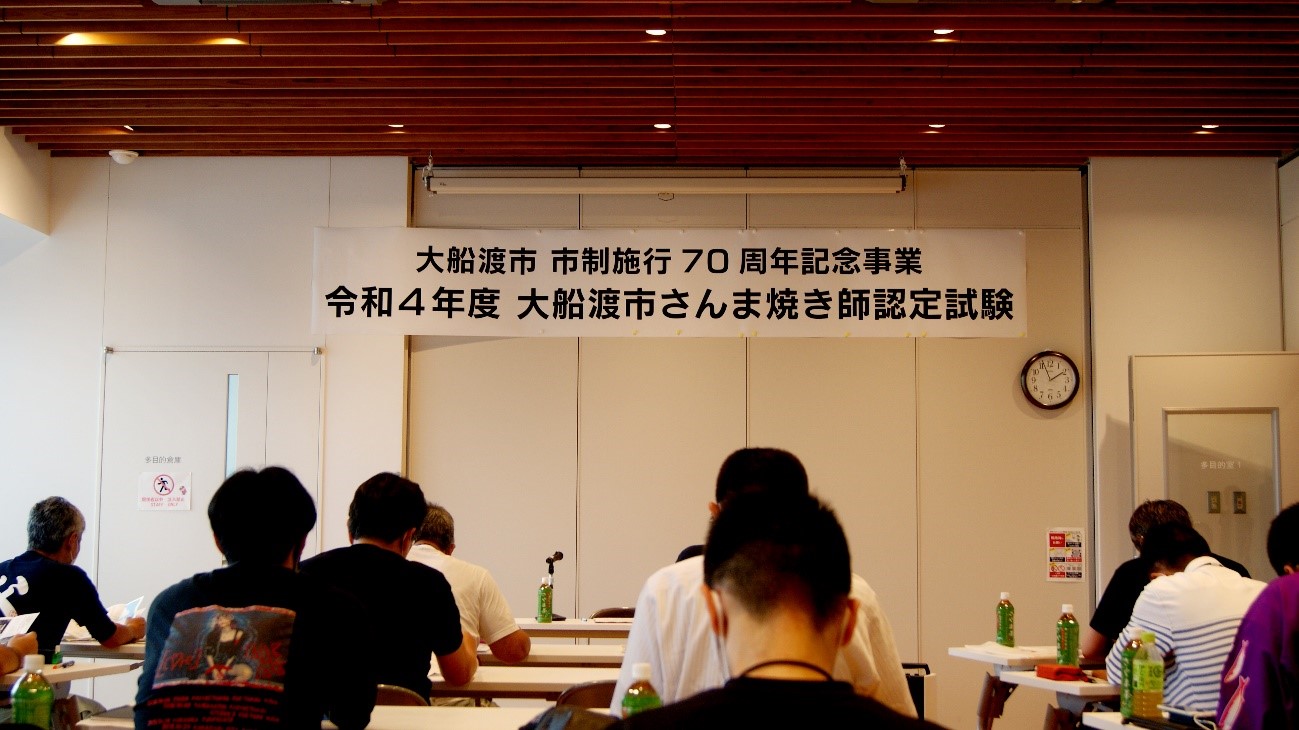 But enough of the exams and so forth. The real question is: "Is if fun?", "Did it taste good? and, "Is it worth it?" To those question, I will answer with a big… YES!!
It was honestly an experience you won't get elsewhere, also, the fact that this event is run by a local group and not a fancy tourism company is why I think it makes the experience even better. The Sanma used during the event were Sanma that were pulled out of the waters of Iwate last year, and kept frozen with care for this day. (Note: Usually, Sanma are caught around the late-summer to early-autumn period, but peak timing of Sanma seem to be delayed due to environmental changes. Recently, it is said that Sanma pulled during October and to November is when the bigger sizes and best quality Sanma are pulled to make the Sanma crisp on the outside and juicy and savory in the inside when grilled.)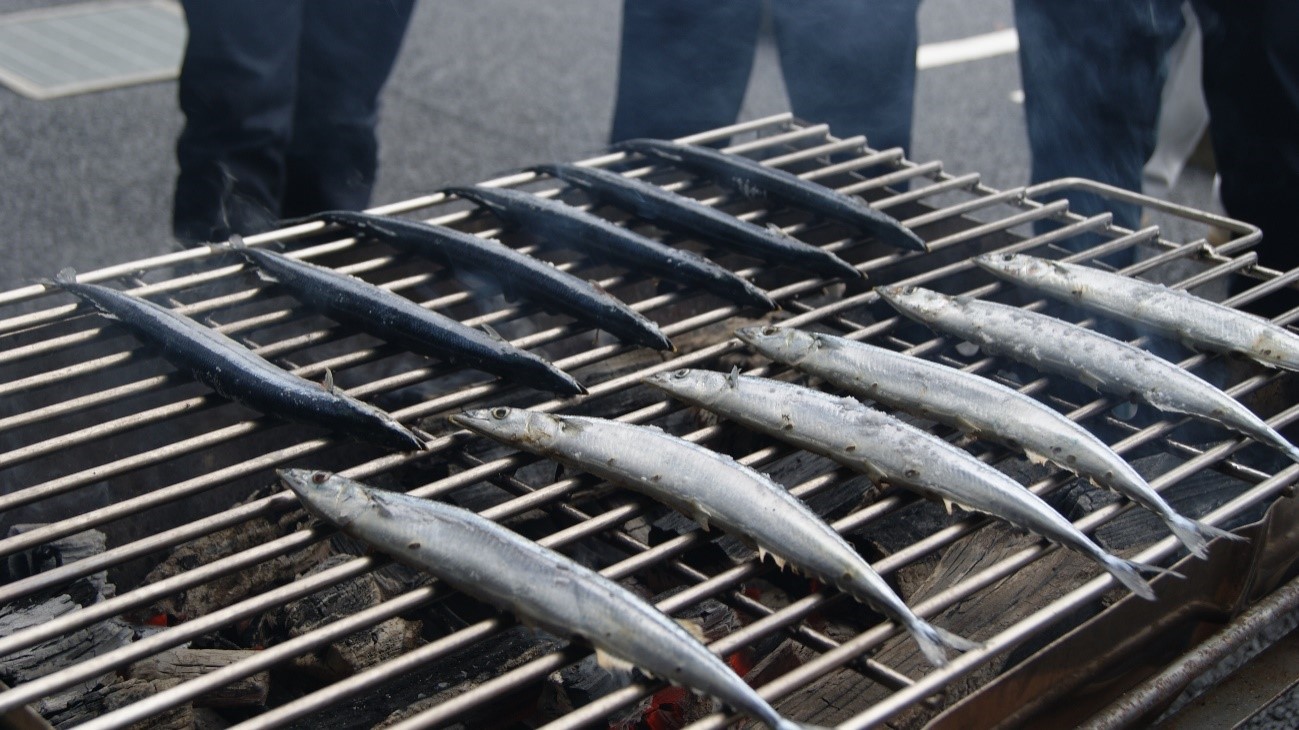 Hopefully I haven't made you hungry yet because I've only begun!
After the initial short lecture, we were taken outside where the crew had 3 BBQ grills set up with charcoals fired up. With the Master Sanma Grilling Chef showing and explaining the cooking process, we took turns to grill it ourselves as sub-masters standing by each BBQ grill helped us. (I later learned that the sub-masters and master present that day has had experiences of grilling hundreds of Sanma, close to a thousand for some, in one day during festivals held in the past!) Now, I won't go into details of the grilling process to avoid ruining any future experiences, and instead share one of the lessons the master taught us:
"Don't move the Sanma around once its placed on the grill. Wait patiently…"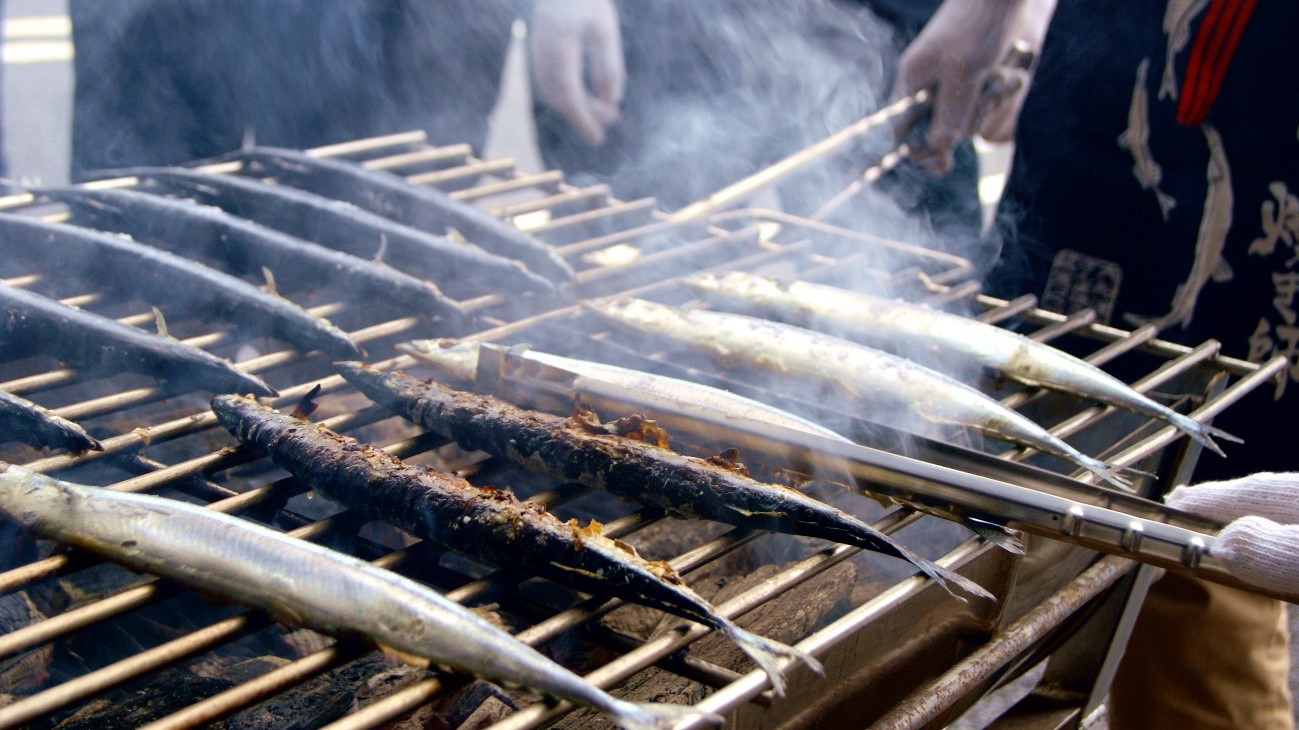 For those experienced in BBQs or those who cook themselves may have noticed, but when using a BBQ grill, people tend to move their food around with their tongs so the heat is evenly distributed and/or also try to peer underneath to see if its cooked. Not just once, not just twice, but quite a few times. Sanma, same as any fish, is very delicate and moving it around while grilling will cause the shape to crumble and/or the skin to rip unnaturally. For a professional, how it looks when cooked, as well as how it looks while its cooking is very important as their main purpose is to sell them at food stands.
So, Sanma are said to be relatively fatty compared to other fish. Although that may not be entirely false, the truth is that the fishermen aim to catch Sanma at the timing when they get ready for winter. What this means is that the fat stored for winter helps to make the meat juicy. But this also means that when grilling, the excess fat seeps out and slowly drips, which, after a certain amount of time, ignites the charcoal to create flames. Unlike meat which can be roughed up or even intentionally cooked with flames to give burnt ends, but as I mentioned earlier, fish are delicate and can quickly burn when cooked in the flame. In order to avoid this, what the master taught us was to:
"Cook the Sanma using heat, not the flame."
But what exactly do you do? The flames ignite periodically and you aren't supposed to move the fish… The answer, eliminate the root cause. "Extinguish the flames." I was caught by surprise when I hear this because for some reason this hadn't once crossed my mind to extinguish a flame just to maintain the quality of the food.
Any who, what you do is quite simple. When you see a flame ignite that is big enough to burn the Sanma, you go ahead and pour a bit of water to put it out. Now, I will warn you that its easier said than done, since you need to be careful not to pour it on the Sanma.
Aside from the putting out the flame, the master gave us 3 tips to look out for when grilling Sanma. 1. When the fins prop up and turns slightly golden, is when you should get ready to flip over the Sanma. 2. When you start seeing the outline of the Sanma turn golden, that's when you flip it over. 3. Don't overcook till its burnt, but remember that the first side you cook will face down on the plate when served, so don't be afraid to slightly overcook it.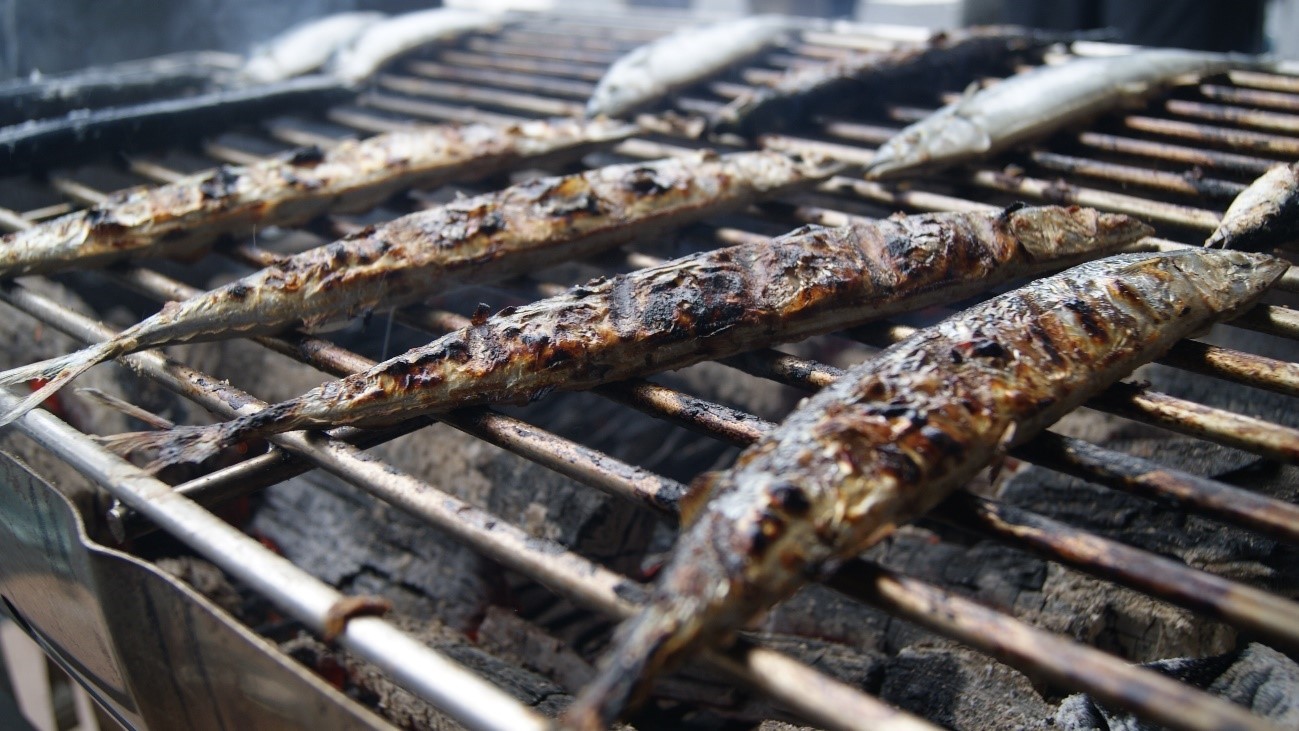 Lastly, I would like to share one of the most memorable statement the master told us:
"80% of grilling Sanma is done in the preparation process."
Initially, I had guessed that the importance of the preparation consisted of picking out the best Sanma, but although that may not be entirely incorrect, he had mentioned several other ways to properly prepare before grilling. For example: setting up the charcoal correctly, knowing how the heat flows in the pit, using long tongs when grilling Sanma, being sure to keep water for yourself as well as to put out the flames, keeping a towel or cloth of some kind to cover your head, etc. But these don't seem too important… when grilling Sanma right?
Wrong!! Well, perhaps if you are just cooking 1 or 2 it may not sound too significant, maybe you can stretch it and grill 5 or 6 as well. But for the master and sub-masters the number of Sanma they grill at festivals are on a different scale. Hundreds at times and even close to a thousand as well. Being to prepare for those amounts and making sure everything is ready when you start cooking is what is important for them. As people pass by or possibly wait in line for the Sanma to be cooked, they will almost always see the griller whether they like it or not. And at that moment, if it looks like you don't know what you're doing, or seem like you're having trouble due to a missed preparation, there is a chance that you may start losing customers and ultimately fade away. The key during festivals is to have a consistent number of customers throughout the day and one mistake can cost them severely.
In all honesty, it didn't strike me to be all that important at first. Rather, I took it as common sense more than anything. But hearing these words as you slowly grill the fish yourself, you come to realize that these preparations are the build-up from past experiences and that you too are in line to take on the advises passed-on from previous Sanma Grillers.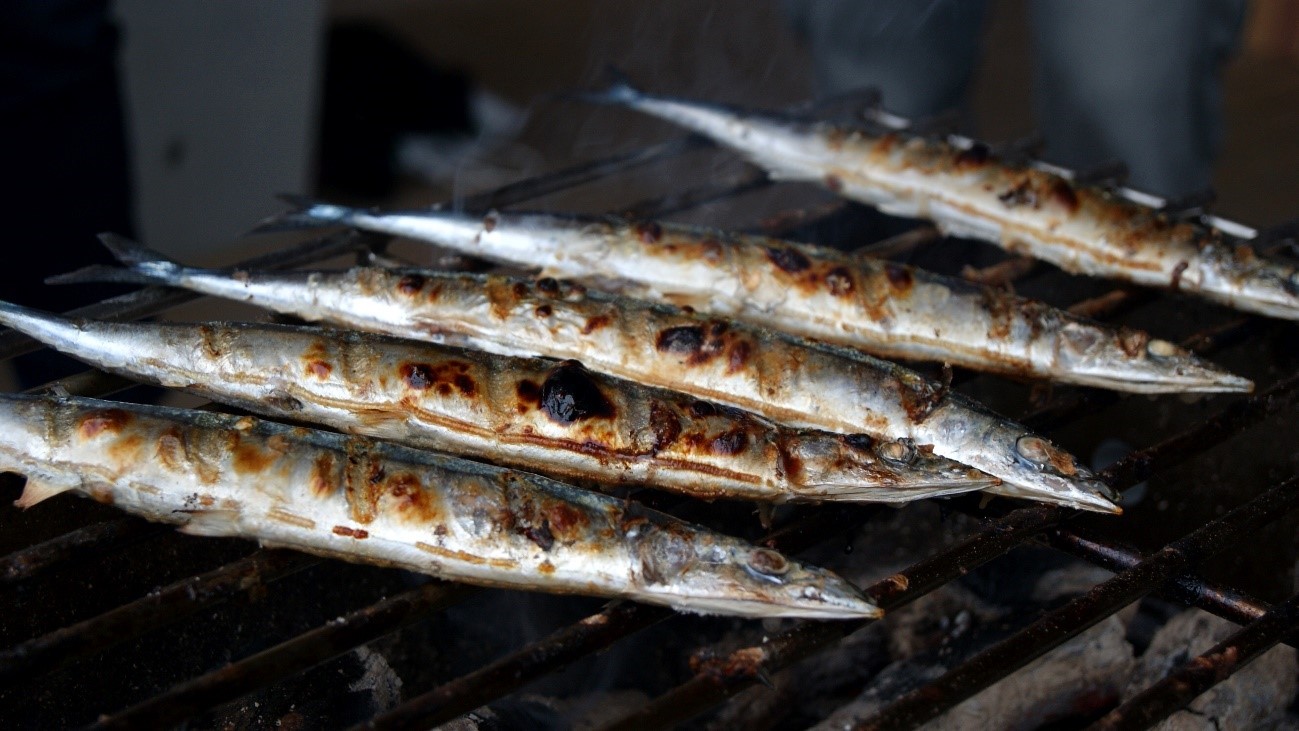 But I digress, once again. In conclusion, what I would like to say is that these kinds of experiences are indeed what makes going out to the suburbs and attending these events so fascinating and enjoyable. Speaking directly to locals and spending time that is unique to anyone who has attended or anyone who will attend in the future, and thinking back to understand the deepness of Japan and its culture and taking part in it firsthand, is what makes traveling such a memorable event.
Unfortunately, this is an event that is held once a year with a slightly difficult application process. BUT, if you are willing to go through the trouble to attend and experience this magnificent event, please feel free to reach out to me and I will be more than happy to help! (Usually held mid-July with application process beginning in June.)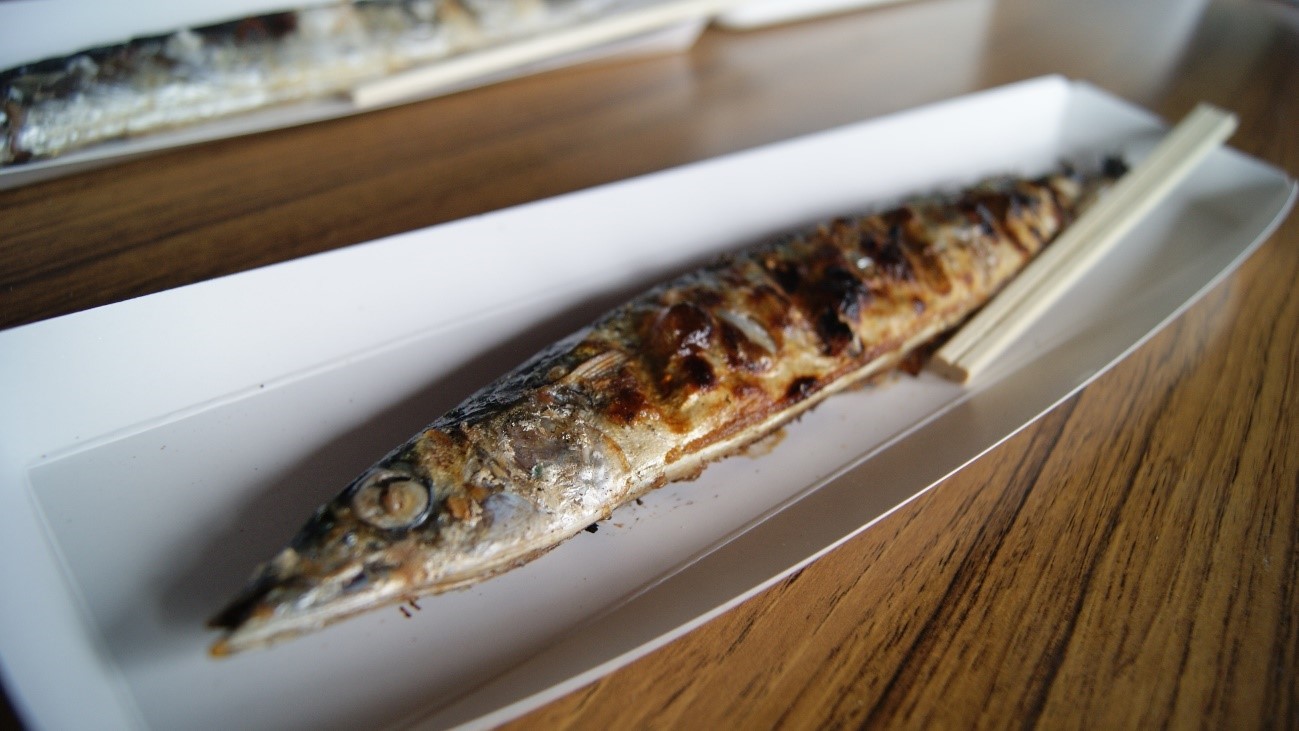 Japanese
さんま焼き師認定試験体験 ~講座、試験、試食!!


令和4年7月16日。小雨とともに始まった朝は岩手の沿岸に梅雨宣言を改めて告げていて、湿気が汗を誘発するように引っ付き、そのせいか空気もそれとなくよどんでいるように感じました。いつもであれば自室のエアコンで涼しく過ごしているはずが、その日は20分程歩いた先の、「第7回さんま焼き師試験」会場へ向かっていました。会場に到着し見回すと、外の空気とは裏腹に、私を含める36名の参加者は笑顔で、大半を占める市外からの参加者と市内の数名共々本場のサンマとその焼き方を体験することに期待を膨らませている様でした。
当イベントは「試験」と呼ばれていますが、主目的は大船渡の特産物であるサンマを市内外の方々に広めるためです。本州で最もサンマの水揚げ量が多い大船渡はそれに誇りを持っており、そのように広めたいと強く思っております。
さて、話を戻しまして、当イベントは2つのパートに分かれています。1つは実際に体験する実技講習、そしてもう1つは1時間程の講習とその後の試験です。とはいえ、「試験」という言葉を恐れる必要はありません。当イベントを運営している大船渡市観光物産協会は、サンマ焼き師の免許を入手し、サンマの魅力を友人や家族あるいはお客へ発信して欲しいと思っていますが、それ以上にサンマを焼き、食べ、参加者や地元の方と交流する場を楽しんで貰いたいと考えています。当日のイベントついて、私の体験談を通してお伝えしますが、先立って一点だけ。この試験に意地悪な質問はなく、講習も非常に分かりやすく、時間も情報も十二分に与えてもらえるのに加え、試験自体は簡単な20問程度の選択形式の試験です!
【写真】
けれど、試験についてはもう十分だとして、本当に聞きたい質問は別にありますよね?
「楽しかった?サンマは美味しかった?体験した甲斐はあった?」等。それらについては、「はい!!」と胸を張って答えましょう。
率直な感想として、このイベントはまさしくここでしか体験できず、唯一無二なのだと感じました。また、個人的にはこのイベントが市内の団体が市民を巻き込んで立ち上げたというのが非常に魅力的だと思っています。更に、使われているサンマがこの日のために保管されたと言っても過言ではないほど新鮮で脂がたっぷりと乗った、大船渡で昨年水揚げされた本場のサンマを使用しております。(メモ:本来のサンマの水揚げは夏の終わり・秋の始め頃が主流ですが、温暖化などの環境的要素によって徐々にサンマのピークが後ろ倒れになっております。最近のピークは10月~11月頃と言われていて、サンマが大きく、質としても脂が十分に乗っていて、焼いた時に出来上がるカリッとした外側とジューシー且つ旨味成分たっぷりの中身が非常に味わい深く最高に美味しいです。)
【写真】
まだまだ続きますので、これを読んでお腹を空かせられてないことを願います!
さて、簡単な挨拶などの後は着火が既にされている3つのBBQグリルが置いてある会場に移動し、メインの師範が焼き方を実際行いながら伝授し、各グリルに1名の師範代がサポートとして付き添う中で焼き方を学びました。(後に聞いたのですが、師範含め、師範代も過去に数百、時には千匹近くのサンマを祭り中に焼いた経験があるそうです。)とはいえ、教わった焼き方をここで事細かく説明すると訪れた際の楽しみを半減させてしまうので、その代わり、師範から教わったお言葉をシェアしたいと思います。
「サンマを焼き台に置いた後は動かさないこと。」
【写真】
BBQの経験、あるいはご自分で調理される方は気付きやすいかもしれませんが、BBQで調理される人の中にはトングを使って裏側をめくって焼き加減を確認する方をよく見かけるかと思います。あるいは、炭の火の回り加減によっては均等に火が通るように、お肉や野菜の場所を入れ替えたりするのを見かけませんでしょうか?それも1度ではなく、2度、あるいは何回も。他の魚を焼くときでも同じですが、サンマの身は繊細で柔らかいため、焼いている途中で動かすと形が崩れることがあり、お客さんへの販売を目的としているため調理中であっても調理後であっても見た目には非常に気を使います。
さて、サンマという魚は脂が多く含まれています。どちらかというと冬の寒い季節を乗り越えるために脂肪を蓄える時期を目掛けて水揚げされていると言っても良いでしょう。これが何を意味しているのかというと、脂肪が含まれている分、焼いている際に脂があふれ出し、炭へと落ち、次第には引火し炎が発生します。先ほども書きましたが、魚は非常に繊細で、肉類とは違って調理前に叩いたり、調理中に多少の焦げを付け加えたりすることは極力避ける必要があります。サンマ焼きの実技では師範には、「サンマは火ではなく、熱でじっくりと焼くものだ。」と口酸っぱく鎮火を指摘された。
定期的に燃え上がる炎と必要以上に動かしてはいけないという条件の中、いったいどのように対策すれば良いのか?解決法、それは抜本的な解決であり、師範に言われたのが「鎮火」でした。食材の質を最高峰に整えるために、元となる炎を消す解決方法が私にとって衝撃的でした。
何はともあれ、何をするかは非常に簡単です。サンマを焦がしてしまうほどの炎が上がれば事前に用意した水を少し掛けて鎮火させるだけです。ただ、実際やるのと読んで理解するのとは違い、サンマに掛けず鎮火するのは少しだけコツが必要だったりしますので気を付けてください。
そんな鎮火に加えて、サンマを焼く際に師範は更に3つのアドバイスをくれました。1つ、尾ひれがピンッと垂直になればひっくり返す準備をしよう。2つ、サンマの周りがキツネ色になったらひっくり返す。3つ、焦がしてはいけないが、最初に焼いた面が配膳の際には下に来るので多少の焼き込みを恐れないこと。
【写真】
最後に、師範から教わった一番思い出深い一言がこちらです。
「サンマ焼きの8割は準備だ。」
当初の私は、準備で一番大事なのは美味しいサンマを選ぶことかと思っていました。もちろん、それもあるが、他にも準備する必要なものはたくさんあると教えてくれました。たとえば、炭をちゃんと設置すること、風の向きとグリル内の熱の広がり具合を知ること、サンマ焼き用の長いトングを準備すること、飲む用と鎮火用の水、頭を覆うタオル、などなど。けれど、これらは一見それほど大事には見えませんよね?
それは間違っています!もしかすると、一匹や二匹、あるいは5か6匹であればそれほど違いはないかもしれません。ですが、師範や師範代が焼くサンマの数はスケールが違います。ときには百あるいは千匹近く焼くことがあります。そのような数のサンマを焼く際にはすべての準備が整っている状態でないといけないのです。サンマを焼いているときは通行人やあるいはサンマが焼けるのを待っている人にとってさんま焼き師は注目の的になります。そんな中、どのような手順で焼かれて、どういった工夫をするのか、一手一手が見られる中で、準備不足でサンマを焦がしてしまうと客が不振に思って最悪去ってしまう可能性があります。まつりなどの見せながら焼く際にはそういった点に気を付け、常に客がいるように工夫する必要があり、そうしないと死活問題になりえるのです。
こういった話は始め、特に気にせず、どちらかというと当然の事のように受け止めていました。けれど、実際自分で焼き始め、四苦八苦する中でこういった助言の言葉は過去の経験の積み重ねから生まれたものであり、焼き師から焼き師へと長年受け継がれているのだと気づいてからは師範が言う言葉の一つ一つに重みを私は感じるようになりました。
【写真】
少し話を戻しまして、結論として、私はこういった経験こそが田舎、あるいは単純に都市から離れて体験する醍醐味なのではないかと考えます。直接現地の方と話し、唯一無二の時間を過ごし、体験や会話の中で日本の伝統や文化の奥深さを感じられるのは非常に魅力的と言えるでしょう。
とはいえ、このイベントは年に一回しか行われておらず、予約の際に必要な申請書類などは少々大変です。ですが!この記事を読んでそれでも体験してみたいと思って貰えたのであれば、私にご連絡頂ければそれらのお手伝いをしますので、是非ともご連絡ください!(イベントは7月中旬に行われ、予約は6月頃には受け入れるスケジュールになるかと思います。)
【写真】