Taking a Rest at a Roadside Station
Profiles of Japan's signature rest stops
It goes without saying that Japanese public transport is top-notch, from speedy bullet trains to clean and reliable subways and local trains. However, if you don't want to be at the mercy of a public transit schedule, or would like to go a bit further off the beaten path, driving is the way to go. This goes double for Iwate, where spectacular scenery and a relatively lower population density make road trips a great option.
The process of getting a Japanese driver's license, or an international driver's permit, varies quite a lot case by case, so I won't get into it here – perhaps a future article will cover it. In the meantime, I want to talk about the practical matter of finding a spot to rest on your journey.
If you're on the road for a long time, you'll inevitably run across a michi-no-eki, usually translated directly into English as "roadside station." These aren't bare-bones rest stops, but they aren't truck stops either. These are small, wooden structures that use every bit of their space to provide regional specialties, souvenirs, and more depending on the spot. Many include restaurants and vantage points to enjoy the view, and some even have showers and facilities to spend the night. Because of all they have to offer, while roadside stations cater to tourists, it's not unusual for local people to frequent them as well. Michi-no-eki carry in-season produce from local small farmers, so it's a great way to shop sustainably. Plus, the bus route in some municipalities includes a stop at the michi-no-eki, so even if you don't drive it's possible to enjoy them.
Each michi-no-eki reflects the pride of the town they're in, so even if you're just passing through it's possible to get an authentic experience of the area, however quick. However, not all michi-no-eki are able to provide multilingual information to international visitors, so it's best to be able to read a little, bring along a Japanese-reading friend, or have a phone app at the ready.
As someone who enjoys road trips, I've been to plenty of michi-no-eki across northeastern Japan, mostly in Iwate. In fact, I've already mentioned one in another article – specifically, the one in Tono. All of them have their own unique appeal, and there are two near the ILC candidate site that are a good representation of what roadside stations are all about.
First off, here is Mizusawa Michi-no-Eki.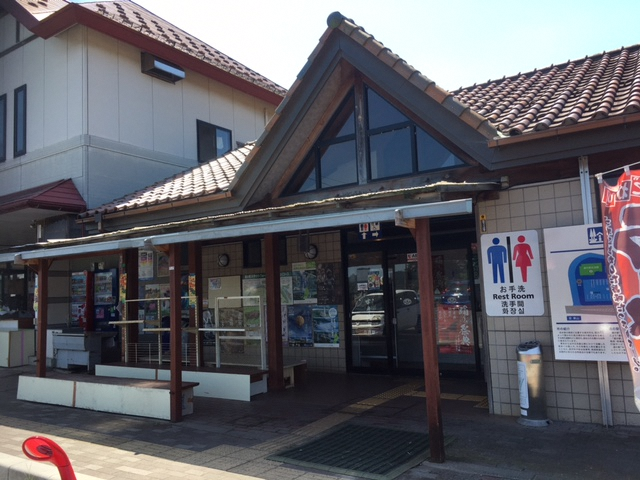 Exterior of Mizusawa Michi-no-Eki.
Located in Oshu on National Route 343 – which runs through Oshu to the coastal city of Rikuzentakata – this convenient roadside station offers an excellent view of the Kitakami Mountain Range and part of the Kitakami River system. It's the perfect background for stretching your legs or relaxing in the gazebo.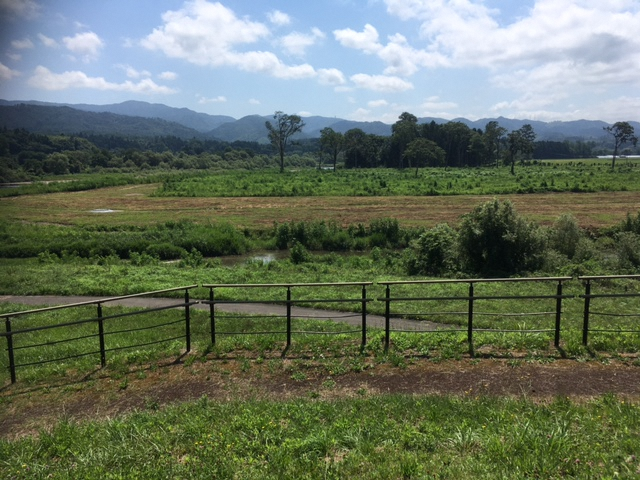 The outdoor view on a nice day
Seasonal vegetables are often on display just outside, and inside is an array of snacks and souvenirs, many of which use rice, reflecting the important role of rice farming in this area. This includes, if you dare, inago-no-tsukudani (crispy rice grasshoppers!) This is a traditional, cultural dish of grasshoppers cooked in soy sauce and sugar, and it isn't hard to find in rice growing regions of Japan.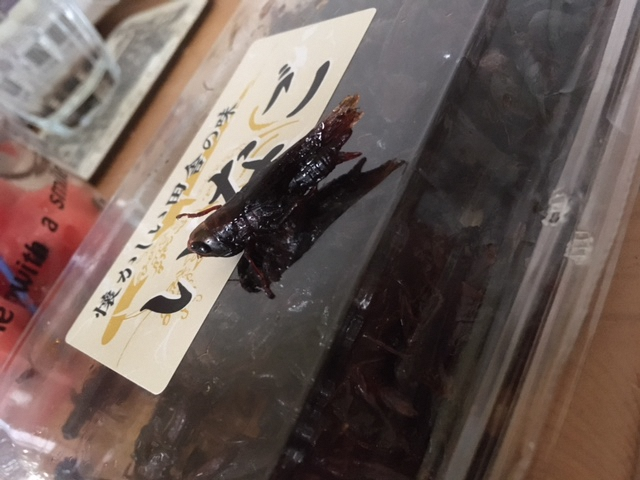 Inago-no-tsukudani (ready to be eaten by themselves or on rice.)
Alternatively, you can try sesame seed ice cream, Iwate's signature senbei rice crackers, or sit down for a bite in the restaurant on the second floor.
Moving a bit further south, we have Genbikei Michi-no-Eki, in Oshu's neighbor city Ichinoseki. This roadside station is on a main road in Ichinoseki, and is a bit larger than the one in Mizusawa. It offers the city's famous mochi in many forms, as well as a variety of handmade crafts. These days, it's common to see homemade masks for sale as well.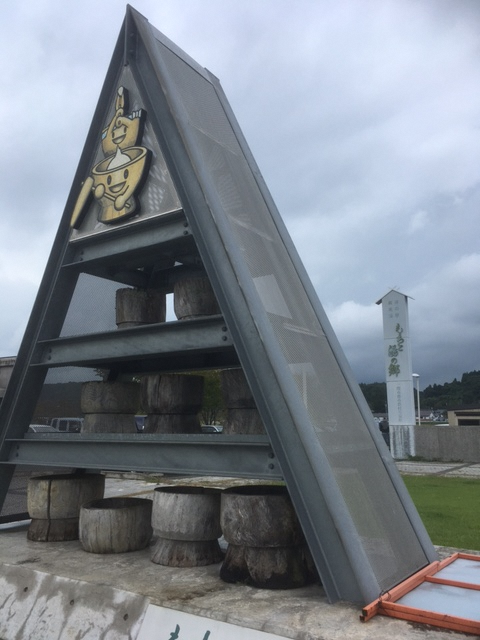 Triangular landmark outside of Genbikei Michi-no-Eki: notice the mochi pots!
Speaking of crafts, nambu tekki ironware are offered at quite a lot of michi-no-eki in southern/central Iwate. This is a kind of ironware made with a technique dating back hundreds of years, and Iwate is famous across Japan for it. In particular, these bell chimes are part of the soundscape of southern Iwate.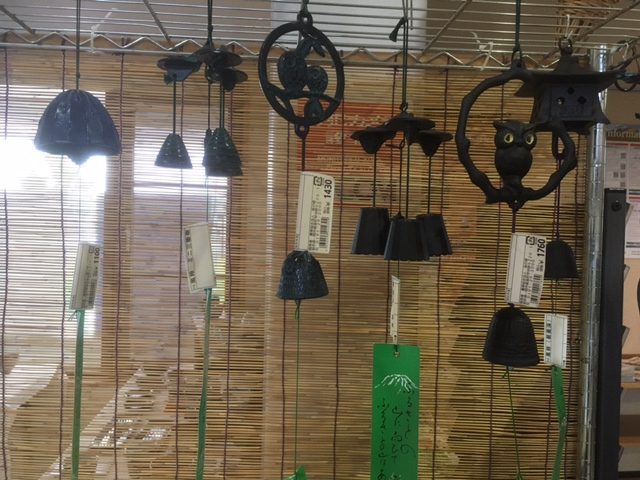 Nambu tekki chimes from Genbikei Michi-no-Eki.
There's really no end to the types of michi-no-eki out there: these are just a couple in southern Iwate alone. If you travel further north, you'll find one that's a refurbished former schoolhouse; on the coast, a newly built roadside station signifies the recovery efforts from the March 11th earthquake and tsunami, and the list goes on and on. They range in size and amenities, but at every one, you can learn a lot about the region from what products are a point of local pride, and from the information they hope that visitors will remember. Wherever you're from and no matter your destination, michi-no-eki are ready to welcome you.
Japanese
「道の駅」で休憩しませんか?
日本の休憩所「道の駅」について

長距離を移動する新幹線や近い距離を移動する地下鉄や普通列車と、正確な時間ダイヤで運用される日本の公共交通機関は、言うまでもなく最高です。しかし、時間に縛られたくない方や、もしくは公共交通機関で行けない珍しい場所に訪問したい方にとっては、車で移動する方が適しています。特に岩手県の場合、素晴らしい景色とドライブしやすい環境が整っています。

日本で運転免許証または国際運転免許証を取得する流れは場合によって違いますので、今回は説明しません。それは次の記事の話題になるかもしれません。今回は、旅行中に休憩するための「道の駅」について話したいと思います。

日本では、街中を車でドライブしていれば、頻繁に道の駅を見かけます。これは英語で"roadside station"と直訳されます。単なる休憩所またはトラックステーションではありません。道の駅は小さい木造の建物で、地方の特産品やお土産があり、施設によっては他のサービスも提供されています。例えばレストランや展望台を楽しめ、ある場所はシャワーや宿泊施設など実施しています。しかも道の駅は、地方の農業者の季節の野菜なども販売されており、近所の人も道の駅をよく利用します。また、ある市町村ではバスが道の駅に止まるので、車をもっていなくても道の駅に行くことができます。

道の駅は地方の特徴が表れるスポットなので、短い休憩でも、そのエリアのことを経験できます。しかし、道の駅では多言語対応等、受入環境の整備が十分とは言えません。そのため日本語を少し読めるか、または日本語を読める友達を連れていくこと、もしくは翻訳アプリを用意したら役に立つでしょう。

私は車での旅行が好きで、様々な東北の道の駅に行ったことがあります。先のアマビエについての記事も、以前に立ち寄った道の駅で知りました。どの道の駅も個別にいい点があるけど、ILC候補地の近所の道の駅を紹介します。

まずは奥州市にある道の駅「みずさわ」。
[写真 道の駅①]

この便利な道の駅は奥州市~陸前高田市に至る国道343号にあり、北上山地と北上川の水系を眺めながらゆっくりできます。
[写真 風景]

季節の野菜は普段から提供され、店内でたくさんのお菓子やお土産があります。この地方のお米生産の大切さにあわせて、お米や田んぼに関する用品は多いです。この中にイナゴの佃煮という食べ物もあります。これはイナゴを砂糖と醤油で煮立たせたお米生産地によくある伝統料理です。
[写真 いなごの佃煮]

それとは別に、ゴマアイス、岩手県名物せんべいなどを、2階のレストランで楽しめます。

南の方に移動すると、一関市の道の駅「厳美渓」に到着します。市内の本街道にあり、水沢の道の駅より大きい施設です。一関の有名なもち料理を提供し、手作りの品物もたくさんあります。最近だと、手作りマスクの品揃えも充実しています。
[写真 道の駅②]

手作りの品物と言えば、岩手県の南・内陸の道の駅で南部鉄器は見かける機会が多いです。これは数百年間歴史のある岩手県の名産物で、南部鉄器の風鈴は岩手南部の音風景の特徴です。
[写真 南部鉄器]

今回の記事では、ILC候補地である県南の二つの道の駅について紹介しましたが、道の駅には様々な種類があります。例えば、昔は学校だった建物をリフォームしたものや、沿岸では震災からの復興として建設された建物であったりと、様々あります。規模やサービスはそれぞれ違いますが、どの道の駅も自慢の名産物を揃えて来館するお客様を歓迎しているのが道の駅です。