This article was written by Iwate Prefecture's Morioka Regional Development Bureau, and translated by Amanda Wayama. 
Iwate – known as a lacquer producing-area
Iwate Prefecture in northern Japan has long been a producer of urushi lacquerware. Lacquerware is defined as crafts and tableware that have been coated with the sap of the lacquer tree (which is called "urushi" in Japanese). You may have heard of "maki-e," a traditional technique for decorating Japanese lacquerware with intricate metallic patterns, but did you know that people use urushi as basic dining ware as well? In today's article, we're showcasing Appi-style urushi, which is a style of lacquer tableware that is created in northern Iwate.
(1)Appi Urushi Studio
The small workshop immediately stands out, with its striking black triangular roof and wooden beams. This is the Appi Urushi Studio, where they create Appi urushi tableware. When you enter the main foyer, you'll see red and black bowls, dishes, and chopsticks displayed in a quiet atmosphere.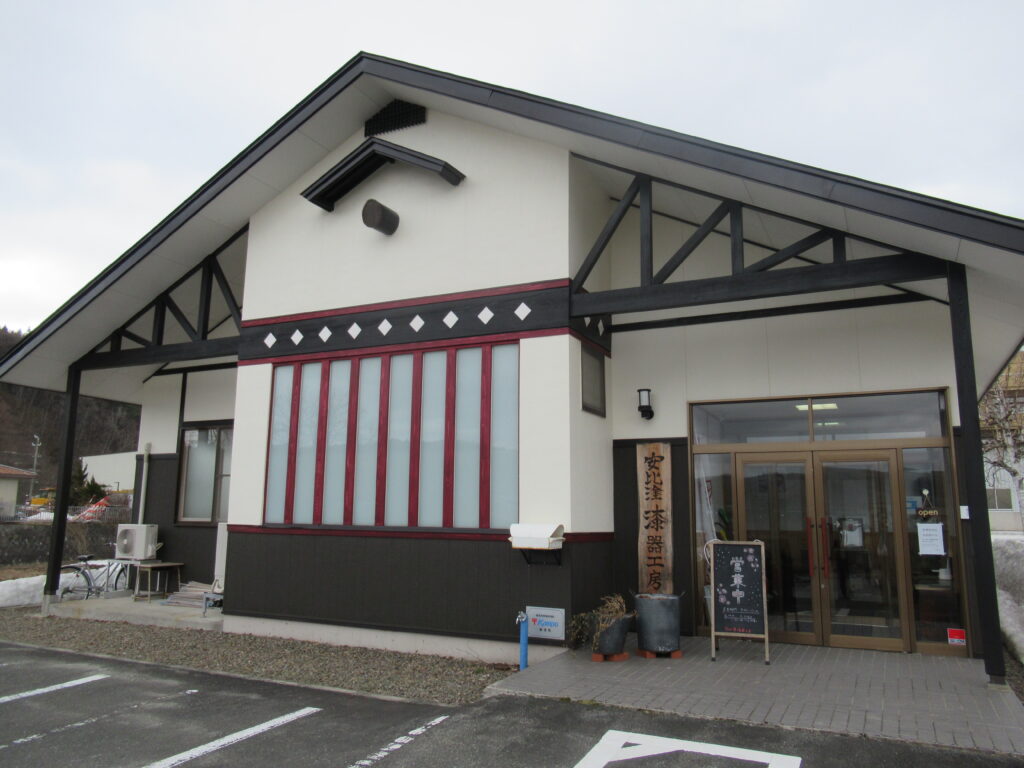 Appi Urushi Studio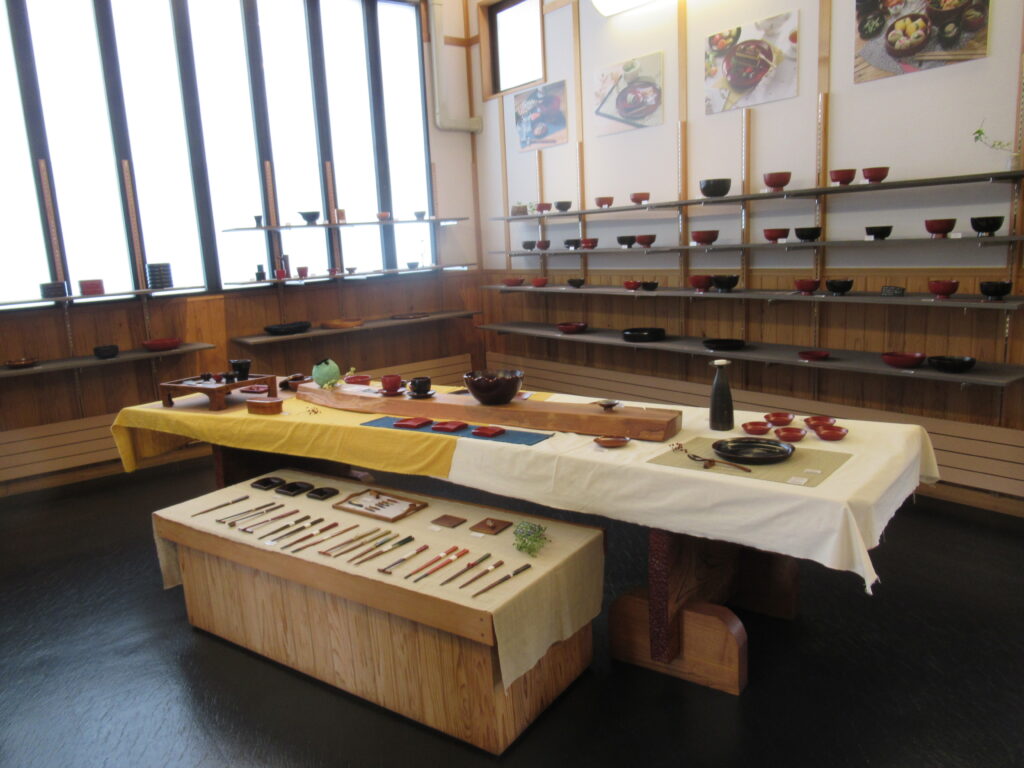 The shop right by the main entrance
Making lacquerware
So how does one make both beautiful and useable lacquer tableware? We'll show you in the video below.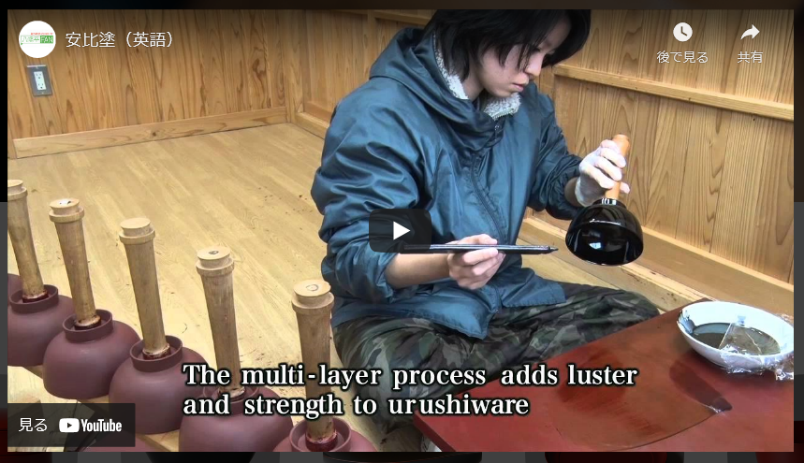 URL:https://www.youtube.com/watch?v=PQAXFAO2XOc
(Video contents)
・Harvesting sap for lacquer (called "urushikaki")
・Processing the lacquer
・The coating process (under layers, sanding, outer layers)
The raw sap taken from the urushi tree can't be used as it will have debris and imperfections. Artisans at the studio clear the debris from the sap and adjust the water levels to make the urushi coating. Urushi sap is naturally a burnt tea-like color, so pigment is added to get the red color.
The processed sap is then applied to a wooden surface to form an under layer, and left for one day to dry. Then the artisan will sand down this dried layer, making it easier for the next layer to grip onto. By repeating this process, you can achieve a very deep color and luxurious texture.
Artisans at this studio apply the urushi sap in five layers. Each layer is sanded down after drying, so the complete coat is not even 1 millimeter thick. This work requires great concentration.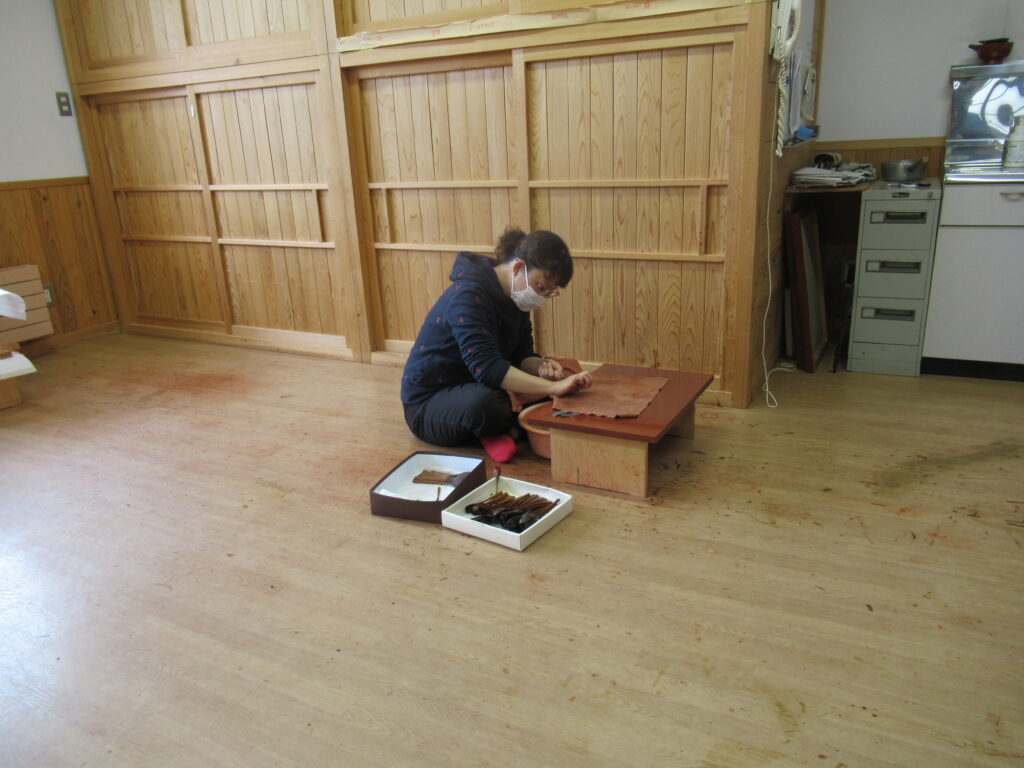 Appi Urushi Studio (the working process)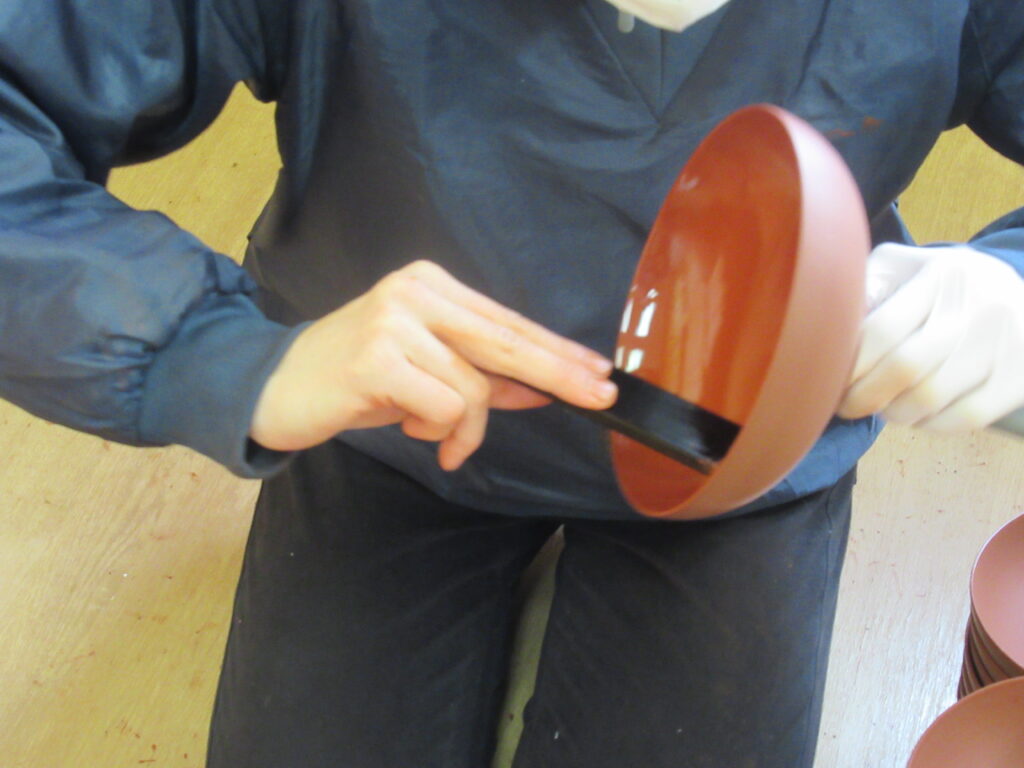 Urushi Studio (applying layers of urushi)
An interview with an urushi artisan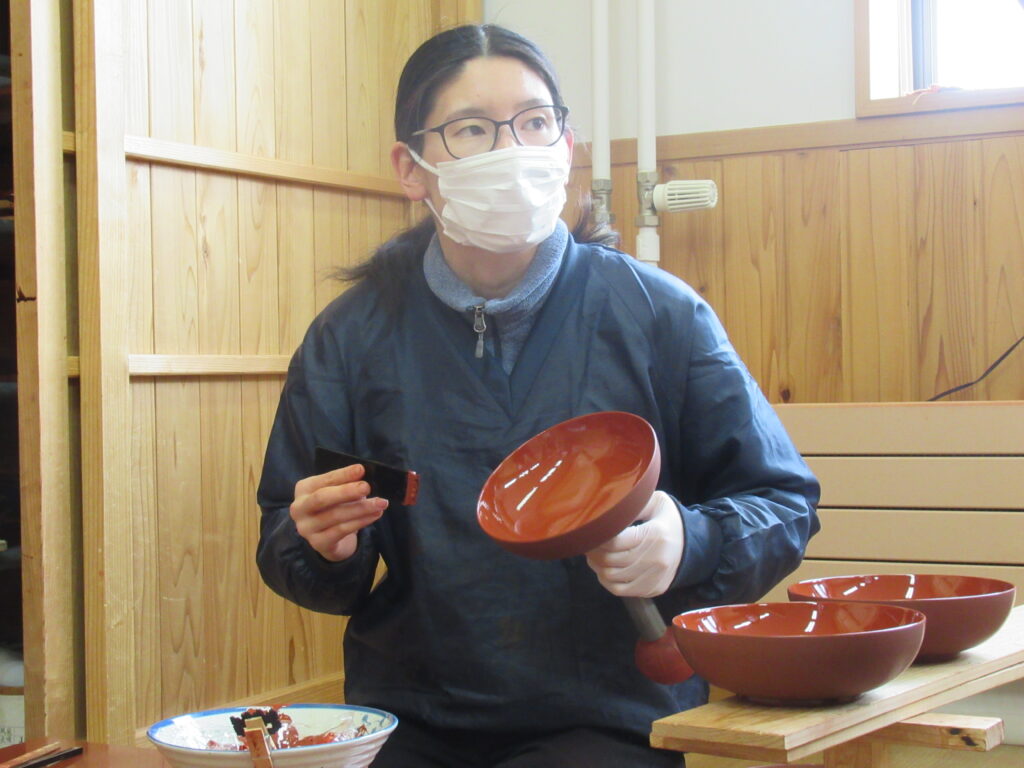 Urushi artisan : Ms. Mikami
We spoke with Ms. Mikami, who works at this studio.
This is Ms. Mikami's fifth year working at the studio. She originally had an interest in sculpture, but after going to work at a university as an artist and interacting with her senior colleagues, she gained an interest in urushi lacquerware.
Q1) Has working at this studio changed your opinion of the place?
A1) With my experience here, I've learned that this studio is very serious about the craft. Previously, I was involved with creating artistic objects, but here at this studio we make everyday items – and a lot of them. The production schedule is completely different too. That's when I realized what it means to work as an urushi artisan. Even your working position is different – when you work on urushi lacquerware, you sit on the ground cross-legged.
Q2) Do you have non-Japanese guests at this workshop?
A2) Before the spread of COVID-19, many foreign guests at the local Appi ski resort would come to try out making chopsticks here. We still offer that service here, so please come visit.
Q3) What urushi lacquerware do you recommend to foreign guests?
A3) We have a bowl that would work great as a salad bowl. For those using lacquer for the first time I recommend using spoons or other western cutlery. When you bring the cutlery to your lips, you'll feel the smooth and luxurious texture of the urushi sap. Even my children use lacquerware bowls.
Q4) How do you maintain lacquer tableware?
A4) You can't put them in a dishwasher, but you can wash them with dish soap like any other tableware. After washing them, make sure you dry them with a towel. One last wipe with a dry towel will give it a nice polished sheen. Lacquerware grows more lustrous the longer you use it. That's what makes it so interesting – you "make" it into something that fits you perfectly.
Appi Urushi Studio Homepage (English page) and Shokunin.com
Please check out the studio's homepage for more information on Appi Urushi. English and Chinese language versions are available.
English  http://www.appiurushistudio.com/en/
Chinese  http://www.appiurushistudio.com/ch/
You can purchase items made at the Appi Urushi Studio at Shokunin.com, which offers international shipping. We hope you'll find the tableware perfect for your tastes.
English  https://www.shokunin.com/en/
You can paint chopsticks or plates with your own design at this studio. Please come visit when tourism in Japan strikes up again – You'll definitely want to try our urushi!
Using
urushi 
lacquerware
Japanese
「時間を重ねて作る私だけの食器 安比塗漆器」

岩手は漆の産地
日本の北方に位置する岩手県は、古くから漆器の産地です。漆器は、ウルシという木の樹液を塗った工芸品や食器のことを指します。蒔絵などの日本の伝統的な工芸品が有名ですが、日本では、食器としても漆器が使われていることをご存知でしょうか?今回の記事は、岩手県で作られている、食器として使える漆器「安比塗」を紹介します。

(1)安比塗漆器工房の紹介
 黒い三角屋根と木の柱が印象的な小さな工房。ここは安比塗漆器工房。この工房で作っている漆器は、安比塗と呼ばれています。玄関を入ると、静かな空間のなかに、赤や黒の椀や皿、箸などの漆器がいくつも並んでいます。

[写真1] [写真2]

(2)漆器の作り方
この美しく便利な食器はどのように作られるのでしょうか?動画で紹介しましょう。

動画

 ウルシの木からとれたままの樹液は、ゴミが入っていたり成分が均一でなかったり。そのままでは製品に使うことが出来ません。工房の職人は、樹液のゴミを取り除いたり、水分量を調整したりしてから使います。元々の樹液は茶褐色で、赤い色は、顔料を加えた後の色です。
 こうして整えられたウルシの樹液を木の下地に塗り、1日おいて乾かします。乾いたら、塗ったウルシの樹液を研ぎます。一旦塗ったウルシの樹液を研ぐことで、次に塗り重ねる樹液同士がよりくっつきやすくなります。こうすることで、深い色合いと質感が実現できます。
 この工房の職人は、5回ウルシの樹液を塗ります。5回塗り重ねて研ぐ作業を挟んでいるので、塗り重ねた漆の厚さは1mmにも達しないほど。集中力を要する作業が続きます。

[写真3] [写真4]

(3)職人へのインタビュー

[写真5]

 この工房で働く職人の三上さんにお話を聞きました。
 三上さんは、ここで働いて5年目。元々は彫刻に興味があったのですが、アート作家として働く大学のときの先輩の活動に関わるうちに、漆器に興味を持ったとのことです。

Q1.この工房で働いてみて、工房に対するイメージは変わりましたか?
A1. 実際に働いてみて、かなり堅牢なイメージを持ちました。以前はアート作品の製作に関わっていたのですが、日用品を作るこの工房では製作する量がとても多く、また製作スケジュールもまったく違います。これが漆器職人を仕事に持つということだと感じました。他には所作が違いますね。漆器を作るときは胡坐をかいて座るんですよ。

Q2.この工房に日本人以外のお客さんが来ることはありますか?
A2.コロナ感染症が広がる前は、安比スキー場に来た外国人のお客さんが、箸の絵付け体験に来ることがありました。絵付け体験はまだ出来ますので、また来てほしいです。

Q3.外国人の方向けには、どの漆器がお勧めですか?
A3.サラダボウルとしても使える鉢などがよいと思います。初めて使う方には、スプーンなどのカトラリーがお勧めですよ。口にあたる部分にウルシの樹液が使われていて、滑らかな質感がとても心地よいです。私の子どもは、漆器のお椀を使っています。

Q4.漆器の食器は、どのようにメンテナンスしたらよいのですか?
A4.食器洗浄機には入れられませんが、他の食器と同じく洗剤をつけて洗うことができます。洗った後はタオルで水分をふき取ってください。さらに乾いた布で拭くと、研磨の効果が出ます。漆器は、使うほどに光沢が出るようになります。自分で育てていくことが出来るという点が魅力ですね。

安比塗漆器工房ホームページ(英語版ページ)、職人ドットコムの紹介
 安比塗漆器工房をもっと知りたい方は、ぜひホームページを御覧ください。英語と中国語でも閲覧できます。
[URL]
 安比塗漆器工房で作られた製品は、職人ドットコムというホームページで購入することができます。日本以外への発送もできますので、お気に入りの食器を探してみてくださいね。
[URL]
 この工房では、自分で箸やお皿に自分で絵をつけることもできます。また日本へ来ることが出来るようになったら、ぜひ遊びに来てくださいね。きっとあなたも漆器が使ってみたくなりますよ!
[写真6] [写真7]