Getting vital information to everyone, in a way that's easy to understand: this is maybe the most important challenge with international residents.
In this past year, Oshu City has made a big leap forward in meeting this challenge with a new "Life Support Guidebook for Foreigners." This 11-page guidebook was made by Oshu City and Oshu International Relations Association, with the content reviewed by the Oshu Police Station.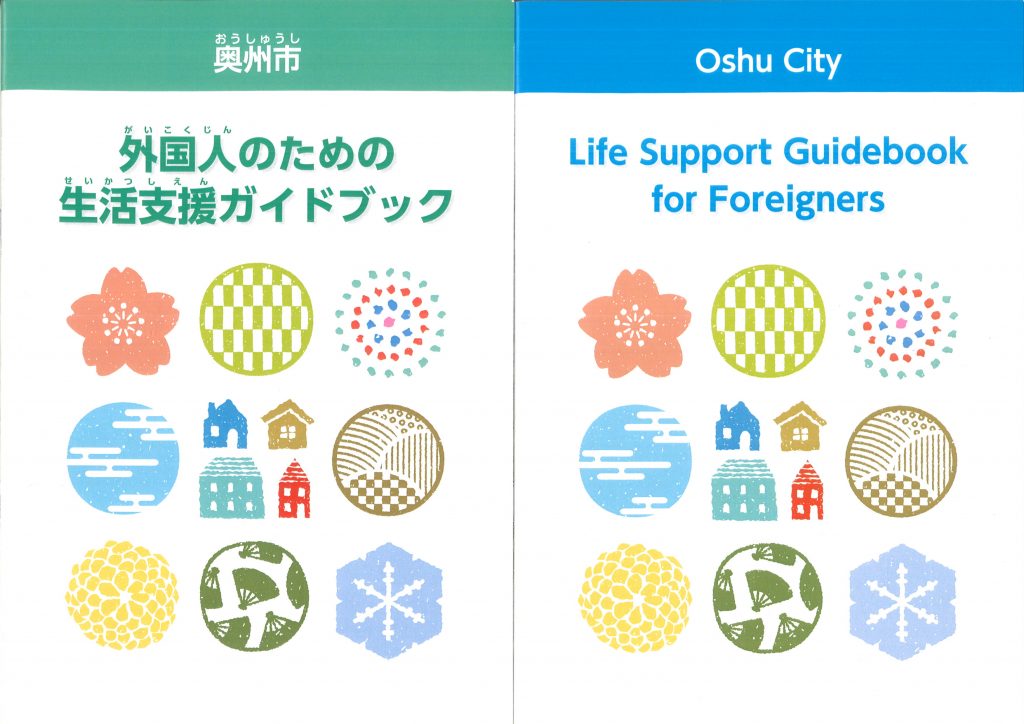 What makes it special?
The Content
The guidebook covers the basics for what international residents need to stay safe: how to use emergency phone numbers, what to do in an earthquake, traffic safety, and information on medical interpretation services. It outlines the main parts of living in Japan that can be confusing, like how to move in and out, utilities, and garbage/recycling collection. It also devotes a page and a half to various sources of further information and places for consultation.
The Languages
The guidebooks have been produced in eight languages: easy Japanese, English, simplified Chinese, traditional Chinese, Korean, Tagalog, Indonesian and Vietnamese. This range of languages reflects the international population living in/moving to Oshu now, and helps more people get important information for their daily life in their native language.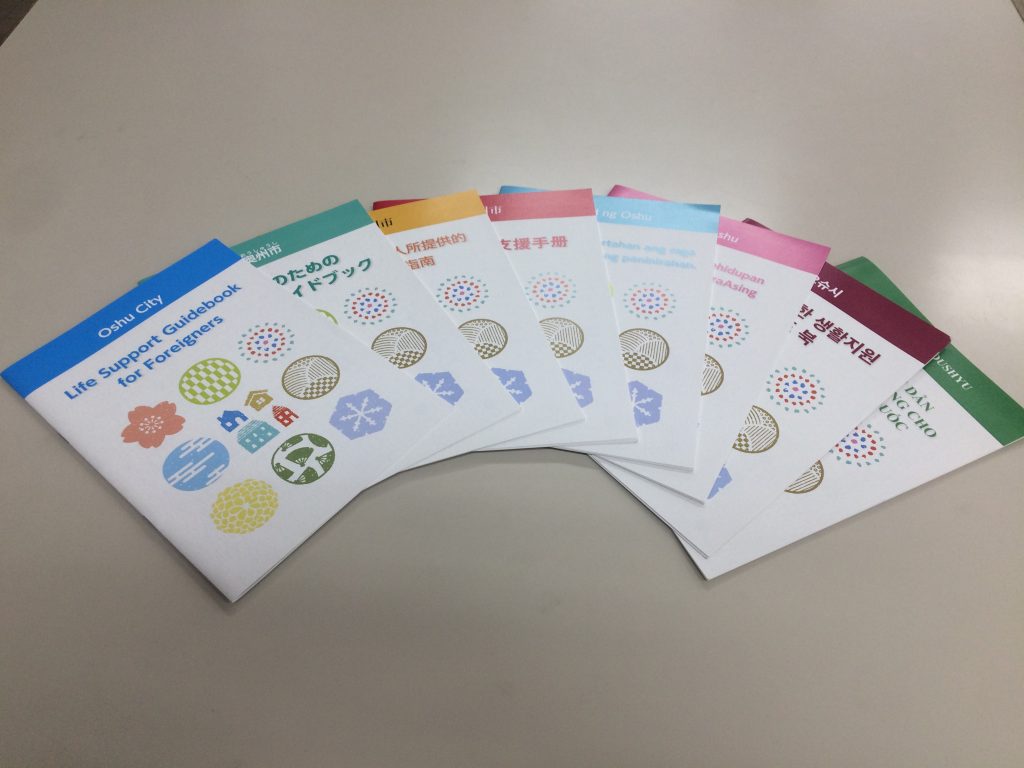 The Distribution Method
Just as important as the content is how it is distributed. Every new resident (or a representative) needs to come to the Citizen Services Division of city hall when they move in, and the Citizen Services Division will give this guidebook to every new international resident as they move in. This should ensure a better reach to all new international residents, without exceptions.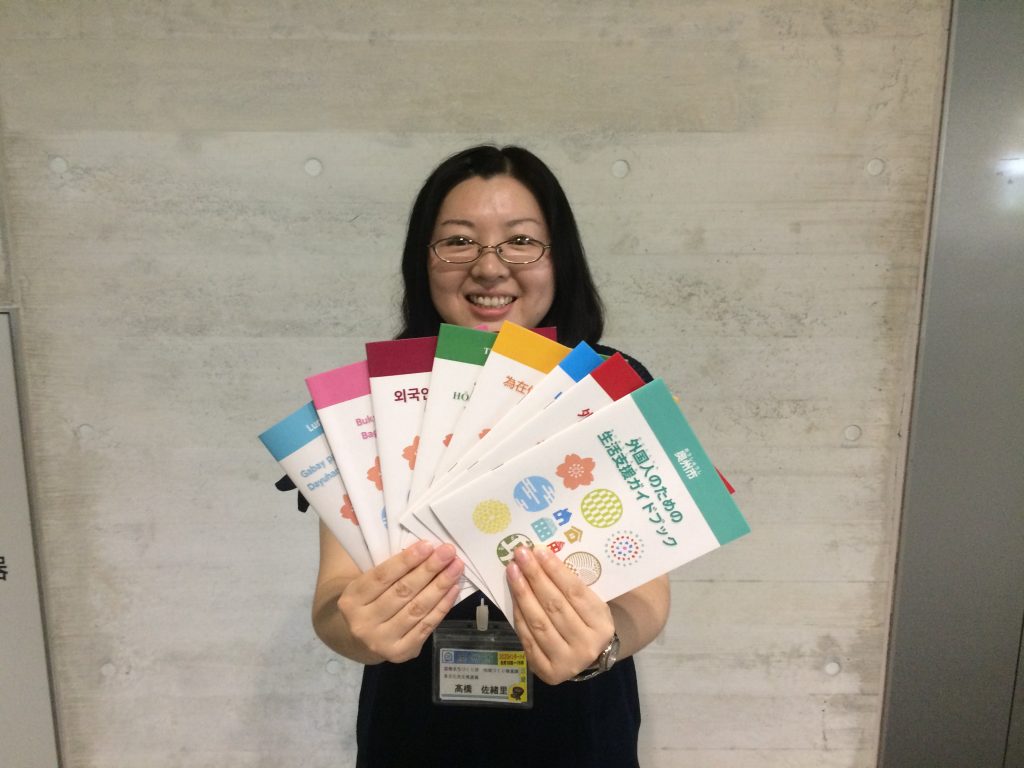 I asked Saori Takahashi of Oshu City Community Development Division what they were most proud of with this guidebook: "First, we're happy to have the Oshu Police Station's cooperation in making the guidebook. They gave a lot of support for the content on traffic rules and safety. Also, the guidebook has a lot of practical information and places for consultation that will be useful for living here in Oshu. The manual is concise and compact, so it's easy to store and carry around."
Interested in seeing what the Life Support Guidebook for Foreigners looks like? You can see the online version for each language at Oshu International Relations Association's website at http://oshu-ira.com.
Japanese
必要な情報を効果よく:奥州市の外国人のための生活支援ガイドブック

一番大切な生活情報を分かりやすい形で外国人全員に伝えることが、外国人住民を迎える中での一番重要な課題かもしれません。

この課題解決のため、今年、岩手県奥州市は1つの事業を実施しました。 ――  新しく発行した「外国人のための生活支援ガイドブック」です。この11ページのガイドブックは、奥州警察署の監修のもと、奥州市と奥州市国際交流協会が作成したものです。

ところで、このガイドブックのポイントは何なのでしょうか?

【内容】 
まず、ガイドブックには、緊急電話通報の仕方、地震が発生した場合の行動、交通安全、医療通訳制度など、しっかりと安全で安心な生活を送るための情報が載っています。

さらに転入・転出手続き、ライフライン、ごみとリサイクルの出し方など日本で生活する上で分かりづらい点も解説されています。さらに、1.5ページをかけて、さまざまな情報源と相談窓口が掲載されています。

【言語】 
ガイドブックは8か国語で発刊されました。8か国語の内訳は、やさしい日本語、英語、中国語(簡体字)、中国語(繁体字)、韓国語、タガログ語、インドネシア語及びベトナム語となっています。

実際に住んでいる又は転入してくる外国人が使用している言語で多いものから選んでいるため、より多くの人が母国語で生活情報を入手することにつながります。

【配布方法】 
内容だけでなく、大切なことは配布の仕方です。

市に転入者があった場合、その本人(又は代理人)が必ず市民課に行って手続きをしなければなりませんが、その際、市民課を訪れた方が外国人である場合、市民課でガイドブックを渡します。

市民課でお渡しすることで、漏れなく新しい外国人市民に配布されることとなります。

奥州市地域づくり推進課の多文化共生推進員・高橋佐緒里さんから、ガイドブックについて次のとおりコメントをいただきました。

「ポイントとしては、奥州警察署に御協力をいただいたことです。交通や生活の安全などについて、しっかりと監修をしていただきました。その他、奥州市で実際に生活する上での情報や問い合わせ先など、生活支援に役立つ内容が載っています。情報がコンパクトにまとめられており、持ち運びや保管がしやすいのもメリットです。」

なお、奥州市国際交流協会のウェブサイトでこの「外国人のための生活支援ガイドブック」を確認できます。

興味がある方は、ぜひ御覧になってください。(URL: http://oshu-ira.com)