As of early April, it's sakura (cherry blossom) season here in Oshu. These beautiful, light pink flowers only bloom for about two weeks, but their short stay is a big part of why people find them so moving. Furthermore, even if you're not actively trying to view sakura, the trees tend to be planted around well-trodden places, such as town halls, parks, the sides of roads, schools, and similar. The header image, as an example, is a sakura tree blossoming outside of Oshu City Hall.
But aside from sakura one might come across in one's daily life, certain locations across Japan are known as famous sakura viewing spots, and draw visitors from all around the country. On a smaller scale, almost every municipality has locally well-known, special places to enjoy the beauty of sakura. Of course, such spots are plentiful in Oshu, and I'll introduce a few that I recommend.
Mizusawa Park
   As mentioned above, Mizusawa Park is one area that is locally known as a great spot to view all kinds of sakura in bloom. This year, the sakura first opened up on March 29th, which is a record early start for Oshu. The park also offers walkways with plenty of greenery, playground equipment for children, and beautiful scenery for everybody.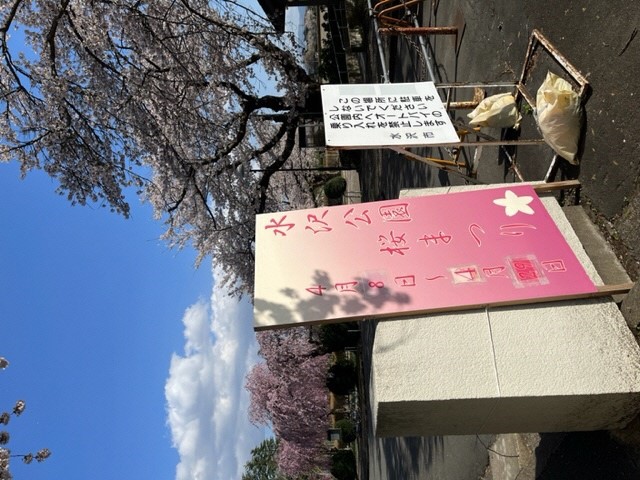 A placard at the entrance of the park indicates that this year's sakura fest will be April 8th-29th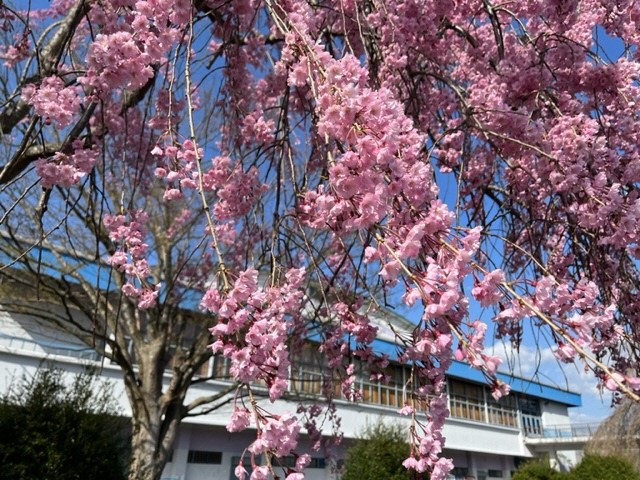 Weeping sakura, with Mizusawa Gym in the background.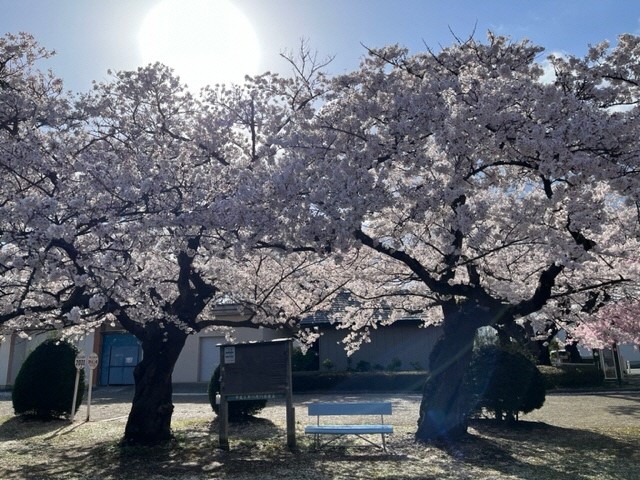 Two classic sakura trees, with the afternoon sun illuminating them from the back.

Even though I don't think I'm much of a photographer, pictures of sakura almost always come out looking beautiful, somehow.
Keitoku Park
  Keitoku Park is a small park near Z Hall – an auditorium and cultural center – and Mizusawa Library. A creek runs through it, lined with sakura trees whose branches reach towards the water. If you gaze out from the bridge, on a clear day with the sakura at their peak flourishment, you might get a view that looks like a painting come to life.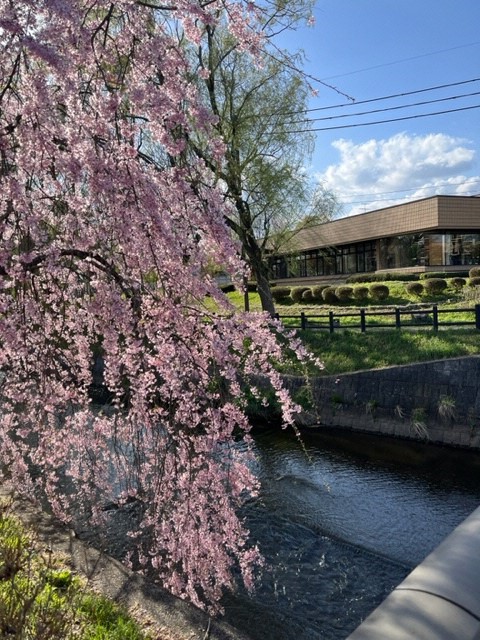 Sakura at Keitoku Park, with Mizusawa Library in the background.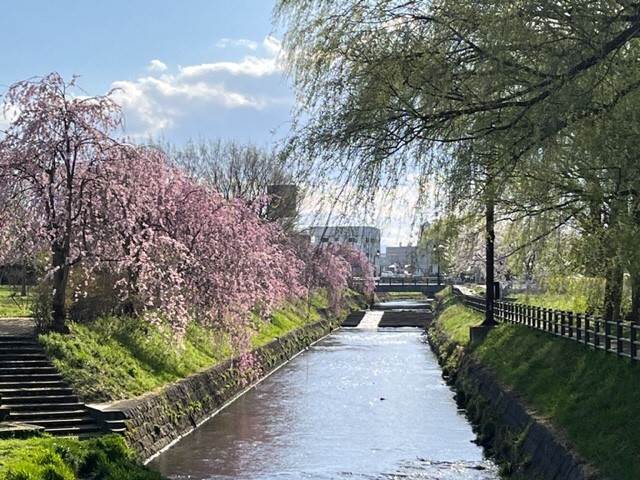 Sakura trees lining the creek in the afternoon light.
By the way, the most popular type of sakura in Japan is a cloned cultivar, so as a result, all of them in a given region open up, reach full bloom, and fade at the same time. As someone who was more used to seeing seasonal foliage develop gradually and recede slowly, the effect of seeing every sakura tree in full, simultaneous bloom is breathtaking.
Former Iwayado Kyoritsu Hospital (Meiji Memorial Building)This former hospital stands out among the traditional, smaller homes around it. First operational in 1875, it was the first hospital to practice Western medicine in what is now Iwate prefecture. While it closed down as a hospital three years later, the building continued to be used for a range of public functions – and since it now operates as a historical memorial, this practice continues to the present day.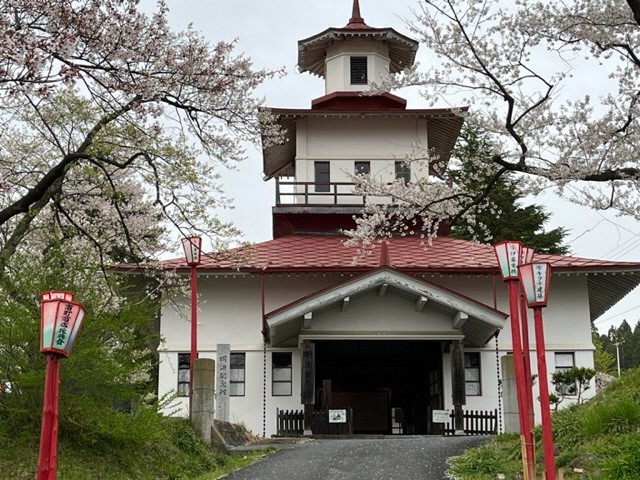 The former hospital, framed by sakura and lanterns, on a cloudy day.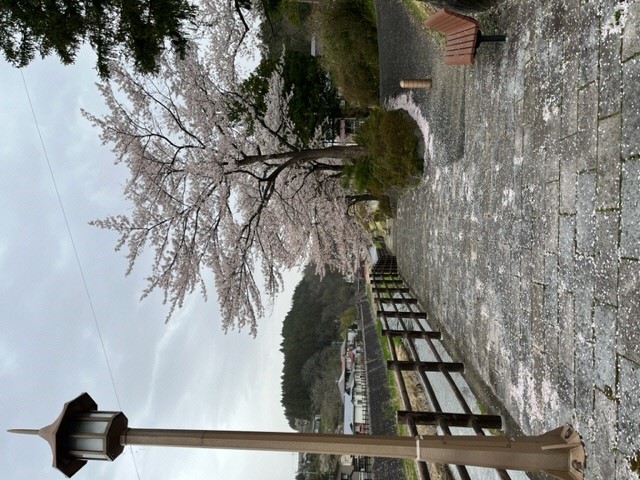 Lastly, I'd like to talk a little bit about the context of sakura season in Japan as a whole. The Japanese school year, and the fiscal year, begin in sync on April 1st. Thus, for many people, sakura signify the start of new lifestyles – whether you're a student beginning a new school year, or a company employee settling into a new department after a routine transfer of staff. Because of this, the sight of sakura can remind people of fresh starts and saying goodbye, which is a major aspect of why they move people so much.
Sakura have long been a subject of poems and art, both due to their inherent beauty and from the nostalgia and memories they carry for many who've grown up with them. I don't have the kind of space needed to introduce every spot in Oshu, so please come visit and see for yourself!
Japanese
奥州市の桜

 今年の奥州市は4月上旬から桜の季節になりました。このきれいで薄ピンク色をした花は、約2週間しか咲きませんが、短い期間だからこそ人々を感激させます。また、意識して桜を見ようとしなくても、桜の木は役場、公園、道路脇、学校など人が普段やってくる場所によく植えられています。例えば、本記事のヘッダーイメージは奥州市役所の外に咲いている桜です。

 あるところは「さくらの名所」として知られ、全国から訪問者が訪れます。それより小規模ですが、ほとんどの市町村には地元で知られている、桜の美しさを楽しめる場所があります。もちろん奥州市にもたくさんありますので、私のおすすめスポットを紹介します。

水沢公園
 上記のとおり、地元では水沢公園は、色々な種類の桜を楽しめるスポットとして知られています。今年は3月29日に開花し、奥州市としては過去最速です。水沢公園には桜の他にも、緑いっぱいの通路や子どものための遊具、そしてみんなのためのきれいな景色があります。
 私は撮影が得意な方ではありませんが、ほとんどの場合、桜の写真はきれいに撮ることができます。

慶徳公園
 慶徳公園は奥州市文化会館Zホールと水沢図書館の近くにある小さな公園です。公園に流れている小川沿いに並んでいる桜は水に枝を伸ばします。晴れの日に、満開の桜を橋から眺めると、まるで絵のように見えるかもしれません。

 ちなみに、日本のもっとも有名な桜の種類は同一品種なので、地域の桜は一斉に咲きはじめ、満開となり、散ります。別々に咲きはじめ、それからゆっくり散る季節の植物に慣れていた自分にとって、満開になっている桜を観ると、素晴らしい印象を受けます。

旧岩谷堂共立病院(明治記念館)
 岩谷堂共立病院は1875年に開院され、岩手県で最初の西洋医学を実施した病院でした。3年後閉院されても、この建物学校や役場等の公共建築としての役割を担い、現在でも歴史的な建造物として公開されています。

 最後に、日本における桜の季節について少し述べたいと思います。日本の新学期と年度は4月1日から始まります。新学期が始まる学生、人事異動により新しい所属になった会社員等、多くの人々にとって桜は新生活を示します。そのため、桜を見ると新しいスタートと別れを思い出せるため、人々を感動させます。

 桜と共に育った人にとって、桜は懐かしい思い出を持っています。思い出と美しさによって、桜は昔から歌や美術品の画題になっています。本記事では、スペースの関係で市内すべての桜の名所を紹介することはできませんので、是非こちらに来て見てください!