Ofunato is located on the southern coast of Iwate Prefecture, around one hour by car from the candidate site for the International Linear Collider.
The city suffered greatly from the Great East Japan Earthquake and Tsunami of March 11, 2011, but Ofunato's reconstruction has proceeded enough that the end is in sight – now they're working on how the community will develop after the reconstruction ends.
First, I'll show off what makes Ofunato Ofunato: its attractions and unique characteristics.
A wealth of nature and a beautiful city
You can see some really special scenery here in Ofunato, such as the Goishi Coast and the prefectural park surrounding Mount Gozan.
The Goishi Coast is filled with unique-looking rocks, islands and caves, and the entire 6km coastline has been designated as a national scenic spot and natural monument. It has many tourist attractions, including the Anatoshiiso rocks, which literally mean, "Rocks With Holes You Can Go Through" as seen by the photo below.
Summers are cool and almost no snow falls during the winter, meaning the climate is comparatively calm and comfortable. You can easily try your hand at many different activities, from scuba diving to BMX, fishing, boat cruises, and more.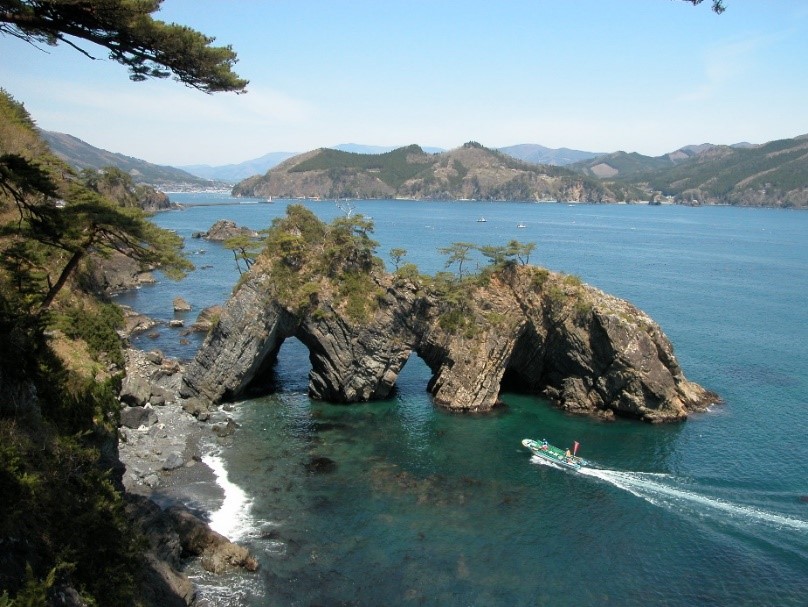 Anatoshiiso rocks at Goishi Coast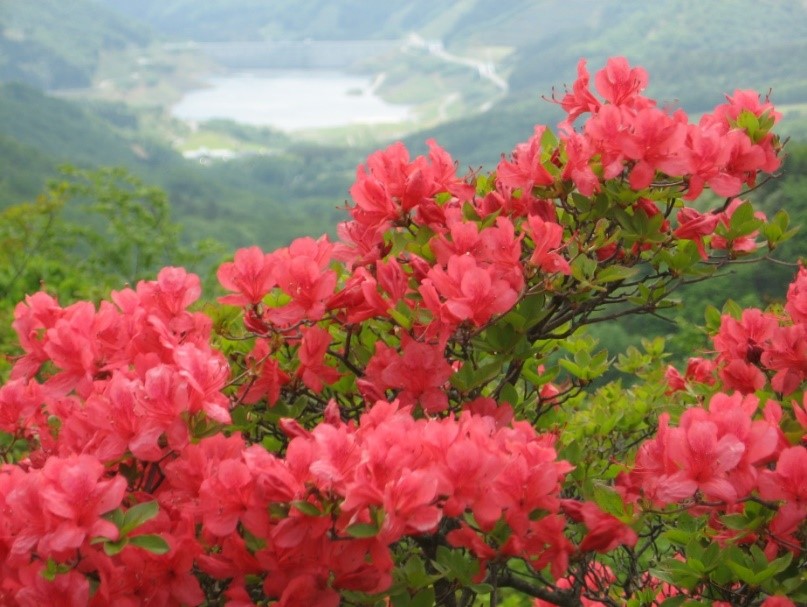 Azaleas at their peak in June at Mount Goyozan
Scrumptious seafood – the bounty from the ocean!
Ofunato is right on the Sanriku coast, and the area right off the coastline is known for being one of the three largest fishing grounds in the world. Throughout the year you can try Pacific saury, salmon, bonito and other fresh fish as well as aquaculture delicacies like wakame seaweed, oysters, scallops, and sea urchin.
The city is known for having one of the largest catches of Pacific saury ("sanma") in Japan, and uses the fish as a keyword in its city promotion activities – developing "Ofunato Sanma Ramen" and the slogan "Ofunato – A City Where You Can Feast on Fish".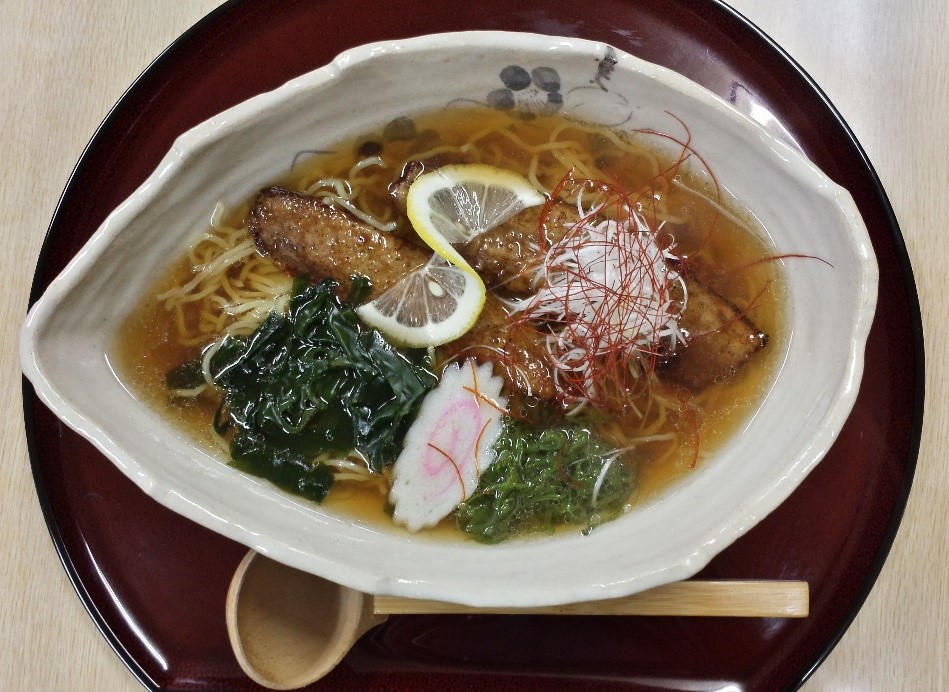 Ofunato Sanma Ramen
Now I'll talk about what it's like to live in Ofunato along with some administrative services we provide.
Looking for housing with our Vacant House Bank
We have recorded information on vacant houses within the city in our Vacant House Bank, and by sharing this on our homepage to the entire country, we are working to make use of these vacant houses as well as show them to people hoping to buy or rent.
Vacant houses are on the rise as the population decreases, but we're hoping by efficiently using these vacant houses, we can avoid danger stemming from the house getting old, and also revitalize the area by encouraging people to settle in the area.
In Ofunato, we also provide incentives to those who move into the area and sign a contract to use these vacant houses. Furthermore, we also have a service that will assist with a portion of the costs needed to reform the dwelling.
Supporting fulfilling child-raising
Ofunato has nine private daycare centers, one private kindergarten, and 3 municipal childcare facilities- and no children on the waiting list for such daycare services.
Plus, a portion of these daycare centers have lengthened childcare hours, temporary care services, and post-illness childcare services, setting up an environment where you can raise your child even if you are working.
Additionally, we also have a child-raising support center and a support website, giving out support to any who needs it for child-raising.
A healthcare system that will give you peace of mind
In Ofunato, there is one large hospital (Iwate Prefectural Ofunato Hospital) and 38 medical clinics (as of April 1st, 2021). At Ofunato Hospital, there is an emergency center as well as a heliport, so it is possible to quickly transport patients to even higher-quality medical facilities.
We have also worked to make our healthcare system one that you don't have to worry about, including creating a system where clinic rotate their hours so citizens are able to get treatment on holidays and other days off as well. (Japanese medical clinics are not typically open on holidays or some weekend days)
We hope you were able to learn more about Ofunato City.
If you'd like to live life surrounded by nature, where you can spend your leisure time by the ocean, and where you can a smorgasbord of tasty delights from the sea, then we certainly await your visit to Ofunato City.
Japanese
【ようこそ!おおふなと!】
大船渡市は、岩手県沿岸南部に位置しており、国際リニアコライダー建設予定地からは車でおよそ1時間圏内の距離です。
2011年3月11日の東日本大震災では大きな被害を受けましたが、現在、本市の復興はほぼ目途が立つところまで進展し、復興後のまちづくりに向けて頑張っています。

 はじめに、そんな大船渡ならではの魅力や特徴についてご紹介いたします。

自然豊かで美しいまち
大船渡市は、「碁石海岸」や「五葉山県立自然公園」など、特有の景観がみられます。
とりわけ碁石海岸は、奇岩や島、洞穴などが点在し、約6㎞の海岸線は「国の名勝・天然記念物」に指定され、穴通磯をはじめとした多くの観光スポットを有しています。
また、夏は涼しく、冬にはほとんど積雪が見られない、比較的温暖な心地の良い気候であり、スキューバダイビングやBMX、魚釣り、クルージングなどの体験型観光を快適に楽しむことができます。
[写真1]
碁石海岸の「穴通磯」
[写真2]
6月に最盛期を迎える「五葉山」のツツジの花
美味しい海の幸
 当市は、世界三大漁場の一つである三陸沖に面しており、サンマやサケ、カツオなど、新鮮な魚が水揚げされるほか、養殖・栽培漁業が盛んなことから、ワカメやカキ、ホタテ、ウニなど、豊富な海の幸を味わうことができます。
 また、日本有数の水揚げを誇るサンマを生かした「大船渡さんまラーメン」の開発や「さかなグルメのまち大船渡」として、サンマをキーワードとしたシティプロモーションを行っています。
[写真3]
ここからは、大船渡市での暮らしや行政サービスについてご紹介いたします。

空き家バンクで住まい探し
 空き家バンクとは、市内の空き家の情報を登録し、ホームページにより全国的に提供することで、空き家の利活用促進を図りながら、購入または賃貸を希望される方に紹介する仕組みです。
人口減少により空き家が増加する中、空き家を有効活用することで、老朽化による危険を回避することができ、また、定住促進による地域の活性化も期待されます。
 本市では、空き家バンクを利用して契約を締結した移住者の方に奨励金を交付しています。さらに、住宅をリフォームする場合に費用の一部を助成するサービスもあります。

充実した子育て支援
 当市には、民間保育園が9施設、民間幼稚園が1施設、市立こども園が3施設あり、待機児童はありません。
 また、一部の保育園などでは、延長保育や一時保育、病後児保育などを実施しており、働きながら子育てができる環境が整っています。
 さらに、子育て支援センターの設置や子育て支援サイトの開設など、子育てに関するサポートも行っています。

安心な医療体制
 当市には、2021年4月1日現在、病院が1施設(岩手県立大船渡病院)、診療所が38施設あります。岩手県立大船渡病院では、救命救急センターを備えているほか、医療用ヘリポートが設置され、より高次な医療施設への迅速な搬送が可能となっています。
 また、当市を含む気仙地域では、休日・祝日などでも住民が診療を受けることができるよう、休日当番医制度が設けられており、安心な医療体制が整っています。

 大船渡市のことについて知っていただけましたでしょうか?
自然に囲まれた生活がしたい方、休日に海のレジャーを楽しみたい方、海の幸を味わいたい方など、大船渡市へ来訪される皆様をお待ちしております。