Happy Lunar New Year! In the zodiac, 2021 is the year of the cow, and since cows have made all kinds of contributions to southern Iwate, the timing is right for an in-depth look.
When it comes to cattle in Japan in general, while they played a major role in agriculture through their ability to pull plows in the rice fields, they were not used for meat. This was due to a Buddhist prohibition on eating meat, but this didn't last into modern times. Nowadays, from McDonald's to luxury steaks, beef is here to stay.
Speaking of beef (or steak), if you're a foodie at all, you've probably heard of wagyu, or Japanese beef. The most famous example of wagyu is probably Kobe beef, but there are many other kinds of wagyu, and some of the best are right here in the northern Tohoku region. If you're looking for a decadent cut of wagyu that's in a similar class as Kobe beef but is a little less mainstream and more approachable, Iwate has it right here, in the form of Maesawa beef, named for the Maesawa region of Oshu, where I live.
Maesawa beef may not be quite as famous as its prestigious Kobe cousin, but it too has won national awards for its undeniably high quality. The cows are well-cared for, and the beef has that famous marbling of fat which melts into the meat, creating the tenderness and flavor that's the hallmark of wagyu. Around Oshu, there are a fair few restaurants that serve Maesawa beef and some in Morioka as well, but it's not easy to find outside Iwate – it doesn't get exported far. If you're a beef-eater and get the opportunity, I strongly recommend taking time to experience Maesawa beef.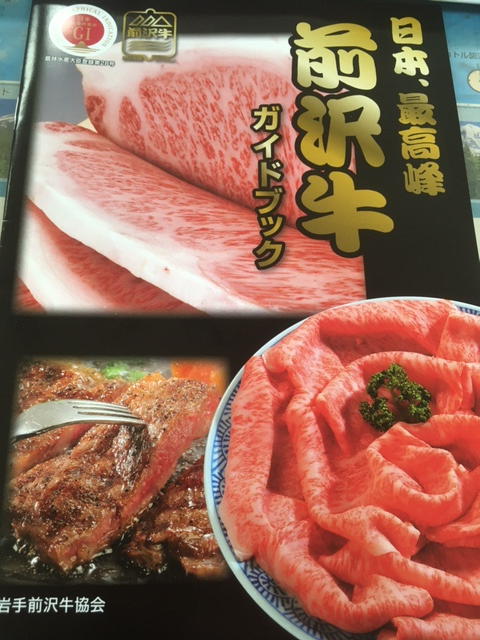 [Images of Maesawa beef from a local guidebook.]
In order to promote this excellent local product, Oshu also hosts the annual Maesawa Beef Festival in June. The beef in question is available for visitors to sample while watching traditional Japanese folk performances; those who are bold enough may want to participate in the mooing contest. Due to the pandemic, this festival was unfortunately canceled in 2020, but depending on the circumstances, we may be able to enjoy it in this coming year.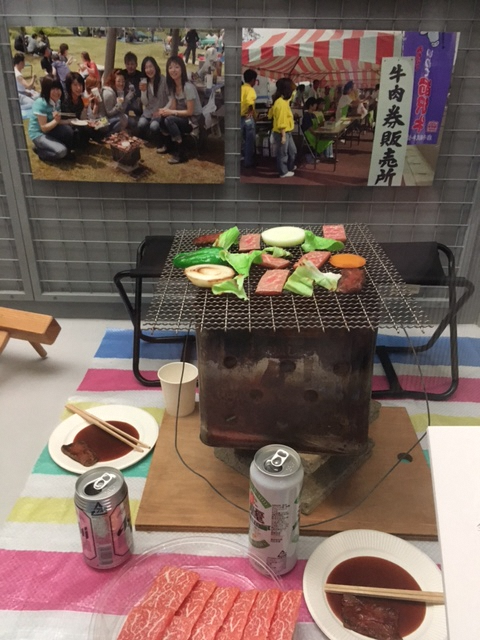 [A museum exhibit featuring 2 photos of people enjoying the festival and a grill with model food being "cooked."]
To really learn about where cattle fit in to Japanese culture, though, it's hard to think of a better place to go than a dedicated cattle museum. Oshu is home to just such a place – the only one in Japan.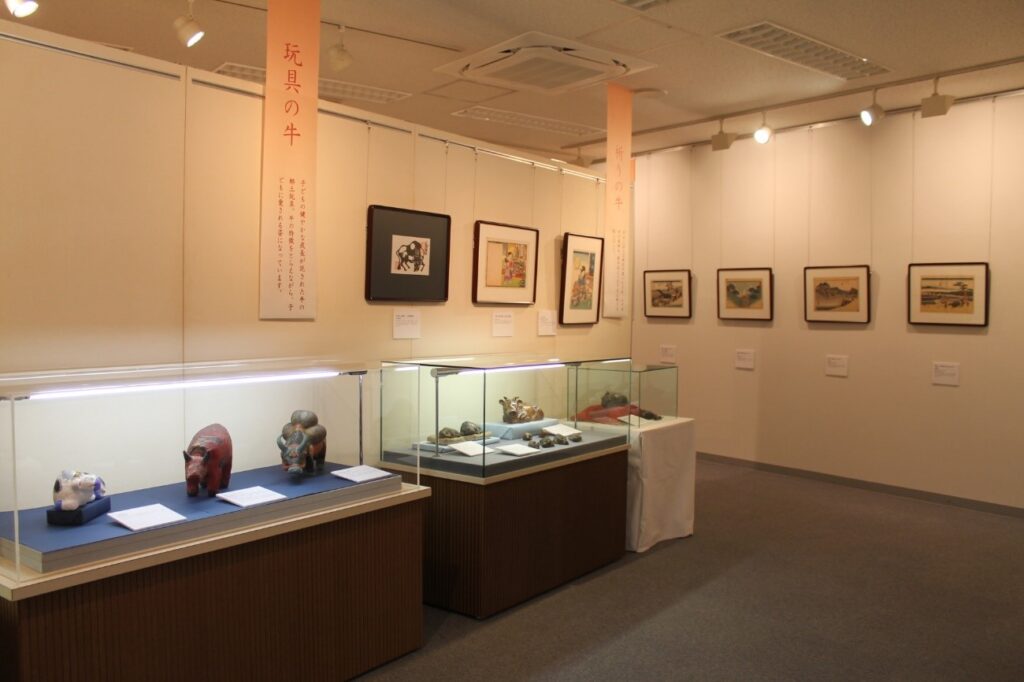 [Limited time exhibit of cattle-related artwork, entitled "The Beauty of Cows."]
The Cattle Museum is yet another one of Iwate's many hidden gems. It's a treasure trove of history, science, and art within a small, unassuming building. They also give back to the community through educational classes and events, and in keeping with Oshu's characteristic love of science, research papers have been published via the museum.
To celebrate the year of the cow, for a limited time (only until the end of January 2021) they have an exhibit on traditional Japanese artwork with cows as their subject. Even though it's easy to think of cattle in terms of how useful they are to humans – for their meat, milk, or muscle – those paintings, sculptures, and calligraphy illustrated that they have a sort of sturdy dignity or pastoral grace as well.
The rest of the first floor is all about Maesawa cattle specifically, with stuffed specimens, booths depicting cattle husbandry, guides on where to find Maesawa beef within Oshu, plastic models of what different grades of meat look like, and more. Overall it's a very visual section, so even if you can't read Japanese, one can get a lot out of it.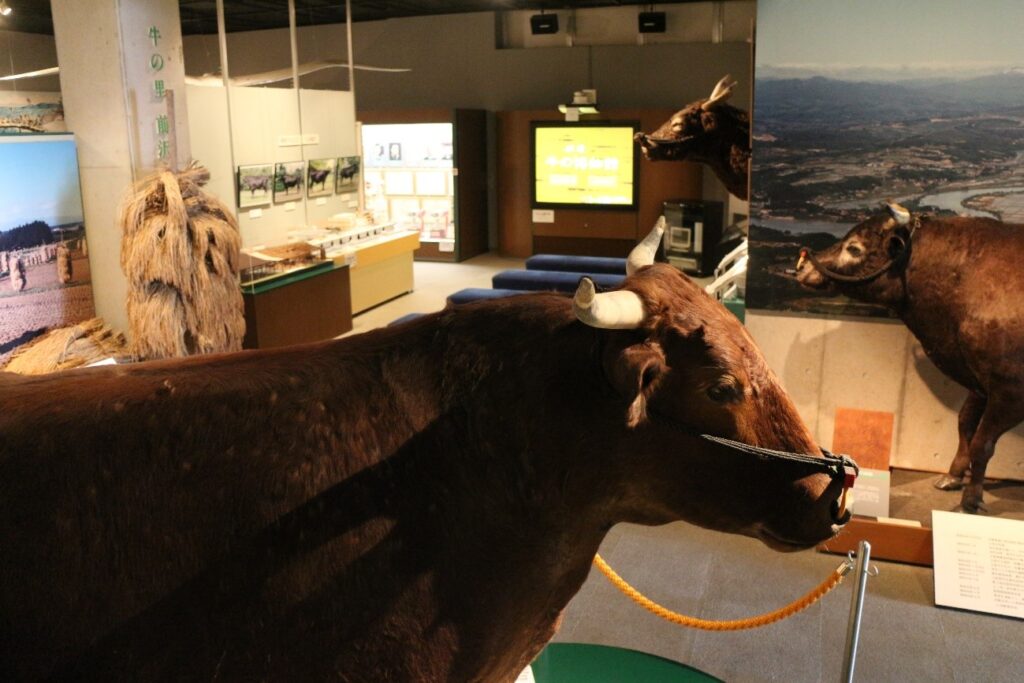 [Partial image of the museum's first floor.]
The second floor takes a broader view, showcasing cattle biology and how people around the world rely on their cows. In Iwate's case as well are many others, cattle were vital for tilling rice fields and therefore were crucial for communities to survive. In this light, the reverence that so many cultures give cattle makes a lot of sense.
It's always fascinating to see the things that different cultures can have in common. One example of this was the cowbell exhibit, which featured cowbells from several different countries, and small mallets to strike them with that produced all sorts of sounds. It's an audio trip to pastures around the world.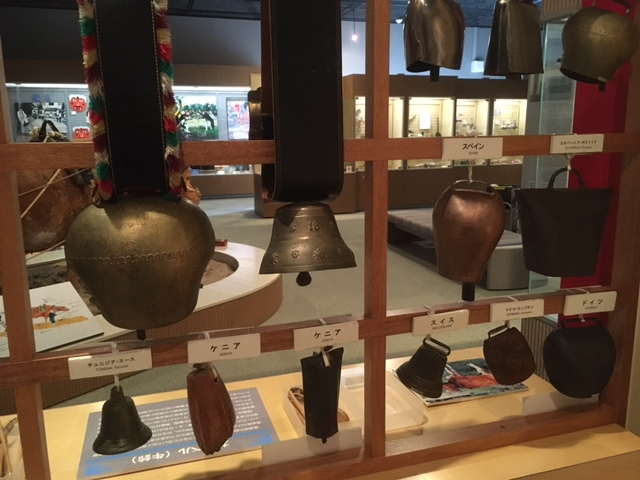 [Cowbells of all shapes and sizes from around the world.]
One booth suggested that, if humans had not domesticated cattle, our development may have been delayed hundreds of years. I'm inclined to agree. Considering Oshu alone, it's hard to imagine we would've gotten this far without cattle's contributions to agriculture, food, the arts, and beyond.
In a way, they've even contributed to vaccines. The word "vaccine" comes from the Latin for cow, because of the role of cowpox in the discovery of the first vaccine. Here's hoping that this, the year of the cow, will bring all of us good things.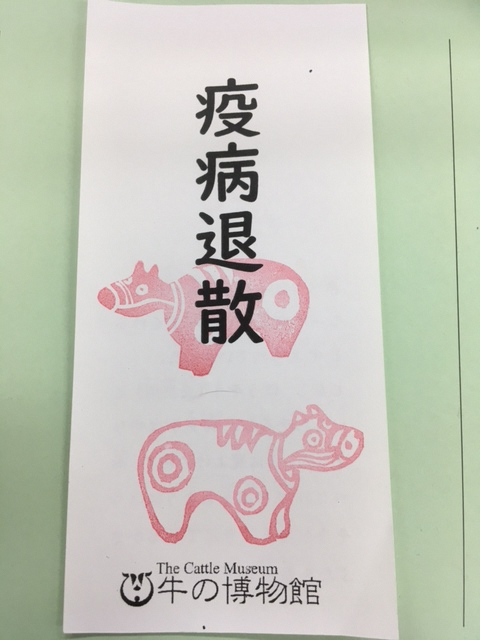 [Commemorative card from the museum. It reads "may the disease be banished."]
The Cattle Museum
Address: Zip code 029-4205
103-1, Minamijinba, Maesawa, Oshu, Iwate, Japan
TEL: +81-(0)197-56-7666
FAX: +81-(0)197-56-6264
URL: http://www.isop.ne.jp/atrui/mhaku.html
Japanese
丑年を迎えること
牛の大切さ

旧正月おめでとう!2021年の干支は丑年ということで、このタイミングで日本の牛を紹介したいと思います。

日本では、農耕や運搬など牛は重要な役割を果たしましたが、7世紀頃には牛をはじめ、肉食禁止令が出ていたようです。この禁忌は明治時代の頃まで続きました。現在ではご存じの通りこのような禁忌はなく、手軽なハンバーガーや牛丼から豪華なステーキに至るまで、牛肉食は日本社会の一部分を担っています。

ステーキと言えば、牛肉が好きな方はきっと和牛を聞いたことがあるでしょう。有名な和牛の例は「神戸牛」「松坂牛」などたくさんの銘柄があります。もちろん岩手にもとてもよい銘柄あり、例えば、私が住んでいる奥州市では、前沢地域の名前をとった「前沢牛」があります。

前沢牛は肉質に優れており、国内の賞の受賞歴が多いです。牛は優しく養われて、その肉は信じられないほど柔らく、和牛の特徴「さし」がたっぷり入っています。岩手では前沢牛を提供するレストラン、焼き肉店や精肉店をほどよく目にします。牛肉が好きな方は機会あればぜひ前沢牛をお試しください。

例年6月、奥州市の前沢地区で「前沢牛まつり」が開催されます。伝統芸能などを観ながら前沢牛を堪能し、美声に自信のある方は牛の鳴き声コンテストにも参加できます。コロナウイルス感染防止対策のため、残念ながら2020年は中止となりました。再開が楽しみです。

日本文化にとって、牛がどのような役割を果たしているかを詳しく知りたいなら、日本唯一の牛専門の博物館、「牛の博物館」にお越しください。館内では牛と人との共存の歴史を生物学や人との関わりなどを通じて紹介されています。ゴールデンウィークや夏休みには体験教室やイベントもあります。

丑年にちなみ、2021年1月の期間限定で「牛の美」展が開かれ、錦絵や工芸品などの美術品が展示されました。牛を思うと、肉、牛乳など人間に対し何が役に立つかということだけと思っていましたが、この企画展を見て、牛の逞しい威厳や牧歌的な優美もあると気づかされました。

博物館の一階は前沢牛と郷土を中心としたもので、牛のはく製や畜産の様子を表した模型、牛肉の格付け見本などが展示されています。視覚的な展示なので、日本語が読めなくても十分に楽しめます。

二階はさらに視点を広げた展示となっており、生物学の点から見た牛と、世界中の人々がどうやって牛と共存してきたか、というような内容です。牛は田起こしなどの農耕、牛乳や肉を利用する牧畜に不可欠であり、人々が営みを続けていくためには牛を大切にしなければならなく、その結果、牛が重要と位置付ける文化が世界各地で見られるようになったのだと学ぶことができました。

展示の中で、「もし人類が牛を飼わなかったら、人類文化の発展は数百年間遅れていただろう」ということが書いてありました。私は賛成します。牛の農業や食文化、さらには美術などへの貢献はとても大きいものと強く思いました。

最後に、牛はワクチンに関係があることをご紹介します。「ワクチン」はラテン語「牛」を意味する "vacca" (ワッカ)を由来としています。今年が丑年であることは、良い予兆となることを希望します。

奥州市 牛の博物館
〒029-4205 岩手県奥州市前沢字南陣場103-1
TEL:0197-56-7666
FAX:0197-56-6264
URL:http://www.isop.ne.jp/atrui/mhaku.html