Under normal conditions – prior to COVID times – every year in early February, one of Japan's strangest festivals would be held in Daito, Ohara of Ichinoseki. Brave men would run through the streets half-naked while being doused with ice-cold water. The following is a remarkable account of a former Ichinoseki Assistant Language Teacher who participated in the Daito Ohara Mizukake Matsuri.
The Invigorating Chill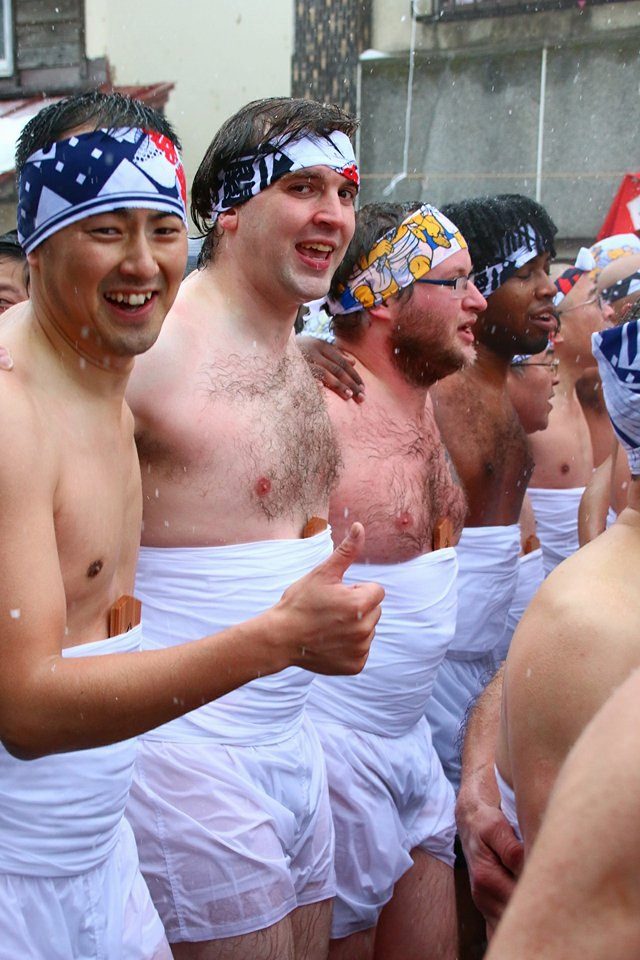 You feel the alarming rush of ice cold water as it smashes across your face, blinding you mid-sprint. You must continue to run sightless as you are enclosed by others like you in barely more than your underwear and tightly wrapped bandages across your gut. All of this while snow falls above your head in a mad dash to reach your next checkpoint. You reach your destination only to be rewarded with the dread of waiting for your next chance to run and generate body heat as it sinks in that you are slowly feeling numb in your fingertips, and the sharp needles is the last vestige of feeling they have left. You become anxious and impatient waiting for the horn to blare signaling your chance for some modicum of warmth. The truth is that this sensation has only just begun as you must repeat this cycle several times over. Just when you think it is all over you will form a circle with your fellow teeth chattering brethren as a deluge of water is then unleashed upon you at point blank range.
This is the Mizukake Matsuri, or Water throwing festival, held in Ohara of Iwate on the 11th of every February. It is a tradition held for several hundred years. A long time ago there was a great fire during the production of Kimonos. This event is a reminder of that event and the importance of fire safety. Unfortunately it is a tradition in which only men can participate. Women are not allowed to run or throw water during the festivities. The privilege of throwing water itself is given to the local school's baseball team. It is thrown from troughs filled with water placed on the side of the street.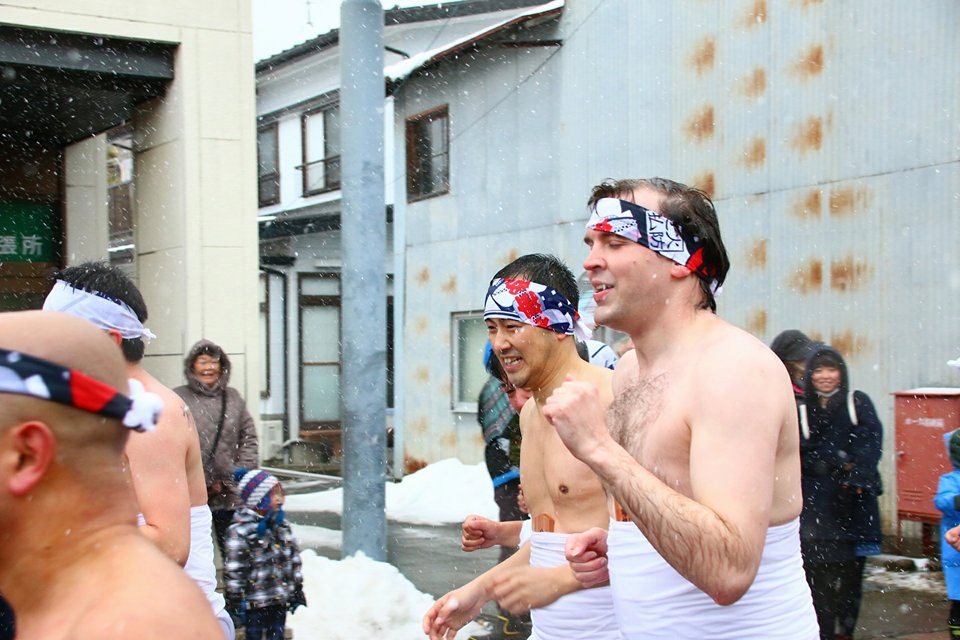 Before running in the event, the participating men must take off everything but their underwear and very short white shorts to put over them. It is generally deemed that you should be wearing white underwear. You are then fitted and wrapped in a sarashi, or a long white cloth, as tightly as possible by either friends or locals. It is highly recommended that you make a trip to the restroom before this fitting as it will be your last chance for several hours. You then put on tabi-socks, which separate your largest toe from the rest because you will be putting on a type of sandals made from straw. These sandals have an intricate way of fastening to your feet, with your toes jutting out from the ends. At the end of the event you will be cut out of them by a pair of scissors.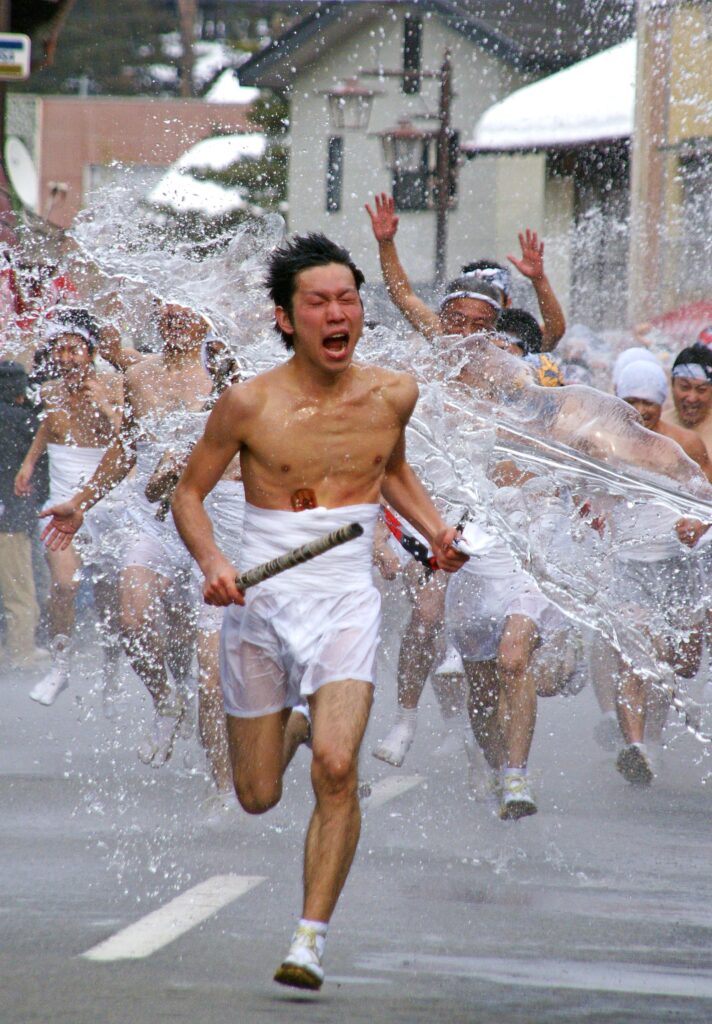 Many participants run with messages written on their backs. These could be anything from resolutions, who they may be running for, good luck charms, or just the chance to have something embarrassing written on them by their friends. Once the time has come everyone is directed to walk outside. We then walk across the town to a nearby temple to pray, and have an inaugural splash of water sprayed upon us. We then walk back to the starting line of the street we will be running on, and are given a wooden charm for good luck to tuck between our sarashi as we run. All in all we are outside for about an hour before the running even begins, giving plenty of time for the natural cold to settle in.
Now you may be wondering as to why anyone would participate in such a foolish thing. From an outside perspective it may just seem like an insane thing to do. I can only speak for myself and my personal experience on the matter. I've never been one to do impractical things and am generally a very reserved and shy person. But several years ago a friend took me to the event. I saw it and thought, "I'm in Japan, what better chance is there than to do something I normally wouldn't do." I had been pushing myself to try new things and get new perspectives on life. So at that moment I decided I need to do this or something like it at least once. The following year I asked several of my Japanese friends if they would join me. Almost everyone I asked had a very quick and resounding "No." It wasn't until the year after that I had made a new friend that was willing to run with me. We ran together and the feeling was incredible. Of course in the actual moment it is arduous and freezing, but instead of focusing on that I found myself becoming overwhelmed by the rush of doing something outside the norms, by the sudden and instantaneous camaraderie forged by these strangers I shared this experience with. There is an unspoken kinship made when sharing in adversity with others. I have a newfound appreciation for life and mankind's tendency to lift up and support others in times of need. It's hard not to get wrapped up in the overwhelming positivity and gumption of your fellow man. The feeling is both contagious and a breath of fresh air. It is an undeniably powerful sensation to be released from your shackles of self-doubt and insecurity. It is for these reasons I have participated in the festival for three years in a row. I have since convinced some of my friends from Tokyo to join, and they even came back for a second time. I implore you to take risks and do something you wouldn't normally do. You might be surprised by just how liberating and refreshing it can be. It's remarkable how a freezing splash of ice-cold water may be the wake-up call that changes your life.
(Written originally for Ichinoseki-life by Kevin Kanalley )
Japanese
真冬の奇妙な祭り
コロナに影響されていない平年には、毎年2月上旬に、「天下の奇祭」と言われるお祭りが一関の大東大原で開催されます。勇敢な男たちが、氷のように冷たい水を浴びながら、半裸で通りを駆け抜けます。以下は、大原水かけ祭りに参加した元一関市のALTの驚くべき体験談です。

爽快な冷たさ
【写真①】
氷のように冷たい水が顔を打ち砕き、疾走している途中で目がくらむのを感じます。下着をはき、腹部をサラシ帯でまいただけの姿で自分と同じような状況にいる仲間に囲まれながら、視力を失うような感覚とともに走り続けないとなりません。
雪が頭上に降りしきる中、次のチェックポイントに到達するために、一目散に突進します。目的地にたどり着いても、指先がしびれているような感覚がゆっくり押し寄せ、やがて最後に鋭い針が刺さったような感覚に陥り、次にはまた走るまで温まるチャンスがないという恐れを感じます。
待ち焦がれたホーンが鳴り響き、ほんの少し温まるチャンスが来たことを知らせます。
実際には、このサイクルを数回繰り返さなければならないので、この状況はまだ始まったばかりであるということです。「やっと終わった」と、寒さに震えている仲間たちと喜び合い、円を形成するとき、至近距離で最大の水を浴びさせられるのです。

【写真②】
これは毎年2月11日に岩手県一関市大東町大原で開催される「水かけ祭り」です。数百年の伝統があります。昔、大火事がありました。このイベントは、その火事を忘れず、火防祈願と火防宣伝をするものです。残念ながら、祝祭期間中、女性は走ったり、水をかけたりすることはできません。男性だけが参加できる伝統行事です。脇道に置かれてある、水が溜めてある水桶から水を浴びせかけるのです。

イベントに出場する前に、参加する男性たちは下着以外は全部脱がなくてはならならず、白く短いパンツを下着の上に履きます。一般的に白い下着を着用する必要があると考えられます。
次に、友人または地元の人々によって、可能な限りしっかりと、さらし、または長い白い布で体を巻いてもらいます。数時間はお手洗いに行けないので、ラストチャンスとしてこの前に行くことを強くお勧めします。そして、藁で作られた草履を履くので、足の親指と残りの足の指とが分かれている足袋を履きます。草履から足袋がはみ出ている状態で、草履を履く時は複雑な方法で足に固定します。イベントの終わりに、はさみで切り取ってもらいます。

【写真③】
多くの参加者は、背中にメッセージを書いて走ります。メッセージは決意や、誰のために走るか、幸運のお守りなど色々ありますが、友人たちによって何か恥ずかしいことを書かれてしまうこともあります。時間になると、外に出るように指示されます。それから町を歩いて近くの神社まで行ってお祈りをし、最初の水かけが行われます。
次にこれから走る道のスタートラインに戻り、さらしの間に挟む木製の幸運のお守りが与えられます。ここまで、メインのランニングイベントが始まる約一時間前から既に外にいますので、もう充分に自然の寒さが染み込んでいます。

さて、なぜ誰もがそのようなクレイジーなことに参加するか疑問に思うかもしれません。ほかから見ると、それは非常識なことのように思えるかもしれません。私は自身の意見と個人的に体験したことしか話すことができません。私は非日常的なことをする人間ではなく、普段から控えめで恥ずかしがり屋です。しかし、数年前、友人が私をこのイベントに連れて行ってくれて、祭りを見たときに「私は日本にいるんだから、普段しないことをする最高なチャンスじゃないか」と思ったのです。私は新しいことに挑戦し、人生の新しい視点を得るように自分自身を推し進めていこうと思っていました。その瞬間、私はこのような体験を少なくても一度はするべきだと決めました。翌年、日本人の友達に一緒に参加しないかと聞いてみました。

誘った人たちのほとんどに速攻で断られました。その翌年に、私と一緒に走ってくれるという新しい友達ができました。私たちは一緒に走り、その感情は信じられないくらい素晴らしかったです。もちろん、本番の最中はもう骨が折られるようで、凍えるように大変ですが、それに集中するよりは、瞬間的な友情が出来上がった見知らぬ人たちとこの体験を共有しているという、想定外のことをしている事実に圧倒されました。ほかの人と逆境を分かち合うとき、何も言わずとも親近感が湧き上がります。私は人生の有難さと人は他人が必要なときは励まし助け合う傾向にあるということを改めて認識しています。自然と、仲間の圧倒的な積極性と勇気に包まれてしまいます。その感覚は伝染し、新鮮な空気のようでもあります。自己不信と不安の束縛から解放されることはまぎれもなく力強い感覚です。このような理由から、私は3年間続けて、水かけ祭りに参加しました。それ以来、東京の友達を説得し参加してもらったら、彼らは再び参加しました。あなたもリスクをおかして、普段はしないことを挑戦してみませんか。それがどれほど解放感があるか、リフレッシュできるかということに驚くかもしれません。氷のような冷たい水しぶきが、あなたの人生を変える目覚めのきっかけであるかもしれないことは、素晴らしいことだと思います。