July 2016 saw two science festivals held back-to-back in Japan's northeastern region of Tohoku. July 17th 2016 was Science Day in Sendai City, Miyagi Prefecture, where organizations gathered at Tohoku University to share the joy of science with visitors both young and old (and all in between). In Morioka City, Iwate Prefecture then hosted the Iwate Science Symposium on July 18th. The event centered on a large symposium in the afternoon, but there were also science-themed booths and games for visitors to take part in. And of course, the Iwate Prefecture Office of Science and ILC Promotion was in attendance on both days to talk about the International Linear Collider.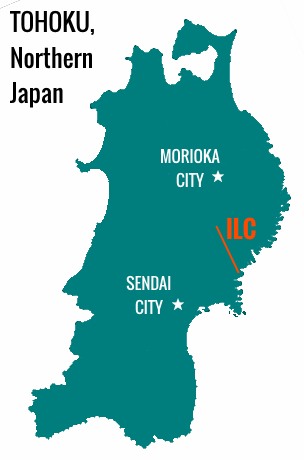 Science Day in Sendai City
"What exactly is science? – Science Day in Sendai and Miyagi was formed around the concept of a day where both children and adults can use all of their senses to learn about the scientific process. It's a science event with hands-on-experiences and discussions held every July since 2007, in Sendai, which is known as a Learning Capital." –Translation from the Science Day 2016 event page
Science Day is held every year by NPO "natural science", and this year they saw a record-breaking 9,612 visitors to Tohoku University. Many of those were elementary school students on summer vacation, eager both to learn and to gather material for their summer homework! There were many scientific fields and organizations with booths on display, talking about everything from marine biology to meteorology, but of course we were there to represent the International Linear Collider.
The ILC classroom was organized by the good folks at KEK (Japan's High Energy Accelerator Research Organization), with help from others like the Tohoku Economic Federation and the local government. They had a ton of wonderful activities that served to educate elementary students about elementary particles.
Iwate Science Symposium
Held on July 18th 2016, the Iwate Science Symposium was the first of its kind: a massive science festival held right in Morioka City. There was a selection of booths and hands-on experiments for people to enjoy, as well as a seminar on marine biology by Sakana-kun (a famous TV star). There was also a symposium held with talks by officials from JAXA (Japan Aerospace Exploration Agency) and JAMSTEC (Japan Agency for Marine-Earth Science and Technology), and a panel discussion. The ILC booth had a number of displays up, with a raffle for kids to entice them to come and learn about the ILC.
Japanese
東北でサイエンスイベントを開催
~ILCを東北各地でアウトリーチ~
【和山アマンダ、岩手県】

2016年7月、東北地方で2つのサイエンスイベントが連続で開催されました。7月17日(日)は、宮城県仙台市の東北大学において、子供から大人まで科学の面白さを体感する、学都「仙台・宮城」サイエンスデイが開催されました。また、その翌日18日(月・祝日)には、岩手県盛岡市において、いわてサイエンスシンポジウムが開催されました。午後にはシンポジウム開催のほか、見学者が参加できる科学関連のブース展示やゲームが行われました。両日、岩手県の科学ILC推進室が出展し、ILC等を広くアピールしました。

【学都「仙台・宮城」サイエンスデイ】
「科学って、そもそもなんだろう?―『学都「仙台・宮城」サイエンス・デイ』は、「科学の"プロセス"を子どもから大人まで五感で感じられる日」をコンセプトに、「学都」として知られる「仙台・宮城」において、2007年度から毎年7月に開催している体験型・対話型の科学イベントです」– サイエンスデイ2016のホームページより

サイエンスデイはNPO 「natural science」により毎年開催され、今年は過去最多の9,612人 が来場しました。夏休み中の小学生が多く、科学を学ぶとともに夏休みの宿題(サマーレポート)の材料を必死に集めていました。また、海洋生物学から気象学まで、様々な科学施設のブースのほか、もちろん国際リニアコライダーのブースも出展しました。

KEKが主催するILCの授業では、東北経済連合会や自治体関係者も出席しました。次のとおり、小学生向けに素粒子についていろいろなイベントを企画しました。

【写真】
東北大学の佐貫智行准教授(右側)によるILCプレゼンテーション。ご存じの方もいるかもしれませんが、佐貫先生はILC科学少年団の動画に出演するなど子供向けに物理学を教えています。

【写真】
素粒子の一つ「クォーク」は、もともと鳥の鳴き声から来た言葉だなんて、知っていましたか?

【写真】
ILCで使われる超伝導加速空洞をポスターと一緒に展示されました。

【写真】
ILCについて話す来場者

【写真】
ILC建設候補地の「北上山地」から採掘した花崗岩。良好な花崗岩体は岩盤が強く、ILCに適切な条件を備えている。

【写真】
KEKの藤本順平先生が子供と一緒に実験。粒子が見える霧箱を作っています。

【写真】
素粒子についての紙芝居。

【写真】
ILCかるた ~かるたは日本のカードゲームで、子どもたちが夢中になっています~

【写真】
ILCのマスコット「ヒッグスくん」が登場。廊下で来場者を迎えます。

【いわてサイエンスシンポジウム】

2016年7月18日(月、祝日)、大規模な科学の祭典「いわてサイエンスシンポジウム」が初めて盛岡市で開催されました。様々なブースや人々が楽しめる体験コーナーが設けられ、テレビなどで活躍するさかなクンによる子供向け、海の生き物のセミナーもありました。また、JAXAやJAMSTEC関係者が出席するシンポジウム・パネルディスカッションも開催され、ILCブースも出展されました。

【写真】
いわてサイエンスシンポジウムが開催された盛岡駅前のアイーナ

【写真】
アニメキャラクターでILCを解説

【写真】
ILCブースに超伝導加速空洞と一緒にいるヒッグスくん

【写真】
岩手の園芸学を学ぶ岩手県達増拓也知事

【写真】
平泉のPRキャラクター「ケロ平」

【写真】
展示ホールの様子

【写真】
岩手が全国に誇るワカメについて学ぶ子供たち

【写真】
一関工業高等専門学校のロボット展示

【写真】
さかなクンによる子供向け海の生き物セミナー