○The "Ichi" in Yo-ichi
Ichi in Japanese refers to a place where many people gather to buy and sell goods. It also means a place where small retailers gather to sell their products. Basically, an open-air market/flea market.
With this article, we'd like to showcase some of Morioka's special Ichi markets like the Yo-ichi market in Zaimoku-cho, Mikoda Asa-ichi Morning Market, and the original K-Truck (lightweight pickup truck) Market in Shizukuishi.
○Yo-ichi Market in Zaimoku-cho
The Zaimoku-cho area of Morioka has six monuments designed around light and music by an old crafts store called Kogensha. These are closely tied to the famed Iwatean author Miyazawa Kenji, and thus, Zaimoku-cho is known as a district where you can enjoy the fantasy world of Kenji. It is in this area where the Yo-ichi market was started in 1974. It is held every Saturday from April to November on the main street in the area, and 2022 marked its 49th year of operation.
Cars are barred from the street starting at 3 pm, and retailers rush in to begin preparing. In only around ten minutes, everyone has set up shop, and the long-awaited Yo-ichi has now begun. The market is filled with popular mom-and-pop food sellers, and the streets are bustling with customers from the elderly, to families, to small children.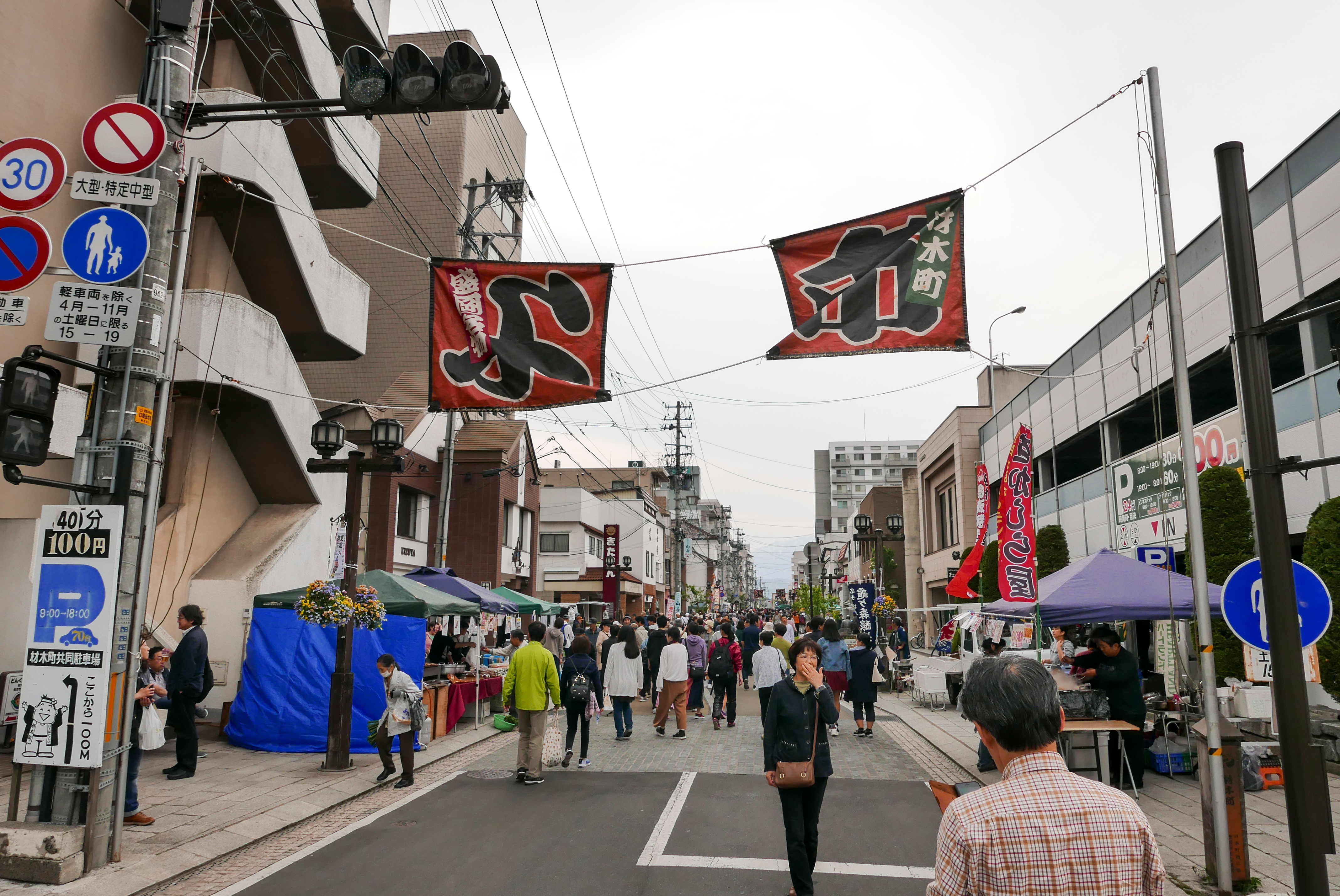 Craft beer from one of Iwate's most famous breweries is on tap, and you can even buy sweets from Zaimoku-cho's traditional Japanese confectionary shop, along with other gourmet foods. There's also seasonal vegetables, fruits, flowers, seafood, and homemade bread for sale.
Yo-ichi is held on a street in Zaimoku-cho that is around 430 meters long, and by 4pm, it's filled with over 100 shops from within and outside the city. You'll even see long lines forming at particularly popular shops.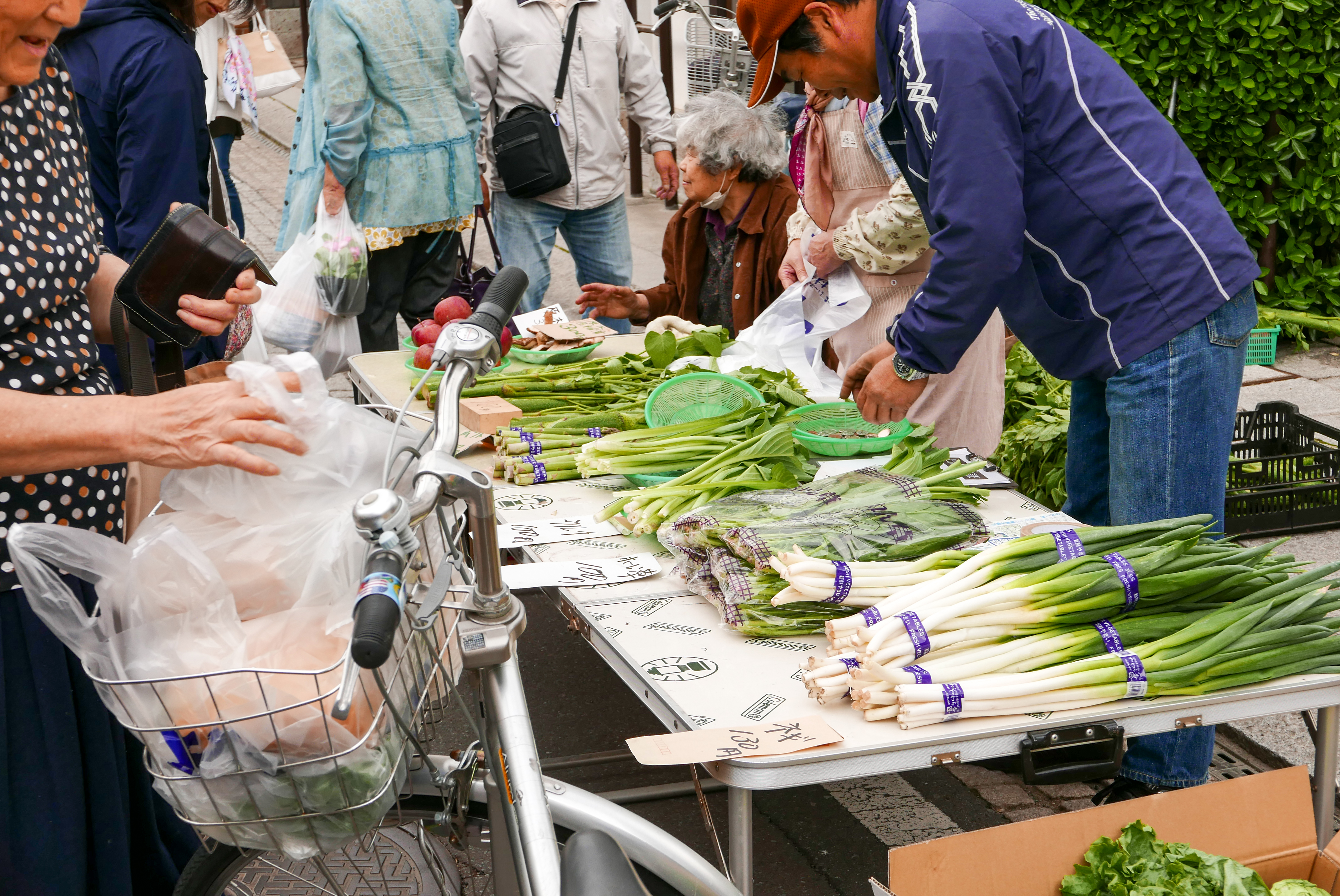 So if the "Ichi" in "Yo-ichi" means "market", what does the "Yo" mean?
The Japanese language is filled with homophones, and the meaning differs depending on the character used. The "Yo" in Yo-ichi is written phonetically, but it could mean anything from:
萬 ⇒ Many different varieties and
余 ⇒ an overabundance of
良 ⇒ high-quality goods that
与 ⇒ we give our customers so
喜 ⇒ they will be satisfied
*This is just an involved wordplay by the founders of the market – the Japanese language isn't quite as complicated as this in practical usage.
If you're in town on a Saturday evening, we hope you take a nice stroll down Yo-ichi market.
○ Mikoda Asa-ichi Morning Market
The Mikoda Morning Market is held almost every day (excluding Mondays and the New Year's holidays), and altogether is open over 300 days of the year – the only market in Japan that is open for so much of the year.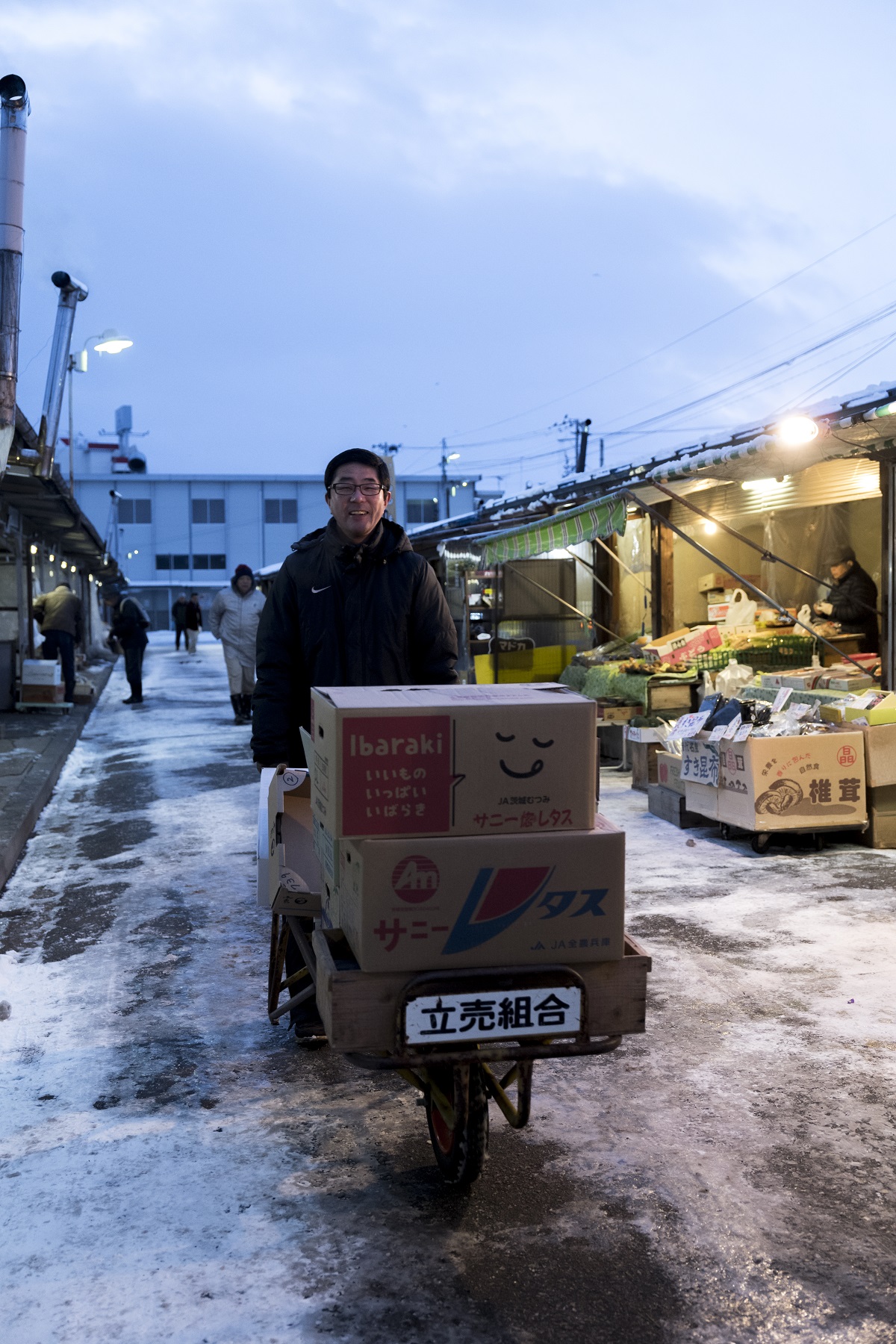 At the Mikoda market you'll find Iwate's seasonal agricultural and ocean products, homemade pickles, sweets, and even ramen shops. It is popular with both locals and tourists. Mikoda is an enjoyable place to shop as producers and consumers are able to chat face to face. The market opens every morning at around 4:30 am, and while there are shops that stay open until 7:30 or 8:00 am, it's best to show up early.
Try waking up a bit early to enjoy the best Mikoda has to offer!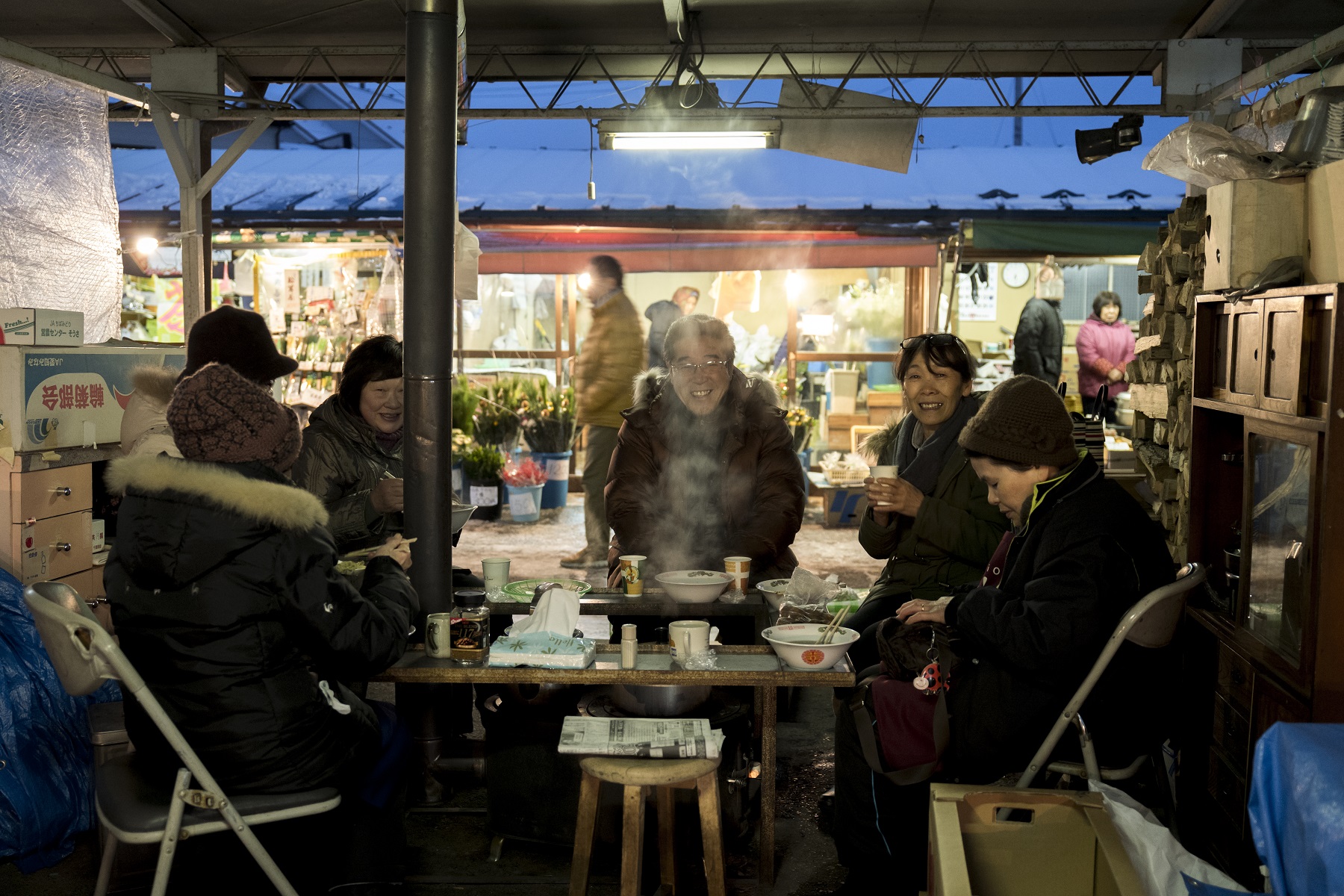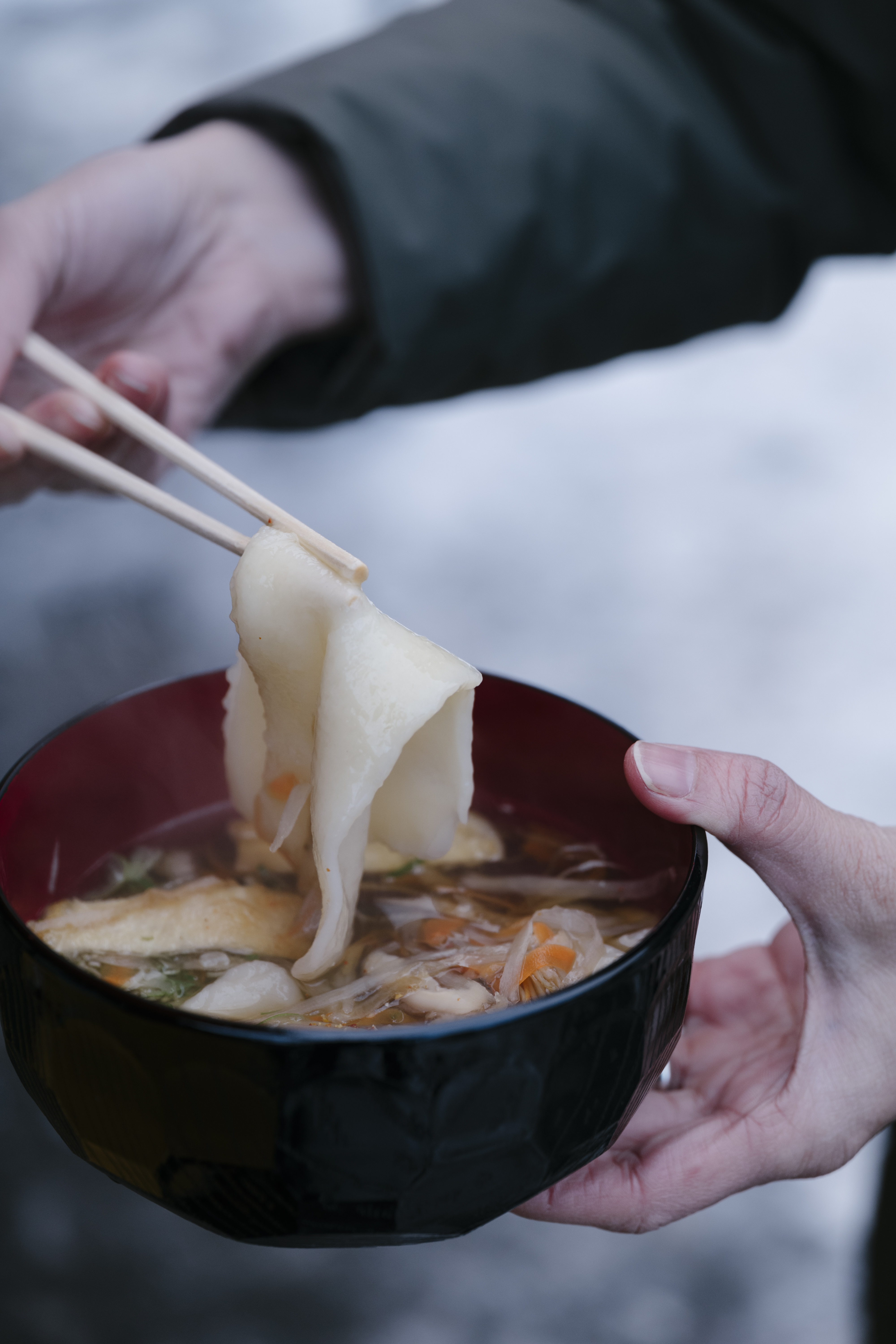 ○ The Original K-Truck Market in Shizukuishi
The K-Truck Market is held on a 500m pedestrian-only area of Yoshare Street in Shizukuishi, a town to the west of Morioka. It's held on the first Sunday of every month from May to November (2nd Sunday of July) from 9:00 am to 1:00 pm.
K-Trucks are small, lightweight pickup trucks that are common in Japan. This K-Truck Market sees Yoshare Street filled with lines of small pickups where shopkeepers sell fresh vegetables and fruit, seafood, crafts, and other of their prized wares. You'll see products here you won't see elsewhere, and many people visit the market to find just what they're looking for.
The K-Truck Market of Shizukuishi is seen as the original of its type, and similar markets are held throughout Japan. It was originally an idea born from a workshop where people discussed how to bring life back to dying commercial districts.
"All farmers have a K-Truck. They can load it up with fresh vegetables they've picked in the morning, and bring them right to the commercial district where the people are. That will bring business to the commercial district as well."
The original K-Truck Market of Shizukuishi was started in 2005, and boasts over 30,000 visitors a year (more than the population of the town itself).
The market is like a treasure trove of the charms of the region. How about looking for some treasure yourself?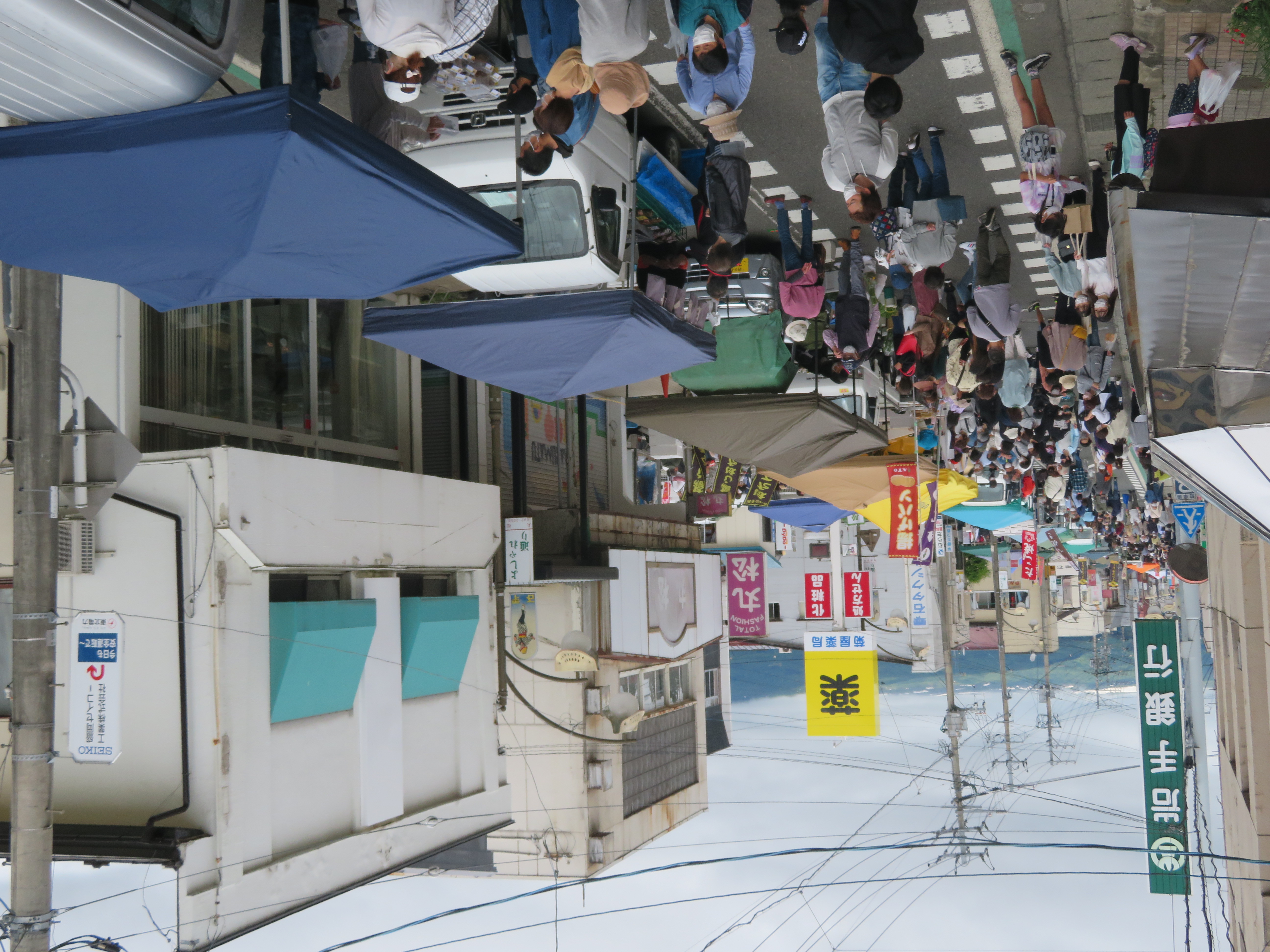 We hope that you visit some of our charming markets if you have the chance to visit Iwate.
All of these markets have enacted anti-COVID measures like masking so please follow those guidelines when visiting.
○ The Tourism Passport for the Kazuno and Morioka Region
Last, we'd like to share some information about the Kazuno and Morioka Region Tourism Passport.
The Morioka Regional Development Bureau has joined with the Kazuno Regional Development Bureau of Akita Prefecture to help local tourism businesses and restaurants affected by the pandemic. During the Northern Tohoku Tourism Campaign held in summer and fall 2022, you'll be able to use this passport for discounts – leading to more travel and consumption. There is tourism information and discount coupons for local restaurants, as well as a prize giveaway within this info-loaded pamphlet, available to use from July 1st until November 3rd. Use this to max your fun in the Morioka region!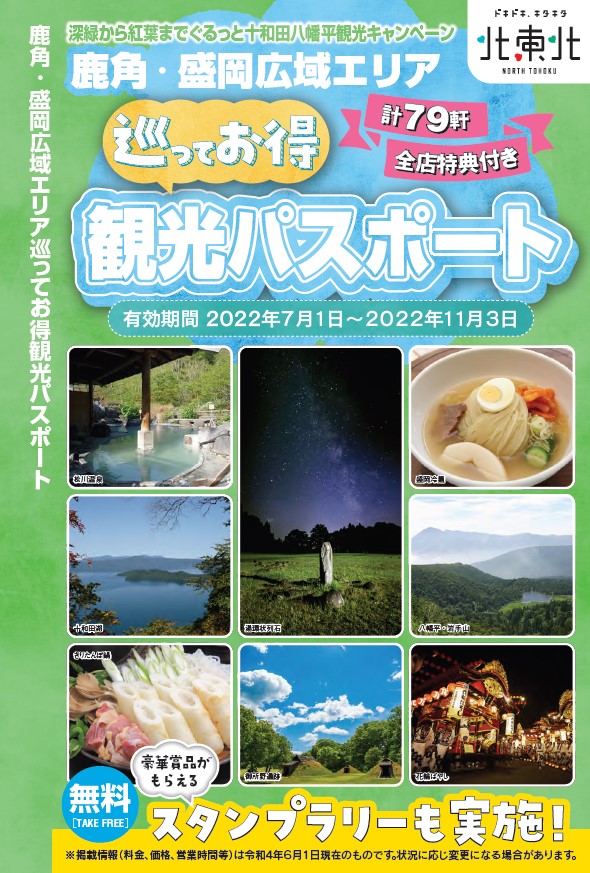 Japanese
「市(いち)」に行ってみませんか?

○市とは
 市(いち)とはどのようなものを指すのでしょう。皆さんはご存じでしょうか。
 市とは、多くの人が集まり物を売買する場所、小さな店が集まり、生産物を持ち寄って売る場所を市(いち)と言います。
 今回は、盛岡管内の特色ある市として、「材木町よ市」「神子田朝市」「元祖しずくいし軽トラ市」をご紹介します。

○材木町よ市
 1974年にスタートした「材木町よ市」。岩手の偉人、宮沢賢治にゆかりの深い光原社、光や音楽をモチーフとした6つのモニュメントで、ファンタジックな賢治の世界を堪能できる盛岡市材木町の商店街で、4月から11月の毎週土曜日に開催される路上販売市です。2022年で49年目を迎えました。
 午後3時、通りの規制が始まると、出店する店の準備が大急ぎで始まります。およそ10分後には、あっという間にたくさんの店がオープンし、待ちに待った「よ市」がスタート。地元の人気飲食店も多く、お年寄りから家族連れ、小さい子供など市内外の幅広い客層で賑わう名物イベントです。
岩手を代表するブルワリーのクラフトビールや、材木町の老舗和菓子店の和菓子など、さまざまなグルメが楽しめます。そのほか、旬の野菜や果物、花、海産物や手作りのパンも販売されています。
「よ市」が開催される約430メートルの材木町の通りは、午後4時頃になると市内外から出店する100店舗以上のお店で埋め尽くされ、人気店には長蛇の列ができる賑わいです。
 「よ市」の由来は、多種にわたる(萬)、余るほど豊富な(余)、良い商品を(良)、お客様に提供し(与)、満足していただく(喜)というように、萬(よろず)、余(よ)、良(よい)、与(よ)、喜(よろこぶ)というたくさんの意味が込められています。
 土曜日の夕方、ゆっくりと「よ市」を楽しんでみてはいかがでしょうか。

○神子田朝市
 「神子田朝市」は、月曜日と年末年始を除いて年300日以上、開催されています。年300日も開催する朝市は、全国でもここだけです。
 「神子田朝市」には、岩手の旬な農作物や海産物、自家製の漬物、スイーツなどのほかラーメン屋さんまであり、地元の人たちだけでなく観光客にも大好評。生産者と消費者が直接顔を合わせてやりとりしながら買い物を楽しめる場所として、賑わいを見せています。そんな「神子田朝市」は、毎朝4時半頃から始まります。お店によっては7時半や8時で閉めてしまうところもあるので、早めに訪れた方が良いでしょう。
朝活も楽しい「神子田の朝市」。ちょっと早起きして、足を運んでみてはいかがでしょうか。

○元祖しずくいし軽トラ市
 軽トラ市とは、岩手県雫石町のよしゃれ通り商店街約500メートルを歩行者天国にして、5月から11月までの毎月第1日曜日(7月は第2日曜日)の午前9時から午後1時まで開催する朝市のことです。
 「軽トラ市」では、よしゃれ通りにずらりと並んだ軽トラの荷台に新鮮な野菜や果物、海産物、工芸品等の自慢の品物がたくさん載せられて販売されています。普段なかなかお目にかかれない商品も多く、軽トラ市にお目当ての商品を求める人々でよしゃれ通りは大賑わいです。
よしゃれ通り商店街で行われている「軽トラ市」は、全国各地で開催されている軽トラ市の「元祖」とされ、商店街が衰退の一途を辿っていたところ、商店街の賑わいを創出するためのワークショップで出た一言が開催のきっかけになりました。
「農家なら軽トラを持っている。朝収穫した新鮮な野菜などを積んで、そのまま商店街で売ってもらえば街に人が集まり、商店街の店も繁盛するのではないか」
平成17年7月に始まった「元祖しずくいし軽トラ市」、今や町の人口を上回る、年間3万人が集まるイベントとして賑わいます。
 地域の魅力を詰め込んだ宝箱のような「軽トラ市」。宝物を探しに、立ち寄ってみてはいかがでしょうか。

 地域の魅力あふれる「市」、岩手にお越しの際には是非、巡ってみてください。
 なお、会場では新型コロナウイルス感染症拡大防止のための対策を行いながら開催していますので、各会場の対策へのご協力をお願いします。

○観光パスポートについて
 最後に、「鹿角・盛岡広域エリア巡ってお得観光パスポート」の御案内です。
 盛岡広域振興局では、新型コロナウイルス感染症により大きな影響を受けている観光業や飲食業を支援し、「北東北三県大型観光キャンペーン」期間を含む、夏・秋季の周遊旅行と消費拡大につなげるため「鹿角・盛岡広域エリア巡ってお得観光パスポート」を秋田県鹿角地域振興局等と連携して発行しました。観光情報や割引特典付き飲食店情報、プレゼント企画など楽しさとお得情報満載のパスポート、ご利用期間は7月1日から11月3日まで。ぜひ活用して、盛岡広域を満喫してくださいね!