What do you think of when you hear the words 'Japanese food'? Of course, rice is a staple in the Japanese diet, and Iwate is one of the most well-known rice producers in Japan . In early summer, you'll see the rare scene that is the natural beauty of Iwate reflected in the rice paddies before rice is planted.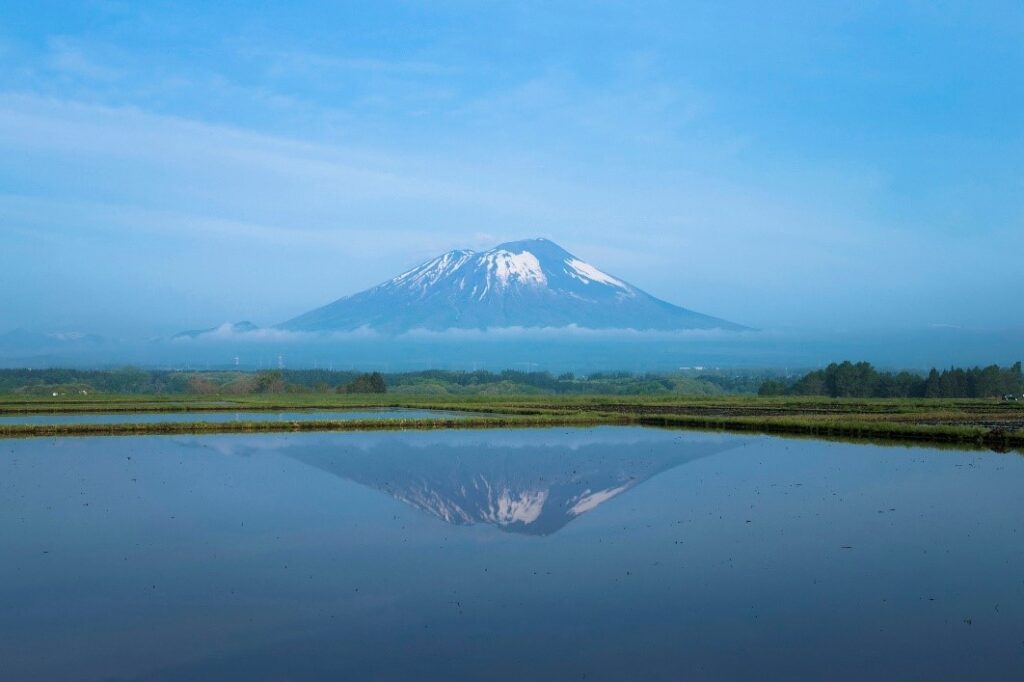 Mount Iwate, seen from early summer in Morioka
However, this article is not about rice. More than rice, the people of Iwate love noodles! That's why I'm here to showcase the culture of the"Three Great Noodles of Morioka," which is the capital city of Iwate Prefecture.
1)Wanko Soba (All-you-can-eat soba noodles)
Wanko Soba is a traditional food culture that arose from wanting to show hospitality to a large number of guests during gatherings. They place a bite-size portion of Japanese soba noodles in a small bowl, and serve it with a number of different appetizers. The server will stand by and cheer people on with a hearty "hai, janjan! (Here's more!)" and "Ganbatte (do your best!)"as they fill up the bowl with more noodles once you've finished your portion. You don't stop until you place your lid on top of the bowl. They place how many bowls you've eaten right in front of you so you can count how much you ate. It's a very satisfying, fun, and delicious meal.
2)Morioka Reimen (a spicy noodle dish in a cold broth)
Morioka Reimen is a traditional dish from the Korean peninsula that has been arranged to fit Japanese tastes. The chewy, slightly-transparent noodles are served in a clear beef-bone broth. The soup and noodles are chilled, making it a very popular menu item during Japan's hot summers. You can add as much or as little kimchi as you like to adjust the spiciness levels. Spice lovers should add enough to make the broth turn red!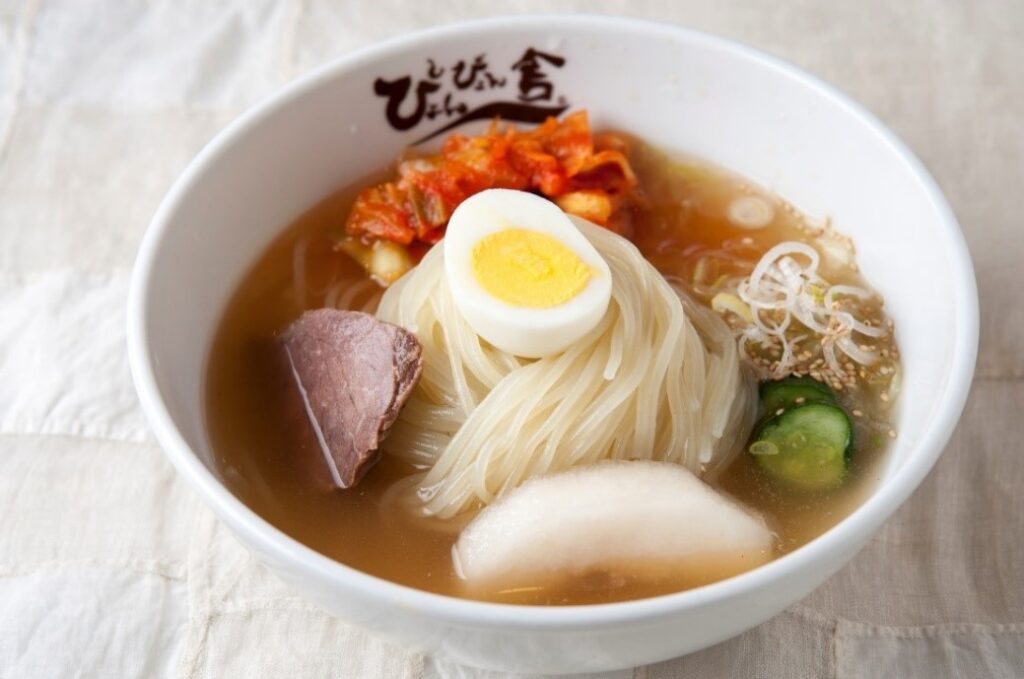 3)Morioka Jajamen (flat noodles mixed with cucumbers and a miso paste)
Morioka Jajamen were developed based on a noodle dish from the northeast of China. Each restaurant has their own take on the miso paste added to the dish, which comprises of flat noodles that resemble udon noodles. Mix it all up when you're ready to eat, adding vinegar, chili oil, and other condiments as you like – making it to your own tastes is the standard way of eating jajamen (called "ajihen").
When you're done eating, don't forget to leave a little bit of noodles and other ingredients in the bowl. You can then add a raw egg and then ask the restaurant staff for "Chitantan!" This means they'll fill the bowl up with piping hot soup so you can mix it all together and enjoy every last bit of the jajamen.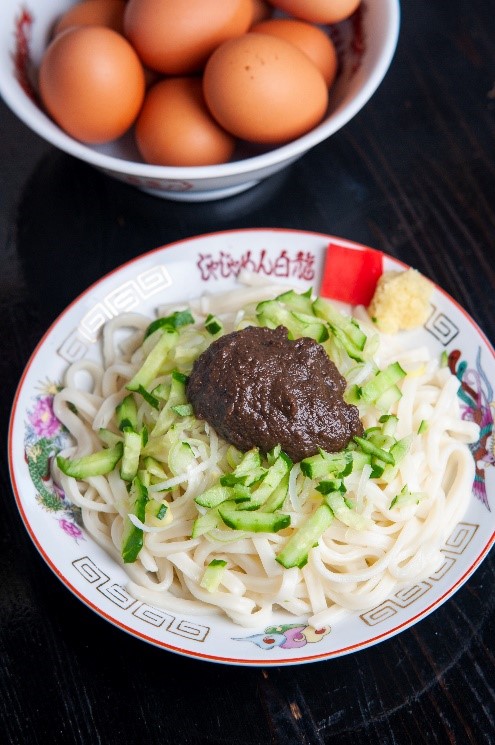 Be sure to make room in your stomach to enjoy our bountiful food culture! I hope you one day visit Iwate to give it a try.
(Photos by Morioka city)
Japanese
【岩手県民は麺が好き】
「日本の食事」と聞くと,どのような食事をイメージしますか?日本人の主食はお米で,岩手県も有名なお米の産地の一つです。稲を植える前の田んぼに映る風景は,初夏にしか見られない特別な景色です。
 【写真】
(盛岡から見た初夏の岩手山)

ですが,今回ご紹介したいのはお米ではありません。岩手県民はお米だけでなく「麺類」が大好き!岩手県の県庁所在地,盛岡市の「盛岡三大麺」と呼ばれる麺文化を御紹介します。

1)わんこそば
  宴の席で大勢のお客様をもてなすために生まれた伝統食文化です。小さなお椀に一口ずつ日本そばを盛り付け,様々な薬味と一緒に頂きます。お給仕さんの「はいじゃんじゃん」「がんばって」の掛け声を楽しみながら,お椀の蓋を閉めるまで食べ続けます。最後には食べたお椀が目の前に積み重ねられ,とても満足感を感じられる,楽しくて美味しい食事です。
【写真】

2)盛岡冷麺
  朝鮮半島の郷土料理である冷麺を日本人の口に合うようにアレンジして生まれた盛岡冷麺。歯ごたえのある麺と牛の骨から取ったスープはどちらも透き通っていて,冷たく冷やしてあり,日本の暑い夏にピッタリのメニューは全国的にも人気が高まっています。キムチを入れて,好みの辛さにするのがオススメで,辛い食べ物が好きな人はスープを真っ赤にして食べましょう!
【写真】

3)盛岡じゃじゃ麺
  盛岡じゃじゃ麺は中国東北部の麺を参考にして生まれました。お店によって個性が異なる特製の味噌がうどんのような太い麺の上に乗せられています。食べるときはよくかき混ぜ、お酢やラー油等の調味料も足して、自分好みに「味変(あじへん:味を変化させること)」して頂くのがスタンダードな食べ方です。
  食べ終わる前にもポイントが!麵や具材をちょっぴり残して、生卵を割り入れ、よく混ぜたら「ちーたんたん下さい!」と店員さんにお願いすると、お皿にスープをよそってくれます。
  メインのじゃじゃ麺と締めのスープでおなか一杯になりますよ。
【写真】
胃袋がいくつあっても足りなく感じる、豊かな食文化。岩手を訪れて、ぜひ味わってみてくださいね。