Picture it: an ILC laboratory in a picturesque winter wonderland. Researchers testing their theories while snow falls gently outside. Warm stews made with local produce being made in the cafeteria. Snow sculptures of Higgs-kun. Iwate and Tohoku are famed for their beautiful, snowy winters, and living in the area will give you access to a whole treasure-trove of winter activities.
Winter Sports
Once the weekend arrives… the ski slopes await! Skiing, snowboarding, snowshoe trekking, cross country, ice skating – Iwate is one of the best places to do winter sports in the whole country! Over 20 ski areas can be found throughout the prefecture, from the northern highlands to the coastal hills. While there are intermediate and expert courses for the veteran skier, there are also kiddy hills and easy courses available so fun can be had with the whole family. "A Trip to Iwate" keeps a list of some of the more famous ski areas, which can be found here.
But that's not all. In fact, a huge winter sports competition just started on January 27. Iwate will be home to the National Sports Festival, or Kokutai as it's called in Japanese. Held once a year, the Kokutai is similar to the Olympics in which athletes compete in a number of events with a prefectural team. Iwate's natural surroundings make it the perfect host for the Kokutai, with its snowy mountains and vast coastline. This is the first time Iwate will be hosting both winter and summer games, and is now holding the winter events of January and February. All of the Kokutai is free to attend. Are you going to be in Japan during January and February? Drop on by if you have the chance!
Iwate is the first of the tsunami-struck prefectures to hold the Kokutai since the disaster. The games have been subtitled "Spreading the joy. Giving thanks." as part of Iwate's efforts to thank all that have supported us.
Winter Festivals
Iwate Snow Festival (early February)
Details
Similar to the world-famous Sapporo Snow Festival, snow sculptures are constructed in the shapes of various characters and locations. You can also have lunch inside of a snow igloo, where they serve their specialty grilled lamb.
(Unfortunately for 2016, due to the lack of snow, there will not be any snow sculptures up on display. Continue to check their website for the latest updates)
Morioka Snow Lights Festival (mid-February)
Thousands of snow lanterns are sculpted in Morioka's Castle Park. Walk by granite stone walls illuminated by soft candlelight.
Daito-Ohara Mizukake Festival in Ichinoseki (mid-February)
This is right in the middle of the ILC site! Scantily clad men run down a street in near zero temperatures as onlookers throw water at them at the Mizukake Festival (water-throwing festival). The race down the street is the main event at the festival which began over 350 years ago to pray for and raise awareness of fire safety, following a fire which destroyed more than half of Tokyo (then known as Edo) in 1657. The festival today continues the message of fire safety but people also pray for sound health, for recovery following the Great East Japan Earthquake, and so on.
Sominsai – Naked Man Festival in Oshu (mid-February)
The naked Sominsai Festival is held on a freezing night, surrounded by deeply packed snow. Men in loinclothes run through the snow and huddle together to celebrate masculinity. This event has been held for over a millenium, and is known as one of the Three Strangest Japanese Festivals. It's also a nationally designated "Intangible Folk Cultural Property." Check out the video made by Oshu For You about this very festival!
…and many more!
Winter Cooking
The best way to beat the cold is a "nabe" party with friends. Nabe (pronounced "nah beh") is the Japanese word for a hot pot, or basically a soup with meat, vegetables, mushrooms, tofu and more thrown in. Anything on hand works – there's chicken meatball nabe, fish nabe, kimchi spicy nabe, etc, etc. Supermarkets even sell the broth, so all you have to do is pick out the ingredients and thrown them in a pot of water. Traditionally a large clay pot is used, and friends and family gather around the table to eat.
Iwate grows so much fresh food that you could have an all-Iwate nabe if you so wish. Visit any farmer's market to get local shiitake mushrooms, daikon radish, potatoes, carrots, hakusai cabbage, as well as local pork or beef. You could even splurge on some "Iwate-gyu" beef, high quality cuts from various makers near the ILC site! Round it off with a bottle of local sake, craft beer, or a cup of piping hot tea.
Onsen – Japanese Hot Springs
The night is cold and the sky is clear. Snow is piled on the ground, and lights twinkle from houses that dot the countryside. There, fenced in a winter-white Japanese garden, is a hot spring with steam billowing out from the water. This might just be the quintessential winter activity in Iwate – a hot soak in an outdoor bath out under the stars.
Iwate is home to many onsen, from the famous Hanamaki Onsen resort about an hour north of the ILC site, so many smaller ones in the mountains. You can find a list here.
The Kotatsu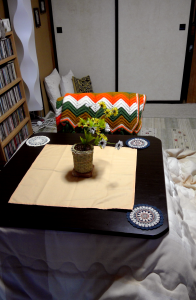 The world's greatest invention.
No, no, but seriously. The houses in Tohoku can be a little old, and insulation is thin. The most economic and ecological way to heat your home can be found in the simple kotatsu table. The tabletop can be removed to place a blanket overtop a frame with an electric heating element. The heater warms up the space underneath the blanket so you feel toasty even when the room around you is quite chilly.
In olden days, these were pits found in wooden houses with thatched roofs, where the family would do their cooking and stay warm. Now you can buy kotatsu from any furniture store. The blanket need not stay out after winter is over – the table can be used like any normal table in the summer. You can even buy taller tables that can fit chairs.
Japanese
岩手~冬のワンダーランド[5号] 和山 アマンダ(岩手県)

ILC建設候補地の北上山地周辺に住むと、冬のアクティビティを沢山楽しめます。

想像をしましょう。美しい冬景色を背景にILCの研究施設があります。外には雪が降り、研究者は理論を検証しています。食堂では、地元の食材で温かい鍋が作られています。ヒッグス君の雪像もあります。このような美しい冬の岩手や東北で暮らせば、冬のアクティビティを沢山楽しめます。

ウィンタースポーツ
週末には…スキー場に行きましょう!スキー、スノボード、スノーシュー、クロスカントリー、アイススケートなど、岩手は世界の中でもウィンタースポーツを楽しめる絶好の場所です。県北の山々から沿岸の高原まで、スキー場が20か所以上もあり、初級・上級・子供向けのコースがあり、家族からベテランまで楽しめます。岩手のスキー場の詳細は、「岩手旅」という観光ホームページをご覧ください。

それだけではないです。今まさに、大きな冬季スポーツの祭典が開催されています。今年は岩手県で国体が開催されます。1年に一度開催される国体は、日本のオリンピックのようなものであり、アスリートが都道府県のチームに分かれて競技します。雪山や広大な沿岸を有する岩手の自然環境は、国体の開催地として最適です。今回は、本大会と冬季大会の全競技を県内で開催する「完全国体」。岩手県での完全国体は初めてであり、この冬季大会から完全国体の幕が上がります。各競技は無料で観戦できますので、日本にいる方はぜひ会場で観戦してください。

岩手は、東日本大震災で被災した3県の中で、発災以来初めて国体を開催します。私達を支援してくれた全ての方々に感謝を伝えるため、「広げよう 感動。伝えよう 感謝。」のスローガンのもとで開催します。

冬祭り
岩手雪まつり(2月上旬から)
詳細 (岩手旅)
世界でも有名な札幌雪まつりのように、様々な雪像が会場で造られています。かまくらの中では、ジンギスカンなどのランチを食べることができます。 (注:今年は雪が少ないため、雪像が造られないのでご了承ください)

盛岡雪灯り祭り(2月中旬)
盛岡城跡公園では、雪像や雪ライトが作られています。雪灯りで照らされた花崗岩の城壁のそばで散歩しましょう。

一関市大東大原水かけ祭り(2月中旬)
会場はILC建設候補地にあります!沿道で待ち構えた人達から容赦ない冷水を浴びせかけられながら、「火防祈願」「無病息災」「家内安全」を祈って勇ましく駆け抜ける裸男達。

奥州市蘇民祭(2月中旬)
これもかなり男らしい祭りです。裸男達が雪の上を走り、蘇民袋と呼ばれる袋を奪い合いながら「災厄消除」「五穀豊穣」を祈ります。「奥州フォーユー」の動画シリーズでご覧いただけます。

など

冬の料理
寒さを乗り越えるには、友達と一緒に「鍋パーティー」をするのが一番です。鍋とは、日本料理で肉、野菜、キノコ、豆腐などが入ったスープのようなものです。材料は何でもいいので、鶏のつくね鍋、魚の鍋、キムチの辛い鍋など、様々な種類があります。スーパーでだしを売っているので、好きな材料を選んでそれらを鍋に入れると完成です。普段は、大きな土鍋が使用され、友達や家族とテーブルを囲んで食べるのが一般的です。

岩手には新鮮な食材が沢山あるので、全て岩手産の鍋にすることもできます。産直に行って、地元のしいたけ、大根、ジャガイモ、ニンジン、白菜などの野菜、そして地元の豚肉と牛肉を仕入れましょう。贅沢な鍋にしたいときは、岩手牛という和牛を買うとさらに美味しいです。乾杯には地酒、地ビール、温かいお茶はいかがでしょうか。

温泉
また想像しましょう。寒い夜で、澄み渡った夜空。雪が地面に積もり、彼方にぽつんとある家々から光がきらきらと輝いています。そこでは、冬の白い日本庭園の真ん中に、湯気が出ている温泉があります。星空の下、熱い露天風呂に入るのは、岩手の冬ならではの体験かもしれません。

ILC建設候補地から、北に約1時間離れた場所にある有名な花巻温泉から山々にある小さな温泉施設まで、岩手には沢山の温泉があります。

こたつ
世界一の発明。

…ではないけれど、東北の家は少し古く、断熱材が薄い場合がありますが、こたつを使うと経済的にも省エネルギーとしても効率的に暖めることができます。テーブルを外すと、電気ストーブが付いているフレームがあり、その上に毛布を掛けて、またテーブルを戻します。毛布の下のところが電気ストーブで暖められ、部屋が寒くてもこたつの中に入るとホカホカ。

今では、どこの家具屋でもこたつを買うことができます。冬が終わったら毛布をしまい、普通のテーブルとして使います。椅子に適した足の高いこたつも買うことができます。