One of my favorite words in the Japanese language is "osusowake (お裾分け)" which rougly refers to the act of passing along your extra good blessings to others in your life. In reality, this means that if you've got a ton of tomatoes in your garden and you can't possibly eat them all, you give them out to your friends, family, and neighbors. The vegetables grown at the Ichinoseki City Southern Agricultural Technology Development Center are just for research purposes, and can't be sold, so instead of letting them go to waste, they blessed me with a huge bounty of kale, eggplants, peppers, and tomatoes.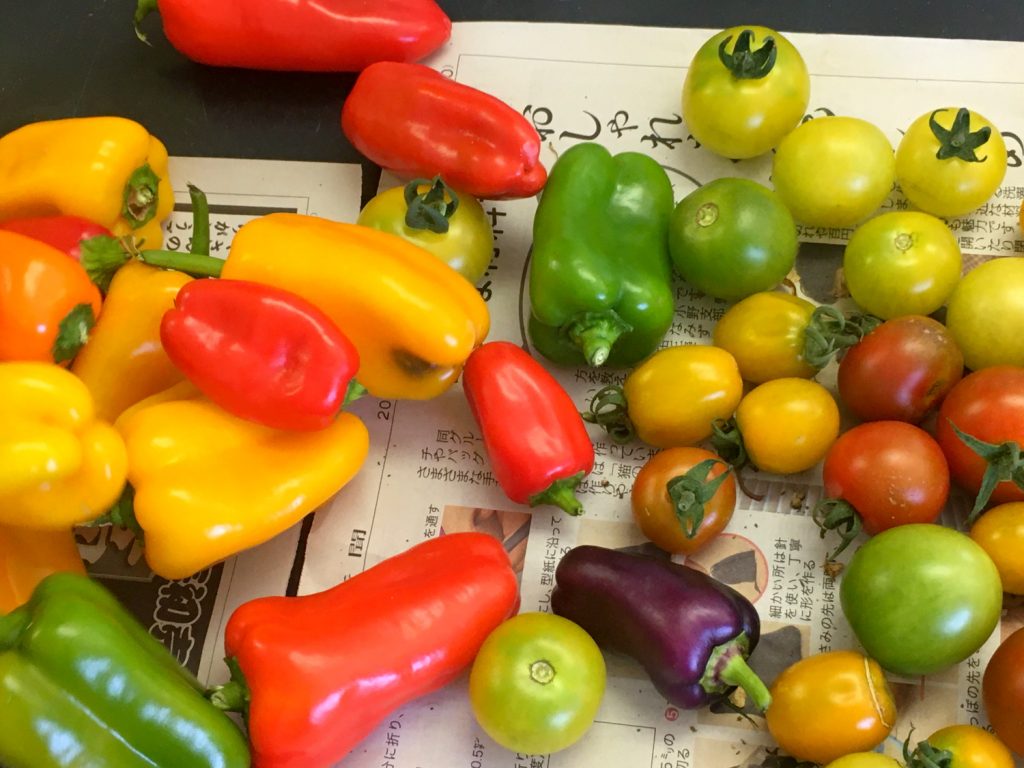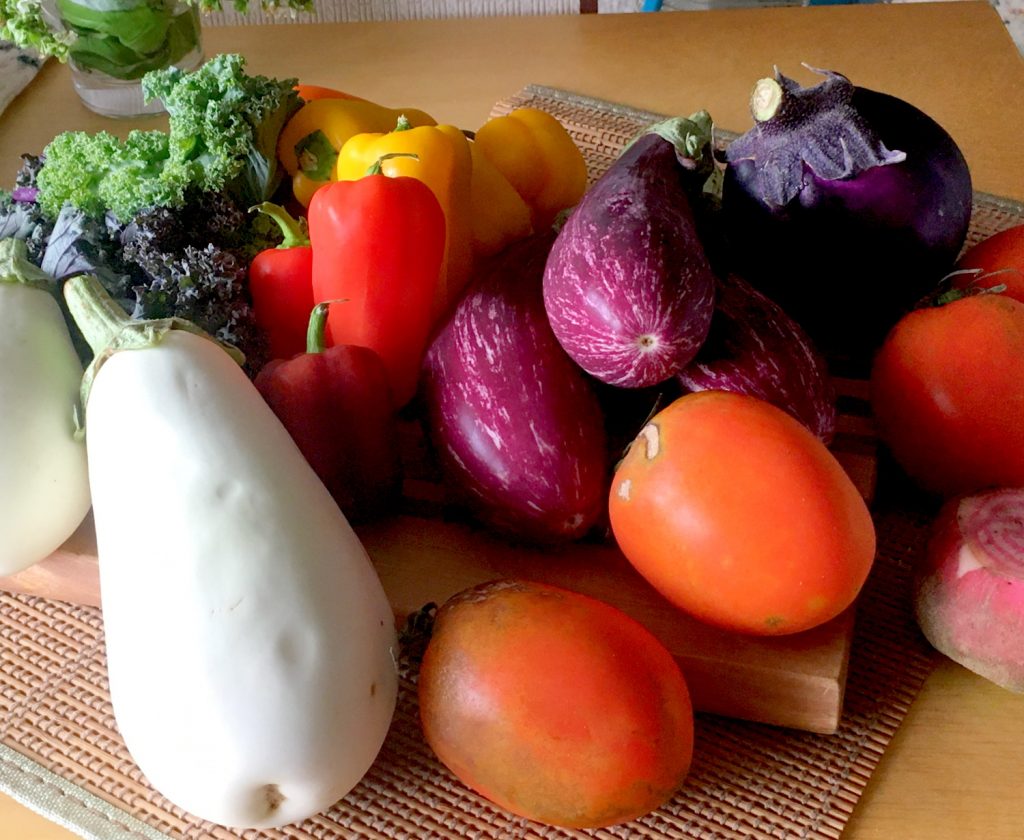 They said the veggies will keep for a week or two in the fridge, but that's not enough time for my husband and me to eat them normally. So I decided to cook a bunch over the weekend and freeze the leftover portions. Mostly, I was excited to try out some non-Japanese recipes that would make the most of these things – of course, I use eggplants, peppers, and tomatoes all the time here, but I didn't want to just fry them up tempura-style.
KALE
First off, I've always been curious about kale ever since it's become Instagram's dark green leafy veggie of choice. I've had it before in salads, but what I really wanted to try was…
Sprinkle olive oil, salt, and pepper over some shredded kale and…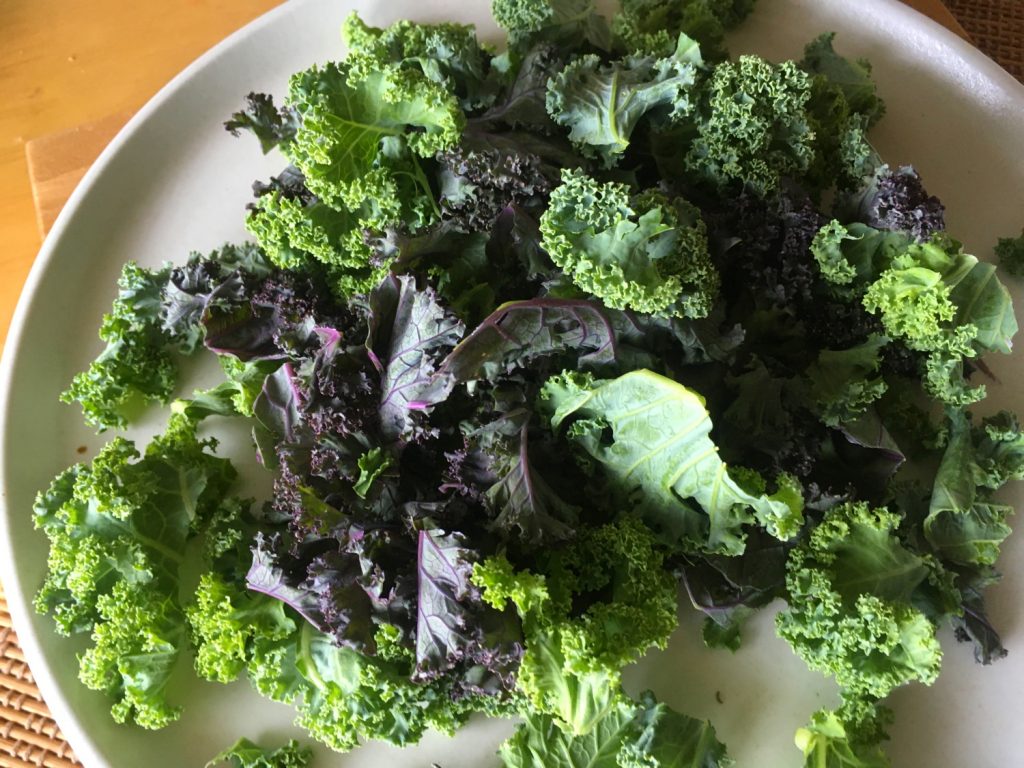 Stick it in the oven for 20 minutes for…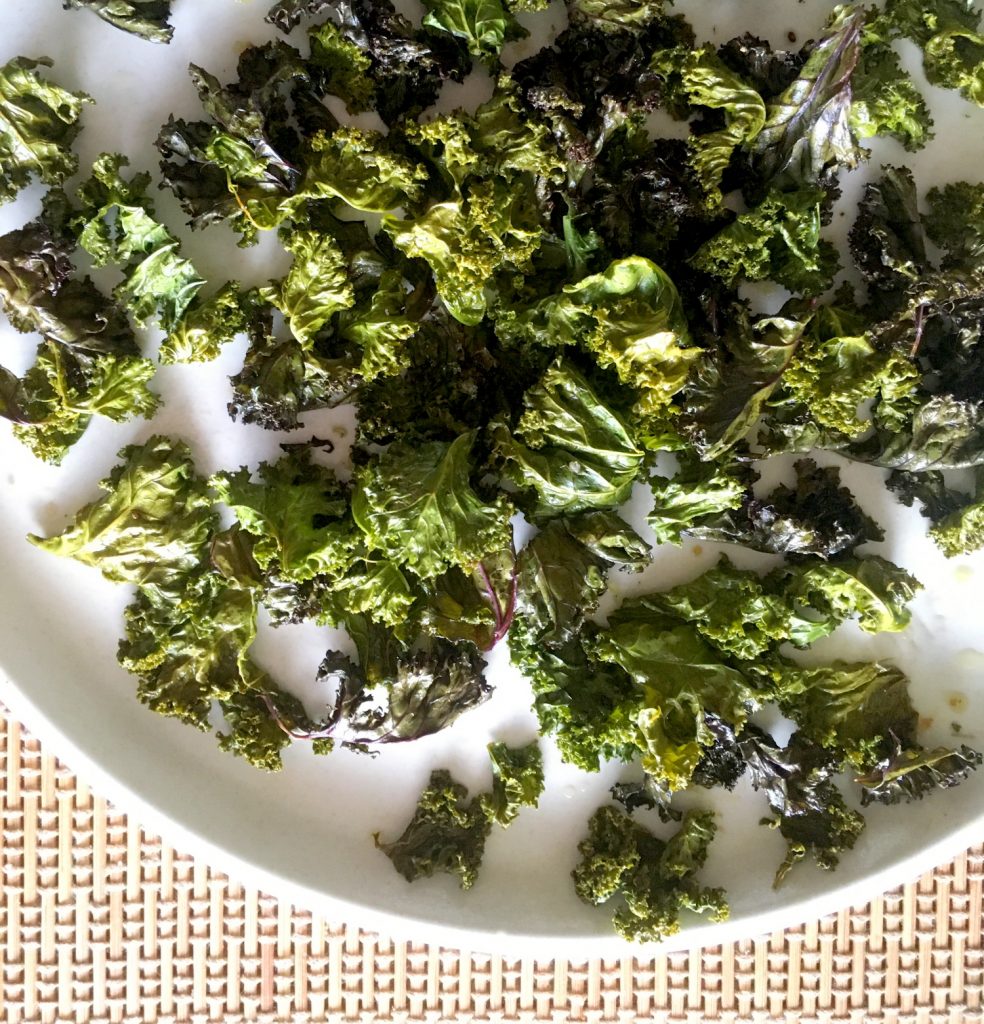 KALE CHIPS!!
What can I say? Everything tastes better when it's been cronchified.
TOMATO SOUP
Furuuchi-san at the center told me these tomatoes would taste better cooked rather than raw, so I thought I'd make a tomato sauce for pasta.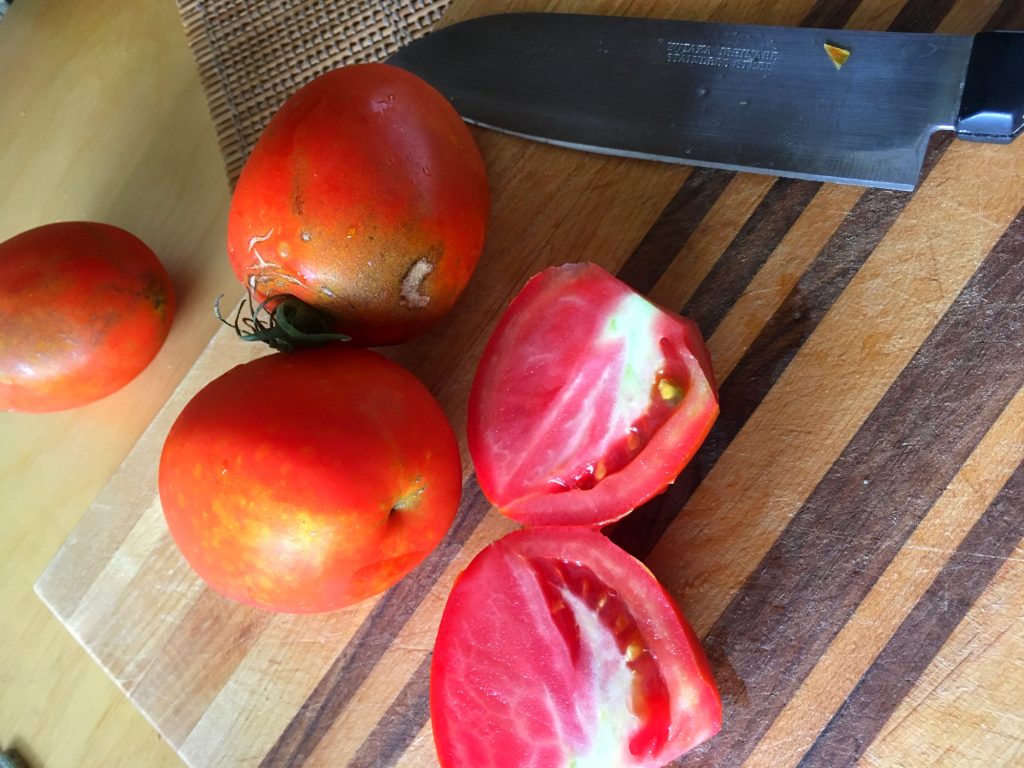 But the color was so vibrant and fresh that, after sautéing the tomatoes with some onions, olive oil, and Italian herbs, I decided to just puree the mixture and eat it as is. Literally the best tomato soup I've ever had – the tomatoes were REALLY flavorful. Gotta love that Iwate water and soil!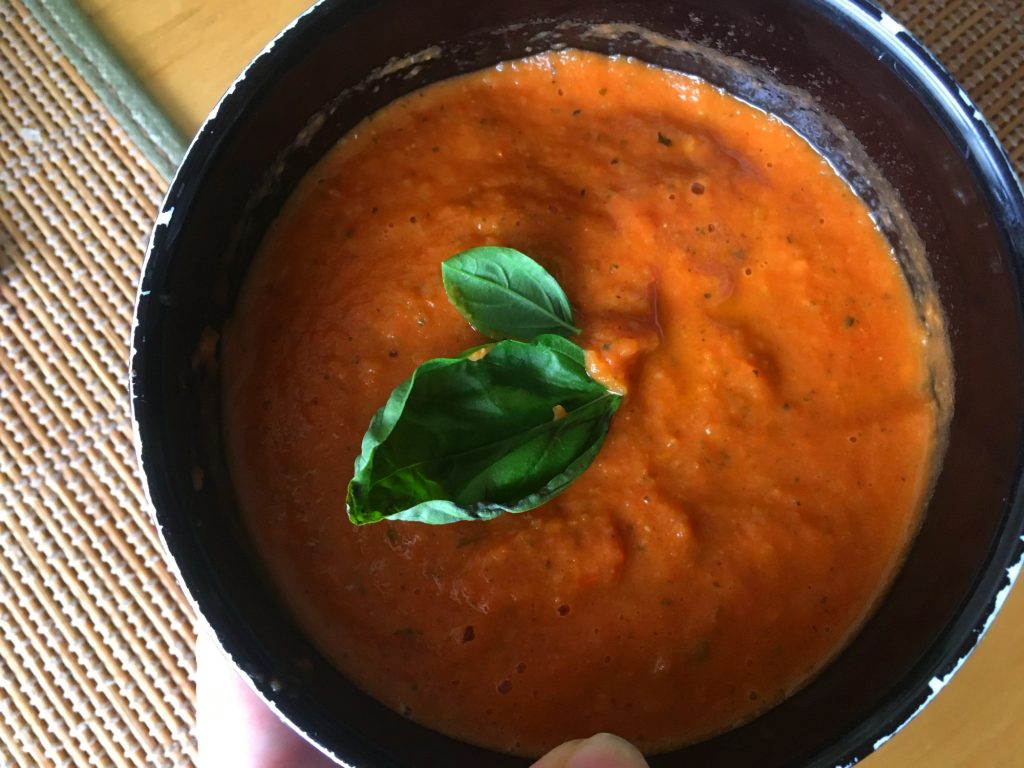 (Excuse my poor photography skills – it may look like tomato mush, but it tasted like tomato gold)
EGGPLANT PARMIGIANA
I fried up about half of the eggplant that they gave me – both the white and zebra varieties – in some panko batter to crispy up the eggplant and prevent it from soaking up too much oil in the casserole pan. Then I layered it with tomato sauce, mozzarella, and parmesan cheese. PS – you can get both mozzarella and parmesan in normal Japanese supermarkets but they're a bit expensive.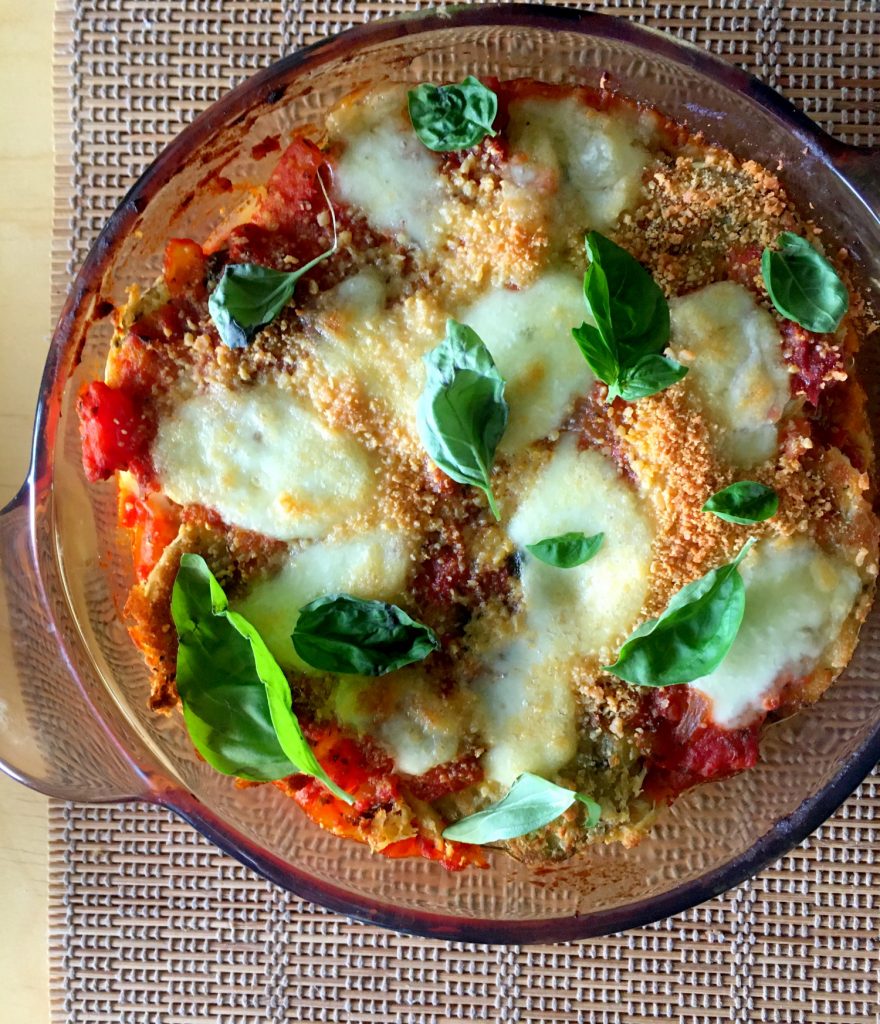 After letting the whole thing bake in the oven for about 25 minutes, I had a gooey heap of eggplant parmigiana to enjoy. I know the point of this dish is to drown the vegetables in cheese and tomato sauce, but the eggplant came out tender and meaty, and certainly holds its own in the dish! I intend to "osusowake" this with my husband's family as well.
I still have like… a kilogram of peppers and a bunch of eggplant left. Maybe I'll fry it up in a huge sausage and peppers dish (another "Italian-American" dish from my home of New Jersey)…
Anyway, as you can see you'll get a ton of "osusowake", whether they be local or foreign foods, and that's one of my favorite parts about living here! You just have to figure out how to cook it all, hahaha…
Japanese
西洋野菜を使って料理をしよう!~お・す・そ・わ・け~
(和山アマンダより 特別報告)

日本語の好きな言葉の一つは、「お裾分け」です。例えば、うちの庭でトマトを植えていますが、収穫した際に余った場合、近所の人や家族、友人に「お裾分け」します。この間は、一関市南部農業技術開発センターを訪問しましたが、そこで栽培している西洋野菜は研究用で販売はできないため、「お裾分け」として、たくさんのケール、ナス、パプリカ、トマト等をいただきました。

【画像】【画像】

冷蔵庫で1~2週間持つそうですが、それでも私と夫の2人ではとても食べきれません。そのため、週末をかけてほとんどの野菜を調理し、食べきれない分は冷凍しようと考えました。もちろん、ナス、パプリカ、トマト等は、日本でもいつでも使えるものですが、今回は、「西洋野菜」がテーマなので、天ぷらや麻婆ナスではなく、西洋のレシピに活用したいと考えました。

ケール
まずは、SNSで非常に流行っているケールですが、ずっと昔から興味がありました。もちろん、以前にサラダなどで食べたことがありますが、本当にやってみたかったのは…

オリーブオイルや塩コショウを切り裂いたケールに振りかけて…

【画像】

オーブンで約20分焼いて…

【画像】

じゃじゃ~ん!「ケールチップス」になります!

さすがに、ぱりぱりチップスにしたものは、本当においしいものです。

トマトスープ
センターの古内さんによると、このトマトは生より、火を通したほうがおいしいとのことでしたので、一見、パスタのトマトソースにぴったりかなと思いました。

【画像】

しかし、このトマトはとても色鮮やかで、フレッシュなものでしたので、ソースにしていいものか迷い始めました。トマトを玉ねぎ、オリーブオイル、イタリアのハーブと一緒に炒めたら、今度はこれをピューレにしてこのまま食べたらおいしそうだと思いました。実際このトマトスープは、人生で一番おいしいトマトスープでした!この風味豊かなトマトを使ったからだと思います。さすが、岩手の土や水で生まれた野菜たちです。

【画像】
(写真が下手ですが、この"おかゆ"っぽいスープが非常においしかったです)

ナスのパルミジャーノ(ナスのラザニアのようなもの)
いただいたナス(白いものとゼブラ柄のもの)を半分にしました。次に、ナスをサクサクにしながら、油を吸うことを防ぐために、パン粉をかけてフライにしました。そして、ガラス製のパン(ボウル)で、ナス、トマトソース、モッツァレラチーズ及びパルミジャーノチーズをラザニアのように盛り付けしました。ちなみに、モッツァレラやパルミジャーノも一般的な日本のスーパーで買うことができますが、値段が少し高めです。

【画像】

オーブンで約25分焼いたら、おいしいナスパルミジャーノが出来上がりました。この料理は野菜がいっぱいですが、チーズやトマトソースも多いので、あまりナスの味が出ないのではないかと心配しました。それでも、ナスが肉のような柔らかさになり、とてもおいしく仕上がりました。たくさん作ったので、これを夫の家族に「お裾分け」したいですね。

たくさんの料理を作りましたが、それでもパプリカやナスの半分が残っています。今度は、出身のニュージャージー州の「イタリア系アメリカ人」の料理ですが、「ソーセージアンドペッパー」の料理にしようかなと考えています。

この記事はこれでおしまいですが、見ての通り、日本に住むと、地元の野菜や外国の料理も、たくさんの「お裾分け」を期待できますね。(全部調理するのは別の挑戦になりますが!)