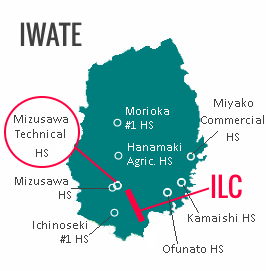 With our ILC Relay series, we interview Iwate residents in order to show the world how all of Iwate is rooting for the ILC! This time, we talked with students from Mizusawa Technical High School*, which is one of Iwate Prefecture's designated ILC Promotion Model Schools. These students built a model that shows a representation what happens during experiments inside the ILC accelerator – making the project easier to understand for their friends and family!
Iwate Prefectural Mizusawa Technical High School
This high school was opened in April 1968. Currently, they have four courses of study: mechanics, electronics, equipment systems, and interior design. Mizusawa Tech was designated an ILC Promotion Model School in the 2018 fiscal year.
Tell us about Mizusawa Technical High School.
Mizusawa Tech prepares its students to pass the tests for various specialist qualifications. We start studying every morning from around 8 am in order, so our school has one of the top pass rates for these exams in Iwate.
Why did you decide to make this model?
We didn't really know what the ILC was or what it would do before our school became an ILC model school. That's why we wanted make an exhibit at our school's culture fair ("bunkasai") – these fairs are open to the general public, so there would be a chance to teach the ILC to a lot of people. So we came up with a goal to set up an exhibit that was very easy to understand.
Inside of this metal ball, they inserted a laser and a special gelatin mixture for the light to refract through. You look inside this metal ball to see a laser bouncing off in many different directions, simulating what a particle collision would "look" like.
The sign reads: "Electrons and positrons are accelerated to very high speeds and smashed together inside the cryomodule. That collision recreates the conditions found immediately after the Big Bang. This is the beginning of the universe."
What kind of club is this?
We're a team of 13 students from all four courses of study at Mizusawa Tech.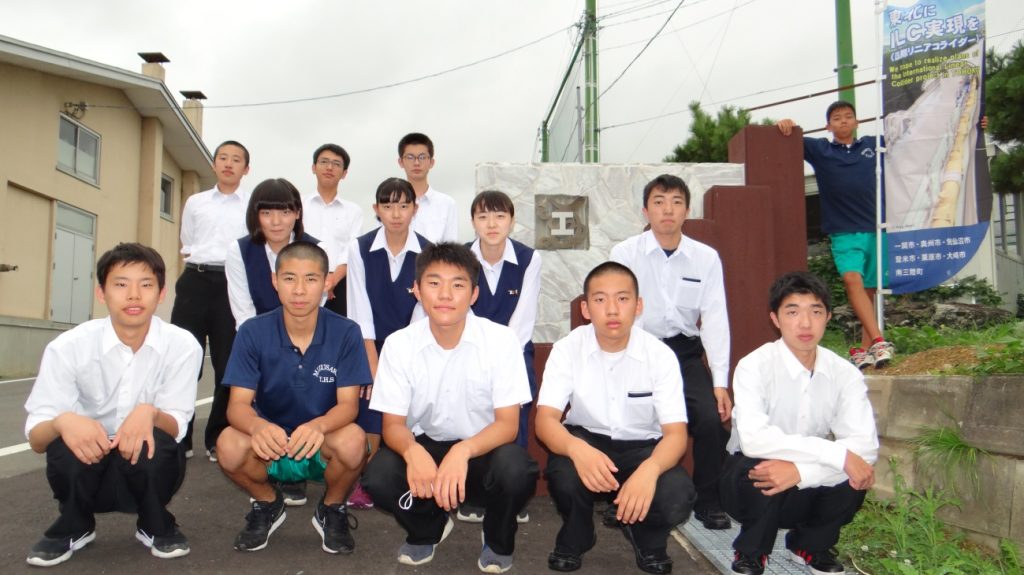 What were some things that were challenging about making this model?
We struggled with working the sheet metal so you could actually see inside to the laser. We opened up tiny window so you could look at it directly, and also installed a camera on the inside that fed to an outside projector. We tried to do things like that to make it easy for people to understand. It took us about 3 weeks to make it.
What was your main focus in this project?
We really focused on making it easy to understand. We even put up panels and showed a DVD to explain the ILC so that people would understand what it does.
How did people like it?
We had two of our team of 13 stay by the model to talk about it, while other members created the ILC posters and spread information about the ILC. They would talk about the ILC with people who visited, and shared the effects it would have on the region if it were realized.
People were like "wow!"
What are some nice spots to visit in Oshu City?
(Note: Mizusawa Tech is in Oshu City)
Oshu has lots of beautiful nature throughout the four seasons, like cherry blossoms in spring, autumn leaves, and winter wonderlands. There's a 7km road in the city lined with cherry blossom trees that we call the "Cherry Blossom Corridor (Sakura Kairo)." It's lit up at night so it's really pretty.
There are lots of other things too! Wind chimes and other Nanbu cast-ironware goods, Iwayado tansu drawers, Oshu sweet potato cakes, and Maesawa beef (like Kobe beef).
There's a McDonalds and Starbucks in Oshu too. You can often find Mizusawa Tech students at McDonalds (lol).
What's your dream for the future?
Kosei Chiba: I want to work in electronics. I think there will probably be that sort of work at the ILC so I hope to get involved in that way.
Shizuru Ito: I want to be construction, with designing buildings. I'd like to make houses that are nice for foreign people to live in, because at lot of people from around the world will come to Iwate if the ILC is realized.
Shoji Oikawa: I want to get a job working on cars.
Yuito Sato: Ever since I was a kid, I thought my uncle's car was really cool, and I grew to love nature and cars. I want to make cars that are fun for people to ride in.
What do you hope for the ILC?
We heard that to the ILC might be able speed up the reconstruction from the 2011 earthquake and tsunami with its boost to the local economy, so we definitely want it to come to Iwate.
We also think that there will be more visitors and buildings in Oshu so we hope lots of foreigners come.
Do you have any messages to give to foreign researchers abroad?
The ILC will be a place with new discoveries – where dreams are born. We know work on the ILC is pretty difficult, but we think it will change Iwate, so please do your best! We'll also work our hardest so we can contribute to the ILC.
Japanese
ILCリレー⑮
水沢工業高校の皆さん

ILCリレーでは,ILC実現のためのオール岩手の取り組みを発信するために、ILCを応援している岩手県民の方々にインタビューしています。今回は、岩手県が指定するILC推進モデル校の一つであり、学校の文化祭にILCに関連する模型を作成した岩手県立水沢工業高校(※)の生徒さんにお話を伺いました。

※岩手県立水沢工業高校
昭和43年4月に開校し、現在、機械科、電気科、設備システム科、インテリア科の4学科を設置する工業高校。平成30年度に岩手県が指定する「ILC推進モデル校」に指定。

【写真】
インタビューの様子

○水沢工業高校の紹介をお願いします。
水沢工業高校は、各種資格取得に力を入れていて毎朝8時前後から朝学習をしています。その結果、高い合格率を維持しています。

○模型を作成しようと思ったきっかけは?
自分たちもILC推進モデル校としての取組を始めるまではILCが何をする施設なのか分かりませんでした。だからこそ文化祭で展示を行うことによって、多くの方にILCについて知ってもらいたいと考えました。そこで「目に見える形で展示をする」ことで、その目的を果たせると考えました。

【写真】
学生が作成したILCを説明するための模型

【写真】
模型の中を覗くと見える光景(ILCの衝突地点を再現)

【写真】
模型の中の様子をプロジェクターで投影した様子

○模型を作成したチームはどんなグループ?
4つの学科から集まった13人のチームです。

○これを作るうえで苦労した点工夫した点は?
光を可視化することや板金加工などに苦労しました。   
覗き穴を作って実際に肉眼で見えるようにしたことや内部にカメラを通してプロジェクターで見えるようにしたことなど見た人が分かりやすくなるように工夫しました。
かかった期間は3週間くらいです。

【写真】
伊藤静流さん と 及川翔士さん

○重要視したポイントは?
ILCとはどういうものかを多くの人に知ってもらえるように、説明のパネルを置いたりDVDを上映するなど、分かりやすさを意識しました。

○文化祭当日の反応は?
当日は13人のうち2人が製作した模型の説明を担当し、その他のメンバーでILCの説明ポスター等を作成し、展示ブースに来てくれた人にはILCはどういうものか、ILCが実現することによってどんな良い効果があるかをPRしました。
実際にブースに来て展示を見た人からは、「すごい!」とか「おおっ!!」という驚きの声があがっていました。

【写真】
文化祭での展示の様子

【写真】
ILCを説明するポスター

○奥州市のお勧めは?
奥州市は桜やもみじ、雪景色など四季折々の景色が楽しめます。奥州市には約7kmにも桜並木が続く「桜の回廊」があり、夜には桜がライトアップされていてとてもきれいです。
その他、風鈴や南部鉄器、岩谷堂箪笥、奥州ポテト、前沢牛など有名なものが沢山あります。

【写真】
奥州市「桜の回廊」

奥州市にはマクドナルドやスターバックスもあり、水沢工業高校生はよくマクドナルドにも行っていますね(笑)

○これからの夢はなんですか。

千葉功成さん 
電気関係の仕事につきたいと思っています。ILCに関わる電気関係の仕事もあると思うのでそういう仕事に携わっていきたいです。

伊藤静流さん
建設関係の仕事で設計に携わる仕事がしたいと思っています。ILCが実現すれば岩手にも世界中の方々がたくさん来ると思うのでその人たちが住みやすい家などを作っていきたいです。

及川翔士さん
自動車関係の仕事に就きたいと考えています。

佐藤唯斗さん
小さい頃から叔父が持っている車がすごくカッコよくて、自分も車が好きになりました。乗っている人を楽しませることができるクルマが作りたいです。

【写真】
千葉功成さん と 佐藤唯斗さん

○ILCに期待することはありますか?
ILCについて学んだ時に、経済が活性化することによって東日本大震災からの復興を早めることができると聞いたので、早く岩手県にILCが来て欲しいと思っています。

ILCが実現すると奥州市にも観光客や建物が増えると思うので、そんな奥州市に外国人の方も沢山来て欲しいです。

○最後に海外の研究者に伝えたいメッセージはありますか。
ILCは新しい発見があって、夢が広がる施設だと思います。ILCの仕事は大変だと思いますが、ILCが岩手に実現することを通して岩手も変わっていくと思うので、頑張って頂きたいと思っていますし、僕たちも貢献できるように頑張っていきたいです。

【写真】
左から右:伊藤静流さん、及川翔士さん、千葉功成さん、佐藤唯斗さん