"Have you heard of the ILC?"
Ask that question to the children of Iwate (home of the ILC candidate site), and they'll immediately reply, "Of course we have!" These children have been learning about the ILC thanks to TV and radio programs, as well as lessons at school.
Unfortunately, our children in next-door Miyagi Prefecture aren't quite as well-versed in the project. That's why the Tohoku ILC Promotion Council worked to put on an ILC Summer Festival at the Sendai/Miyagi Science Day at Tohoku University, an event held every year to teach science and technology to elementary school students. At the ILC Summer Festival, we worked hard to make the ILC a fun topic to entice children to learn more.
What's the Sendai/Miyagi Science Day?
The Science Day is held every year at Tohoku University, a world-leader in STEM research. There, children can experience the scientific process with all five senses. Over 10,000 people (children and parents alike) attended this year's Science Day on July 15th (Sun). It was a day for children to experience the joy of science, from riding electric go-karts to a special exhibit called "Shining a 'light' on things we can't see" (celebrating the decision to build a synchrotron facility in Miyagi).
Learn more about the event
The ILC Summer Festival
Summer festivals are held throughout Japan, with each shrine and temple and neighborhood having their own cultures and customs. Children look forward to these festivals every year.
For this year's Science Day, the Tohoku ILC Promotion Council put together a ring toss game, story time with picture cards, and other games and events you would find at a typical summer festival. This was all to teach kids about the ILC and the universe in a fun and interesting way. All in all, 1,500 science-loving children and their parents showed up to our festival.
ILC Ring Toss – Learning about elementary particles
Ring toss simply involves a player standing a short distance away while attempting to throw rings onto targets. In our version, each target represented a particle like the Higgs boson or the top quark, and children got to learn about all 17 (known) elementary particles while trying to hit their targets.
Ball Scooping Game – Showing that we only understand 5% of the universe
A ball scooping game usually has a plastic pool of water filled with rubber bouncy balls, and children have to use a flimsy paper net to catch as many as they can before it tears. In our version, 95 of the balls were black, and only 5 were different colors. This was to show the children that we only understand 5% of the universe, and the rest of it consists of dark matter and dark energy. All of them were surprised after we taught them this! After hearing the short explanation, they had 30 seconds to pick up the 5 color balls. What a fun way to learn about the universe's mysteries.
Review with an ILC Quiz
What are the smallest particles in the universe? What's the name of the machine that will recreate the conditions of the Big Bang? How much of the universe do humans understand? We had a quiz on all of the things we taught at our summer festival, and the children did amazing.
Do all the activities and get an ILC Medal!
To each child who cleared the Ring Toss, Ball Scoop, and the quiz, we presented an ILC Supporters medal. We tried to tie it into the upcoming 2020 Tokyo Olympic and Paralympic Games by giving gold, silver, and bronze medals according to their scores. We brought a ton with us, but the gold medals were the first to run out! It just proves how many children are interested in science and the ILC.
Around 300 new ILC Supporters!
With this event, we were able to get 300 new ILC Supporters to join up!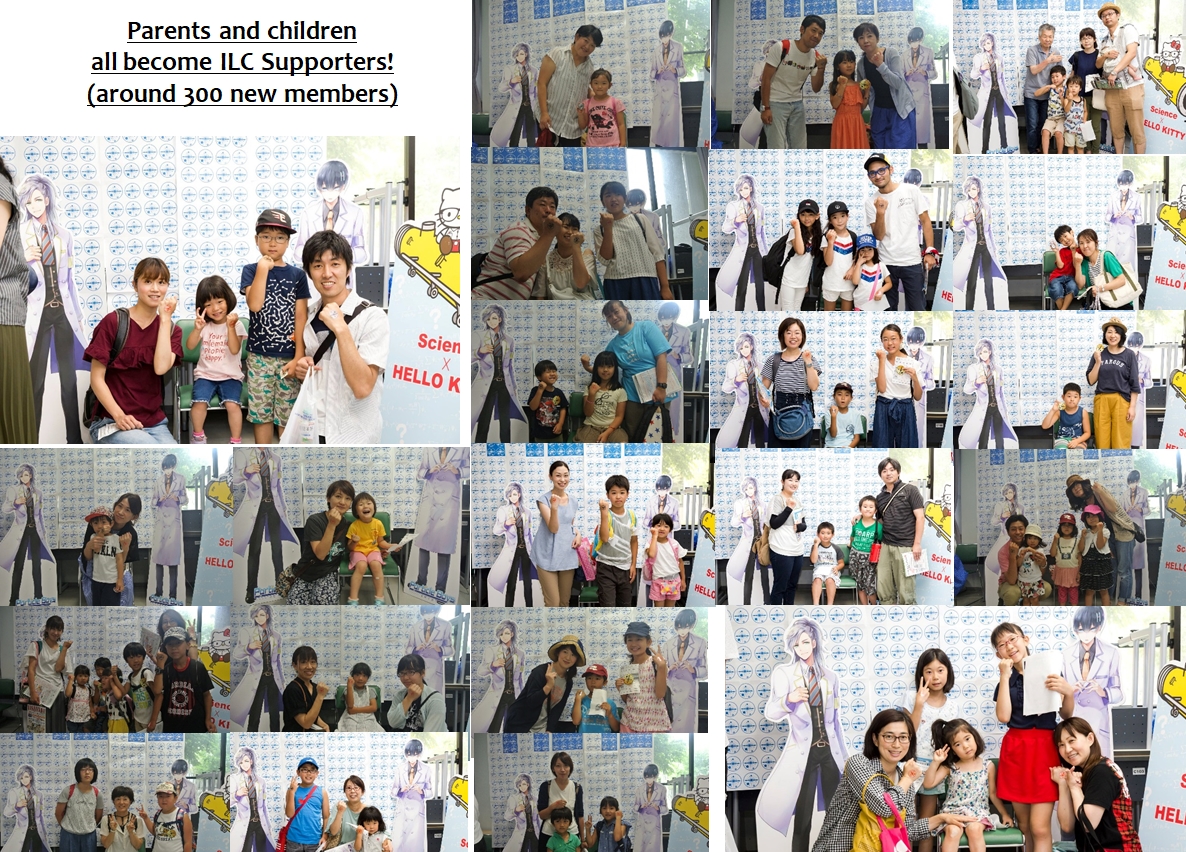 We will continue to spread the word about the ILC to the people of Japan to help the project become a reality.
Japanese
宇宙の謎とILCを子供に楽しく理解してもらう、ILC夏祭り
 ~学都 仙台・宮城サイエンスデイ2018から~

ILCって知ってる?ILCの建設候補地・岩手県の子どもたちにこの質問をぶつけると、「もちろん知っているよ!」という答えが返ってきます。テレビやラジオ、学校の学習で、彼らはILCをとてもよく理解しているのです。

一方で、隣の宮城県の子どもたちは、残念ながら、ILCのことをよく知りません。東北ILC推進協議会は、東北大学を会場に行われる小学生向けの科学イベント「仙台・宮城サイエンスデイ」で、ILC夏祭りを行い、宮城県の子どもたちに、楽しくILCを理解してもらうよう努めています。

【仙台・宮城サイエンスデイとは?】
理工系などの研究で世界をリードする東北大学を会場に、科学のプロセスを五感で感じてもらうイベント。今年は7月15日(日)に行われ、科学好きの親子約10,000人が来場しました。電気自動車の試乗や、見えないものを見る光とは?(宮城県に放射光施設の建設が決定しました)など、実際に子供に科学を体験してもらうイベントです。
参考URL:http://www.science-day.com/

【ILC夏祭り】
日本では、全国各地の神社やお寺で「夏祭り」が行なわれます。夏祭りは、子供たちにとってワクワクするイベントです。
今回、東北ILC推進協議会は、ボールすくいやわなげ、紙芝居といった夏祭りのイベントで、ILCや宇宙の謎を楽しく勉強してもらいました。会場には、科学好きの親子連れ約1,500名が来てくれました。

【素粒子の仲間を学ぶ「ILCわなげ」】
わなげとは、離れた所に立てた的に輪を投げて、輪を的にかける遊び。今回は、ヒッグスやトップクォークなどの素粒子を的にして、子供たちにわなげをしてもらい、17種類の素粒子があることを学んでもらいました。

【宇宙の5%しか分かっていないことを「ILCボールすくい」で学ぶ】
ボールプールの中には、真っ黒なボールが95個。カラーボールが5個。子供たちに、宇宙のことは5%しか分かっておらず、後の95%は暗黒物質や暗黒エネルギーだということを説明すると、みんなビックリしていました。説明を聞いたら、30秒でボールを5個拾い上げる、ボールすくいをスタート!楽しく宇宙の謎を学んでくれました。

【ILCクイズでおさらい】
宇宙で一番小さい粒は?ビッグバンを作りだせる機械の名前は?人間は宇宙のことをどれくらい分かってる?などなど。今回の夏祭りで学んだことを、クイズでおさらいするILCクイズ。子供たちは熱心にクイズに取り組んでくれました。

【クリアしたらILCメダルをGET!】
わなげやボールすくい、クイズをクリアしたら、ILCサポーターズメダルを贈呈。2020東京オリンピック・パラリンピックも近いので、今回は、成績順に、金メダル、銀メダル、銅メダルを用意。沢山準備しましたが、金メダルが最も早くなくなってしまいました。
それだけたくさんの子どもたちが、熱心に取り組んでくれた証拠です。

【300人がILCサポーターズに!】
今回のイベントを通じて、約300名の親子がILC誘致の趣旨に賛同し、ILCサポーターズになってくれました。
私たちは、ILC誘致実現に向けて、これからも国民的な理解促進に取り組んでいきます。