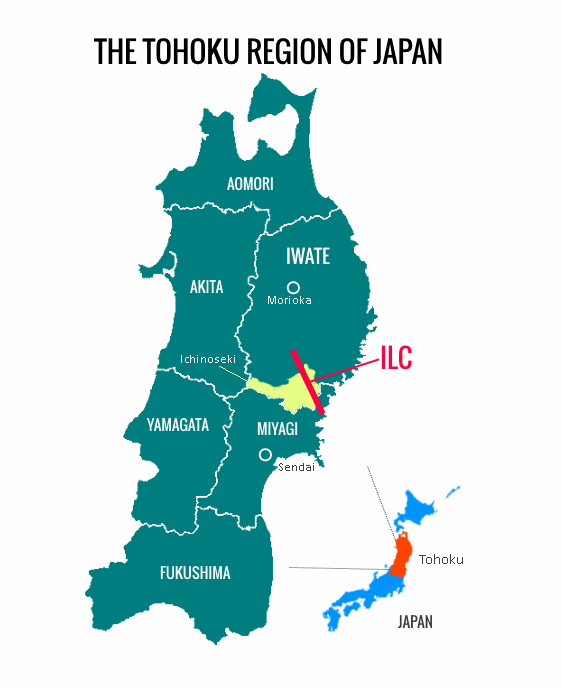 The International Large Detector, or ILD, is one of the detectors that will be used at the ILC. A meeting of ILD researchers was held in in southern Iwate in February 2018 – this time in Ichinoseki City! Around 60 physicists and engineers from around the world gathered to present and discuss the latest developments in their project, right in a city where they may actually be living in a decade's time. It was a great opportunity for us in Iwate to once again meet our friends from abroad, and show off our Iwate hospitality.
We've translated a number of articles in the local papers about the event – check it out along with lots and lots of pictures!
Newspaper translations also contributed by Anna Thomas (Oshu City ILC Promotion Division), and pictures from Kazunori Oikawa (Ichinoseki City Promotion Division).
ILD Meeting 2018 in Ichinoseki, IWATE
February 20th kicked off a three-day international conference for the ILD (the detector to be used in the ILC particle collider) in Ichinoseki. …At this year's conference, there were 63 participants from 7 countries (Japan, USA, and European countries). The opening remarks were open to the media, where team leader Ties Behnke of DESY said, "This conference will be important to our ongoing preparations to get the ILC in the next 5-year European particle physics plan."

According to Associate Professor Tomoyuki Sanuki of Tohoku University, the first day will see presentations on the technology behind the major parts of the detector device. In the following days, participants will deliberate on the efficiency of analysis of the physical reactions that will occur in ILC experiments, and Prof. Atsuto Suzuki will give a presentation on the preparations in Tohoku to host the project.
Read more at "ILD meeting held in Ichinoseki – discussing technical issues going forward" from Iwate Nippo
―The Japanese government is currently debating whether or not to host the project.

"The ILC is such a huge project that one single country cannot do it on its own. We need international support. If Japan will take the lead and say that they will build the ILC, then the other countries will support them. But the project will not move forward if they do not take that step. I hope for them to voice their intentions this year."

―If they don't make a decision this year, will it be more difficult to gain international support?

"Europe will being to make its next 5-year strategy for particle physics, and the USA will follow after that. If Japan does not indicate its position then it will be much more difficult to put the ILC in those plans, and to get international support. It's important to decide quickly."
Read more at "An interview with Ties Behnke, leader of the ILD team" from Iwate Nippo.
Dr. Atsuto Suzuki gives a speech on the latest ILC developments in Japan
Dr. Suzuki explained that the Tohoku ILC Preparation Office, which was formed in June 2016, is preparing for the ILC with two special groups-one in charge of the underground facility, and another forming a master plan-as well as four groups working on public relations, the local area, technology and industry. The office was formed to consider economic effects of the ILC, public relations on the ILC within and without Japan, surveys including seismic surveys, town planning and zoning and then petition the Japanese national government to realize the ILC.

He also indicated that progress is being made on a "Green ILC" that is environmentally friendly to the surrounding area through efforts such as utilizing waste heat, and that considerations are being made for a one-stop total service for international researchers.

Making an allusion to the famous Miyazawa Kenji story "Night on the Galactic Railroad" Dr. Suzuki stated "At the Kitakami site we will take the ILC for a journey to explore the beginning of the universe."
From "Preparation for ILC Making Progress: Iwate Pref. University President Suzuki Presents at ILD Meeting" from Iwate Nichinichi.
What's next for the ILD and ILC
"The ILC will be built and run through international cooperation. If the ILC is not included in top-level plans like the European strategy, there is a possibility the ILC project will stall because a framework for international cooperation could not be built.

Benke stated that reports on the ILC showing its scientific importance and other aspects need to be submitted for the next European strategy by December 18th, emphasizing that "We also need to thoroughly detail costs." He expressed hope that the Japanese national government will give a clear statement on the ILC."
From "Getting the ILC into European Plan: Deadline for Inclusion is December 18" from Tanko Nichinichi.
Local support for the ILD Meeting
The Ichinoseki City Tourism Association
The Ichinoseki City Tourism Association has been entrusted with registration for the international researchers coming to Ichinoseki for the 2018 ILD Meeting, an international meeting related to the International Linear Collider. This is the first time the association has been involved with an international conference. The association has a display table at the meeting featuring local tourist attractions, and will continue to provide tourism-related support for the ILC in the future.

…More international conferences are expected to be held in the future and the Ichinoseki City Tourism Association plans to be flexible and help in whatever way it can. Executive Director Sugawara commented that "In the future we'll do all we can for other international conferences. We want people from overseas to know how wonderful Ichinoseki and Hiraizumi are, and go home satisfied and pleased because we did all we could to support them."
Read more at "Support for Int'l Meeting by Ichinoseki City Tourism Association: Registration and Local Information" from Iwate Nichinichi
Hanamaki Agricultural High School
Cookies and apples for ILD, made by Hanamaki Agricultural High School
Once students at Hanamaki Agricultural High School heard about [the ILD meeting], they knew they wanted to make some sort of gift for the visiting researchers. And what goes best with the ubiquitous coffee breaks during international conferences? Cookies, of course. And not just any cookie – ILC cookies!
Read more at "Students at ILC Promotion Model Schools hope for the ILC" from THE KITAKAMI TIMES
Welcome reception in Ichinoseki
The welcome reception for ILD Meeting 2018 was held on the night of February 20th at Sekinoichi restaurant in Tamura-cho, Ichinoseki. Performances at the reception included an English play performed by local children which got a pleased reaction from researchers and other guests…The end of the play was set in Ichinoseki in 2030. It depicted a more international and technologically advanced future with a completed International Linear Collider. The researchers who are working to realize the ILC gave the play a big round of applause.
Read more at "A Future Internationalized Ichinoseki: Children's English Play" from Iwate Nichinichi.
The ILD Meeting 2018 Banquet
At the banquet held on the 21st, dishes featuring ingredients provided by Oshu City, Ichinoseki City, Ofunato City and Kesennuma City in Miyagi Prefecture were provided to attendees. Oshu City provided Maesawa beef. There was also a performance of a local folk dance.
At the banquet held on the 21st, dishes featuring ingredients provided by Oshu City, Ichinoseki City, Ofunato City and Kesennuma City in Miyagi Prefecture were provided to attendees. Oshu City provided Maesawa beef. There was also a performance of a local folk dance.
Japanese
ILDミーティング2018@一関市
世界中から約60名の科学者が一関市に集まり、測定器の研究を発表

和山アマンダ

2018年2月に岩手県一関市において、約60名の研究者や技術者を迎え、ILD(インターナショナル・ラージ・ディテクター(ILCに使われる大型測定器))をテーマにした国際会議が開催されました。彼らは、実際にILC建設候補地に足を運んできて、研究の成果を発表し、議論することにより、有意義な会議となりました。そして、私たちに岩手県関係者にとっては、再び海外の友達に会い、岩手ならではのおもてなしを披露する絶好のチャンスとなりました。

地元新聞紙の記事(英訳)と写真をたくさん用意しましたので、どうぞご覧ください。

新聞記事の英訳は、アンナ・トマスさん(奥州市ILC推進室)も協力。写真提供は、及川和宣さん(一関市ILC推進室)。

【ILDミーティング@岩手県一関市】

【写真:開会式】

"国際リニアコライダー(ILC)計画で用いる加速器「ILD」研究チームの国際会議は20日、一関市大手町の一関文化センターで、3日間の日程で始まった。…日米欧7か国の63人が参加。開会行事のみ公開され、チーム代表者のドイツ電子シンクロトロン(DESY)のティーズ・ベンケ教授は「欧州の時期素粒子物理戦略(5か年計画)にILCが位置付けられるように準備する重要な会議となる」と述べた。

参加した東北大学大学院の佐貫智行准教授によると、初日は測定器の主要部分の技術などをテーマに研究発表が行われた。今後はILC実験で生じる物理現象の解析性能などを協議するほか、鈴木厚人県立大学長が講演で東北の受入態勢を説明する。"

岩手日報平成30年2月21日付『 一関で国際会議 技術面の課題協議 』より

【写真:ILD代表者ティース・ベンケ氏】

"―日本の政府はILCの国内誘致の是非を検討している。
「ILCは大きなプロジェクトで、一つの国だけでは実現できず、国際協力が不可欠だ。日本がリーダーシップをとって『ILCをつくる』と決意を表明すれば、他国は支援する。その段階を踏まないと計画は進まない。今年の誘致表明を期待している」

―逆に言えば、今年表明しなければ国際協力を得るのは難しくなるのか。
「欧州の時期素粒子物理5か年戦略は今年からつくりはじめ、その後に米国も同様の計画をつくる。日本の意思表明がなければ各計画にILCを位置付けることも、協力を得るのも難しくなる。早期決定が重要だ。」"

岩手日報平成30年2月22日付『 建設候補地実感に意義 代表者ベンケ氏に聞く』より

【日本でILC計画の現状や受け入れ態勢について、鈴木厚人学長が説明】

【写真:鈴木学長のスピーチ】

"鈴木学長は2016年6月に発足した東北ILC準備室で地下施設とマスタープランの2専門部会と広報、地域、技術、産業の4部門で受け入れに向けた作業を進めていることを紹介。経済波及効果や国内外への情報発信、地質など各調査、まちづくり・ゾーニングを検討したうえで、建設実現に向けて日本政府に要望するとした。

さらに、建設にあたっては環境に配慮した「グリーンILC」として排熱利用などを進めることや、外国人研究者のためにワンストップ・トータルサービスの検討に入ったことを示した。

宮沢賢治の「銀河鉄道の夜」になぞらえ、「北上サイトでのILCを宇宙の誕生を探る旅にする」と訴えた。"

岩手日日新聞平成30年2月22日付『受け入れ準備着々 鈴木学長(県立大)が説明』より

【ILDとILCのこれから】

【写真:メッセージボード、メッセージを書く参加者、コーヒーブレイク】

"ILCは国際協力体制の下に建設、運営される施設。ヨーロッパの次期素粒子物理学計画のような国レベルの上層計画にILCが組み込まれなければ、国際協力体制の構築ができなくなり、計画が頓挫する可能性も出てくる。

ベンケ教授は、科学的意義などをまとめた諸資料を、12月18日までに提示する必要があるとし「コスト関係もしっかり調べ確認する必要がある」と強調。日本政府に対しても、ILC計画に対する明確な方針が示されることを期待した。"

胆江日日新聞ILCニュース平成30年2月21日付
『欧州計画にILCを 登載期限は12月18日』より

【地元もILDミーティングを応援】

・一関市観光協会

【写真:資料、一関市観光協会、レジストレーション】

"次世代の大型加速器「国際リニアコライダー(ILC)」に関連する国際会議「ILDミーティング2018」では、一関市観光協会が欧米各国から訪れた研究者らの受け付け業務を請け負った。同協会が国際会議に携わるのは今回が初めてで、会場に地元の観光PRコーナーも開設しており、今後もILCの実現に向けて側面から支えていく。

…今後も国際会議の開催などが見込まれるが、同協会では柔軟に対応していく方針で、菅原清忠事務局長は「今後も国際会議があれば一生懸命手伝いたい。海外の人たちに一関、平泉の魅力を知ってもらい、私たちが全力でサポートすることで喜んで帰ってもらいたい」と語っている。"

岩手日日新聞平成30年2月付
『国際会議を側面支援 市観光協会 受け付け、案内窓口に』より

・花巻農業高校→ILCクッキーやリンゴ

【写真:花巻農業高校が提供したクッキーとリンゴ】

"岩手県立花巻農業高校の生徒達がILDミーティングに向けて、研究者へのプレゼントを考え、「コーヒーブレイク」(打ち合わせの合間にコーヒーを飲みながら軽く交流する時間)の際に、"ILC"の文字が刻まれたILCクッキーを提供し、研究者たちを喜ばせた。"

THE KITAKAMI TIMES 『ILC推進モデル校の高校生が誘致実現を応援』より

・地元がレセプションで歓迎

【写真:地元の子供が演じる英語劇、喜んでいる研究者、集合写真、ILCはっぴを披露する勝部一関市長、地元料理がずらりと並んでいる、もちつき体験】

"ILDミーティング2018の歓迎レセプションは20日夜、一関市田村町の蔵元レストランせきのいちで開かれた。児童生徒による英語劇などが披露され、研究者らを喜ばせた。…英語劇の最後には国際リニアコライダー(ILC)の誘致が実現した2030年代の一関が舞台となり、国際化、科学技術の進歩が現実となった未来が描かれ、ILCの実現を目指す研究者らから盛んに拍手が送られた。"

岩手日日新聞平成30年2月22日付『 国際化進む未来の一関 児童生徒が英語劇』より

・地元を味わえるバンケット

【写真:伝統芸能の披露、ヒッグス君と一緒に写真、地域の特産品を研究者に食べてもらう、大船渡市のほたて、一関市の日本酒、日本酒を味わう研究者、奥州市の前沢牛、気仙沼市のカキ】

21日に開催されたバンケットでは、地元の伝統芸能が披露されたほか、奥州、一関、大船渡、宮城・気仙沼の4市から地域の特産品が提供され、名物食材の料理が振る舞われた。