(Written by Morioka City, translated by Amanda Wayama)
The winds have begun to cool in Morioka, the largest city in Iwate Prefecture, and all through the town, you'll start to hear the gentle chirp of flutes and the banging of drums.
Throughout all the various neighborhoods of Morioka, practice has begun for our annual Morioka Autumn Festival, a tradition passed down over 300 years of history.
The festival was started in the Edo Period (1603-1868) to celebrate Morioka becoming a city. Young people developed clever symbols called "chō-jirushi(丁印)" to represent their various neighborhoods. They then carried them on floats throughout the town surrounding the samurai castle which existed at the time. This is said to have been the start of the tradition.
This year the parade will be from September 14th (Sat) to September 16th (Mon, a national holiday). Once again, massive floats that represent famous scenes of history will be pulled by teams throughout the city, passing by buildings and houses while playing the flute and drums.
On the afternoon of September 14th, a parade of all the floats will be held on the street leading up to Morioka Hachimangu Shrine. This event is called "Hachimangū Kudari(八幡宮下り)." On the evening of September 15th, the floats will be brilliantly lit up and paraded down Odori Street, Morioka's busiest street. This parade is called the "Ōdōri Ōemaki Parade(大通大絵巻パレード)."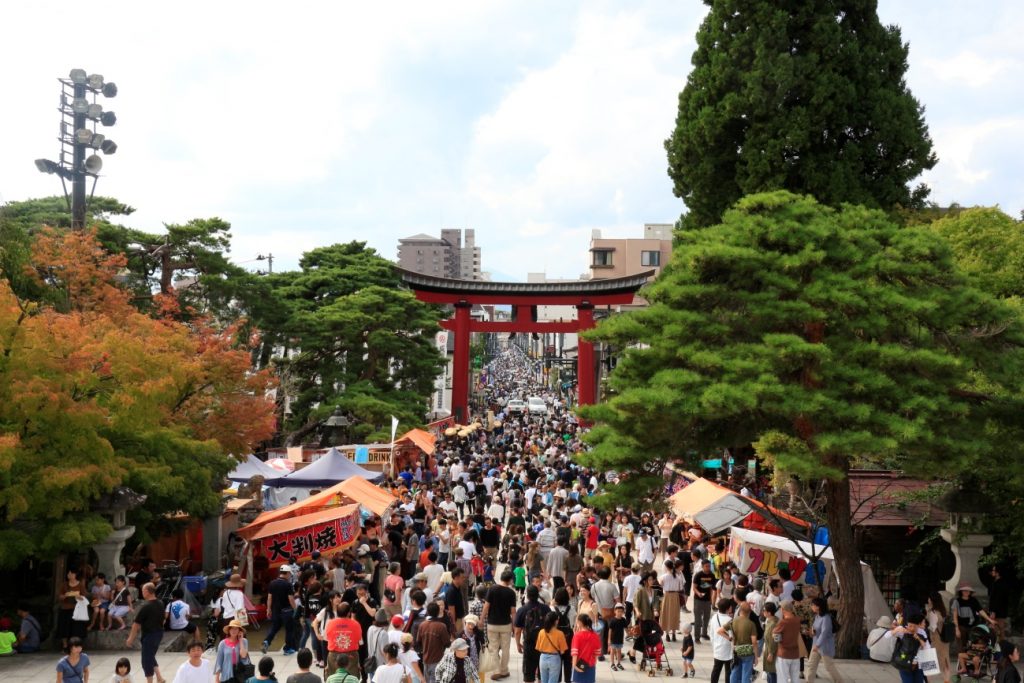 At Hachimangu, there will be tons of street stalls set up and lots people enjoying the fall harvest. On September 16th, an event called Yabusame will be held at the shrine – this is Japanese-style horseback archery. People wearing samurai clothing ride on horses running at full speed, flying by in a cloud of dirt as they aim their arrows at their targets. This event has been run exactly the way it was 300 years ago.
Morioka's Autumn Festival. You too will able to experience a page of Morioka's history at this magnificent event.
How to get to Morioka Hachimangu Shrine
From Morioka Station, go to the bus terminal outside the east exit.
Take the "Chabatake-yuki (茶畑行き)" bus leaving from bus stop #5. (If in doubt, ask for Hachimangu!)
Get off at the Hachimangu-mae stop.
Japanese
[笛の音に秋の訪れを知る。盛岡]
 
【写真】
(MORIOKA city promotion photo book-autumn,winter-より)

涼しい風が吹き始めると,岩手県最大の都市盛岡の街のあちこちで,笛や太鼓の音色が穏やかに響き始めます。
300年の歴史を積み重ねて今に受け継がれる「盛岡秋まつり」の練習が,今年もそれぞれの地域で始まりました。
盛岡秋まつりは,江戸時代,盛岡の市街地が整備されたことを祝い,地域の若者たちが地域それぞれで趣向を凝らした丁印(ちょうじるし)*を担ぎ,城下町をパレードしたことが始まりと伝えられています。*丁印は,地区のシンボルとなる輿
今年も,9月14日から16日にかけて,古典の名場面を再現した巨大な山車が,笛や太鼓の音色を響かせながら,街の人々に引かれてビルや家々の間を練り歩きます。

【写真】
(MORIOKA city promotion photo book-autumn,winter-より)

9月14日の昼には,山車が盛岡八幡宮前の参道を一斉にパレードする「八幡下り(はちまんくだり)」が行われます。また,9月15日の夜には,煌びやかに灯りを点した山車が盛岡一の繁華街「大通(おおどおり)」をパレードする「大通大絵巻パレード」が行われます。

【写真】

たくさんの屋台が出て,秋の実りを喜ぶ人々で賑わう八幡宮では,9月16日に,馬に乗りながら弓で的を射る"流鏑馬"が行われます。土煙をあげて全速力で走る馬に乗り,過ぎ去る的を一瞬で射るサムライの姿は300年前のままです。

【写真】

自分が歴史の1ページであることを感じられる「盛岡秋まつり」に,ぜひおいでください。