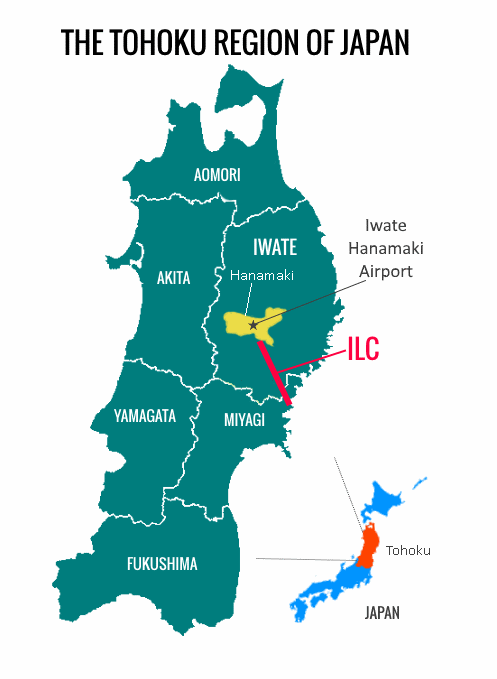 Since this article was written, Iwate Hanamaki Airport has welcomed the addition of two regularly scheduled flights abroad – You can now use Hanamaki to travel to Taiwan or Shanghai!
I've been asked a few questions from visiting researchers about Iwate Hanamaki Airport, so here's a quick tour. Iwate Hanamaki Airport, the only airport in Iwate, is an important gateway to the prefecture.
Iwate Hanamaki Airport is about one hour away by car from both Ichinoseki and Oshu cities in the ILC candidate site. Should the ILC be realized, this airport will be an important gateway to Iwate for researchers.
While there are no current connections to Europe or airports in Tokyo, there are international charter flights to Taiwan, meaning you could travel to Taiwan first from Europe or the USA, and transfer to a Hanamaki flight. Iwate Hanamaki Airport welcomes an increasing number of international tourists each year. Let's take a look around!
This airport currently offers regular domestic flights to Sapporo, Nagoya, Osaka and Fukuoka, as well as international charter flights to mainly Taiwan. Inbound international charter flights to Iwate Hanamaki Airport began in 2000 ; in the past, there have been flights from (and to) Hawaii, Vietnam, Thailand, Hong Kong, Korea, and of course Taiwan. More and more international flights come through Iwate Hanamaki Airport every year. Last year (2017) was a new record, with 165 international flights serving almost 20,000 passengers.
I personally have used Iwate Hanamaki Airport twice, both on trips to Sapporo, and would jump at the chance to use it again because it's so close to where I live in Oshu, because spending time in this airport has always been very pleasant and relaxing, and because of the amazing parking. The neighboring parking lot there can accommodate 1150 cars and is free to use!
Iwate Hanamaki Airport is working to become more and more convenient for international flights. For example, the airport offers free Wi-Fi and opened a tax-free shop on its premises. In 2016, the airport built a counter and check-in lobby for international flights and expanded its international waiting area, immigration area, and baggage claim for international passengers. Airport liners (affordable shared taxis) connect the airport to destinations such as World Heritage Site Hiraizumi, and charter flight tourists from Taiwan are also being provided with 500 yen set price taxi rides to the nearest local train station (Hanamaki Station) and bullet train station(Shin-Hanamaki Station).
Thirty minutes by car from the airport is Hanamaki Hot Springs, one of the best hot springs villages in the Tohoku region. Also close by is the Edelwein winery, makers of popular Iwate wines that have won the gold in domestic and international wine competitions. A wide array of Iwate food and nature is awaiting you once you arrive at the airport.
Learn more about Hanamaki on their tourism portal website:
http://www.kanko-hanamaki.ne.jp/en/
This airport is a lovely gateway to Iwate prefecture from within the country and increasingly from overseas. We in Oshu place great importance on Iwate Hanamaki Airport and hope it will bring even more international tourists to Iwate and someday help provide the most convenient access for researchers when the ILC is built.
Japanese
岩手への玄関口:いわて花巻空港

トマス・アンナ

「いわて花巻空港」について、岩手県を訪問する研究者に何度か聞かれたことがありますので、ここでちょっとした「ツアー」にご招待します。いわて花巻空港は、岩手県花巻市に位置する岩手県唯一の空港です。

ILCの建設候補地である一関市や奥州市からは、車で1時間以内の場所に位置しており、ILCが実現した際には、ILCの研究所を訪れる人にとって本県への重要な玄関口になると思われます。

現在、ヨーロッパや東京との定期便はありませんが、花巻空港から台湾まで国際チャーター便が運航しており、台湾を経由することによって、ヨーロッパやアメリカにも乗り継いでいくことが可能です。近年、いわて花巻空港に降り立つ外国人旅行客はどんどん増えています。では、さっそく空港を見てみましょう!

本空港は現在、花巻と札幌、名古屋、大阪、福岡を結ぶ国内定期便と、主に花巻と台湾を結ぶチャーター便が運行しています。インバウンド国際チャーター便は、平成12年度に始まりました。今までハワイ、ベトナム、タイ、香港、韓国、台湾の各地と花巻との間で運行されました。去年(平成29年)の国際チャーター便の数は、過去最高の165便に上り、2万人近くの旅行者が利用しました。

私も二回ほどいわて花巻空港を利用したことがあり(どちらも札幌へ)、ぜひともまた使いたいと思っています。私が住む奥州市に近く、空港内の滞在時間が非常に快適でリラックスできるほかに、駐車場もすごいです。空港に隣接している駐車場は1,150台もの車が収容できて、利用料はなんと無料です!

いわて花巻空港では、国際定期路線の実現に向けて着々と準備を進めています。例えば、フリーWi-Fi環境や消費税免税店の整備、そして2016年には新たな国際線航空会社専用カウンターとチェックインロビーを設置するとともに、国際待合室・入国審査場・国際線手荷物受取所を拡張しました。

また、空港から観光地や鉄道へのアクセスも向上しました。空港発エアポートライナー(格安乗り合いタクシー)が世界遺産平泉などへ接続しているほか、台湾からの旅行者向けに、空港最寄の在来線駅(花巻駅)や新幹線駅(新花巻駅)まで500円定額タクシーの運行も実施されています。

また、花巻空港から車で30分以内には、東北屈指の温泉地である「花巻温泉郷」や、国内外のワインコンクールにおいて金賞を受賞するなど、高い評価を頂いている岩手のワイナリー「エーデルワイン」なども立地しており、岩手の食・自然を満喫して頂ける環境が広がっています。

詳しくはこちらのサイトをご覧ください。
http://www.kanko-hanamaki.ne.jp/en/

いわて花巻空港は、国内はもちろん、世界に向けた岩手の玄関口で、奥州市に住む私たちにとっても、とても重要に感じます。いわて花巻空港が、より多くの外国人観光客を岩手県に呼び込むことを、また、国際リニアコライダー実現後には研究者にとって最も便利なアクセス方法になることを期待しています。