For this issue of THE KITAKAMI TIMES, we had two college students come to the Iwate Prefectural Government for a day as interns at the ILC Promotion Bureau, and had them write up their tips and recommendations for those visiting Iwate. We've split this up into two parts, with this second part being about Iwate's traditions and crafts.
Tono – the land of Japanese mythical creatures
Have you heard of the term "yokai" before?
Yokai are fantastical creatures talked about in Japanese folklore since long ago, and symbolize the unnatural and the unscientific.
In Tono City in central Iwate lies a Kappa Creek where some yokai are said to gather. Kappa are mythical little goblins that live in the water and like to terrorize humans, and this is said to be the start of their myth. Kappa are all green and have a dish like indentation on the top of their heads. Their mouths are like beaks, and they can swim just like a fish, with a shell on their back like a turtle. At Kappa Creek you can try fishing with a cucumber (their favorite food) to see if you can "catch" one of these kappa creatures.
Aside from the kappa, there are other yokai that Tono is famous for, like the Zashiki-warashi (a small ghost child that haunts a Japanese inn) and Oshirasama, which stems from a legend of a horse that fell in love with a lady (!). We hope you enjoy the mythical world of Tono.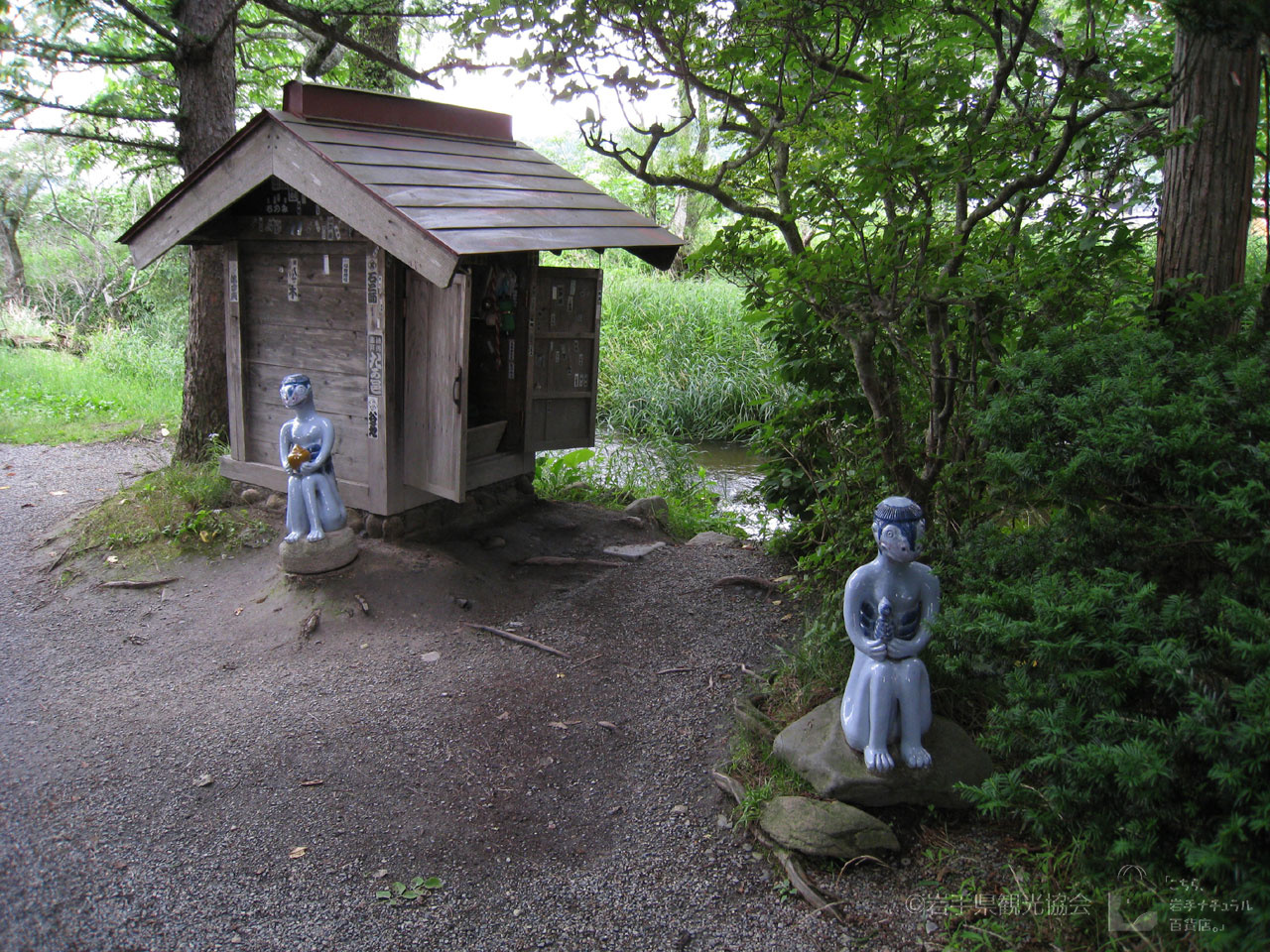 Bring a little bit of fun to your day – Nanbu Cast Ironware –
I'd like to showcase Iwate's traditional craft, Nanbu Cast Ironware.
These cast iron kettles and teapots are popular in both Japan and abroad alike, and there are three main reasons for that popularity.
The first that water brewed in these kettles gains a gentle, rounded flavor as the iron of the kettle filters and grabs on to the chlorine in the tap water. This means your daily cup of tea or coffee will taste that must better if you boil your water in a Nanbu Cast Iron kettle.
The second reason is that using ironware is effective way to prevent and improve anemia. Trace amounts of iron will seep into boiled water or any items cooked in Nanbu ironware. Just by switching your cooking vessels, you'll be able to effortlessly get some extra iron in your diet!
The third reason is that Nanbu ironware easily keep your food/water warm for longer. Once you heat up the iron, it will stay hot for a long time, and the temperature won't be too affected by adding food to the pot, preventing temperature irregularities.
You'll add a bit of class to your daily life just by adding the use of Iwate's beloved ironware to your kitchen. There are many styles available, from the cute to the chic, and it's not just teapots – you'll find frypans, incense holders, and many other products. We hope you'll find a Nanbu Cast Ironware item that tickles your fancy.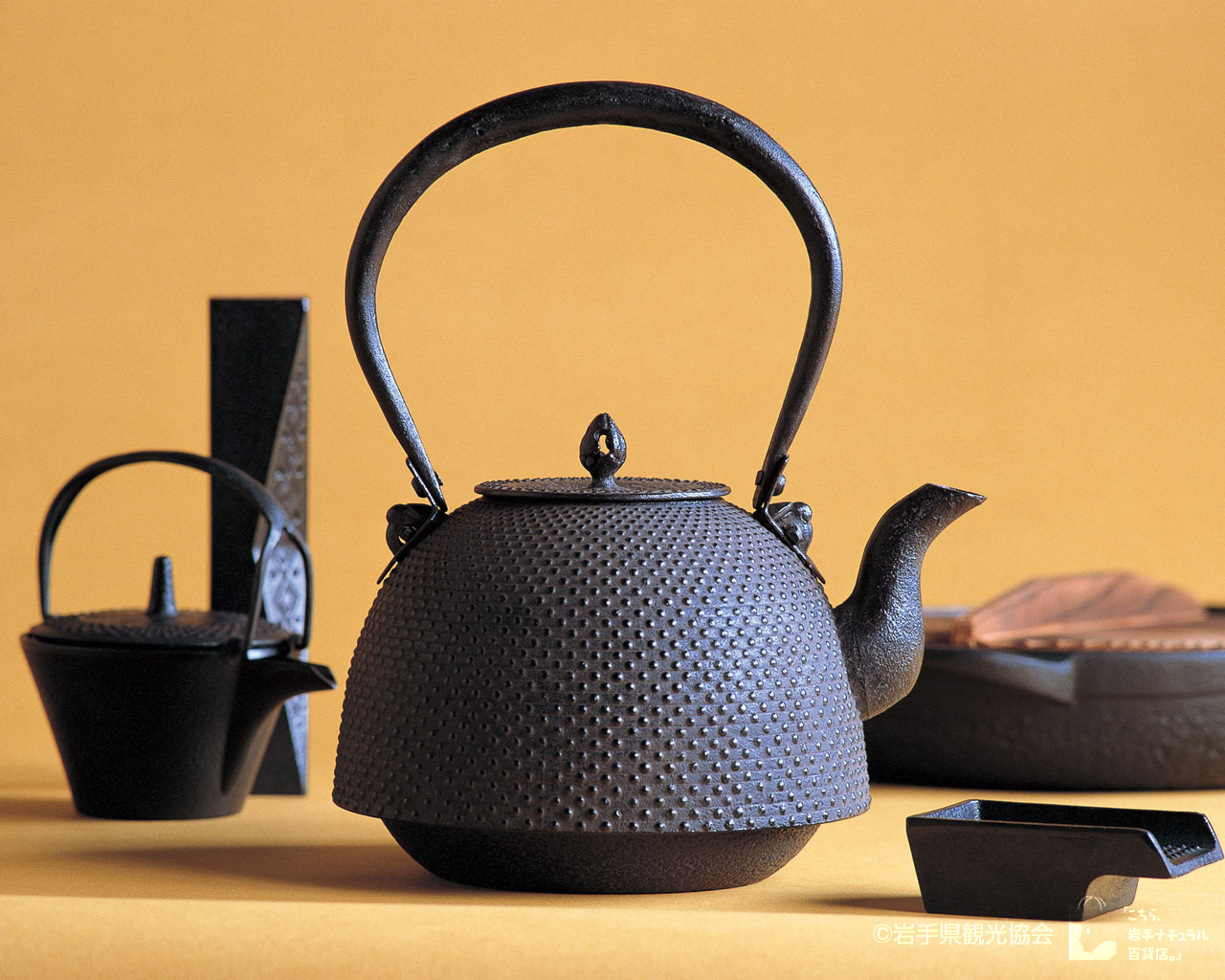 So, there you go. But Iwate is the second largest prefecture in Japan after Hokkaido, so there's so much more available to learn about – tourism spots throughout our vast area that makes the most of our natural resources; fresh seafood, bountiful produce, meat, and other products from the hilly heartlands, and traditional crafts that show off the unique characteristics of each area. We hope you can experience Iwate for yourself one day.
Japanese
いわてのおすすめ②
~伝承、伝統工芸品編~

今回のK-TIMESは、岩手県庁のインターンシップに参加した日本の大学生が、彼らの視点から「いわてのおすすめ」について書いてくれましたので、2回に分けてお届けします。
第二弾は伝承と伝統工芸品についてです。

「妖怪の根付く街、遠野」
 皆さんは妖怪という存在をご存知ですか。
 妖怪とは、日本で古くから言い伝えられてきた霊的存在のことで、非日常・非科学の象徴ともいえます。
 遠野市には、「カッパ淵」と呼ばれる妖怪の名所が存在します。カッパ淵は、「河童」という水の中で生きる妖怪が人々を驚かしたという伝説がある場所です。河童は、全身が緑色で頭の上には皿が乗せてあり、口は鳥のようなくちばし、背中には亀のような甲羅、さらに魚のように泳ぐこともできる妖怪です。カッパ淵では、河童の大好物である"キュウリを餌に河童を釣る"という奇想天外な体験もできます。
 また、河童の他にも「座敷わらし」や「オシラサマ」などの様々な妖怪が住んでいると言われていますので、遠野で不思議な妖怪の世界を楽しんでみてください。
【写真】

「いつもの生活をちょっぴり楽しく ~南部鉄器~」
 岩手県を代表する伝統工芸品である「南部鉄器」についてご紹介します。
国内だけでなく海外でも人気のある南部鉄器ですが、人気の理由は大きく3つあります。
1つ目は、お湯がまろやかで優しい味わいになります。鉄が水のカルキを吸着するため、いつものお茶やコーヒーも南部鉄器で沸かしたお湯で淹れるだけでおいしさがアップします。
2つ目は、貧血予防、改善に効果があります。南部鉄器で調理すると少しずつ鉄分が溶け出し、食材や水分に鉄分が移ることで簡単に鉄分を摂取することができます。
3つ目は、保温性が高くて使いやすいことです。鉄は一度熱すると冷めにくいため、食材を入れても温度が下がりにくく、調理中の温度ムラができにくいです。
岩手が誇る南部鉄器は、普段の生活に取り入れるだけで、ちょっぴり生活が潤う優れものです。かわいいものからオシャレなものまで、たくさんの種類があるのもいいところですので、自分好みの南部鉄器を探してみてください。
【写真】

いかがでしたでしょうか。岩手県は北海道に次ぐ面積を持つ県です。今回ご紹介したもの以外にも、広い県土ならではの自然を活かした観光スポットや新鮮な海産物、山の幸等の食べ物、地域ごとに特色ある伝統工芸品などが沢山ありますので、ぜひ、岩手でその魅力を感じてみてください。