As you know, the ILC candidate site goes through three cities: Oshu City and Ichinoseki City in Iwate, and Kesennuma City in Miyagi. If you live inland, Kesennuma could be one of the places you and your family could go for a nice beach vacation, or you might live and work in Kesennuma.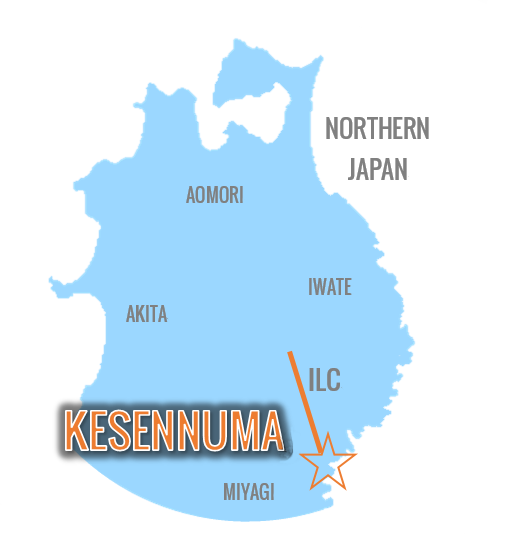 While I usually cover Oshu City, I wanted to share my first trip to Kesennuma with you. Along the way, we'll explore the seafood, chinmi, and local sake that you can enjoy in Tohoku.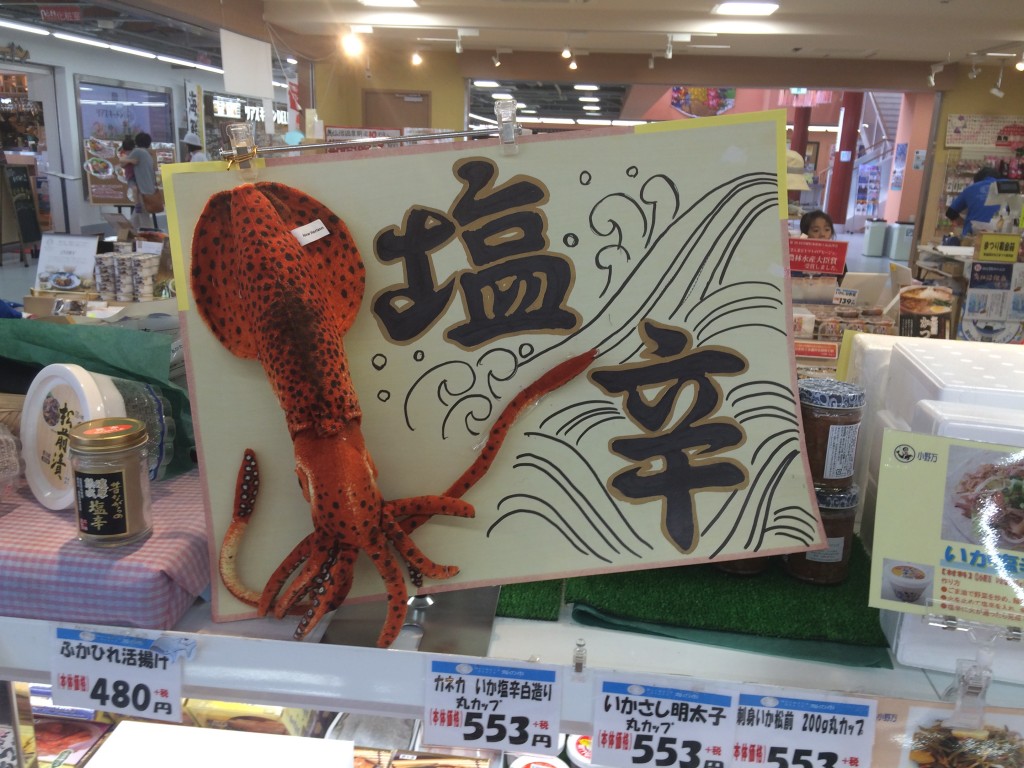 What is chinmi? Ask a dictionary and chinmi  (珍味) seems to come up as "delicacy," but I would define chinmi as food that might seem a little strong and unusual that is usually seafood. It often goes well on top of rice and/or with sake.
"Sometimes it's picked, sometimes it's dried,
Muster up your courage and give it a try."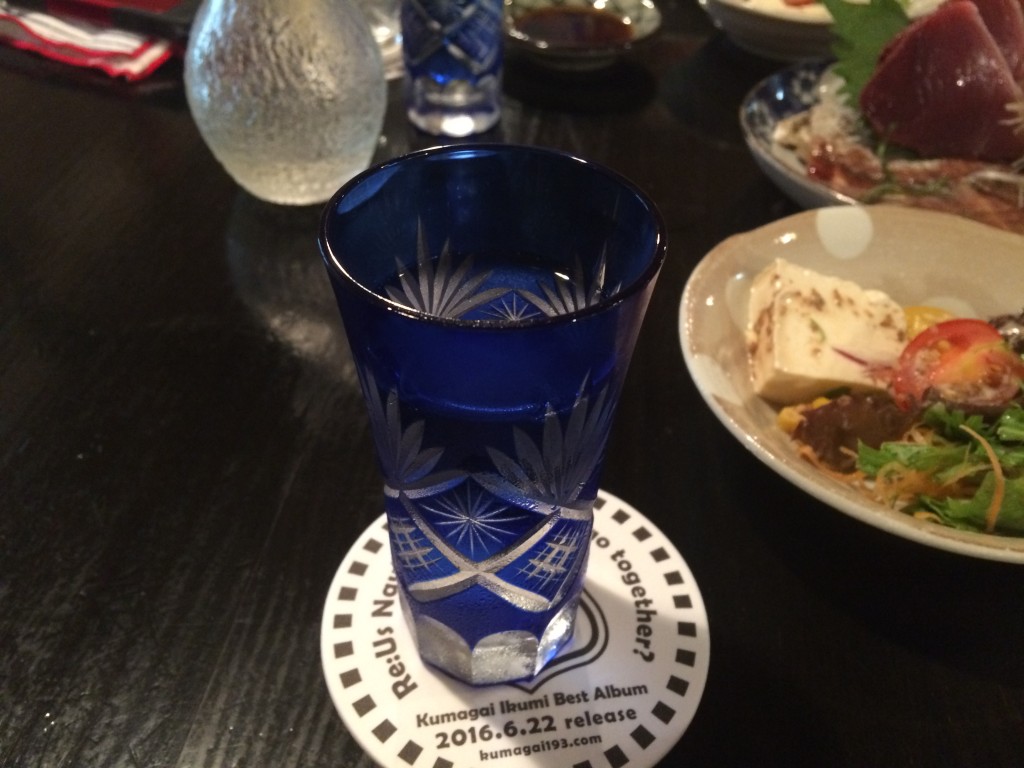 About local sake (jizake): If you like having a drink, I highly recommend having your chinmi with a local sake. There are many sake refineries around (see this map from Rock on Iwate for info on Iwate sakes), and Kesennuma is no exception.
Trip to Kesennuma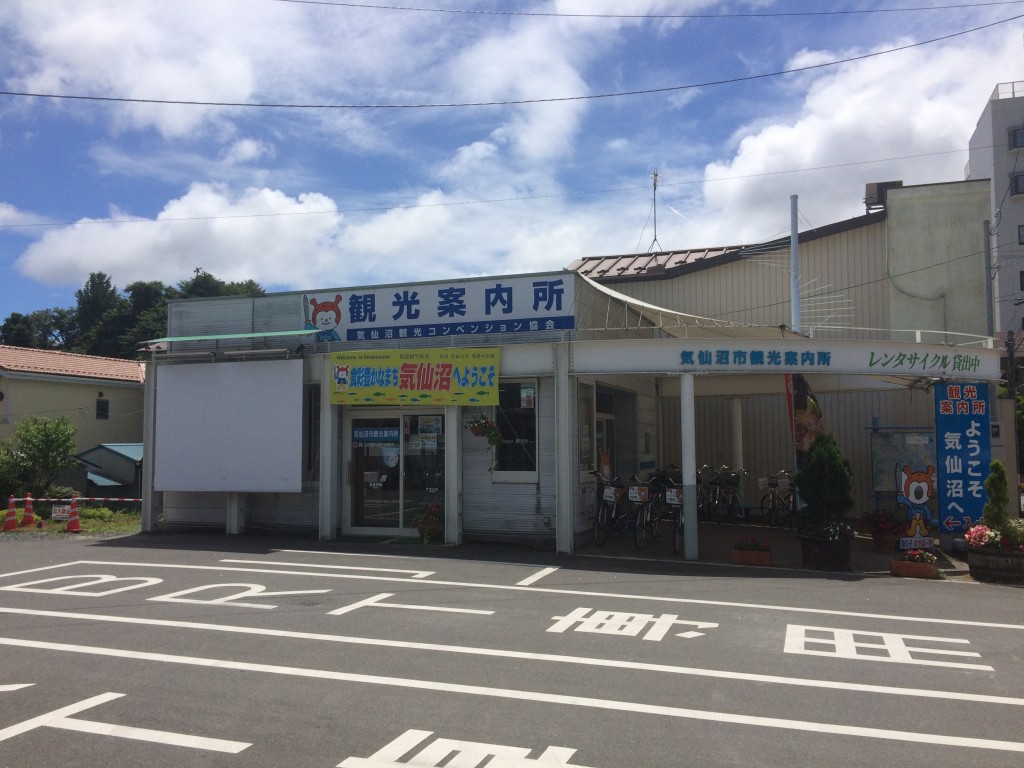 After taking the Ofunato line train from Ichinoseki to Kesennuma (a leisurely hour and 20 minutes), I arrived in Kesennuma station and immediately went to the nearby tourist information center for a rental bicycle. Because Kesennuma has its share of hills, both electric and regular bicycles are available.
It took a short bike ride to drop off my luggage at my oceanside hot springs hotel, and it was time for lunchtime and chinmi stop #1. Lunch was a rice bowl topped with raw skipjack tuna, scallop and salmon roe. This was seafood-y enough but lacking in chinmi factor, so I tried something called mouka no hoshi, which means: raw salmon shark heart. It had a spongy texture and mild flavor, and was served with a tangy sauce.
After a bath in the hot springs, I ventured to the nearby Umi no Ichi¸ the complex which includes restaurants, the shark museum (only one in Japan!), another tourist information center, and shops.  Here the shops served as chinmi stop #2: the first floor has many food samples.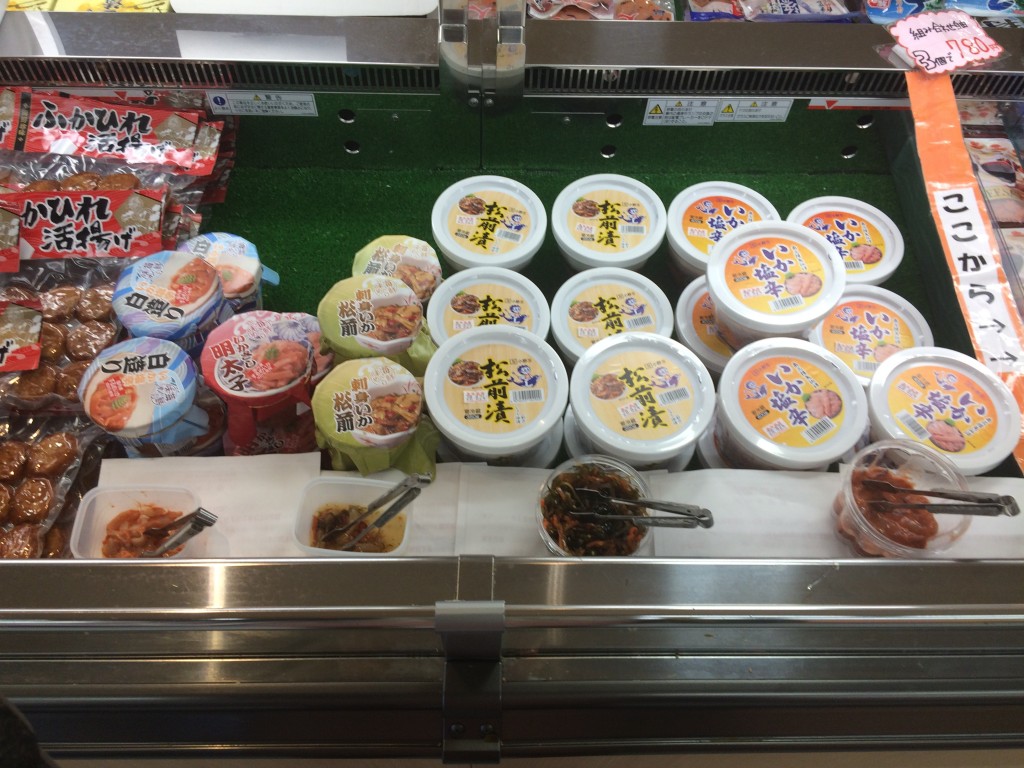 An assortment of shiokara, most of it made from squid. Shiokara is fermented seafood, often made from squid or sea urchin.  Depending on the store, there will be no small plate or napkin for the sample, so you eat the food off your palm and wipe your hand with the nearby wet towel. (Or you could use a tissue or small cup if you prefer.)
There's a wide assortment of tsukudani, which is a sweeter miso preserve of seafood or seaweed.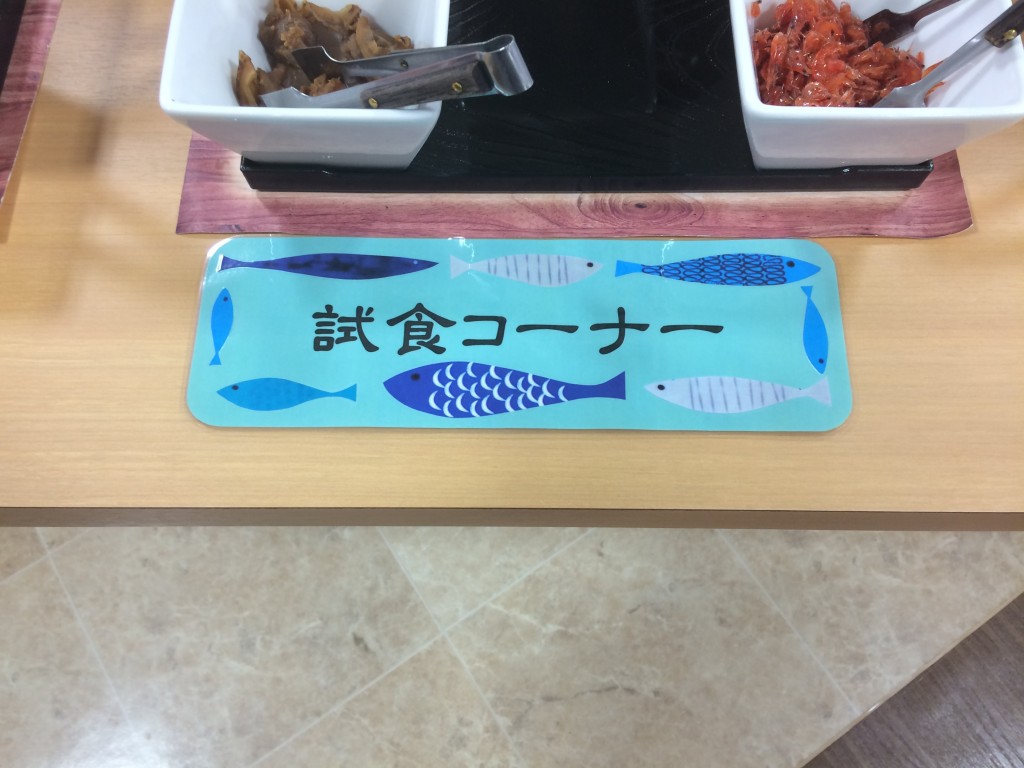 If it looks like a sample, it most likely is a sample, but this is the kanji to watch out for. Shishoku (試食) means a food sample. If you want to try something else but can't find a container, try asking in Japanese: "Shishoku dekimasu ka?" (Shee-shoh-coo deh-key-mah-s kah?)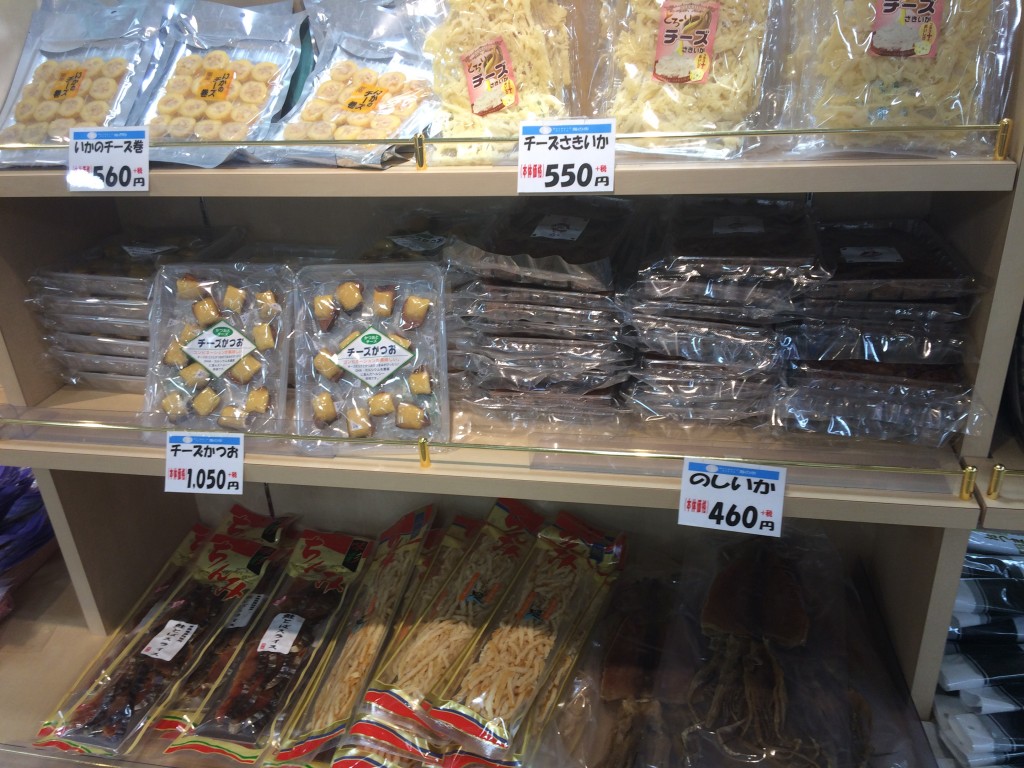 Another lovely family of chinmi are the dried seafood snacks, which go well with a beer (or sake).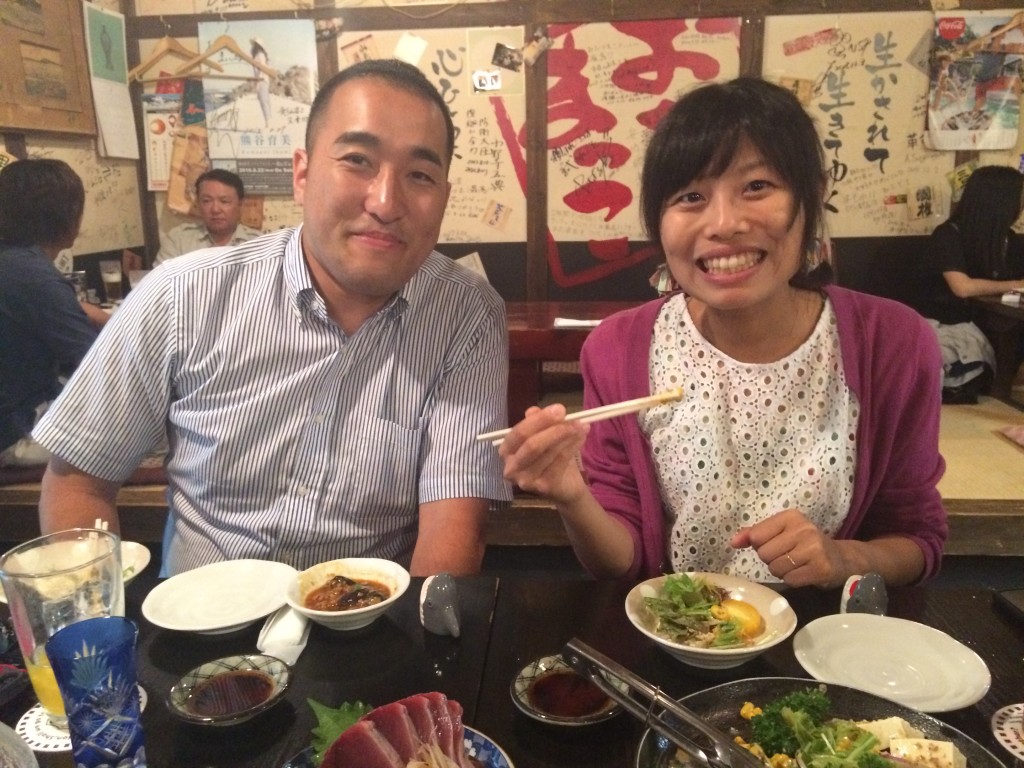 Chinmi stop #3 was going to be dinnertime, and sake was involved, so I returned my rental bicycle at the Umi no Ichi tourist information center (you can rent and return at either location) and went to meet Abe-san from Kesennuma City Reconstruction and Policy Planning Division, which handles  ILC-related business.
There are two main sake distilleries in Kesennuma, so I was obliged to try both.
From Otokoyama, I sampled "Sotenden" and from Kakuboshi, I tried "Mizutoriki Daiisho" and a nice yuzu citrus liquor. They were all delicious.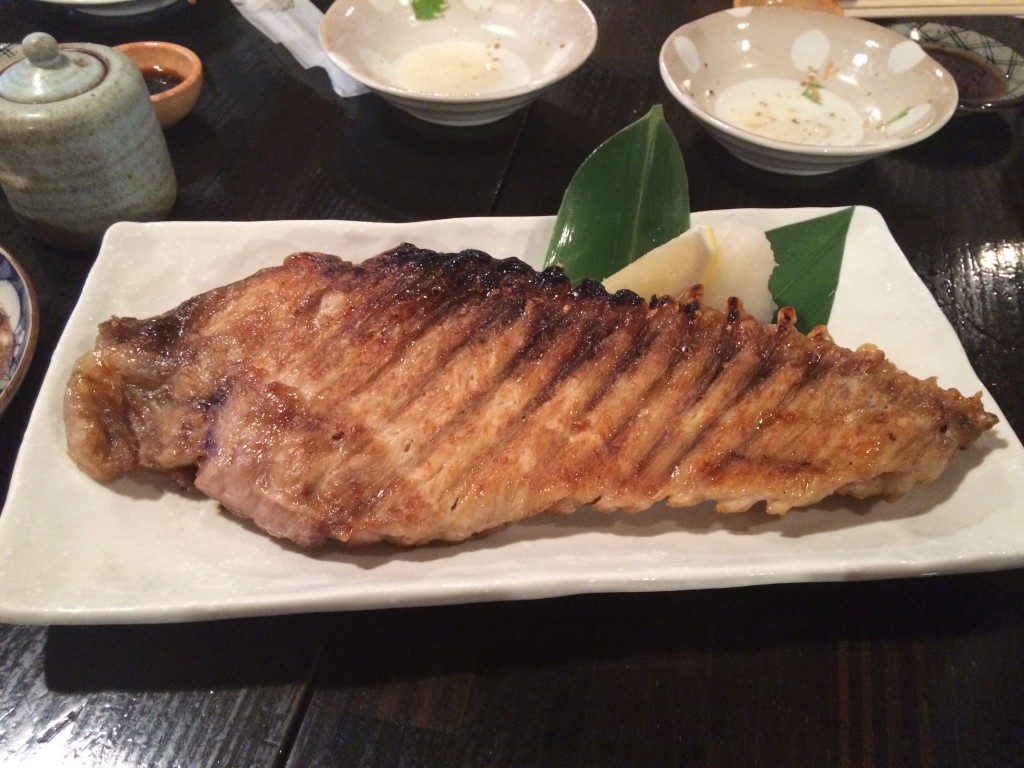 Harmonica: swordfish fin, so named because of its shape.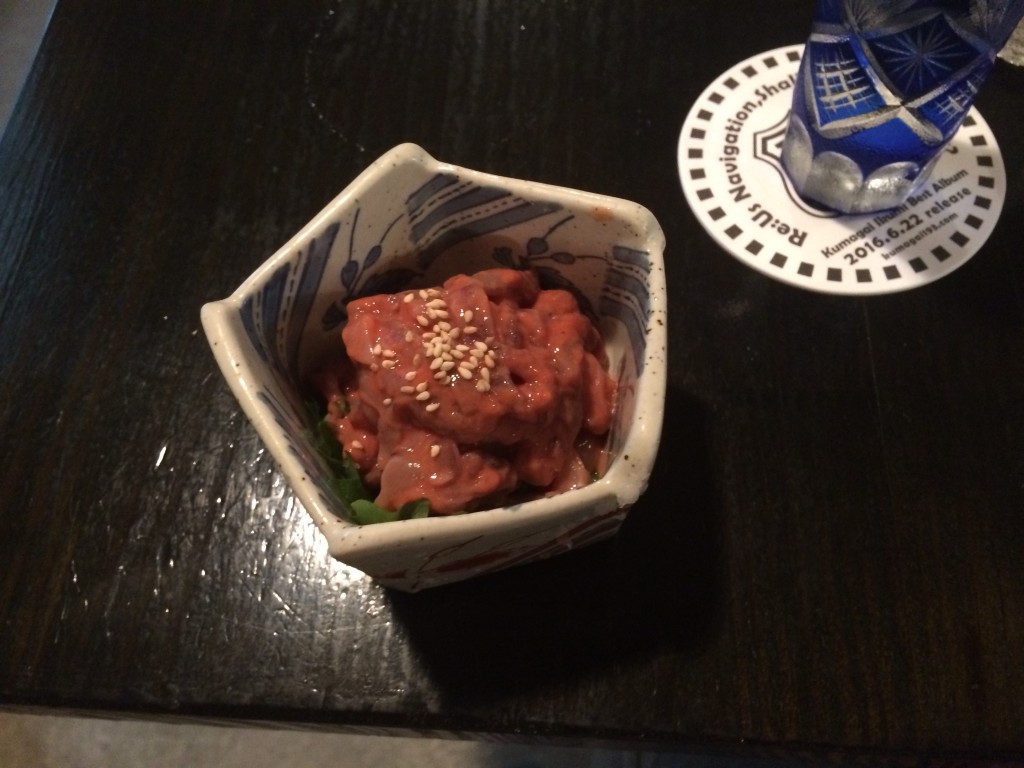 Shiokara: Fermented squid, as mentioned above.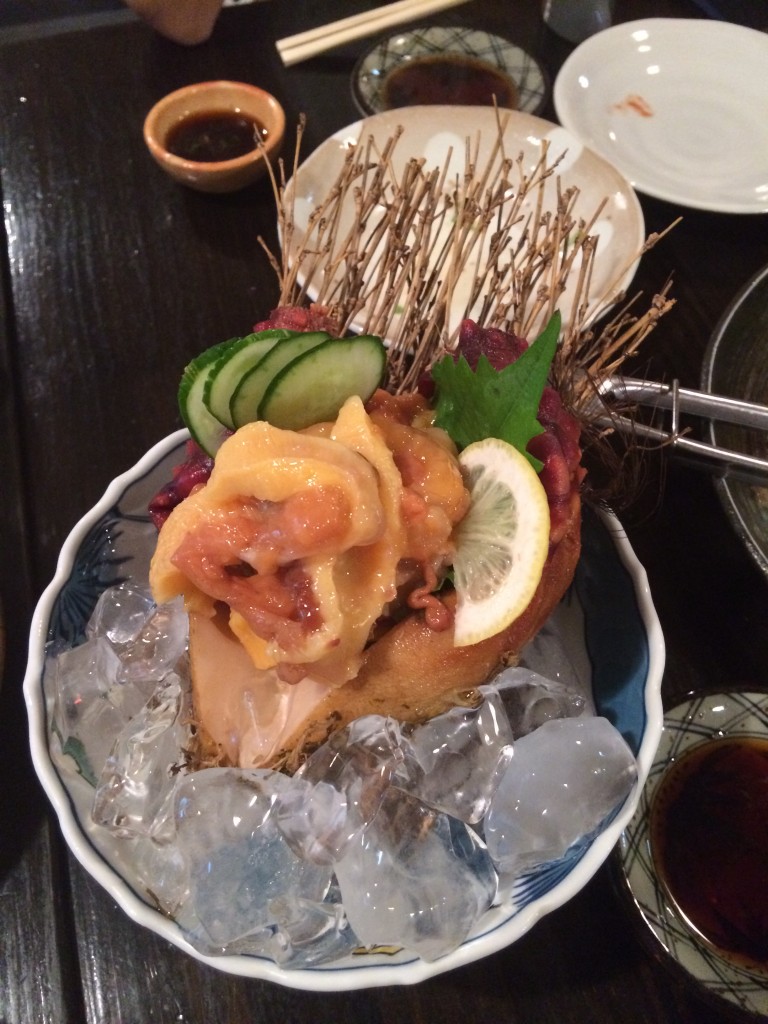 Raw sea squirt, or hoya: If you've ever seen Kesennuma mascot "Hoya Boya," this is what he's based on. Sometimes called a "sea pineapple," hoya in no way tastes like pineapple but is kind of shaped like one. I'm unsure how to describe hoya's flavor other than "complex": slightly sour, slightly bitter, slightly something else. It is definitely best enjoyed as fresh as possible, or not at all. Abe-san taught me that sake (and other drinks) tastes sweet after a bite of hoya.
The next day, I took the ferry to Oshima Island, zipped around on an electric bicycle and got a sunburn swimming at Kodanohama beach.
When you come to the ILC candidate site, I hope you enjoy our chinmi, our sake, and swing over to Kesennuma for a lovely day at the beach.
Check out Kesennuma's English Facebook page and say hi!:
https://www.facebook.com/kesennuma/
And while you're at it, please like Oshu's ILC Facebook page as well:
https://www.facebook.com/OshuILC/
Japanese
気仙沼で珍味、酒、自転車と海を満喫

奥州市 アンナ・トマス

ILCの建設候補地は3つの市をまたがっています:岩手県の奥州市・一関市、宮城県の気仙沼市。もしILCの研究者が内陸に住むとしたら、家族と気仙沼市の海に行くかもしれません。また、気仙沼市に住むかもしれません。

普段、私の記事は奥州市を取り上げていますが、この記事では海鮮料理や珍味、地酒を含め初めての気仙沼への旅を紹介します。

気仙沼への旅

一関駅から大船渡線の電車に乗り、気仙沼駅までのんびりした一時間半を過ごしました。気仙沼駅に到着して駅前の観光案内所に行き、レンタルサイクルを入手。気仙沼は傾斜が多いので普通の自転車に加え、電動自転車を貸し出しています。

自転車で、海に面している温泉へ行き荷物を預けると、お昼に加えて珍味その1の時間でした。お昼にカツオ、ホタテとイクラの海鮮丼と珍味度をアップするため、「もうかの星」を注文。もうかの星とは、ネズミザメの心臓のことで刺身として酸味のあるたれと一緒に出てきました。食感はスポンジのようで、味は意外とまろやかでした。

温泉で一風呂を浴びた後、近くの「海の市」に行きました。施設内には、レストラン、(日本唯一の!)シャークミュージアム、観光案内所や店などが入っています。1階の店では試食が多いので、ここで珍味その2にチャレンジ。

夕食では、日本酒を飲むためレンタルサイクルを海の市の観光案内所に返し、ILCを担当する気仙沼市震災復興・企画課の阿部さんと待ち合わせ、一緒にお店で夕御飯を食べました。その中に珍味その 3 がありました。気仙沼には蔵元が2社あり、両社のお酒を飲んでみました。

男山本店から「蒼天伝(そうてんでん)」を、角星から「水鳥記(みずとりき)第一章」とゆず酒を飲みました。いずれも美味しかったです。

ホヤ:気仙沼マスコット「ホヤぼーや」がこのホヤ。「海のパイナップル」と呼ばれることもありますが、味はパイナップルにまったく無関係で、形はそこそこパイナップルっぽいです。ホヤの味は、「複雑」としか言いようがない:ほんのり酸っぱい、ほんのり苦い、ほんのり不明。食べるなら新鮮なものがおすすめです。ホヤを一口食べてから酒を飲むと酒が甘くなると阿部さんが教えてくれました。

次の日、フェリーで大島まで行き、電動自転車で島を回り、小田の浜で海水浴し日焼けしました。ILC建設候補地を訪れる際は、東北の珍味と酒を満喫し、気仙沼にも遊びに来てください。