(This article was written by the Southern Regional Development Bureau of Iwate, and translated by Amanda Wayama)
One of the things that foreign travelers worry about when visiting Japan is whether they can overcome the language barrier.
We think that one of the top anxiety-inducing factors is worrying about what might happen if an accident, natural disaster, or sudden sickness strikes during a vacation. It's also crucial for traditional inns, hotels, and other tourism businesses to be able to communicate easily with their foreign guests. That's why it's important to create communication tools that can solve these issues.
The Southern Regional Development Bureau of the Iwate Prefectural Government has created an Emergency Manual to give our foreign guests peace of mind as they travel the prefecture. Additionally, we've also created language sheets where all one has to do to communicate is to point at the correct phrase. This should help both the tourism industry and foreign travelers. Both the manual and sheets are available in four languages – English, Chinese (simplified), Chinese (traditional), and Thai.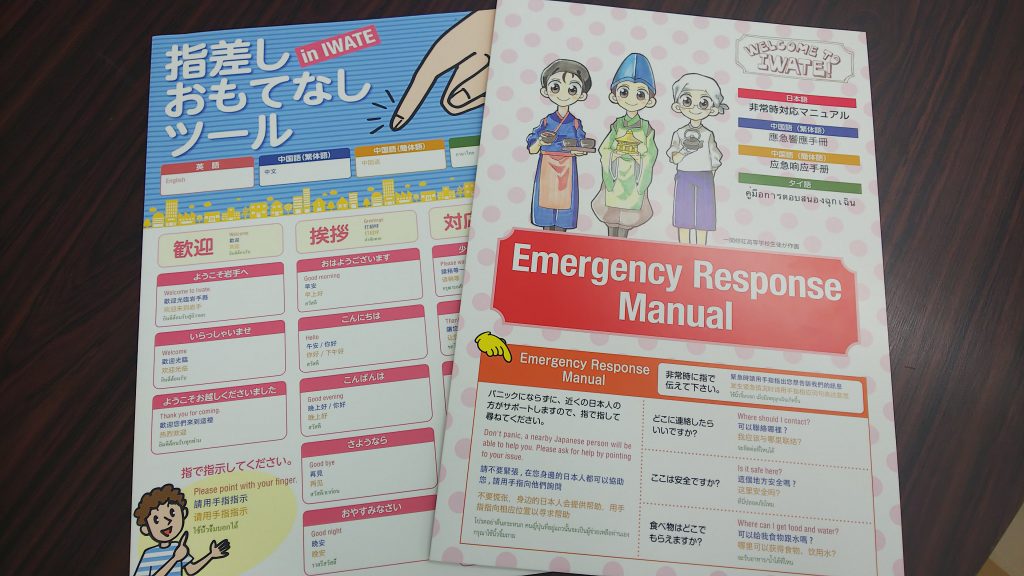 Emergency Manual
The Emergency Manual (on the right of the first photo) was created so that foreign visitors to the south of Iwate could travel safely and comfortably.
The cover is an illustration made by a student at Ichinoseki's Shuko High School. It shows off the character of southern Iwate, and makes for an inviting cover for people to pick up.
The manual outlines what foreign travelers in Iwate should do if they run into some unforeseen trouble on the trip (traffic accidents, illness, natural disasters, etc). It aims to be simple and easy-to-understand. It also lists emergency numbers by purpose (110 for the police, 119 for medical emergencies) as well as links to more information that could help during a crisis. There are many illustrations, making it easy to confirm where to contact in an emergency.
Ex: If you're involved in an accident/traffic accident → Call the police (TEL: 110) and listen to what they tell you.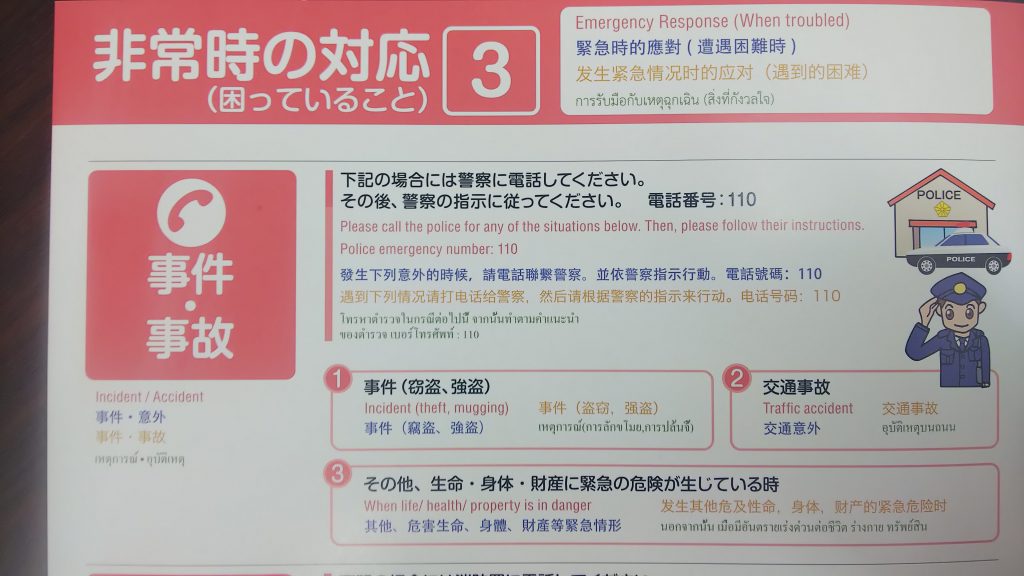 Language Sheets
These language sheets (on the left of the first photo) were designed to support communication between foreign travelers and tourism-related businesses.
Phrases that might be used during check-in, ordering, payment and other times are printed on the sheet. All someone has to do is point at the correct phrase to be able to carry out smooth communication.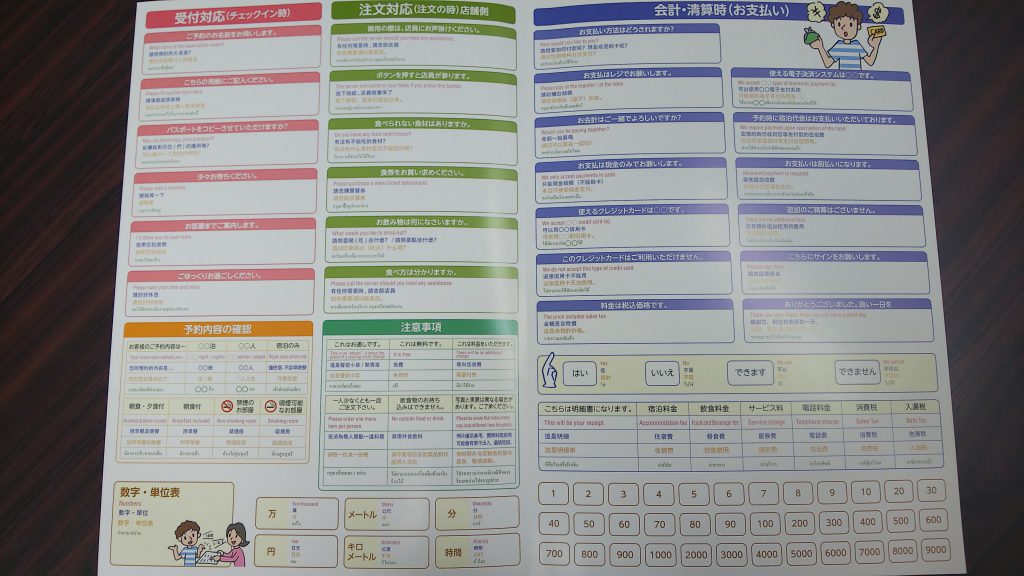 There are also phrases listed that can help with guiding someone around. Along with numbers and units of measurement, there are also phrases like "turn right," "turn left," and "go straight." This could allow someone to give detailed directions about town.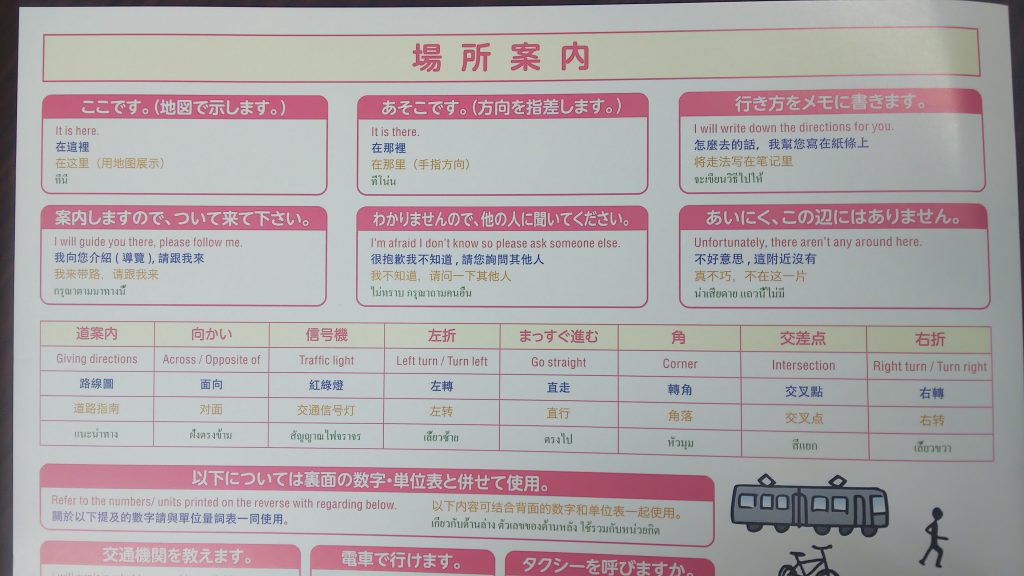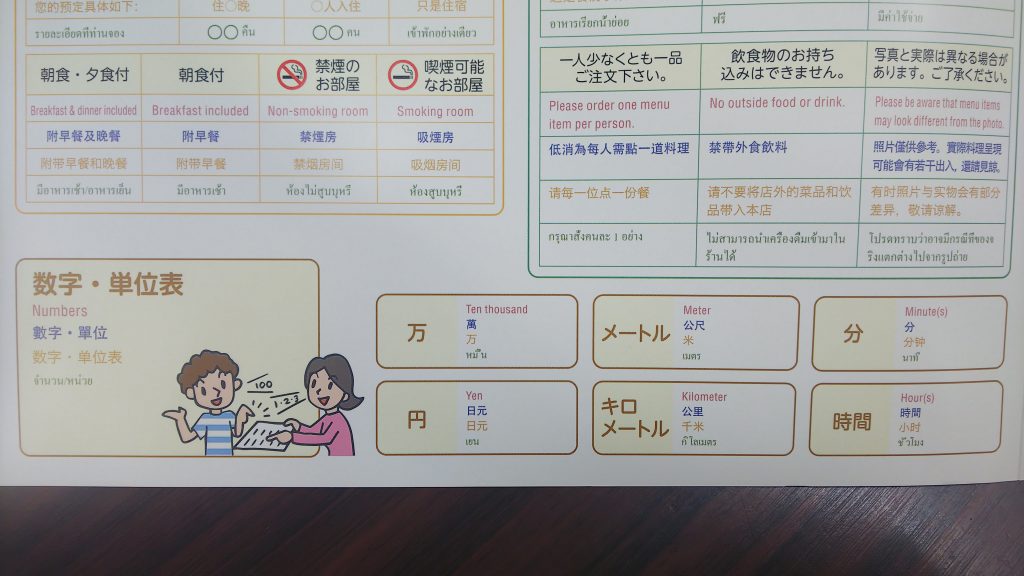 Both the Emergency Manual and the Language Sheets are available at hotels, tourism facilities, and sightseeing information centers around southern Iwate.
You can also download them directly from the prefecture's website.
(URL: https://www.pref.iwate.jp/kennan/keiei/1028612.html)
These could also be of use to not just tourists, but to foreign residents in the region who struggle with Japanese, or other folks in town for international relations-related business. We hope you'll give them a try if you're interested.
We created these tools to help foreign travelers have a great trip throughout Iwate, and provide them as a gesture of hospitality. Please take a look on your next trip to the southern Iwate region!
Japanese
【K-TIMES原稿】
観光客に快適な旅行を楽しんでもらうために
:多言語による「非常時対応マニュアル」「指差しおもてなしツール」

外国の方が日本を訪れるときに感じる心配事は、「言葉が通じるかどうか」と言われています。
特に事故、災害、急病など、旅行先で予期せぬ出来事が起こった時の不安は大きなものだと思います。
また、お客様を受け入れる側である旅館やホテルなど観光関連事業者と外国人観光客とのやりとりを円滑に進めることが重要になってきます。
こうした中で、これらの不安や課題を解消するようなコミュニケーションツールが今必要とされています。

県南広域振興局では、外国人観光客の方に、安心して快適な旅行を楽しんでもらうために、多言語による「非常時対応マニュアル」を作成しました。
さらに、観光関連事業者向けに外国人観光客の方とのコミュニケーションの補助となる「指差しおもてなしツール」を作成しました。
対応言語は英語、中国語(簡体字)、中国語(繁体字)、タイ語の4言語です。

(画像①)


【非常時対応マニュアル】
「非常時対応マニュアル」(1枚目右)は、南いわてを訪れる外国人観光客の皆さんに、安全に、安心して旅行を楽しんでもらうことを目的として作られました。

表紙のイラストは一関修紅高校の生徒の方に描いていただきました。南いわてらしさを表現しながら、皆さんが手に取りやすいようなデザインになっています。

マニュアルには、県内を周遊する外国人観光客の皆さんが、旅行中に予期せぬ事態(交通事故、体調不良、自然災害など)に遭ったときに取るべき行動を、シンプルに分かりやすく掲載しています。
さらに状況別で必要な連絡先(110番、119番)や、非常時に役立つリンク先も紹介されています。
イラストも多く、困ったときにどこに連絡するべきかをすぐに確認できるようになっています。
例:事件や交通事故に遭った時→警察(電話番号:110)に電話。警察の指示に従う。

(画像②)


【指差しおもてなしツール】
「指差しおもてなしツール」(1枚目左)は、観光関連事業者と外国人観光客とのコミュニケーションをサポートすることを目的に作られました。

受付対応、注文対応、会計・精算対応、実際に窓口等で外国人観光客と接する際に想定されるフレーズが記載されており、必要なフレーズを指で差しながら会話をすることで、よりスムーズにやり取りをすることができます。

(画像③)

場所を案内する際に役立つフレーズも載っています。具体的な数字や単位とともに「右折」「左折」「まっすぐ進む」なども書かれおり、より詳しく道案内ができるような工夫がされています

(画像④) (画像⑤)


「非常時対応マニュアル」「指差しおもてなしツール」は宿泊施設、観光施設、管内観光案内所等に置いています。
いずれも県のウェブサイトから閲覧・ダウンロードすることができます。
(URL: https://www.pref.iwate.jp/kennan/keiei/1028612.html)

また、観光にかかわらず、日本語にあまり慣れていない外国人の方や国際交流に関心がある方にも役立つ内容になっています。興味のある方はぜひご覧になってください。

外国人観光客の皆さんに快適な旅行を楽しんでもらうための取り組みの一つとしてこれらを作成し、おもてなしの準備をしています。
南いわてにいらっしゃる際は、ぜひこれらを活用しながら旅を楽しんでください。