Cover picture caption: Ships departing from Ofunato Port, in search of Pacific saury: a fish that Ofunato City catches the most of in all of Honshu, Japan's main island. Shipments for the ILC would share a port with a thriving fishing and aquaculture industry.
It's no wonder that the area around the ILC candidate site is rich with agriculture and harvests from the mountains, as it's located in the Kitakami mountain range. The area isn't just blessed with land resources – you only have to take a short trip east to reach one of the most prominent fishing grounds in the world: the Sanriku Coast.
The Sanriku Coast reaches from Aomori to Miyagi prefectures, covering the whole coast of Iwate. The mountainous, rocky coast is full of stunning views, making it perfect for hiking, as outlined on THE KITAKAMI TIMES in the "Breathtaking Views at the Michinoku Coastal Trail (October in 2017)". Along with being a beautiful area for a hike or a swim, the ocean currents in Sanriku meet to make a habitat ideal for diverse sea-life.
Ofunato: a charming fishing city located on the Sanriku Coast
One charming city on the Sanriku Coast, which could play a key role in the construction of the ILC, is Ofunato. If the ILC is built in the Kitakami Mountains, Ofunato Port could be vital for transporting materials to the ILC site, as described in "Spotlight on Ofunato (#34) (August in 2017)". Along with Ofunato's strategic proximity to the site, Ofunato has expressed continual support of the ILC Project, and has been planning for the intake of ILC cargo at the port.
In addition to Ofunato's importance to the ILC, the city would also give people working with the ILC quick access to a wealth of fresh seafood. Whether you'd like to fish yourself, try fresh fish at a restaurant, or stop by one of the huge free fish festivals in town, there's no end to the seafood experience in Ofunato.
Personally, although I'm from a coastal town in the U.S., seafood has always been on the expensive side where I'm from, so I grew up enjoying it only on more special occasions. Coming from this background, I was shocked the first time I stopped by the seafood section in your average Ofunato grocery store—there were so many low priced options for fresh seafood.
Fish selections in Ofunato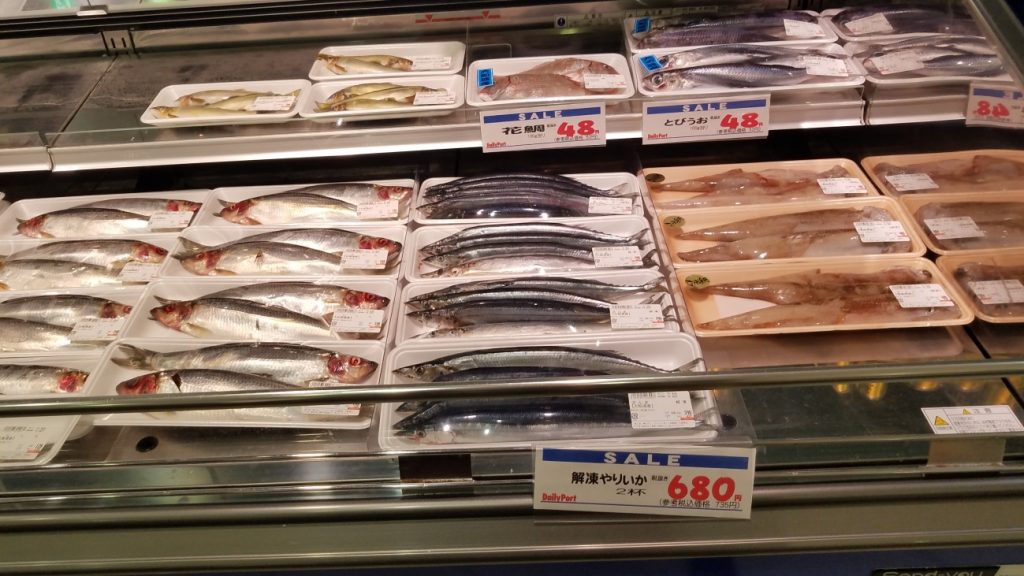 Pictured is flying fish (tobiuo) at 110 yen per fish, Pacific saury (sanma) at 100 yen per fish, and sea bream (hanadai) at 85 yen per fish—all freshly caught in Ofunato.
Not only were the grocery store options a lovely surprise, I also soon realized that there are specialty fish shops throughout town, selling seasonal seafood.
Enjoying seafood at restaurants in town
The abundant seafood reaches many restaurants in Ofunato as well, with options such as kaisen-don: a steaming rice bowl topped with sashimi fish slices.
For those who don't eat fish, the seafood in Ofunato also has options for vegetarians and vegans to enjoy, as the Sanriku Coast is a prime environment for seaweed farming.
In many places, when someone hears about seaweed, their first thought may not be to eat it. Around Ofunato, however, in addition to an array of different types of seaweed, there are also a variety of ways to enjoy it. One local way to enjoy wakame seaweed is called "shabushabu". If you've been to Japan, you may have heard of shabushabu with meat, where you swish around thinly sliced meat and in a large boiling hot pot. Replace the meat with wakame seaweed, and you have wakame shabushabu.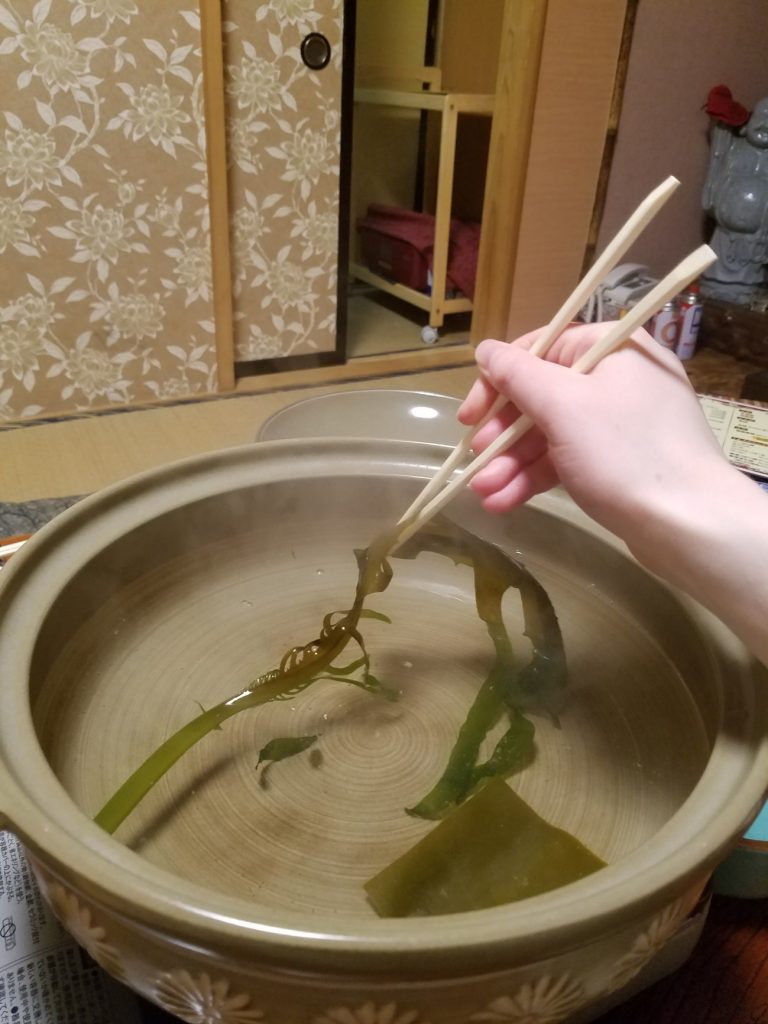 Once you dip the wakame in the boiling hot pot, its color immediately changes from a dark yellow to a bright green. In just an instant, it's ready to be eaten! The smooth texture and subtle taste of the seaweed goes well with ponzu, a tangy sauce made from yuzu fruit.
How about catching the seafood yourself? Try fishing in Ofunato!
For those who prefer a more hands-on experience, there are also many spots in Ofunato where you can go fishing, be it at a river, on the docks, or out at sea on a boat. Authorization isn't required for saltwater fishing in Japan, so it's easy for beginners to get started as well.
To find out more about the charms of fishing in Ofunato, I asked a couple of enthusiasts in Ofunato about their experiences and recommendations. First, I talked to a local doctor of fisheries to learn about specifics. Afterwards, I talked to an Ofunato resident from Australia, to hear an international impression of fishing in Ofunato.
Naoshi Sato works for Ofunato City Hall and holds a Ph.D in Fisheries Science.
What would you like people working with the ILC to know about the charms of the ocean and fishing in Ofunato?
The sea in Ofunato has an array of fish depending on the season, so I would like everyone to eat, see, and enjoy the sea-life here. Thanks to the ocean currents, many types of sea-life gather in Ofunato. In winter, the cold ocean currents bring in fish from the north, while in summer, the warm ocean currents bring in fish from the south.
One of the best things about fishing in Ofunato is the vast diversity of fish that you can catch, and the many fishermen who can take you fishing on their fishing boats. Because Ofunato is one of the cities with the most fishing boats in Iwate Prefecture, it's a popular spot for fishing. As such, you can reserve for a fisherman to take you out fishing to sea on their boat.
Generally, it costs at least 6,000 yen to reserve for a fisherman to take you out fishing by boat. The boat trip lasts around six hours and usually departs at around 5 AM. There are various options to choose from, such as paying a little bit extra for special deep-sea fishing.
Another great point about fishing in Ofunato is how close the fishing grounds are from the port. The coast in Ofunato is blessed with a perfect environment for sea-life, so once you depart to sea by boat, you can reach a spot good for fishing within just a few minutes.
Once at sea, the waves at bay are also calm, thanks to the rias-styled coastline ("rias" is a geological term indicating that a coastline is jagged with many bays and inlets).
And of course, even if you don't ride a boat out to sea, you can still enjoy fishing at the ocean docks.
What should someone do if they are interested in fishing for the first time in Ofunato?
If you live by the ILC candidate site and would like to fish in Ofunato, I'd first recommend that you visit any shop nearby you that sells fishing tools. For instance, there are also fishing shops around Oshu and Ichinoseki. There, you can rent or buy tools and bait. At large shops you can even make reservations for fishing boat trips in Ofunato. They'll also have plenty of information about fishing classes and events. If you're new to fishing, they'll explain the rules and manners for you as well. If you visit a fishing shop, I'm sure they'll be happy to teach you what you need know.
Are procedures necessary to get licensed to fish in Ofunato?
One unique thing about Japan, in comparison to abroad, is how easy it is to fish here. For fishing at sea, there is no license or ticket required for you to fish. For freshwater spots, such as rivers, on the other hand, you're required to get permission from officials, so please keep this in mind. If you'd like to get started freshwater fishing in Japan, I recommend you stop by a fishing shop near you and ask about the details. Even though you don't need to be authorized for fishing at sea, there are still local rules and manners, so before you go, it's best to ask the staff at a fishing shop, or a Japanese person you know who fishes.
What type of fishing or activities would you recommend for beginners?
In Ofunato, there are traditional inns which have their own fishing boats, and if you stay there, they can take you fishing. This makes for a lovely experience, as the staff at the inn can prepare dishes of the fish that you caught together. Even if you can't go fishing, I still recommend the inns here for their delicious seafood cuisine.
There is also a tour in Ofunato which a fisherman runs. They'll take you fishing, and then you get to grill up and eat what you caught right on the boat. As part of the tour, they'll also show you how they farm scallops, and can take you for a boat ride to cruise around the area.
How can you enjoy Ofunato, besides fishing?
I also recommend swimming and diving in Ofunato. The diversity and beauty of the ocean here are astounding, so I want everyone to come and see it for themselves.
Besides the ocean, the mountain streams running through the forests here are also gorgeous and make for lovely strolls. 
Do you have any message for the ILC?
Let's all do our best to make the ILC a reality!
+++
Next, I talked to Julian. Julian is originally from Australia, and has been living and working in Ofunato as an English teacher for 4 years.
Did you fish back in Australia?
I didn't. Fishing is popular in Australia too, but because I wasn't near the coast I didn't get to fish much. I was able to really go fishing for the first time after I came to Ofunato.
Where do you fish in Ofunato?
I fish out at sea on a boat, or out on the docks. I haven't fished in the rivers before, but there are many people who fish in the rivers too. I recommend going out on a boat, since you can catch the most that way. The fishing tournaments in town are also fun. I've participated in some private fishing tournaments with my workplace group, where we competed with others to get the biggest catch.
What kinds of fish can you catch in Ofunato? Did you have those fish back home?
Usually out at sea we can catch a lot of righteye flounders (karei) and fat greenling (ainame). The other day I caught a mackerel (saba), which I was happy about. I hadn't eaten these fish back in Australia before, but they're all delicious to me, and there's a lot of different ways to prepare them.
Do you have any fishing stories you'd like to share?
I got really sea-sick the first time I went out on a boat here. I thought, I've been on a boat before, I won't get sick—but I was wrong. I threw up then slept for the rest of the time I was on the boat. I was recommended medicine for motion sickness afterwards though, and ever since I started taking it I never got seasick again. The medicine I take is called Panshiron Travel SP.
Do you have any message for the ILC?
Do your best. I'm rooting for you all. And welcome to Iwate!
If you come to Ofunato, there's a good chance you'll be able to taste seafood that you may have never heard of before, be it sea pineapple (hoya) in spring, sea urchin (uni) in summer, or Pacific saury (sanma) in autumn. If you're open to experiencing something new, there's an array of sea-life waiting for you in Ofunato. The kind locals in Ofunato will be happy to give you a warm welcome, and introduce you to a world of ocean culture and cuisine.
Japanese
食べて良し 遊んで良し 海を満喫 大船渡!
大船渡の海鮮物・釣りを体験

[写真]
大船渡港から出港する秋刀魚船:大船渡市は、秋刀魚の水揚げが本州一となっています。盛んな漁業とともに、ILCが実現すれば、大船渡港は、漁業・水産養殖産業だけでなく、ILC関連産業の積荷・発送にも使用されることが期待されています。

ILC建設候補地は北上山地にあることから、農業に適し、山の幸にも恵まれています。しかし、土地に恵まれているだけではなく、少しだけ東の方向に足を伸ばせば、世界でも有数の漁場のひとつ・三陸海岸にたどり着くことができます。

三陸海岸は、青森県から始まり、岩手県のすべての海岸が含まれ、そして宮城県まで続いています。山々や奇岩で形成される海岸は、美しい景色に富み、Kitakami Timesのバックナンバー「Breathtaking Views at the Michinoku Coastal Trail(2017年10月)(http://www.iwate-ilc.jp/eng/ktimes/breathtaking-views-at-the-michinoku-coastal-trail/)」に記載のとおり、ハイキングにも適しています。散歩や水泳に映える美しさだけでなく、三陸の海流は、様々な海の生き物にとって理想的な棲み処をつくっています。

三陸海岸の魅力的な漁業のまち:大船渡市
三陸海岸は、ILCの建設に当たり重要な役割を果たすことが期待され、その三陸海岸における魅力的な市の一つが大船渡市です。ILCが北上山地に建設されれば、Kitakami Timesのバックナンバー「Spotlight on Ofunato (#34) (2017年8月)(http://www.iwate-ilc.jp/eng/ktimes/spotlight-on-ofunato-34/)」で紹介されたとおり、大船渡湾はILC部品・機器等の輸送において、必要不可欠な場所となります。大船渡市は、ILC建設候補地に距離的に近いというだけでなく、ILCプロジェクトへの支持を継続的に表明しており、大船渡港でのILC部品・機器等の輸送についても計画しています。

大船渡市はILCにとって重要な存在であるだけでなく、大船渡市の存在により、ILCの関係者が、豊富かつ新鮮な海産物を楽しむことができるでしょう。自分で魚釣りをする、レストランで新鮮な魚を食べる、大規模な鮮魚イベント参加するなど、大船渡市では、魚介類・海産物に関する多種多様な体験・経験ができます。

実は、私、アメリカの港町出身なのですが、その町では、海産物がいつも高値であり、お祝いの日や特別な日にしか食べられませんでした。そのことから、初めて大船渡市内の普通のスーパーマーケットの海産物売り場に行った際は、大変驚きました。新鮮な海鮮物が多く並んでいたうえ、全てのものがとても安かったからです。

大船渡市の海鮮物の品揃え
「写真」
キャプション:大船渡で水揚げしたトビウオ(1匹110円)・秋刀魚(1匹100円)・花鯛(1匹85円)

びっくりすることは、スーパーマーケットでの選択肢の多さだけではなく、市内の至るところに鮮魚専門店があり、旬の魚が売られていることです。

「写真」
キャプション:生きたままのホタテ、カキ及びアワビが大船渡市の魚屋さんで売られている。

まちの飲食店で魚介類を楽しむ
魚介類が豊富なことから、大船渡市内には、海鮮メニューを提供するレストランが数多くあります。例えば、お刺身がごはんに乗せられた「海鮮丼」が人気です。

「写真」
キャプション:大船渡のレストランが提供する海鮮丼

三陸海岸は海藻(ワカメ)の養殖が盛んであることから、魚を食べない方でも、ベジタリアンやビーガンでも、大船渡での海産物を楽しめます。

(日本以外の)多くの国々では、ワカメのことを聞いたとしても、実際には食べようと思わないようです。しかしながら、大船渡及びその周辺では、ワカメの種類が多いというだけでなく、食べ方・楽しみ方も多くあります。伝統的なワカメの食べ方の一つに、ワカメのしゃぶしゃぶがあります。日本に来たことがある方であれば、肉のしゃぶしゃぶについて聞いたことはあるかもしれませんが、しゃぶしゃぶとは、お鍋で「しゃぶしゃぶ」と薄く切られた肉を茹でる料理になります。肉の代わりにワカメを茹でれば、「ワカメしゃぶしゃぶ」になります。

「写真」
お鍋にワカメを入れると、色がすぐに暗い黄色から明るい緑に変わります。ほんのわずかで、すぐ食べられますよ!感触が柔らかく味が落ち着いたワカメは、ポン酢というゆずで作られたピリッとしたソース(たれ)によく似合います。

自分で魚介類を獲ってみませんか?大船渡でフィッシング!
「手づかみの体験をしたい、自分で魚を獲ってみたい。」という方、川や波止場をはじめ、海・沖合など、大船渡では多くの釣りスポットがあります。日本では淡水(川・湖など)で釣りをする場合、許可が必要ですが、海で釣る際には必要がないので、初心者でも始めやすい環境です。
大船渡の釣りの魅力をより深く知るために、また「何をおすすめするのか。」「どういった経験があるのか。」について、大船渡に住んでいる釣り好きに聞いてみました。最初は、地元の「釣り博士」にインタビューし、その後、外国人の意見を聞くため、大船渡市在住のオーストラリアの方にインタビューしました。

佐藤直司さんは、大船渡市役所に勤務する水産学博士(号取得者)です。

「写真」
キャプション:佐藤さんの大好きな時間の過ごし方‐海にいること

ILCの関係者に、大船渡の海の幸と釣りの魅力について教えていただけますか?
大船渡の海には、季節によって色々な種類の魚がやってくるので、皆さんには、食べて、見て、そして楽しんでいただきたいと思います。海流のおかげで、様々な海の生き物が集まります。冬には、冷たい海流が北から魚を連れて来て、夏には暖かい海流が南から魚を連れて来ます。四季折々、多様な魚を楽しめることが一番の魅力だと思います。
大船渡での釣りの魅力は、この多種多様な魚が釣りのターゲットになること、そして、その魚を釣らせてくれる釣り船が多いことです。大船渡は、岩手県内でも釣り船が多いことから人気が高く、たくさんの釣り人が訪れます。予約をすれば、釣り船で釣れるポイントまで連れて行ってくれます。

一般的には、釣り船の料金は、約6千円からとなっています。だいたい朝5時頃から正午頃までの約6時間、船に乗ります。特別な餌を使う釣りや深海の釣りなどを選ぶ場合には、値段は少し上がるでしょう。釣りのポイントが港から近いことも、大船渡での釣りのもうひとつの魅力です。大船渡は海の生き物と環境に恵まれていますので、船で海に出て、数十分で、魚が釣れるポイントに着きます。
しかも、リアス式海岸の地形のおかげで、湾内は波が穏やかなことも魅力です。
もちろん、船に乗らずに、岸壁からでも、釣りを楽しめます。

初めて大船渡で釣りをする場合、どうすればよいですか?
ILC建設候補地周辺に住み、大船渡で釣りをしたい場合、まず近くにある釣具店に行くことをお勧めします。例えば、奥州市や一関市にも、釣具店があります。そちらに行けば、エサと道具を買ったりすることができます。大きな釣具店では、大船渡市の釣り船の予約も出来ます。また、釣りの大会や教室の情報も色々提供しています。初心者のために、釣りのアドバイスだけでなく、ルールやマナーも教えてくれます。訪ねてみると、きっと親切に教えてくれるでしょう。

大船渡で釣りをするための手続きがありますか?
海外と比べ、日本での釣りの特徴の一つは、釣りするのがとても簡単だという事です。特に海釣りの場合、特に手続きや許可は必要ありません。しかし、淡水域、例えば川などで釣りをする際は、管理者の許可が必要ですので注意してください。日本で淡水の釣りがしたいのであれば、近くにある釣り屋さんに行き、詳細についてそちらで聞く事をおすすめします。また、海釣りの場合、許可が必要ではなくても、地域ごとのルールとマナーがあるので、やはり、行く前に、釣具店の店員さんや日本人の釣り仲間に相談しましょう。

初心者の方に、おすすめの釣りや楽しみ方はありますか。
大船渡には、釣り船を持っている旅館があります。そちらに泊りながら、旅館の船で釣りに行くこともできます。釣った魚を料理してもらうこともできますので、いい体験になるでしょう。釣れなくても、美味しい魚料理が食べられますのでおすすめです。また、大船渡には、漁師さんが行っているツアーがあり、船の上で釣りをしたり、釣った魚をバーベキューしたり、ホタテの養殖をしている様子を見学したり、自由にクルージングすることができるものもあります。

「写真」
キャプション:佐藤さんが大船渡で撮ったサケの写真

釣り以外の楽しみ方はありますか。
大船渡の海で泳いだり、潜ったりすることもおすすめです。魚や環境の多様性と美しさが素晴らしいので、見てほしいです。海だけでなく、森の木々に囲まれた渓流も美しい景観ですので、散策しても楽しいです。


ILCに関するメッセージはありますか。
ILCの実現に向けて、共に頑張りましょう!

続いて、オーストラリア出身のジュリアンさんにインタビューしました。ジュリアンさんは4年間大船渡に住み、英語の先生として勤めています。

「写真」
キャプション:ジュリアンさんと大船渡市越喜来崎浜で獲ったカレイ

オーストラリアに住んでいた時は釣りをしていましたか?
いいえ、していませんでした。オーストラリアでも釣りが人気ですが、僕は内陸に住んでいたので、釣りをする機会があまりありませんでした。大船渡に来てから、初めて釣りをすることができました。

大船渡でどうやって釣りをしますか。
釣り船に乗り、海で釣りをする時もあれば、波止場で釣りをする時もあります。私は市内の川で釣りをしたことはないですが、川釣りをする方も多くいます。一番お勧めするのは、船で釣りをすることです。そうすると、最も多く魚が釣れます。釣りの大会にも職場の人たちと一緒に参加したことがあり、一番大きい魚を取るように頑張ったりして楽しかったです。

大船渡市ではどのような魚が釣れますか?家に持ち帰って調理したことはありますか?
海釣りに行けば、普通はカレイとアイナメが多く釣れます。先日、サバを初めて釣れたので嬉しかったです。オーストラリアでこういった魚を食べたことはなかったですが、色々な食べ方があり、すべてが美味しいと思います。

ジュリアンさんの釣りの経験などで話したいことはありますか?
初めて釣り船に乗った時は、船酔いになってしまいした。「船に乗った事があるから、船酔いはしないだろう!」と思いましたが、全然違いました。乗るとすぐ吐いてしまい、その後ずっと寝ていました。その後、友達が薬をすすめてくれましたので、飲み始めてから1回も酔ったことがないです。僕が飲んでいる薬は、パンシロントラベルSPという薬です。

ILCに関するメッセージはありますか。
頑張ってください!皆さんを応援しています。そして、岩手県へようこそ!

大船渡に来ると、春のホヤ、夏のうに、秋の秋刀魚など、聞いたことがない魚でも食べられるでしょう。何か新しいことにトライしたい場合、大船渡で様々な海の生き物が待っていますよ。地元の方々も温かく歓迎し、海の文化と料理を喜んで紹介してくれるでしょう。