This past August, an event took place in Oshu that hasn't happened in 5 years: a sister city youth exchange program with Reutte and Breitenwang, our sister cities in Austria.
I had the thrilling opportunity to help guide the 6 Austrian young people (ranging in age from 13 to 22) around Oshu, and then, a week later, accompany 5 Japanese young people from Oshu to Austria. I'm pleased to report that both groups helped to forge the relationship between our cities even stronger, and represented their respective hometowns well.
As this article is titled Part 1, first I'll talk about what it was like to welcome in the Austrian participants as one of the program leaders, where we went, and their impressions; in Part 2, I'll talk about our travels in Austria.
But before that, a bit of background: the catalyst for our sister city relationship took place in 1989, when a company headquartered in Reutte and Breitenwang established a manufacturing location in Oshu (at the time, Esashi). 2 years later, in 1991, Oshu and Reutte/Breitenwang became sister cities, and in 1995, the first youth exchange program took place. Due to the pandemic, the last program was held in 2018, but after this hiatus, we were able to restart the program this year, in 2023.
I'll now describe the events of the Austrian young people's arrival in Japan. My manager and I greeted the participants – who were jet-lagged but excited – at the airport, and brought them up to Oshu via the bullet train. As we passed through the ticket gate at Mizusawa-Esashi Station, we were met with smiles and cheers from the host families and program organizers. As it's an exchange program, as much as was possible, both groups of participants would take turns living with each other's families: thus, everyone would get the experience of being the expert on their hometown, and being the newcomer who has to rely on others. It's an arrangement which promotes empathy and self-confidence for everyone, I think.
The visit might've been short, but every day was packed with things to do – as I can't cover everything, I'll discuss the main events.
On August 2nd – their first full day – after meeting with the mayor of Oshu, we paid a visit to the company that was the impetus for this program in the first place.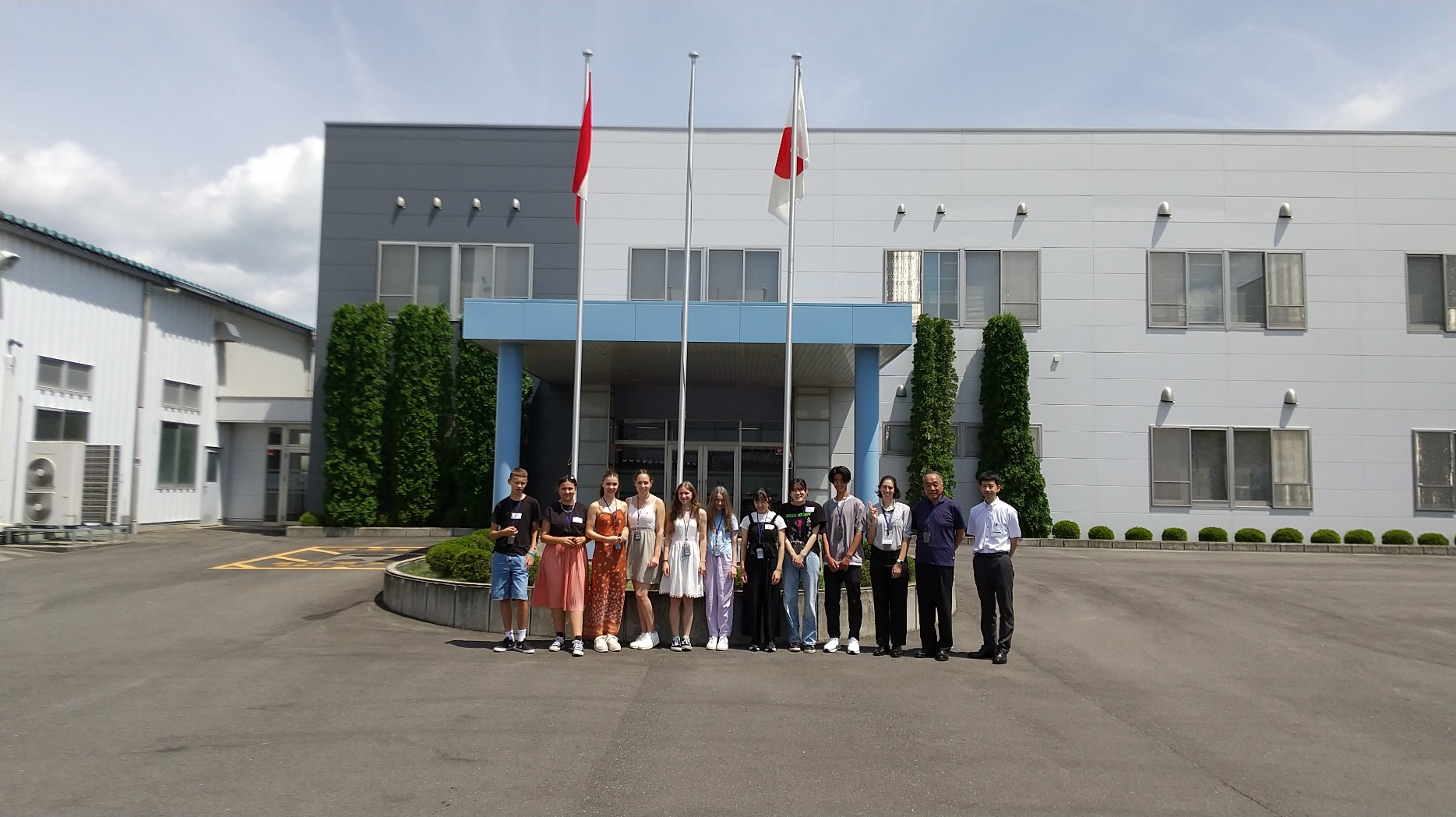 (Group picture outside of the factory.)

 The next day, we visited Esashi-Fujiwara Heritage Park, as it's an iconic spot in Oshu. Even though it was a swelteringly hot day, everyone appreciated the beauty of the park and the history it represented.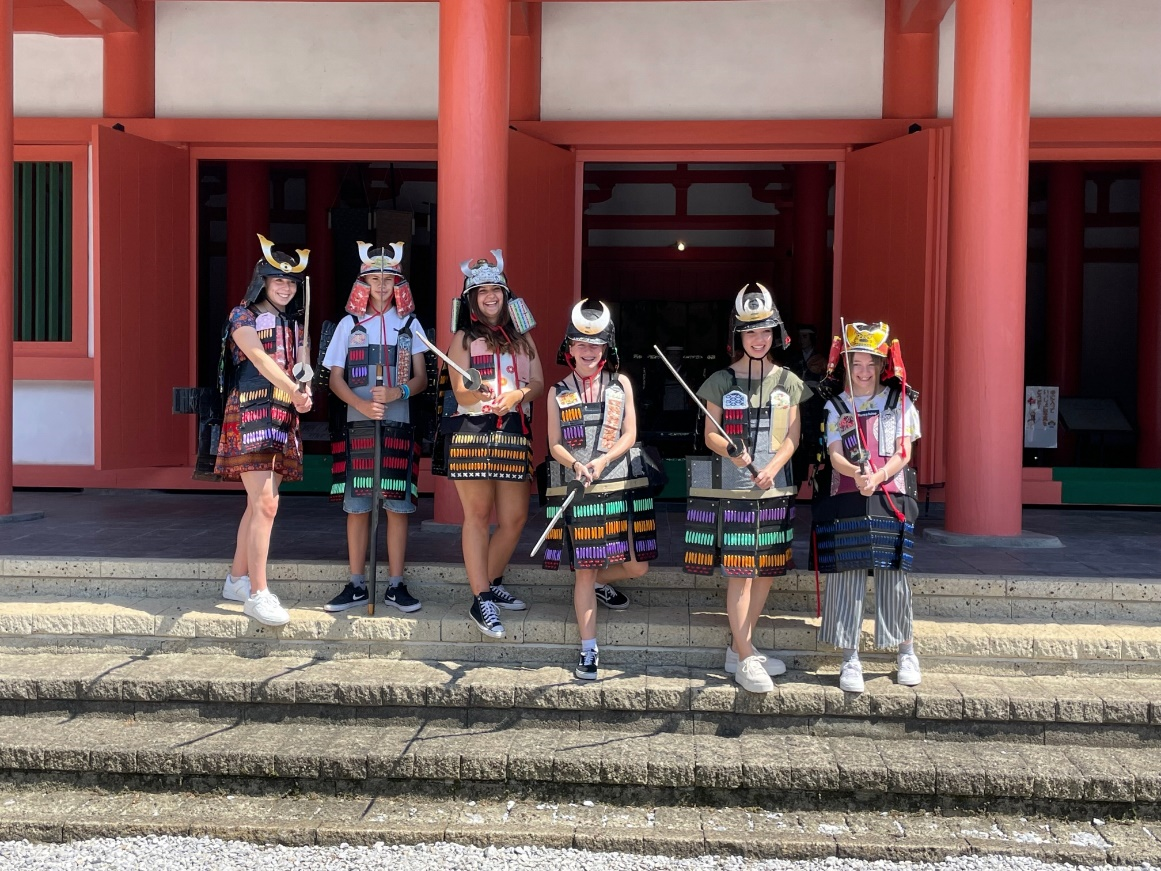 (Trying on replicas of Heian-era armor and helmets.)
We then headed to a countryside farmhouse, where they would spend one night. They had noodles off a bamboo slide (known as nagashi-somen), wore yukata, and set off small hand fireworks.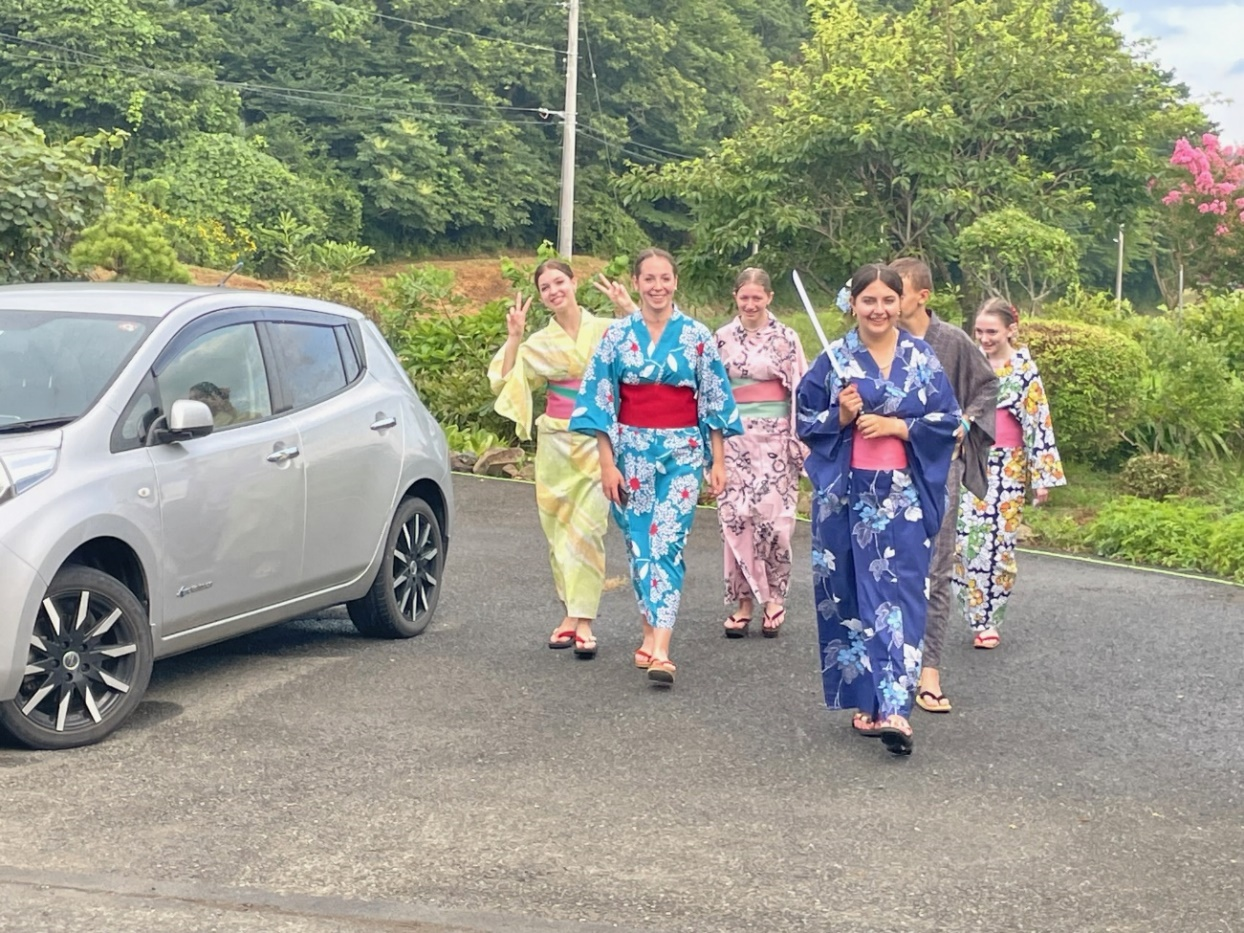 (Walking in yukata at the farmhouse.)
On the 4th, we went to the coastal city of Rikuzentakata, which is in the process of recovery from the earthquake and tsunami disaster of 2011.There, the participants saw the ruined buildings left up as memorials, as well as the newly-built roadside station. And of course, they got to swim in the Pacific Ocean.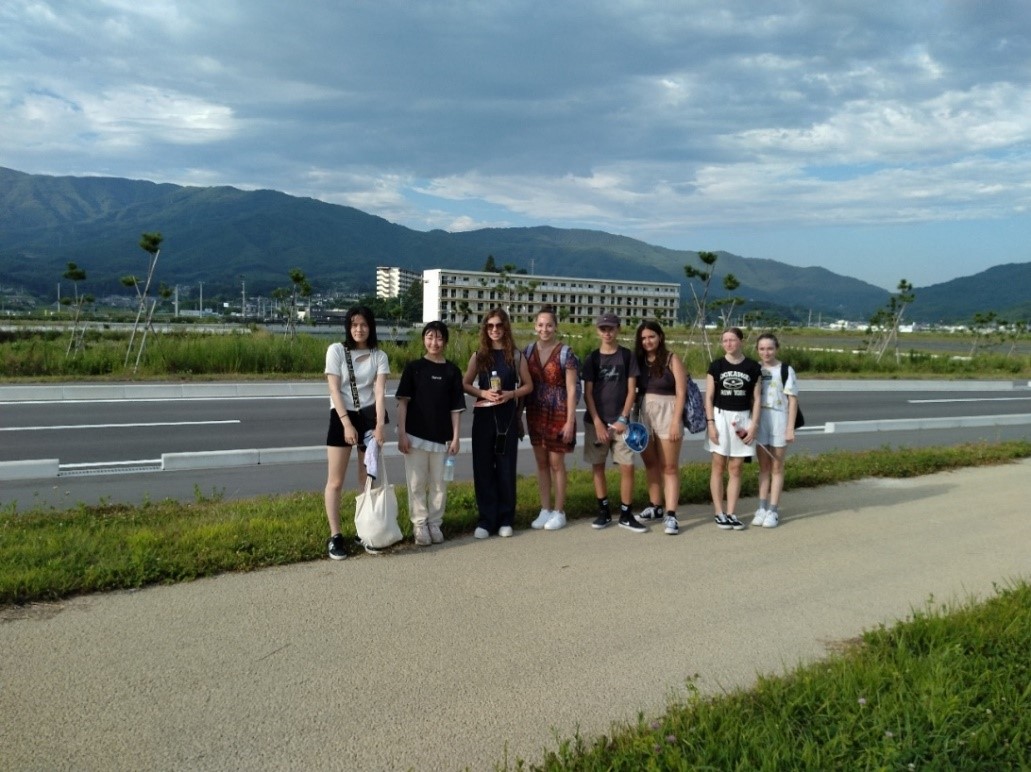 (Group photo in front of a tsunami-damaged apartment building in Rikuzentakata.)
Throughout all of these adventures, the participants took a strong interest, snapped photos (where allowed), asked questions, and fully enjoyed their limited time. Their curiosity and enthusiasm let them get a deeper understanding of a place like Japan, which is so different from anywhere they'd been before.
In between our activities, we would sometimes stop at everyday places like a hundred-yen shop or a convenience store. Those of us who live in Japan take these places for granted, but when I would accompany them to a visit to one of these ultra-convenient shops for the first time, it was a reminder of how remarkable they really are.
It's wonderful that Oshu can provide this opportunity to young people, and I strongly believe that experiences like this contribute to international cooperation. For the participants, "Japan" is no longer an abstract, faraway country: it's where they had unforgettable experiences, made lifelong friends, and tangibly learned what life is like here. Both sides developed strong bonds with each other.
About a week later, we were on the plane to Vienna, where our roles would be reversed. Keep an eye out for Part 2!
Japanese
第一部:オーストリアのロイテ市・ブライテンヴァング市から奥州市へ

今年8月、奥州市と姉妹都市オーストリアのロイテ市・ブライテンヴァング市の青少年交換交流事業が5年ぶりに行われました。

私はオーストリアからやってきた6人の派遣生(13歳~22歳)を奥州市周辺に案内し、1週間後には彼らの国へ奥州市派遣生5人を引率しました。
派遣生たちが「自分たちは両市を代表して事業に参加している」という自覚を持ち互いに交流を深めたことで、都市間の絆は更に強くなりました。

この記事は「第一部」なので、まず初めにオーストリア派遣生の受入れについて、彼らをどこに案内して彼らがどう感じたのか、引率者の1人としてまとめ、「第二部」では、オーストリアへの旅について説明します。

その前に、姉妹都市の関係について少しだけ説明させてください。
1989年、オーストリアのロイテ市、ブライテンヴァング市に本拠地を置く企業が奥州市(旧江刺市)の工業団地に工場を設立したことがきっかけとなり、2年後の1991年に奥州市とロイテ市・ブライテンヴァング市の姉妹都市関係が締結され、1995年から青少年交換交流事業を開始しました。ところが、新型コロナウイルス感染症が世界的に流行したことが原因で2018年の実施を最後に、交流を一時中断していましたが今年5年ぶりに再開しました。

それでは、まずオーストリア派遣生が来日した日のことを書きます。
上司と私が派遣生を空港まで迎えに行ったのですが、時差ボケしながらも、彼らは興奮しているようでした。それから新幹線に乗り奥州市へ向かい、水沢江刺駅の改札口を抜けると、笑顔で歓声を上げるホストファミリーと職員たちに出迎えられました。
「青少年交換交流事業」というだけあって、両市の派遣生たちはできるだけそれぞれのホストファミリーと同じ時間を過ごします。こうすることで彼らは「受け入れる側」と「受け入れられる側」両方の立場に立ち、思いやりの気持ちと自信を育んでいったのです。

 派遣生は短い滞在期間の中でも毎日予定が詰まっていたので、要点をまとめて書きます。

8月2日:オーストリア派遣生は奥州市長を表敬訪問した後、この事業を始めるきっかけとなった企業を訪問しました。

8月3日:奥州市の代表的な観光地「えさし藤原の郷」を訪れました。この日はとても暑い日でしたが、派遣生たちは公園の美しさと歴史の素晴らしさを体感しました。
 そして、宿泊先である田舎の農家民宿へ向かい、流しそうめんや浴衣の着付け体験、花火などを楽しみました。

8月4日:2011年の東日本大震災から復興に取組んでいる陸前高田市へ行きました。震災遺構や新しい道の駅を見た後は、海水浴をしました。

 様々な体験を通し、派遣生たちは色々なことに強い興味を持ち、(許可が下りれば)写真を撮影したり、質問をしたり、限られた時間の中で目一杯楽しみました。
 好奇心旺盛な彼らは、夢中になって今まで行ったどこにも似ていない日本について知見を深めたのです。

空いた時間に、100円ショップやコンビニにも寄りました。日本に住んでいれば当たり前の場所でも、初めてそこを訪れる彼らにとってはあまりに便利な店で、一緒にいた私は改めてその良さを認識しました。

 奥州市が姉妹都市交流事業を行い、若者が参加し様々なことを経験することは素晴らしいことであり、国際協力に貢献することだと私は思います。 忘れられない経験を通して生涯の友人を作り、日本の暮らしについて学んだことで、彼らにとって「日本」は遠い国ではなくなりました。両者は強い絆で結ばれたのです。

  約1週間後、私たちはウィーン行きの飛行機に乗り、「受け入れられる側」になります。
~「第二部」へ~