Part one is here⇒Part 1 :From Reutte
In the last article, I talked about what it was like to introduce 6 Austrian young people to the best parts of Oshu. Now, I'll discuss how 5 Oshu city high school students responded to their first international journey to Reutte/Breitenwang, Austria.
These high school students had already gotten to know their Austrian counterparts during their visit to Japan. Everyone got a chance to try using English as a common language, and since nobody spoke it as a first language, the focus was on communication, as opposed to flawless grammar. They would also teach each other basic Japanese and German words, or use apps and gestures to communicate. Thanks to these friendships being built in advance, everybody was ready and looking forward to the trip.
We touched down in Vienna, where we spent one night, before being happily reunited in Reutte and Breitenwang the next day.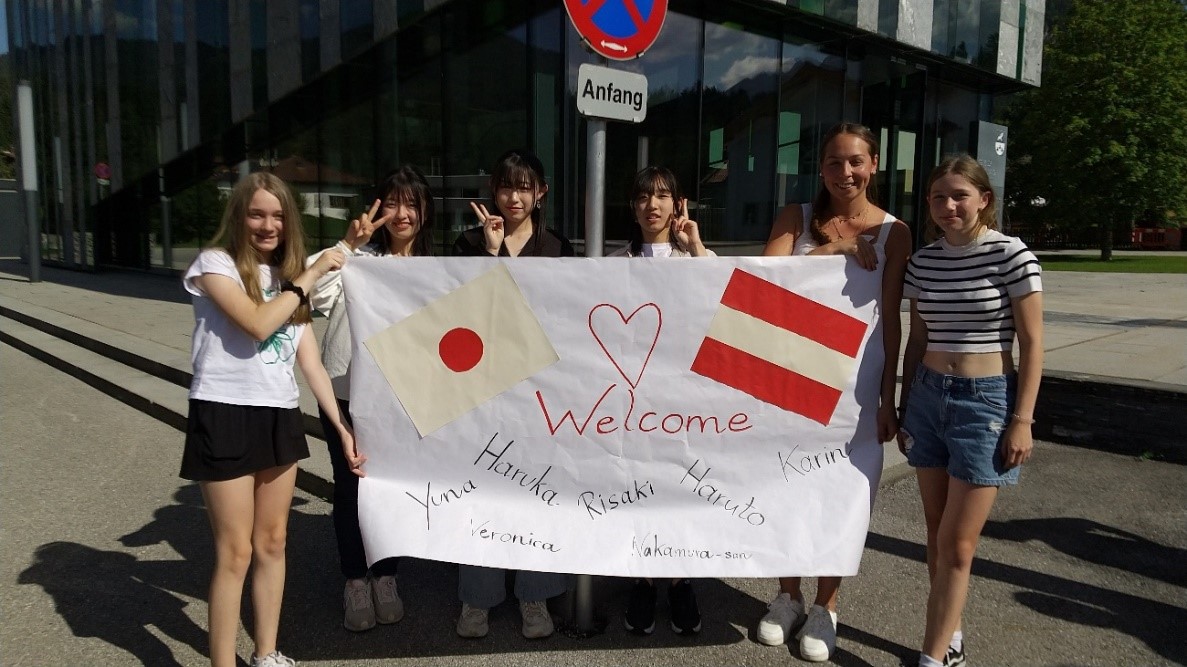 (Partial group photo with our welcome poster, after being reunited in Breitenwang.)

That night, we attended a welcome party, where the Austrian participants played a beautiful slideshow of their time in Japan. The Japanese participants got a reminder of how extraordinary their hometown truly is, while the Reutte/Breitenwang side learned a bit about what their young people were lucky enough to experience.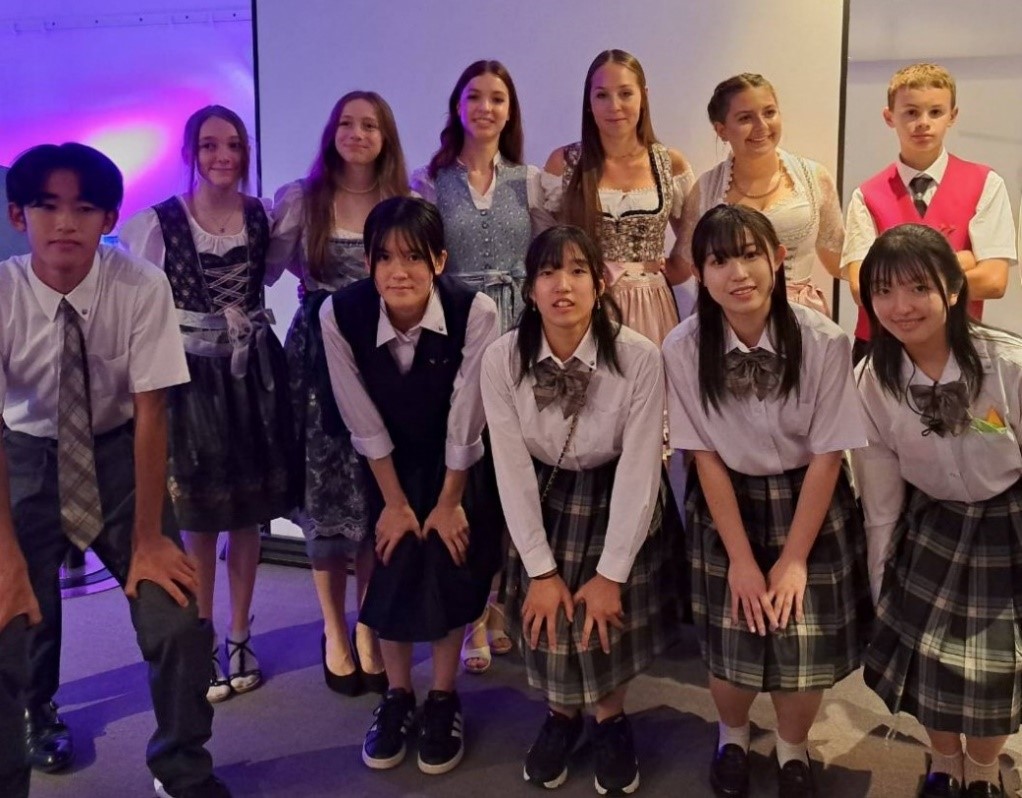 (Full group photo at the welcome party.)

Our stay was short, but the participants were able to enjoy it to the fullest, and I think the values of their hometown enabled them to do so. Specifically, helping others, hospitality, and cultivating human relationships are considered to be very important here. When they were encountering a range of unfamiliar situations, they relied on each other, which emboldened them to continue to challenge themselves.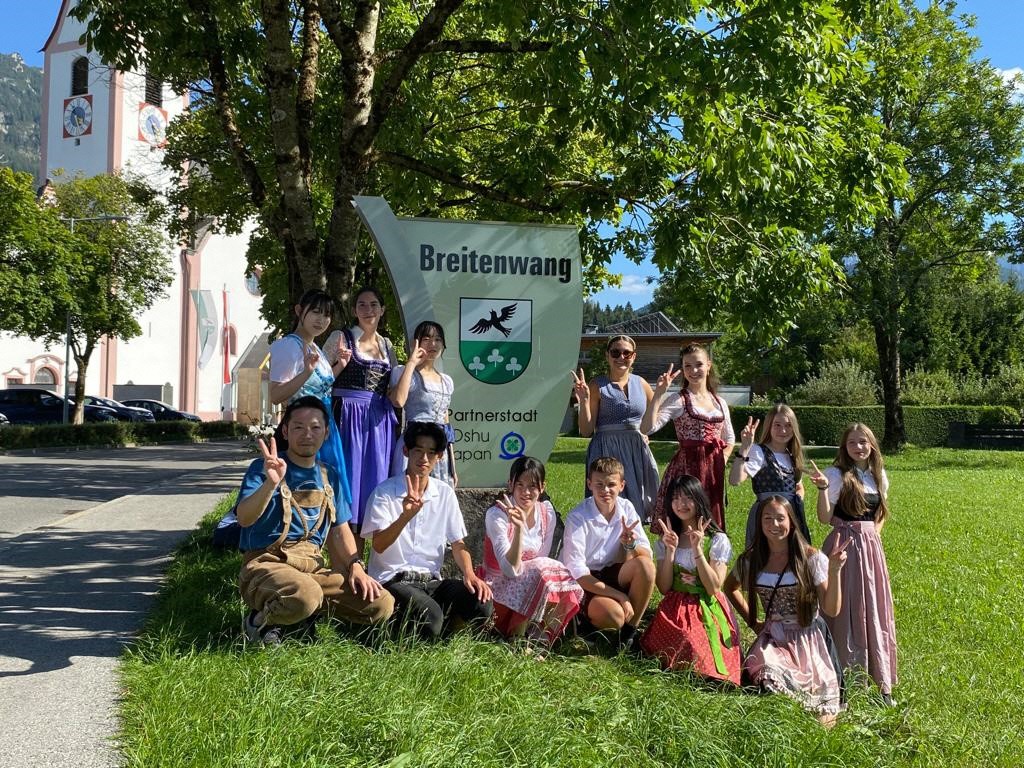 (Our whole group, in traditional clothes, in front of the Breitenwang-Oshu sign.)
  I have to say, once more for emphasis, that this is a wonderful opportunity that both cities create for their young people. Being able to have this kind of experience at such an impressionable age will have an impact on the rest of their lives, I think. Indeed, some of the final impressions that the Oshu participants have expressed are: that this was a valuable experience, that they wished we could've stayed longer, that they want to come back, or that that they've become interested in living overseas in the future. No matter what path they ultimately take, the skills they've developed will serve them well. If these are the kind of young people who are growing up in Oshu, I have high hopes for our future.
In Austria, people hailing from various countries live together with mutual respect. In the event of the ILC becoming a reality, many researchers and their families will come from overseas to Iwate and Oshu; thus, I feel that we too need to develop this stance.
Still, I think we have a good starting point. When I'm asked what I like about Iwate, I usually mention how kind the people are. This kindness is a direct result of a culture that emphasizes mutually relying on and supporting each other. Overseas researchers and their families, who are fortunate enough to spend any amount of time here, are likely to get to experience this classic Iwate selflessness.
Year on year, more international residents are settling in Iwate in general, and Oshu in particular. Given this trend, combined with the possibility of the prospective ILC, it's my hope that programs like this will contribute to building up a population that has empathy and tolerance towards people from other countries.
Japanese
第二部:奥州市からロイテ市・ブライテンヴァング市へ

前回、オーストリアから来日した6人の派遣生たちを奥州市の名所へ案内したことについて書きましたが、今回は5人の奥州市派遣生たちがオーストリアのロイテ市・ブライテンヴァング市を訪れたことについてお話させてください。

両派遣生は日本にいる間、互いに母語ではない英語を話し交流を深めていましたが、「完璧な英語」を使うことではなく、あくまでコミュニケーションをとることを目的としていました。ジェスチャーやアプリを使用し、簡単な日本語やドイツ語を教え合う姿も見られ、信頼関係を築いていきました。このようなやり取りを通じて友情が芽生え、奥州市派遣生たちは期待に胸を膨らませながらオーストリアへ向かう準備をしたのでした。

飛行機がウィーンに到着してからすぐに市内のホテルへ。

次の日、ロイテ市・ブライテンヴァング市のオーストリアの派遣生たちと再会を果たし、夜に彼らは歓迎会を開催してくれ、日本での出来事を素敵なスライドショーにして上映してくれました。
日本の派遣生たちはそれを観ながら改めてふるさとの素晴らしさを実感し、オーストリアの人々は子供たちが日本で幸運にも素晴らしい経験をしてきたことを知りました。

派遣生たちは日本人らしい助け合いの気持ちやおもてなしの心を忘れずに交流を深めたおかげで、短い滞在期間を充実したものにしました。
慣れない環境で初めての出来事に遭遇しても、彼らはお互いを頼りにしながら、果敢に挑戦し続けたのです。

繰り返しにはなりますが、両市が姉妹都市交流事業を行うこと、そして、自らの経験から学び、吸収することができる若い世代が参加することは、とても素晴らしいと思います。この経験は、彼らの一生の宝物になることに違いありません。

 奥州市派遣生たちは、「貴重な経験ができた」、「もっと長く滞在したい」、「またオーストリアに来たい」、「将来は海外に住んでみたい」と思い思いに話しました。彼らが将来どんな道に進んでも、身に着けた力は役に立ちます。奥州市で育つ子供たちの未来は明るいことでしょう。

 オーストリアでは、様々な国からやってきた人々が互いを尊重しながら地域で共に暮らしていました。ILC誘致が実現すれば、多くの研究者やその家族たちが海の向こうから岩手県や奥州市にやってくるため、私たちもその姿勢を見習わなければなりません。
「岩手県の良いところはなんですか?」と聞かれたら、私はこう答えます。「人の優しさ」です、と。この「優しさ」の源は、お互いを信頼し、助け合う心にあります。海外の研究者やその家族の皆さんが将来、岩手県で過ごす機会があれば、どんなに短い間でも「人の優しさ」に触れることができるでしょう。

 毎年、岩手県全域で外国人住民が増加しており、奥州市も増加傾向にあります。この状況を踏まえILC誘致の可能性も見据えながら、外国の方に対し、広い心と思いやりがある街づくりができることを願っています。