Cover stock photo: Negative Space on Pexels
What numbers do you call in an emergency? In Japan, we call 119 for ambulances and the fire department, and 110 for the police. The problem is, in many areas the operator only speaks Japanese, so in an emergency non-Japanese speakers have to attempt the call in Japanese or get someone else to call for them.
Not for Iwate. Some cities including Morioka, Hanamaki, Oshu, and Ichinoseki can use a three-way interpretation service. This service was introduced last year and is available 24 hours a day, 365 days a year, with interpreters for English, Korean, Chinese, Portuguese, and Spanish.
I had the opportunity to see this system in action recently, as the Oshu-Kanegasaki fire department conducted a drill with its employees using the service.
There were two scenarios for the drill. In the first scenario, a Chinese speaker had severe stomach pains. In the second, an American English speaker had slipped and injured his shoulder near Oshu City Hall. In both scenarios, the sick or injured person (played by local international residents) called 119, speaking only in Chinese/English. The 119 operator requested an interpreter for the call, and then asked for information on symptoms, location, name and address through the interpreter. A team of EMTs would then arrive on scene and use the interpretation service to communicate with the patient.
Picture: The woman in the yellow vest is the volunteer Chinese speaker. The men in green vests surrounding her are emergency rescue workers, passing the phone with the Chinese-Japanese interpreter back and forth to check symptoms, personal information.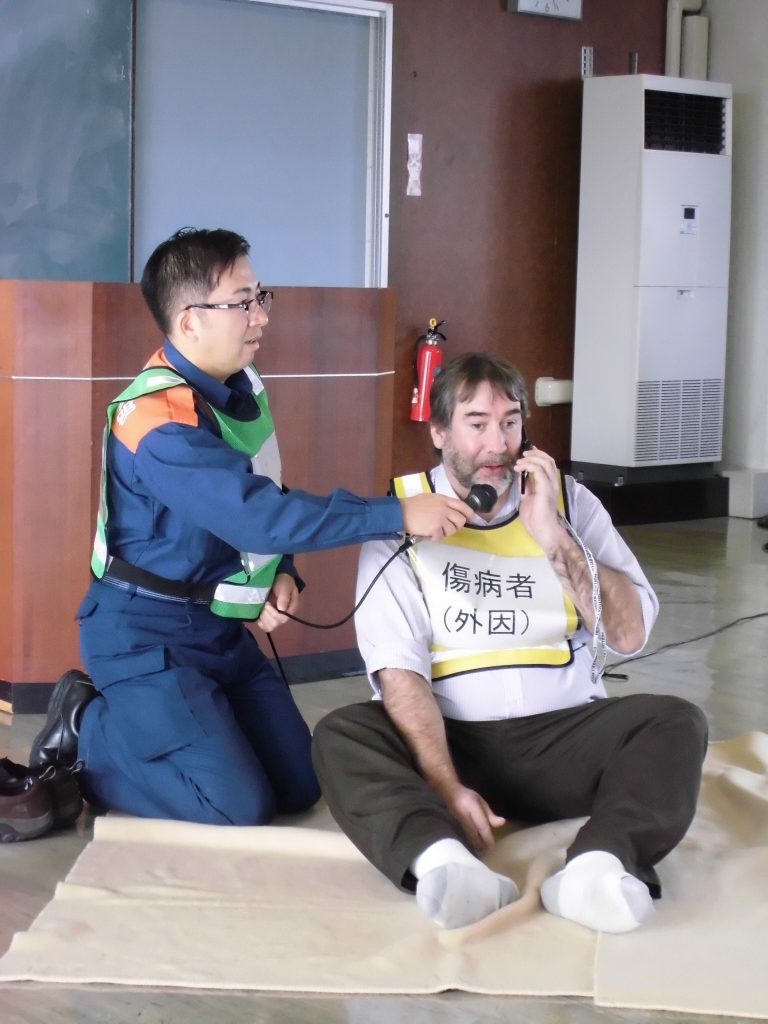 Picture: Volunteer English speaker calling 119 to explain he has fallen and hurt his shoulder. On the phone is the 119 operator, asking questions in Japanese, and the English-Japanese interpreter relaying information between him and the operator.
For the scenario I could understand (Japanese-English), the interpretation was accurate. The EMTs said that by practicing using this service, they could get a grasp of how it works and how to smoothly communicate through the interpreter by using clear, simple language and ensuring the interpreter could hear the conversation. The Oshu-Kanegasaki fire department has used the interpretation service twice so far, both times with Chinese speakers. They are working to ensure the safety of international residents and visitors through conducting drills like this one with the support of Oshu International Relations Association. As an international resident and an Oshu city employee, my hats go off to both organizations for their efforts.
(By the way, does the English speaking volunteer look familiar? That's Dean, a member of the ILC Support Committee and who has appeared in at least 7 "Oshu for You" videos!)
Japanese
119番に通報できる安心:最近導入された通訳サービス

日本の緊急通報番号は、119番(救急車と消防車)、110番などがありますが、多くの地域では日本語のみ対応で、緊急時が発生して日本語が話せない場合は自分で日本語でなんとか伝えようとするか、日本語が話せる人に代わりにかけてもらうしかないのです。

しかし、岩手では、盛岡市、花巻市、奥州市、一関市など一部の市町村で3者間の通訳サービスが利用可能です。この去年導入されたサービスは、24時間・365日運用していて、5ヵ国語(英語、中国語、韓国語、スペイン語、ポルトガル語)に対応しています。最近、奥州市金ケ崎行政事務組合消防本部で通訳サービスを用いた職員向け訓練を視察してきました。

訓練に二つの想定シナリオがありました。一つ目は中国人が腹痛を訴えるシナリオで、二つ目はアメリカ人が奥州市役所近くで滑って肩の怪我をしたというシナリオです。外国人市民の傷病者役二人が中国語または英語で119番通報をして、県央消防指令センターが通訳オペレーターにつなぎ、通訳者経由で場所、症状、個人情報などを聞き取りました。そして、救急隊が現場に到着し、また通訳サービスを使いながら傷病者役とやり取りをしました。

個人的な感想は、日本語・英語での通訳はしっかりしていました。救急隊の職員がサービスを実際に利用してみて、シンプルで明確な表現を使いながら通訳者が全員の声が聞こえられるように工夫するなど、使い方のこつが分かったと評価しました。奥州市金ケ崎行政事務組合消防本部は、今まで中国語2件で通訳サービスを利用しました。奥州市金ケ崎行政事務組合消防本部が奥州市国際交流協会のサポートを得ながらこういう訓練を行うことで外国人市民、観光客の安全・安心のために取り組んでいただいています。外国人市民と奥州市職員として、両組織に感謝です。

(ところで、アメリカ人の傷病者役は見覚えありませんか?ILCサポート委員会メンバーと7本もの「Oshu for You」動画に出演するディーンさんです!)