In recent years, Japanese cuisine has enjoyed a boom of popularity abroad, which means that more and more people are enjoying the delights of Japanese sake.
Iwate Prefecture boasts a large sake production industry, and in particular, the Morioka region is full of not just sake makers, but also unique wineries and beer breweries.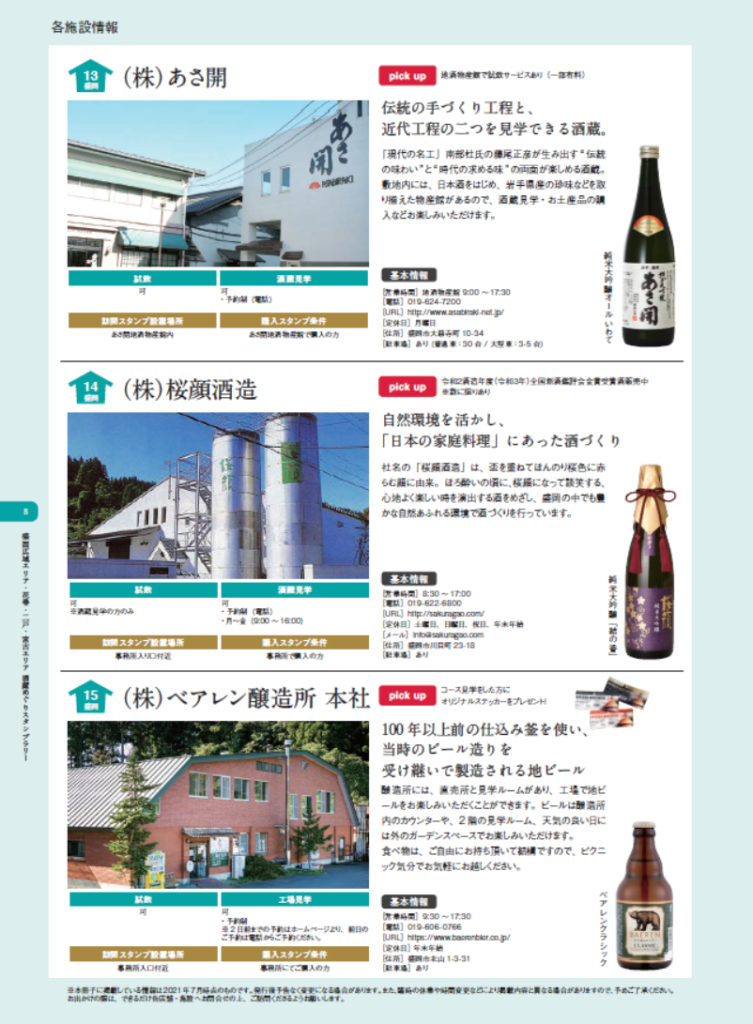 *Excerpted from the Sake Brewery Stamp Rally 2021 pamphlet
There are many alcoholic beverages, but with this article I'd like to share with you the appeals of Japanese sake.
First off, you may already know this but sake is made from rice.
A type of mold called "koji" is added to steamed rice in order to turn it into sake. After the mold proliferates and ferments alcohol into the rice, liquid is squeezed out of the mixture and is served as sake.
There are a lot of interesting things to know about that sake.
First, sake goes remarkably well with a number of different dishes. This has much to do with the unique flavors and essences of sake, but by enjoying sake along with food, it serves the purpose of drawing out the true intrinsic flavor of the food.
Furthermore, sake can be enjoyed at a number of different temperatures. Many people believe that beer and wine only taste good at cooler temperatures, and while I recommend trying chilled sake, you can also drink it at a warm temperature of 50℃. We call this type of drinking style "atsukan." The flavors of sake change depending on its temperature, and one of the best parts of the drink is the fact that you can enjoy sake in different ways depending on the season, the food served, and your own personal tastes.
Here are some fun facts about sake breweries:
〇 No natto allowed?!
Sake brewing uses mold and yeast for the manufacturing process. Natto, a popular fermented soy bean product, are forbidden in sake breweries. The bacteria in natto is quite strong and it can ruin the mold used in sake fermentation. (Visiting a sake brewery after eating natto? Not such a great idea.)
The lactic acid bacteria used to make yogurt can also have an effect on the bacteria used in sake, so it's best not to mix the two as well.
〇 Don't forget about the aroma!!
The aroma of sake is one of the most important things about it. If you wear perfume or other strong fragrances to a sake brewery, it could have a huge effect on the brewing process. Be careful of applying strong fragrances when visiting.
〇 What is this object hanging over here?! – the "Sugidama" ornamental fixture –
Every year from February to March, sake breweries hang a large ball made of green vegetation above their entrance.
This is called a sugidama, and sends the message that the sake brewery has successfully brewed its new sake this year.
The sugidama is a bright green when it's first hung up, but changes along with the seasons. The vegetation begins to thin with the approach towards summer, and by fall, the green has withered and turned the ball a brown color.
A green sugidama signifies the season of new sake; summer sakes are introduced as the sugidama begins to thin; the brown sugidama of autumn heralds sake that has been aged over the summer called "hiyaoroshi." As the sugidama's colors change, so does the type of sake available.
Those who visit a sake brewery can look at the color of the sugidama as it changes through the seasons, and feel the change in seasons and sake varieties.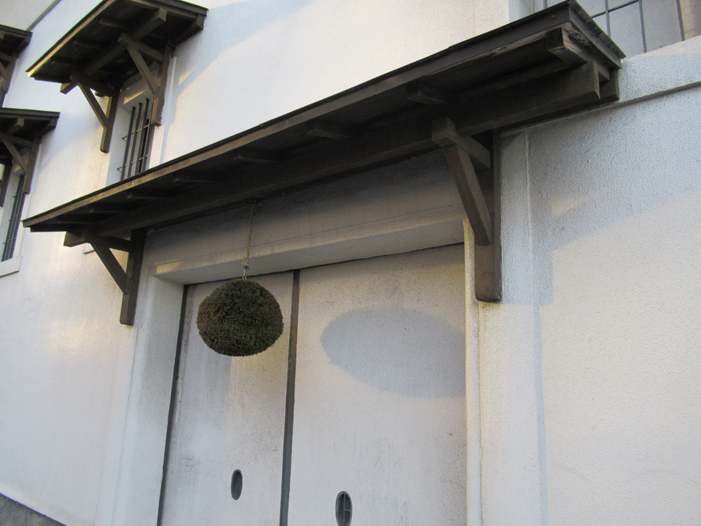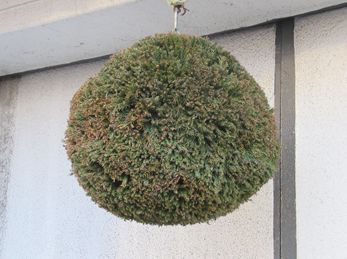 Iwate is blessed with clear, delicious water as well as a vast fertile environment. This along with the rice and produce grown here serves as the base for sake, as well as local beer and wine. Each region makes use of its unique characteristics to create appealing alcoholic beverages.
If you have the opportunity to visit Japan, we hope you have a chance to learn about Japanese sake culture, as well as try the many sake varieties of Iwate.
Japanese
四季にわたり嗜む日本酒
岩手県の豊かな自然資源が生み出す日本酒愛好家のワンダーランド

近年、海外では和食ブームが広がりを見せ、和食に注目が集まり、日本酒(SAKE)にも人気が出てきているところです。
岩手県は、酒造りが盛んであり、特にも盛岡地域には「酒蔵」と呼ばれる日本酒を造り、貯蔵している蔵や、特色のあるワイナリーやブルワリーが多数存在しています
【写真①、②】※ 酒蔵めぐりスタンプラリー2021冊子から抜粋し掲載

そこで今回は、皆さんに様々なお酒の中から日本酒の魅力を紹介したいと思います。
初めに、日本酒は何から造られているか御存じでしょうか。実は、日本酒は「お米」から造られています。
蒸したお米に日本酒になるための「麹」と呼ばれる菌を繁殖させ、アルコール発酵した後に、それを搾ることにより日本酒ができるのです。

そんな日本酒は、様々な魅力を持っています。
まず、料理との相性が抜群です。これは日本酒特有の風味などが関係してきますが、料理と一緒に嗜むことにより、素材の味を引き立てる役割も持っています。

また、飲用温度が幅広です。ビールやワインなどは、冷たくしたものが美味しいと思う方が多いのではないでしょうか。
もちろん日本酒も冷やして飲むこともおすすめですが、50℃ぐらいに温める「熱燗」と呼ばれる飲み方もあります。日本酒は温度などによって風味などが変化するため、季節や料理などに合わせ、自分の好みで楽しめることも魅力の一つとなっています。

では、ここで前述した「酒蔵」について、豆知識を少し紹介したいと思います。

〇 納豆は厳禁?!
日本酒造りには麹菌や酵母などを使用しています。日本食でよく食べる「納豆」は日本酒造りには厳禁です。納豆菌はとても強い菌のために、麹をダメにしてしまうので、食べたあとの見学はNGです。
また、ヨーグルトなどの乳酸菌もお酒造りに使う乳酸菌に影響が出る可能性があるので控える必要があります。

〇 香りも重要!!
  日本酒にとって香りは重要です。酒蔵に香水などの香料が強いものをつけて行くと日本酒造りに大きな影響が出かねません。身につける香りにも十分気を付けることが必要です。

〇 不思議なオブジェ?!「杉玉」
酒蔵には毎年2月から3月頃になると、蔵の軒先に緑色の植物で作られた球体が飾られます。
これは、「杉玉(すぎだま)」と言って、「今年も新しいお酒が完成しました!!」という酒蔵からのメッセージになっています。
杉玉が飾られた当初は、緑色ですが、日本の四季の移り変わりにより、季節が過ぎ夏頃には緑が薄くなり、秋ごろには枯れて茶色くなります。
緑色は新酒の季節、薄い緑は夏酒の季節、枯れた茶色はひやおろしの季節というように、日本酒造りに合わせるように杉玉の色は変化していきます。
酒蔵を訪れる方は、季節の移り変わりとともに変化していく杉玉の色を見て、日本酒の変化を感じているはずです。
【写真③、④】

岩手県には、清らかでおいしい豊富な水と肥沃な大地に恵まれて育った米や果実を原材料としてお酒を造る多くの酒蔵・ワイナリー・ブルワリーがあり、それぞれが地域の特徴を生かした魅力にあふれるお酒となっています。
日本に来た際には、ぜひ日本酒の文化に触れていただくとともに、岩手の多くのお酒を嗜んで欲しいです。