The snow on Mount Iwate has melted, and you can see the mountain ranges surrounding Morioka clearly. You're fine outside in just a short-sleeved t-shirt, and you can hear the sounds of summer all around.As you can tell, summer has started! What's everyone's plans this year?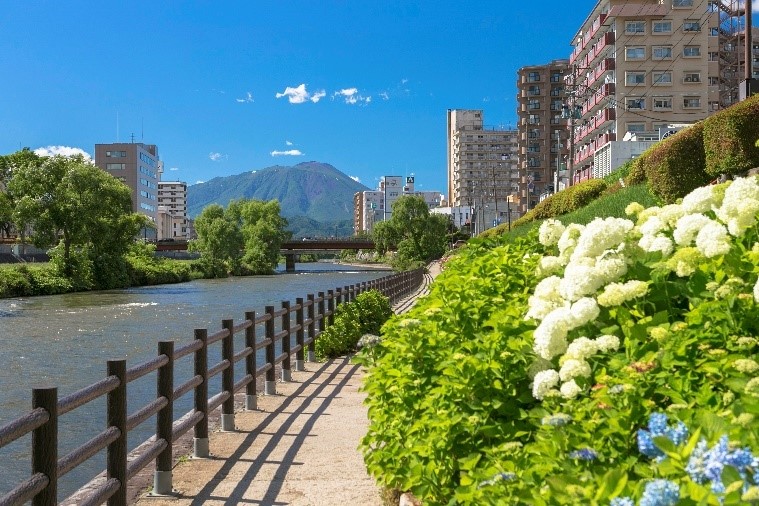 This article is about Sansa Odori, a huge summer festival that brings color to the city of Morioka, and is its best-known summer event.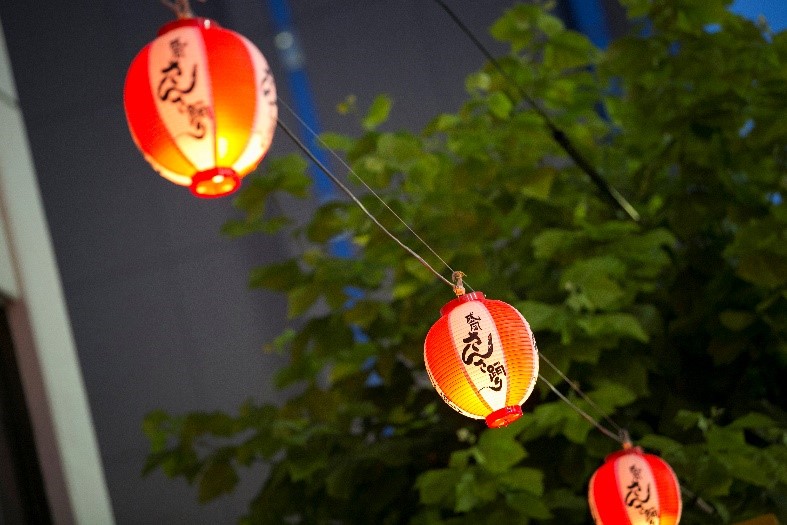 Sansa Odori is a four-day parade typically held from August 1-4 on Morioka City's Chuodori Street. Huge troupes of drums, flutes, singers and dancers come together to the same beat to march down the street. Due to COVID, the festival has been cancelled for the past few years, but the parade is scheduled to be held in 2022 for the first time in three years.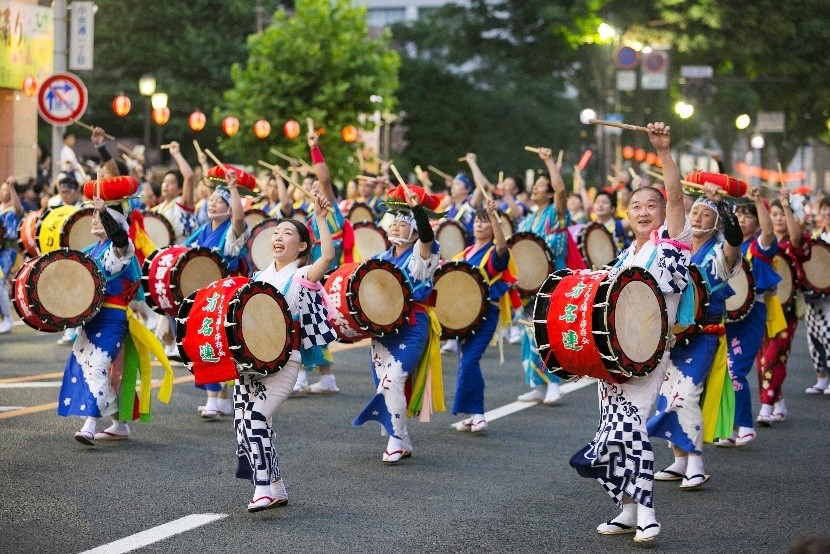 Sansa Odori originally came from the legend of Mitsuishi. Mitsuishi is the name of a small shrine in Morioka, and the story goes as such: A long time ago, an evil demon appeared in the town and started terrorizing the people. They came together to pray to the god of the Mitsuishi Shrine to drive the demon away. That god captured the demon, and made it vow to never bother anyone ever again. As proof of its vow, Mitsuishi made the demon leave its hand print on the rock inside the shrine. (That is also the origin of the name Iwate, literally meaning "Rock-Hand" in Japanese).
The people, overjoyed over the departure of the demon, danced around the Mitsuishi shrine, shouting, "Sansa sansa!" That, they say, is the origin of the Sansa Odori dance. If you ever find yourself in Morioka, we'd love if you made your way over to Mitsuishi Shrine as well.
Here's another surprising fact about Sansa Odori – the event actually holds the Guinness World Record for the most Japanese taiko drums performing at the same time. People from all over the country gathered in Morioka to make that happen.
Now that you know how Sansa Odori started, do you want to try dancing in the parade yourself? We're starting to prepare for the festival, and you can hear the sounds of drums throughout the entire city. Please come to Morioka this summer to get a taste of Sansa for yourself.
Japanese
【3年ぶりの開催 ~さんさ踊り~】
 岩手山に積もっていた雪も解け、山肌がはっきりと見えるようになりました。半袖一枚でも過ごせる時期になり、徐々に夏の足音が聞こえてきましたが、皆さん、今年の夏のご予定は計画されていらっしゃいますでしょうか?

今日は皆さんの夏に彩をもたらす盛岡を代表するお祭り、「さんさ踊り」についてご紹介します。

さんさ踊りは、例年8月1日~4日の4日間に渡り、盛岡市の中央通りで開催されるパレードです。太鼓、横笛、唄、踊り手の掛け声に合わせて、大勢の人がグループになり、通りを練り歩きます。ここ数年間は感染症の拡大もあり、開催中止となっておりましたが、3年ぶりに開催されることになりました。

このさんさ踊りの起源は、三ツ石伝説に由来しています。三ツ石伝説とは何かと言いますと、その昔、まちに鬼が現れ、暴れておりました。困り果てた人々は、三ツ石神社の神様に鬼の退治を祈願しました。その願いを聞き入れた神様は鬼をとらえ、二度と悪さをしないよう誓いの証として、境内の大きな三ツ石に鬼の手形を押させました。(岩に手形、これは"岩手"の名の由来だとも言われています。)
鬼の退散を喜んだ人たちが、三ツ石のまわりを「さんささんさ」と踊ったのが「さんさ踊り」の始まりだと言われています。ぜひ、盛岡へお越しの際は、三ツ石神社へも足を運んでいただければと願います。

ここで、さんさ踊りについてのうんちくをもうひとつ。さんさ踊りは「和太鼓の同時演奏記録者数」にてギネス記録に登録されております。全国各地から記録達成に向け、多くの方が参加されました。

さあ、祭りの起源も知り、お祭りに参加したくなりましたか?これからは祭りの準備に向け、迫力ある太鼓の響きが街中で聞こえ始めます。今年の夏は是非、さんさ踊りを味わうため、盛岡へお越しください。