A different kind of winter festival
Iwate has a long history – from festivals featuring ancient dancing and drumming traditions, to prehistoric civilization sites in the north, to centuries-old craftworks whose techniques have remained unchanged to this day, there's something moving about how far Iwate's culture stretches back. Oshu in particular is well-known for its historical places and events, especially the thousand-year-old festival of Sominsai.
Sominsai doesn't have a proper, one-to-one English translation, so it's better to just explain it. Essentially, it's a festival held in January or February wherein participants, mostly men and boys in nothing but loincloths, secure good fortune for the coming year. (Non-participants are free to come and watch.) This is done by a gauntlet of purifying rituals: first, rinsing in an ice-cold river – this part features a chant of "Jasso! Joyasa!" which roughly means "banishment to evil" – then, climbing up on a sacred bonfire; lastly, scrambling for a lucky bag called "somin-bukuro" that is believed to bless the person who wins it with good luck for the year. All of this in the dead of winter, late at night, in Iwate, which can be a bitterly cold environment indeed.
Of course, as (near) naked festivals are not generally practiced in America, I had no idea what to expect, but was looking forward to observing a part of Oshu's culture that has persisted for so long.
Various Iwate municipalities have similar events to Sominsai, but Oshu's event at Kokuseki-ji Temple is one of the larger ones. As you can probably imagine, Kokuseki-ji Sominsai was canceled in 2021 due to COVID-19 concerns; it was held only as a prayer ceremony in 2022. Fortunately, I managed to go see part of this festival back in January 2020.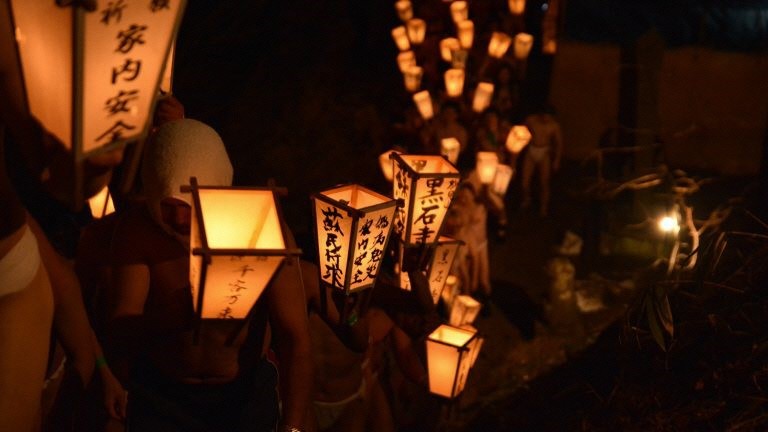 Lanterns carried by participants.
Because this festival happens in the dark, it's hard to take high-quality photos or videos on a smartphone; the upshot is that it's easier to remain in the moment, taking in the event.
The "Jasso! Joyasa!" call-and-response permeated the air, in an almost hypnotic way. The atmosphere is that of a primeval winter rite; you can really feel the thousand years this custom has been taking place. Watching the cycle of people entering and exiting the river to become purified can also provoke a pensive mood.
I think something like Sominsai is grounded in some intuitive and near-universal concepts. So many world religions have practices that create meaning from something painful or difficult, using it for a higher purpose. The forms these practices take may vary by culture or nationality, but ultimately we all fear death and disease, and use rituals to try to protect ourselves and those we care about. All sorts of cultures have adopted ideas like this, which is yet another reminder for me that, regardless of anything, people are much more alike than they are different.
Despite these musings, I don't want it to sound like Sominsai is a grim ritual. Far from it – you can find booths selling ordinary Japanese festival fare such as yakisoba fried noodles; here and there you can see onlookers taking smiling selfies with participants. Said participants encourage each other and exude sincerely good cheer and camaraderie in the face of bitter cold, which is quite powerful to watch.
While the festival goes on until dawn of the following day, it's not necessary to stay the whole time if you're a spectator. I left around 1:00AM, if I recall correctly.
If you find yourself in Iwate in January or February or so, watching this festival unfold is an unforgettable experience. I hope that in the years to come, this festival can return in its full capacity, and provide onlookers and participants alike with new perspectives to carry into the New Year.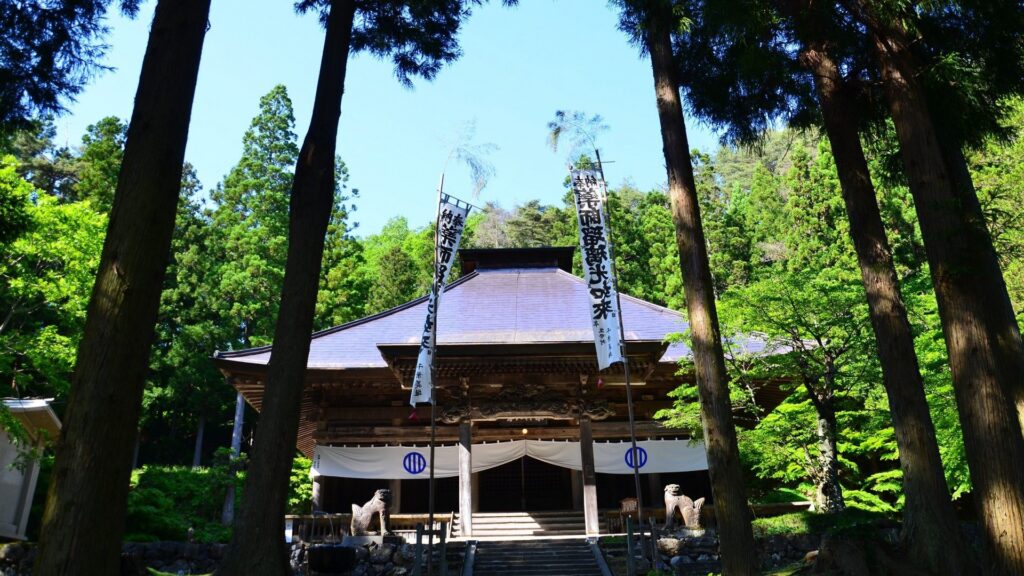 Info about Kokuseki-ji Temple:
17 Yamauchi, Kuroishi, Mizusawa, Oshu, Iwate, JAPAN
TEL: 0197-26-4168
FAX 0197-26- 4303
e-mail : info@kokusekiji.jp
Japanese
大昔から継承される真冬の伝統:蘇民祭
特別な冬祭

岩手は長い歴史を持つ地域です。

昔から続いてきた祭りでの踊りや太鼓、岩手県内各地に存在する埋蔵文化財、数百年にわたって技術が継承されてきた伝統工芸品など、岩手の長い歴史に根付いた文化は人々に感動を与えるものだと感じています。

そして、奥州市にも様々なイベントがあります。
今回は「蘇民祭」という1000年以上の歴史を持つ冬に行われる祭りを紹介します。

蘇民祭は適当な英語の直訳がないので、説明します。
蘇民祭は五穀豊穣、災厄消除を祈って行われる祭りであり、参拝者として褌姿の男性が参加します。祭りに参加しない男性や女性は一般観覧できます。
祭りが開催される1,2月の岩手の気温は氷点下、寒冷積雪の中にあり、過酷な環境です。
参拝者は~ジャッソ、ジョヤサ!(意味は大体「邪を正す」)と声掛けしながら川の方に歩いていき冬の川の水を体全身に浴びて身を浄め、その後、柴燈木と呼ばれる木のフレームに登って火の粉を浴び、最後に「蘇民袋」という袋を争奪します。最後に袋を奪った者に五穀豊穣が約束されるといわれています。

アメリカには裸で行うイベントがないので、蘇民祭がどんなイベントかイメージできなかったけれど、大昔から続けられてきた奥州市の文化を観ることが楽しみでした。

蘇民祭に似たような祭りは他にもいくつかありますが、奥州市の「黒石寺蘇民祭」はもっとも大きくて有名な祭です。
私は2020年にこの祭りを観覧しましたが、新型コロナウイルス感染症の影響で2021年は中止され、2022年は祝祷のみ行われました。
【写真①】

蘇民祭は明かりの少ない夜中に行われる祭りであり、スマートフォン等できれいな写真や動画を撮ることは難しいです。しかし、参拝者が祭りに集中できる環境です。
「ジャッソ、ジョヤサ!」の掛け声に溢れた祭り会場は、大昔から続く冬の伝統を感じることができる雰囲気でした。
また、祭り会場ではファーストフード屋台などもあり、あちこちで観覧者・参拝者は一緒に笑顔で写真を撮ったりします。参拝者はお互いに励ましあい、寒さに負けない元気と友情は、見ていてすごく印象に残りました。

この祭りを見ていて、蘇民祭は直観的で普遍的なアイデアを踏まえていると感じました。
世界にあるいくつかの宗教には、苦しみを乗り越えて崇高な目標を目指す考え方があります。
文化や考え方、人種や国籍によって形式は異なりますが、自分と大切な人を守るため無病息災を祈る行事を作り出す点について、蘇民祭は他の行事と深い共通点を持っていると感じました。

1月~2月に岩手にいたら、是非、奥州市の蘇民祭を一度見てみてください。
決して忘れられない経験になると思います。
新型コロナウイルス感染症が一日も早く収束し、この祭りが完全な形で開催され、参拝者と観覧者によって賑わうことを願っています。
【写真②】