Starting in 2017, the Iwate Prefectural Government designated four high schools as "ILC Promotion Model Schools." What does that entail? Well, not only does the prefecture hold seminars on particle physics for students at these schools, they also encourage education in international studies and developing new, ILC-related course work. This project aims to get students to apply their own knowledge and skills for getting involved with the ILC – even if that means something other than being a physicist!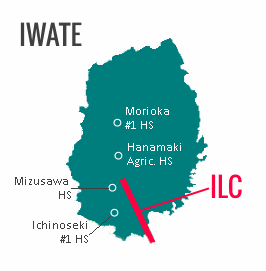 The schools are:
・Morioka #1 High School
・Hanamaki Agricultural High School
・Mizusawa High School
・Ichinoseki #1 High School
Students from these schools have already come up with projects to help out the ILC effort in the past. Hanamaki Agricultural High School created the famous ILC apples handed out at LCWS 2016 in Morioka. Ichinoseki #1 High School students have petitioned their city's mayor to bring about the project. Mizusawa High School and Morioka #1 High School have also hosted many talks and presentations on the ILC. Students' expectations are high that the ILC will become a hub of science and technology in the region, and will rev up development throughout Iwate. They truly are at a front row seat to history!
Check out what some of the schools have been working on:
Morioka #1 High School
The only school in Japan to submit a proposal for CERN's Beamline for Schools Competition
For the past five years, CERN has run a contest for high school students around the world to come up with a particle physics experiment to be run on a CERN accelerator beamline. In 2017, the only school in Japan to enter the contest was Morioka #1 High School, and while they didn't win, it was still a great opportunity for the students involved to learn more about physics as well as what it is to "do science" at the world's most advanced particle physics lab.
Their leader, Asahi Nakamuta, described their proposal. "By exciting atoms and getting them to emit light, we would make a man-made aurora, and learn the secret of the mystery behind the natural phenomenon. We thought that by changing how you excite the atoms, the shape of the aurora would change." It was tough work preparing their proposal, as the students first translated all of the materials on CERN's website into Japanese, and then had to translate their proposal into English – all by themselves. "But it was a good experience. Everyone had a good attitude and was having fun." They named their group "Kagayaki," which means "sparkle" in Japanese.
All of the students hope to get involved with the ILC in the future. Ayaka Higuchi said, "I wanted to be a doctor before I knew much about particle physics, but now I don't just want to be a doctor; I want to do research too. I saw that you can apply a lot of these accelerator technologies to healthcare. If the ILC is placed in Iwate, the world's most advanced facility for particle physics will basically be in my backyard, so I really hope to be involved in some way."
Morioka #1 High School has also been designated by the Ministry of Education as a Super Global High School in order to prepare their students as international leaders. Their teacher described their hopes for the program: "We want our students to be interested in studying more about the ILC so they'll get involved as adults. We will continue to focus on having them do self-led exploration into these subjects."
Hanamaki Agricultural High School
On February 20-22, the ILD meeting for 2018 will be held in Ichinoseki City, meaning southern Iwate will once again welcome researchers, both foreign and Japanese, to the Kitakami site. Once students at Hanamaki Agricultural High School heard about this event, they knew they wanted to make some sort of gift for the visiting researchers. And what goes best with the ubiquitous coffee breaks during international conferences? Cookies, of course. And not just any cookie – ILC cookies!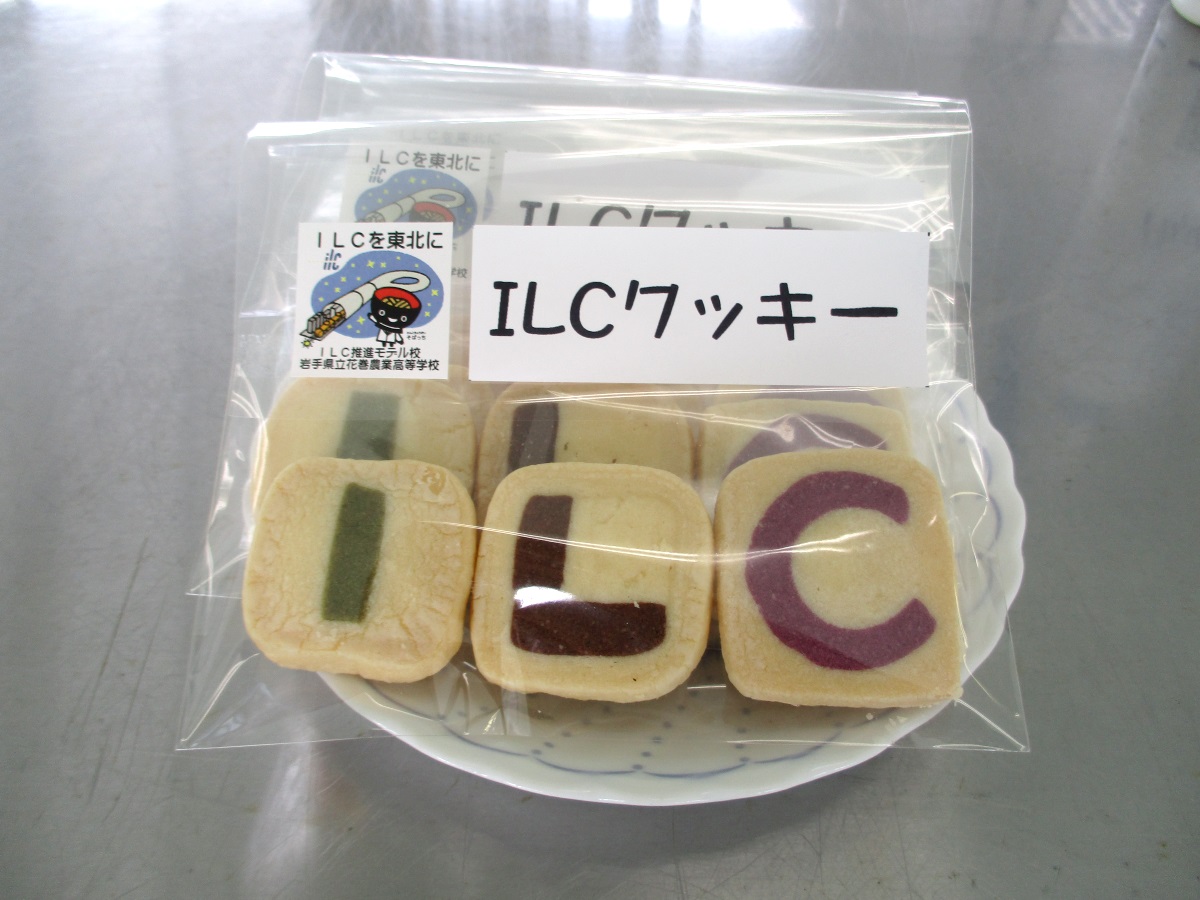 "Since our school was made a model ILC school, we wanted to get others more aware of the ILC, so we decided to make these cookies with the letters "I" "L" and "C" in them, as a visually appealing design," describes Ayumi Kamada, one of the students who helped develop the recipe. "They're icebox cookies, which means you form the dough first, and then slice and bake them whenever you want."
"Each one has a different flavor," says Juria Kikuchi, one of the other students. "The 'I' is flavored with matcha (green tea), the 'L' is cocoa, and the 'C' is made with purple sweet potato. They're made with a mix of flour and rice flour made with rice grown right here at the school. It was tough to find the right mix!"
"But the rice flour gives them a nice crunch," adds Kamada. If the cookies get a good reception by the researchers, they're hoping to sell them at other sorts of events to increase awareness of the ILC.
"Before, I often saw promotions for the ILC on TV, but I honestly had no idea what they were talking about," says Kamada. "But this year, after attending a presentation on the ILC for the first time, they said they made us a promotion school, and I kind of got a bit interested in it. I learned more by looking at the presentation materials, but it's a lot of new information!" They both hope to continue to learn more about the ILC as they start their careers.
Japanese
ILC推進モデル校の高校生が誘致実現を応援
次世代を担う若者がILCと関わるように岩手県はILCの推進モデル校を指定

2017年から、岩手県が4つの県内高校をILCの推進モデル校として指定し、ILCを中心にしたカリキュラムの開発やILCに関係するスキル・知識の取得を推進しています。対象生徒が研究者にならなくてもILCに貢献できるように、素粒子物理学の講演会の開催などだけではなく、国際的な教育など各学校で進められています。

ILCのモデル推進校
・盛岡第一高等学校
・花巻農業高等学校
・水沢高等学校
・一関第一高等学校

以前も、上記の高校の生徒がILCの誘致実現をいろいろな形で支援してきました。盛岡市で開催された国際学会「リニアコライダーワークショップ2016」では、大人気の「ILCリンゴ」を栽培したのが、花巻農業高校でした。また、ILCを誘致するよう、一関高校の生徒が直接市長に要望活動を行いました。水沢高校と盛岡第一高校でも、ILCをテーマにした様々な講演会が開催されてきました。ILCが科学技術の拠点となり、岩手県の活性化の原動力となる、大きなプロジェクトであるため、岩手県の学生が応援しています。

次は、最近の取り組みを2件紹介します。

【盛岡第一高等学校】
日本唯一、セルンのビームライン実験コンテストに応募した学校

加速器のビームラインを活用した実験を世界中の高校生に考えてもらうために、これまでスイスの欧州原子核研究機構(セルン)がビームライン・フォア・スクールズというコンテストを開催してきました。2017年のコンテストで、日本から唯一応募したのが盛岡第一高校のチームKAGAYAKIでした。残念ながら企画は採用とはなりませんでしたがが、素粒子物理学を勉強し、世界最先端の物理学研究所での実験を考える、有意義な試みでした。

生徒のチームリーダーの中牟田旭さんが実験案を説明しました。「原子を励起し、光を出すことで、人工オーロラを作ることができます。そして、オーロラという自然現象を研究し、もしかして現象の謎を解くことができると思いました。励起方法を変えることで、オーロラの形も変わるのではないかと思いました」と、熱心に語る中牟田さん。生徒がまず、セルンのホームページの資料等をすべて日本語に訳し、そして実験案を英語に訳す作業があったため、少し苦労しましたが、中村さんによると「とてもいい経験でした。みんなは前向きで楽しかったです」。ところで、チームの名は、オーロラを思わせるKAGAYAKIでした。

生徒達は将来、ILCと関わっていきたいそうです。樋口文香さんは「素粒子物理学を勉強する前、医者になりたかったのですが、今は、医者だけじゃなくて、研究もしたいです。加速器関連技術を医療に応用することができることを今回の勉強で知りました。ILCが岩手で実現されれば、世界最先端の物理学研究施設が身近なところにあるはずなので、ぜひ関わっていきたいです」と期待しています。

盛岡第一高校は、ILCの推進モデル校のほかに、文部科学省のスーパーグローバルハイスクール(SGH(※))として指定され、グローバル・リーダーの育成を目指した取り組みを行っています。KAGAYAKIチームの指導教師が今後の展開にも期待している様子。「自分たちで研究することで、うちの生徒にILCへの理解が深まっていき、社会人になっても関わっていくと思います。ぜひ、このプログラムを継続していきたいです。」
※SGH:高等学校及び中高一貫教育校において国際的に活躍できるグローバル・リーダーの育成を図ることを目的としたプログラム。

【花巻農業高等学校】

今年2月20~22日、国際学会「ILD meeting 2018」が一関市で開催され、海外の研究者と日本の研究者を歓迎します。岩手県立花巻農業高校の生徒達がこのイベントに向けて、なんと、研究者へのプレゼントを考えました。国際学会と言えば、「コーヒーブレーク」(打ち合わせの合間にコーヒーを飲みながら軽く交流する時間)がありますね。そして、コーヒーに合うのが、クッキーではないでしょうか。しかも今回は、ただのクッキーではなく、ILCのクッキーを作ってくれました!

クッキー作りに携わった生徒の一人、鎌田鮎美さんが、「花巻農業高校がILCの推進モデル校に指定され、ILCを周知するために、"I""L""C"のを意識したクッキーを作りました。視覚的に楽しめるデザインにしました」と説明。「また、アイスボックスという作り方であるため、生地を全部作っておいて、後でスライスして焼くことができます」とのこと。

「それぞれの種類は味が違います」ともう一人の生徒、菊池樹里亜さんが説明。「"I"のクッキーは抹茶味、"L"はココア、そして"C"はむらさきいもです。小麦粉と、花巻農業高校で栽培されたお米から作られた米粉で、クッキーの生地を作っています。2種類の粉をベストな配合にするために試行錯誤を重ねました。」

鎌田さんによれば、「米粉が入っているので、普通のクッキーよりサクッとします」とのこと。今後も、さらに改善を重ねながら商品化を目指し、ILCの周知活動に役立てていきたいと話していました。

「以前、テレビの報道などでILCを見たことがありましたが、正直に言うと全く分かりませんでした」と、鎌田さんが振り返ります。「しかし、今年は私達の学校が推進校に指定されたことで、初めてILCの講演を聴く機会に恵まれました。おかげで、ILCにちょっと興味を持つようになりました。プレゼンテーションの資料を勉強してみたのですが、専門用語や文字が多くて、少し難しいです」

二人は社会人への道を一歩ずつ進みながらILCを勉強していくつもりです。