This article was provided by the Morioka City Government, and translated by Amanda Wayama. 
We can hear the cicada chirping this year, as always, during the hot summer of Morioka in Iwate Prefecture.
Yet, this summer is very different from those past.
Usually, summer in Morioka is filled with sounds of drums and flutes humming throughout the town.
Men and women, old and young are usually hard at work preparing and practicing for the Morioka Sansa Odori festival that is held every year on August 1-4. The air is filled with joy and laughter.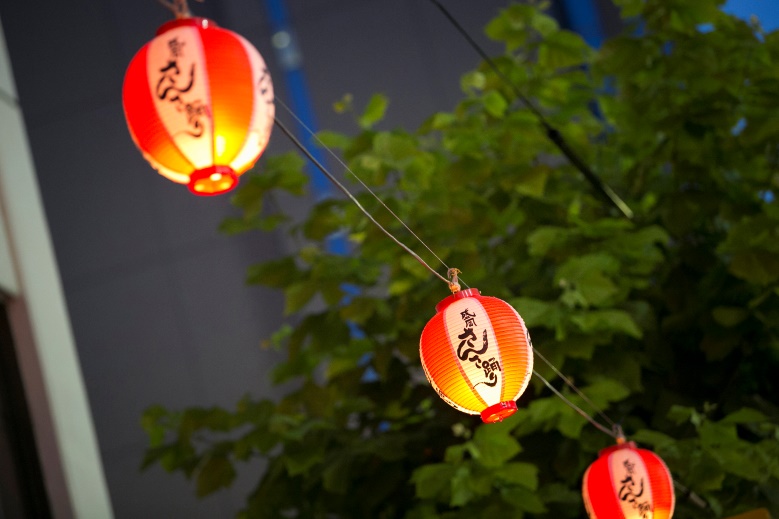 (From "MORIOKA City Promotion Photo Book – Spring, Summer")
The Sansa Odori legend goes as follows: many, many years ago, the castle town of Morioka as plagued by a demon who was going around and causing mischief. Troubled, the townspeople prayed to the god of the shrine to banish the demon. The god caught the demon, and told it to go away and stop harming the townspeople. Overcome with joy, the townspeople danced and shouted, "sansa sansa!" By the by, when the demon was captured by the god, it left its handprint on one of the three rocks by the shrine, which is how "Iwate" (lit. "Rock Hand") got its name.
There are many different types of Sansa Odori dances, and the various neighborhoods of the city have their own traditional dances that have been passed down through the ages. There are also dances that were specifically created for the parade itself, and during the four days of the Morioka Sansa Odori parade, many different organizations perform these dances as they march down main street.
You would be blown away by the over 30,000 participants dance and twirl with their taiko drums and flutes.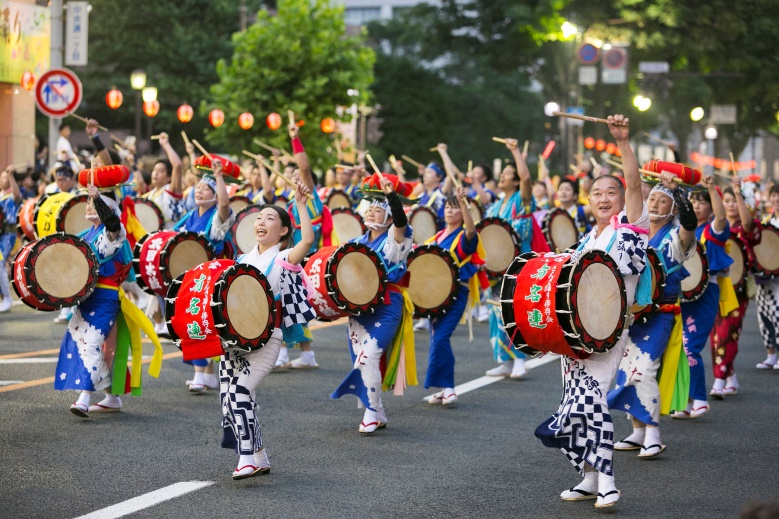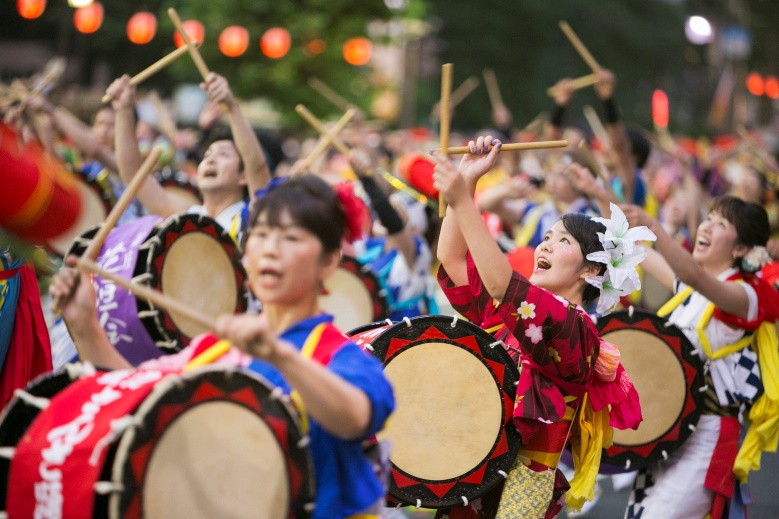 (From "MORIOKA City Promotion Photo Book – Spring, Summer")
This classic summer festival was unfortunately canceled for the first time ever this year due to the spread of COVID-19.
Even so, the people of Morioka are not letting their dreams of Sansa Odori die.
There are many projects being held where you can enjoy Sansa Odori even at home.
One of those is the "Together Through Sansa Project ("Sansa De Tsunagaru Project)" at https://sakkora.jp/ . With this project, anyone can join at any time by posting/watching videos of people performing the Sansa dances.
Even though things are still tough, we believe that we'll come through if people do their best.
Once things calm down, we hope you come visit Morioka!
We're looking forward to the day where we once again hear the banging of drums and chirping of flutes throughout the town.
Japanese
盛岡の夏「さんさ踊り」

蝉の声が今年も盛岡に響いています。
いつもと違う夏の訪れです。

いつもの盛岡の夏は,街中に響き渡る,おぼつかない太鼓と笛の音から始まります。
毎年8月1日から4日まで行われる「盛岡さんさ踊り」に向け,街のいたるところで老若男女が楽器や踊りの練習を始め,陽気な雰囲気につつまれます。

【画像】
(MORIOKA city promotion photo book-Spring,Summer-より)

「さんさ踊り」とは,昔,盛岡城下で鬼が悪さを繰り返しており,困った里人が神社に退治を祈願したところ神様が鬼を捕え,もう悪さをしないと遠くへ逃げたことに喜んだ人々が「さんささんさ」と踊ったのが始まりと言われています。また,鬼が捕まった時、神社のそばにある3つの岩(iwa)の1つに手形(te)を残したことから「岩手(iwa-te)」という名前になったとも言われています。

「さんさ踊り」と言っても様々な種類があり,盛岡の色々な地区に,伝統さんさと言われる昔から伝わる踊りが存在します。また,パレード用に作られた踊りもあり,「盛岡さんさ踊り」では4日を掛け色々な団体が色々な「さんさ踊り」を披露しながら街のメインストリートでパレードを行います。
3万人以上が太鼓と笛で囃し立てながら踊る姿は大迫力で圧倒されます。

【画像】
(MORIOKA city promotion photo book-Spring,Summer-より)

盛岡の夏の風物詩「盛岡さんさ踊り」ですが,今年は残念ながら新型コロナウィルスの感染拡大の影響を受け,初の中止となりました。
そんな状況でも,さんさ踊りに対する思いは消えることがないのが盛岡人。
自宅に居ながらでもさんさ踊りが楽しめるようにと様々なプロジェクトが立ち上がっています。

その一つ「さんさでつながるプロジェクト」(https://sakkora.jp/)ではいつでも,誰でも,どこからでも参加できるプロジェクトとして,動画投稿サイトを立ち上げ,たくさんの人達が投稿・閲覧できるようにしています。

今はまだ大変な状況が続いていますが,一人一人の頑張りがきっと報われることを信じています。
そして,この状況が落ち着いたら盛岡へ遊びにいらしてください!

またあの太鼓と笛の音が街中に響き渡る日を楽しみに。