The land of Camellia, Ofunato City
Ofunato City is known for its diverse coast, which in addition to being blessed with seafood and lovely scenery, would also be key for ILC shipments, due to the port's close proximity to the ILC site. The ocean brings unexpected blessings to the city as well, however, such as temperate weather and sea breeze that make a lovely environment for flowers to bloom in town—especially camellia flowers. It's no wonder why Ofunato's official flower is the camellia, when one sees the natural camellias flourishing in town, such as the camellia garden on Ofunato's coast, or that the Triple-sided Camellia—the oldest, and largest camellia tree in Japan, is located in Ofunato. In celebration of the flower, Ofunato has even established a camellia museum and festival, and local businesses around town create an array of camellia-based products.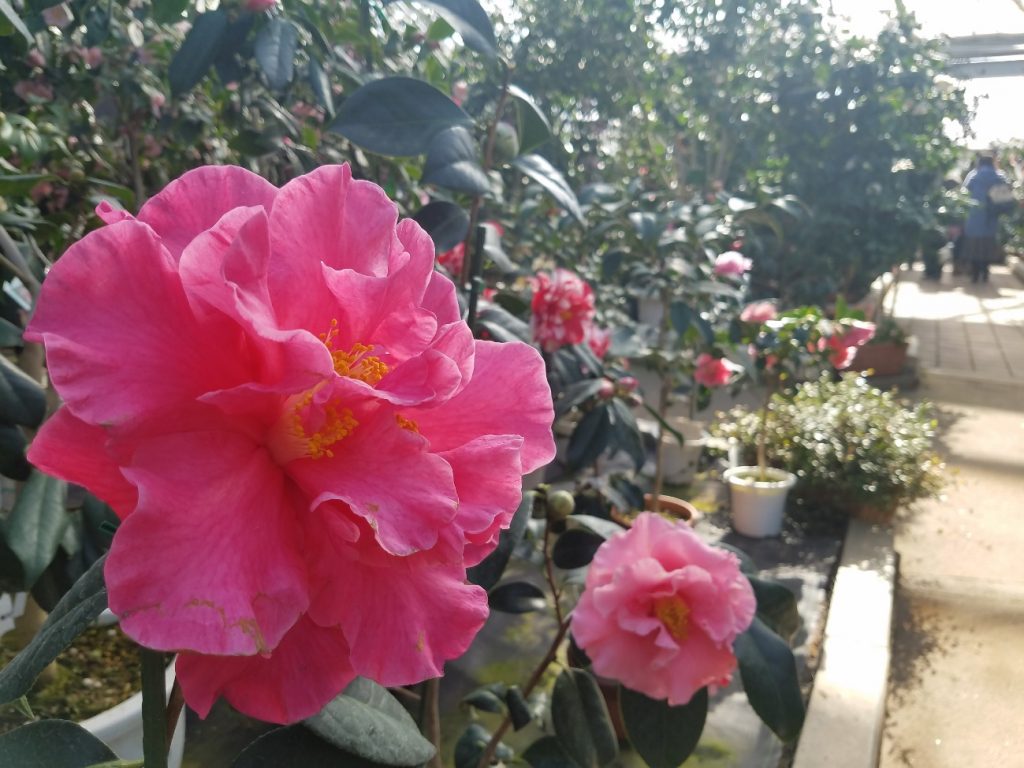 Camellia flowers are known to bloom during winter, and the wild Japanese camellia flowers in Ofunato bloom primarily from January to March. Ofunato holds the Sanriku – Ofunato Camellia Festival in in sync with the blooming season every year, at the World Camellia Museum – Goishi.
The World Camellia Museum – Goishi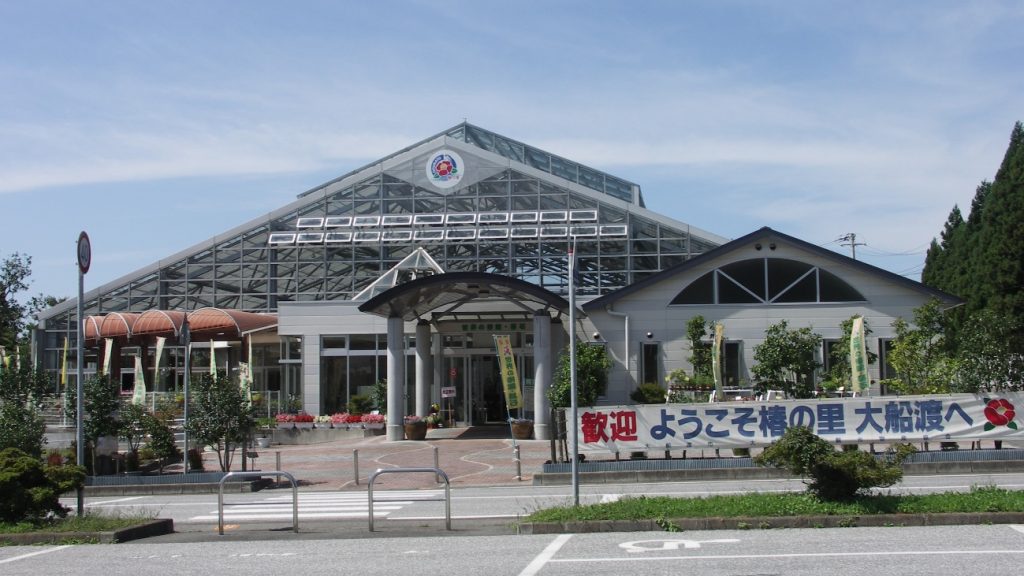 The World Camellia Museum – Goishi, is a must-see for lovers of flowers and nature. The museum grows and tends to over 550 different types of camellias, from 13 different countries. For international readers, you might just find a camellia which is native to your own home. Depending on when you visit the museum, you can see different camellias in bloom. The museum is also venue to the Sanriku – Ofunato Camellia Festival. 2020 marks the festival's 23rd year, and in 2020 the festival is being held daily from late January to late March, with special events on Sundays.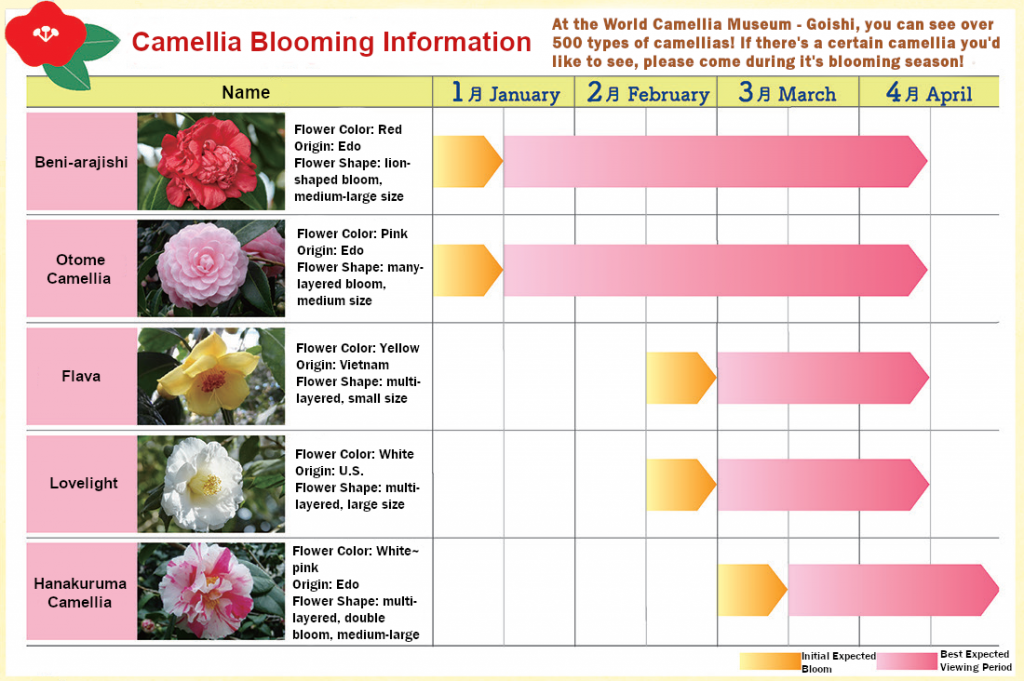 If there is a certain flower you're interested in seeing at the museum, you can use the above chart to see when it blooms. The blooming period differs depending on the type of camellia flower, making the museum a charming spot to visit multiple times throughout the winter.
The Sanriku – Ofunato Camellia Festival 
The Sanriku – Ofunato Camellia Festival is an opportunity to not only enjoy viewing the flowers inside the museum, but also to try your hand at floral workshops, and to get a taste of camellias—literally. The festival offers camellia-based treats, such as pastries baked with camellia oil, and tea made from camellia leaves. Visitors can also try Ofunato's famous camellia crepe at the festival.
Treats at the Festival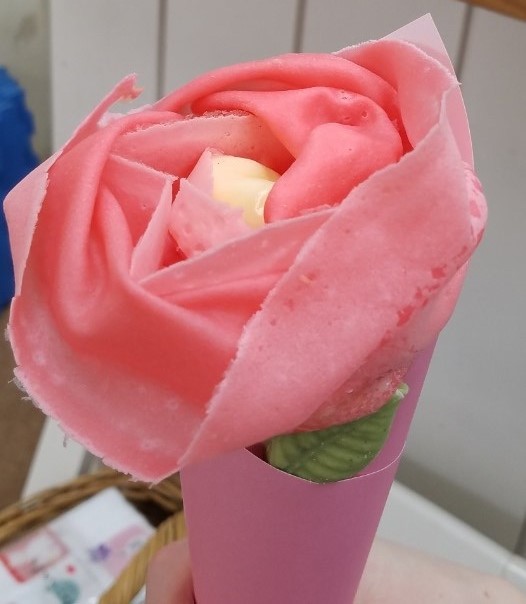 The adorable camellia crepe is made with local ingredients, and even used local seaweed to color the chocolate-made-leaf. While the chocolate leaf contains seaweed, it does not actually taste like seaweed, and it comes out to a nice semi-sweet flavor.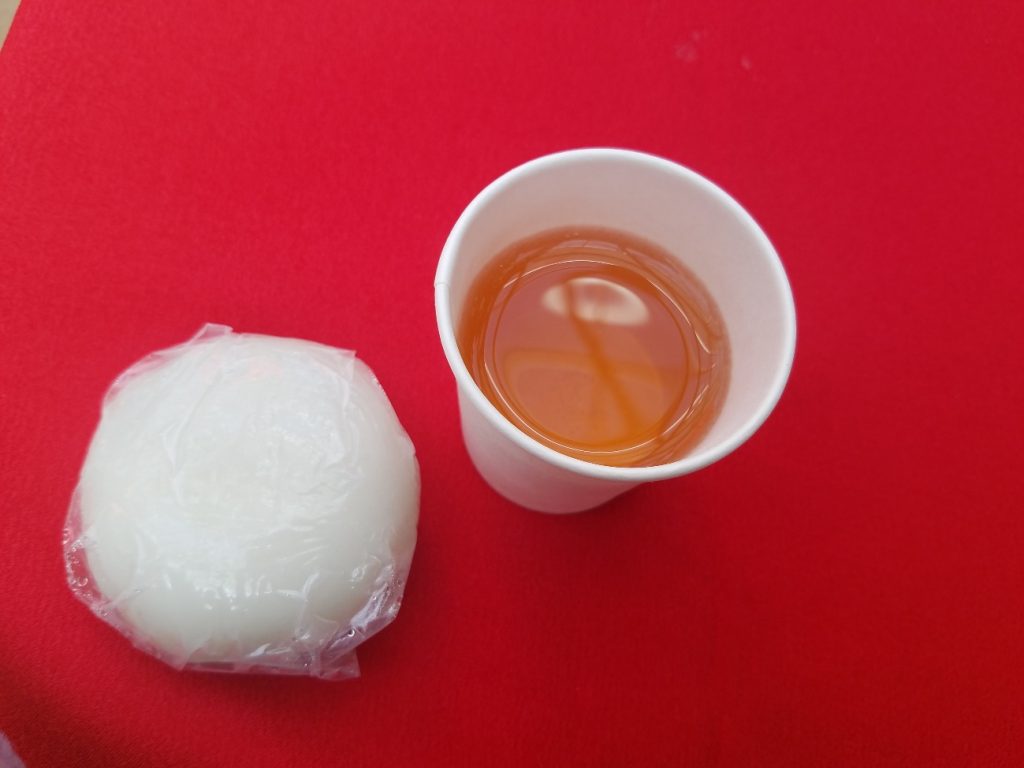 "Manju" a traditional Japanese bun with sweet red bean paste inside, served with camellia tea the festival. There are several varieties of camellia tea made in Ofunato, which are made using local camellia leaves. There are options for anyone to enjoy, as some local camellias teas are naturally sweet, whereas others have a more subtle taste.
Activities at the Festival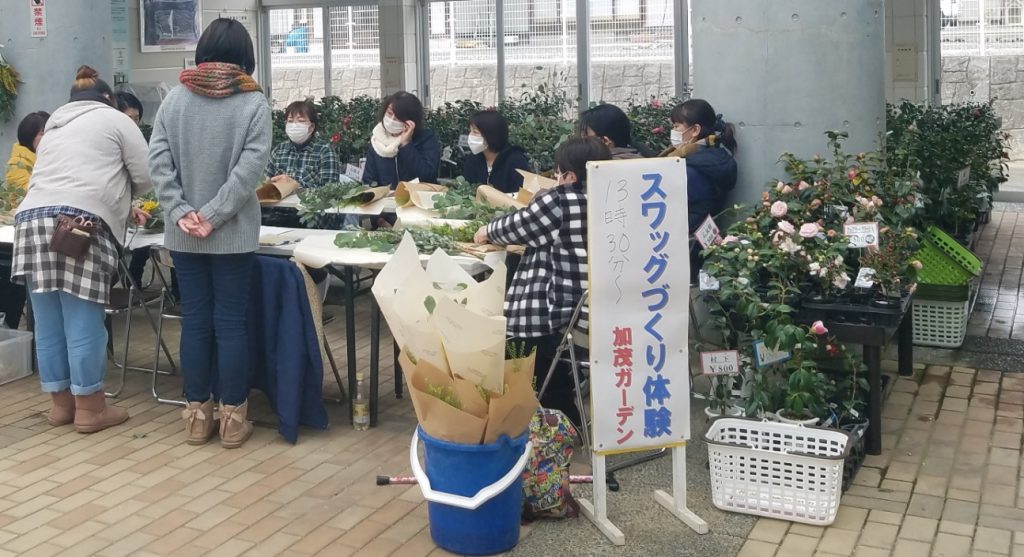 The festival also offers workshops and activities, allowing visitors to try their hand at different floral experience and crafts. An example of this is the swag-making workshop, where a teacher teaches visitors how they can make their own floral interior décor.
Teachers instruct participants how to make their own floral swags. The workshop provides the materials, and lets people make their own swags to take home, for an additional cost.
You can also make your own camellia oil from camellia seeds at the festival, to take home for free. The first step is to sift through the camellia seeds and collect a handful of them. Then, staff will show you how to put the seeds into a device for extracting their oil, and you can press down on a crank to turn them into oil. The silky oil is wonderful for applying to your skin or hair, which attests to why there are so many camellia beauty products sold throughout Japan.
Camellia oil is also delicious when used in cooking, such as for dressings or baking. However, the camellia oil you can extract yourself at the museum hasn't been tested for food safety, so it's recommended you don't use it in cooking. You can, however, purchase locally made edible camellia oil at the museum, as well as at stores around Ofunato. For those who aren't looking to make camellia-oil based treats of their own, they can also try dishes cooked with camellia oil at the festival, or purchase treats baked in camellia oil at souvenir shops around town.
Souvenirs from the Festival
Asides from the camellia treats available at the festival, the Camellia Museum also sells camellia plants and locally made floral accessories.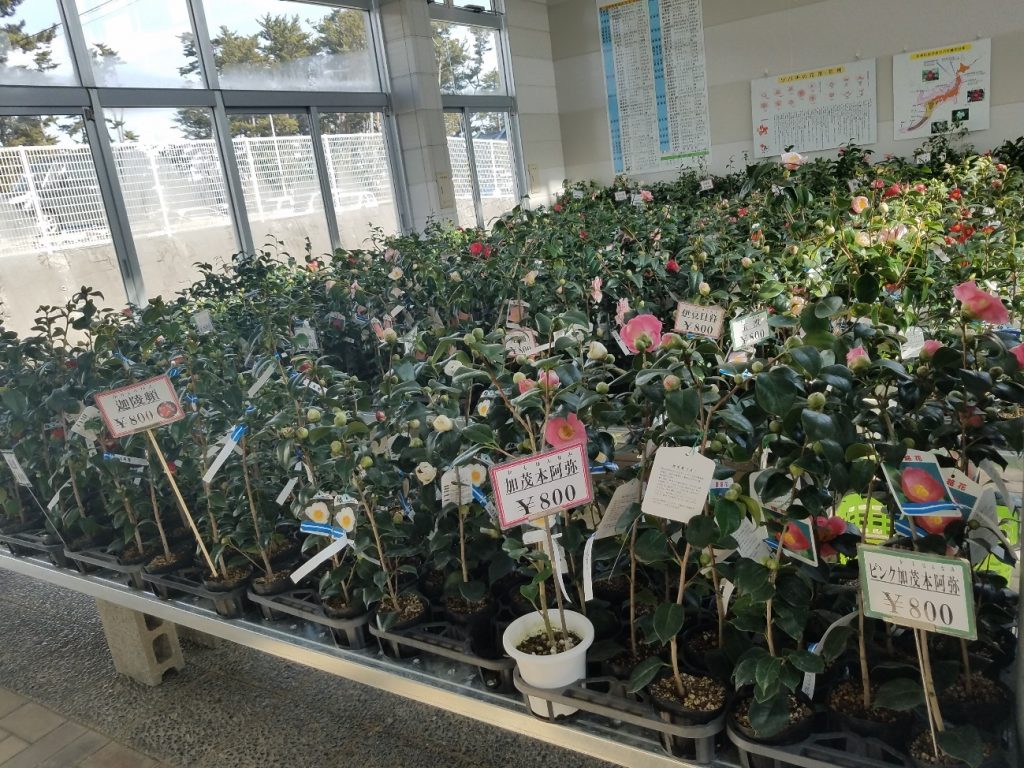 Various different camellias being sold at the camellia museum. If you find a favorite camellia at the museum, out of the over 500 types grown inside, you might just be able to buy your own pot of it to take home.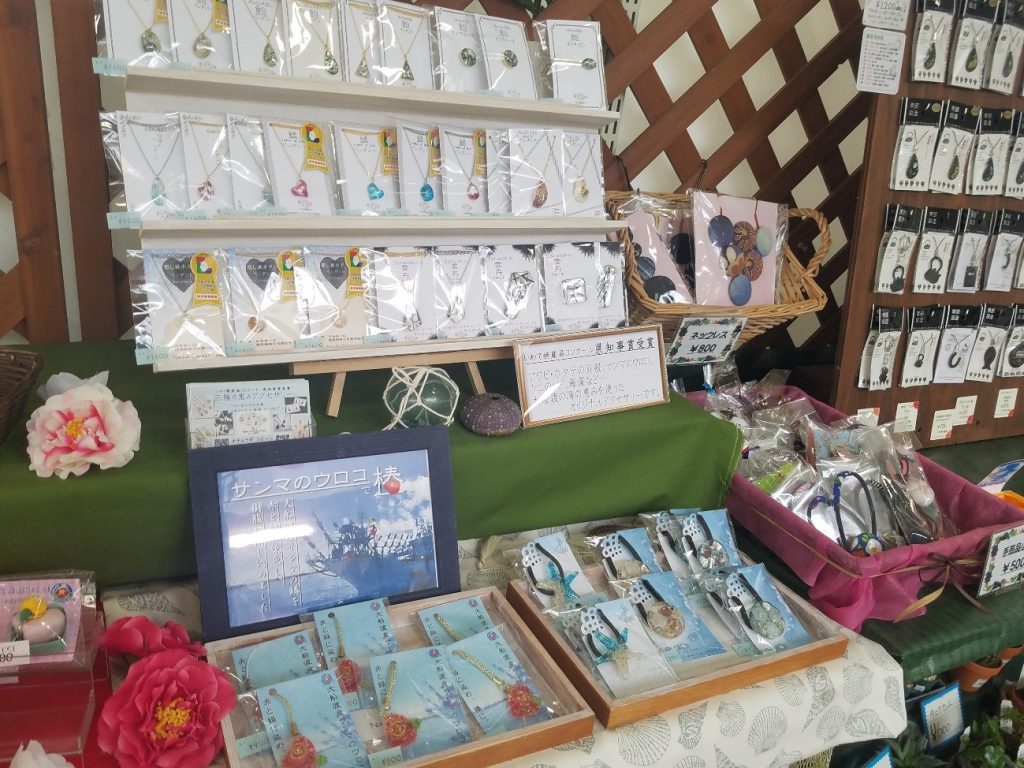 Locals around Ofunato make their own brands of camellia-inspired accessories, and many can be purchased within the Camellia Museum. Some local jewelry makers make accessories using the petals of camellia flowers, distilled inside of pendants. There are also other unique works, such as camellia-shaped pendants with red-dyed fish scales inside, promoting both Ofunato's camellias and sea-life. 
Performances and Special Appearances

If you're not looking to take anything home with you, the festival has special appearances that are sure to stick with you, such as a traditional dance performance from local nursery school children, or a visit from Ofunato's PR character, Ofunaton.
Ofunaton may look like a pig, but rumor has it that Ofunaton gets angry when someone calls him a pig. This strange creature is actually a camellia spirit—with the yellow part on his head representing the flower's bulb. Ofunaton's shape is similar to the traditional Japanese daruma doll, which automatically stands up after falling over. Ofunaton also often falls over, but he always stands right back up. This is symbolic of Ofunato, as the city has suffered great damage from the tsunami in 2011, in addition to damage from multiple tsunamis in the past. The city, however, has persevered to rebuild and recover despite the tragedies it has faced. 
Camellia Spots Outside of the Museum 
Aside from the hundreds of camellia trees grown inside of the Camellia Museum, the surrounding coastal area has wild camellias, which are perfect for enjoying along with a hike or stroll.
The Goishi Coast, where the festival venue is located at, extends for about 6 KM on the southeastern Massaki Peninsula and is famous for its islands, rock formations and nature onshore. The Camellia Garden is also located on the coast, which is a charming spot to enjoy intertwining camellias and pine trees next to the sea.
In addition to being a lovely way to see Sanriku's ria coastline, the coast is also part of the Michinoku Coastal Trail, which has been showcased on Kitakami Times, in "The Michinoku Coastal Trail opens to the public!", and "Breathtaking views at the Michinoku Coastal Trail".
One last camellia treasure nestled in Ofunato, is the "sanmentsubaki" or "triple-sided camellia", which is said to be the largest and oldest camellia tree in Japan at over 1,400 years old.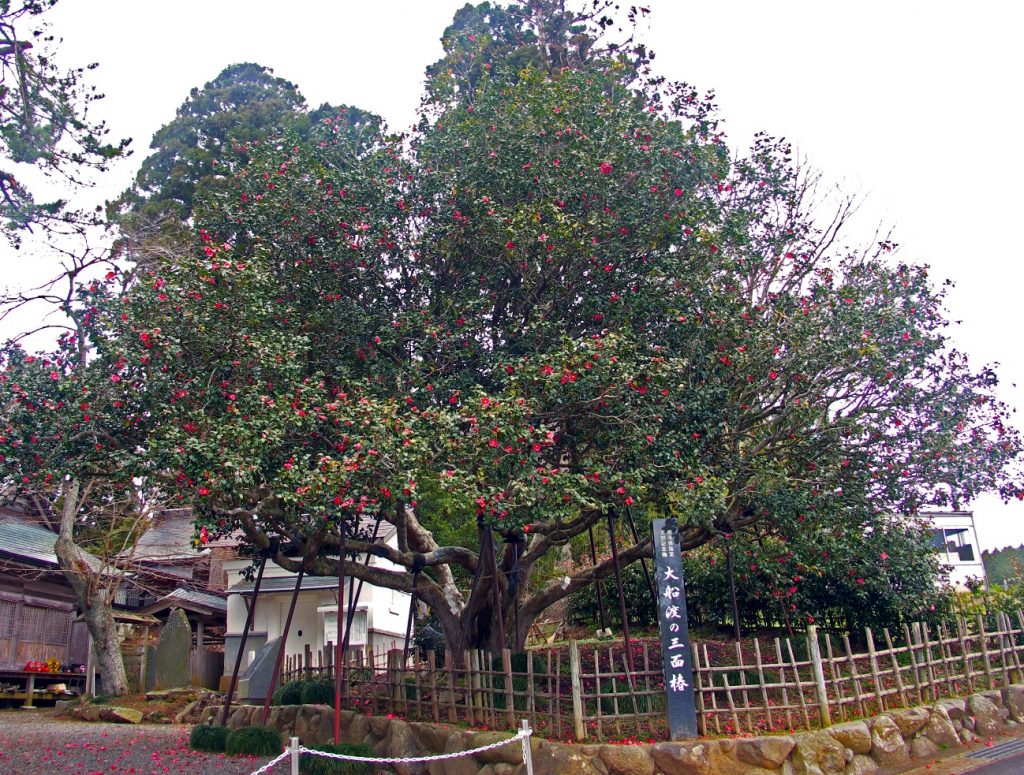 The Triple-sided Camellia, which is about a 5-minute drive from the Camellia Museum, is named so, because there were originally three camellia trees planted in the east, west and south and shrine. Of the trees, currently only the eastern camellia remains. The precious tree is located on the grounds of a Shinto shrine, and is also registered as a prefectural natural monument.
The peak viewing season for camellias in Ofunato is until the end of March. Even for some time after then, however, you can still enjoy walking on paths painted in red and pink, once the flowers have fallen. Iwate Prefecture is home to a multitude of unique and diverse flowers, whether they're along the coastline, or up in the mountains. Ofunato's camellias make for a lovely starting point to enjoy the charming nature of Iwate.
Japanese
タイトル:椿づくし!三陸の地を彩る椿の里・大船渡

椿の里:大船渡市

大船渡市は様々な海の幸と景色が豊かな多様性のある海岸で知られ、また、大船渡港がILCの建設候補地に近いため、関連資機材の荷揚げ及び輸送に使用されることが想定されています。ILCにより、思いがけない恩恵がもたらされると期待されています。
暖かい気候と潮風のおかげで、大船渡では様々な花が植生していますが、その中でも椿が有名で、いたるところに自生しています。
海岸にある椿園、「三面椿」という日本最古・最大の椿等、市内に鮮やかに咲く椿を見ると大船渡が椿を市の花にした理由が納得いただけると思います。市民が愛するこの花のために、大船渡は椿館を整備し、まつりを開催しており、地元の会社も椿を活用した色々な商品を作っています。
椿は冬に咲く花として知られ、大船渡に自生するヤブツバキは1月から3月までが見ごろになります。開花時期に合わせ、大船渡は毎年世界の椿館・碁石で三陸・大船渡つばきまつりを開催しています。

世界の椿館・碁石
[写真]
花と自然が好きな人にとって、世界の椿館・碁石は必見の施設です。館内では、13か国から550種以上の椿が育てられており、この記事を読まれている海外の読者の皆さんも、お越しになれば、自国の椿も見つかるかもしれません。来場する時期により、異なった種類の椿を見ることができます。また、椿館は三陸・大船渡つばきまつりの会場にもなっています。このまつりは2020年で23回目の開催となり、2020年の1月下旬から3月下旬まで行われており、毎週日曜日には特別なイベントが開催されています。
「写真」
上の表を見れば、(椿館の)椿各種の満開時期が分かります。椿の種類により、咲く頃が違うので、冬に何回見に行っても面白いでしょう。

[写真]
椿館の中。

三陸・大船渡つばきまつり

三陸・大船渡つばきまつりは館内で花を楽しめるだけでなく、花に関するワークショップに参加することや椿を味わうこともできます。まつりでは、椿油を使ったお菓子と椿の葉を使った椿茶も試食出来ます。ほかに、大船渡の名物であるつばきクレープも食べることができます。

まつりで食べられるお菓子

[写真]
この可愛らしいつばきクレープは地元の素材を使っており、チョコレートで作られた葉も色付けとして地元のワカメが使用されています。ワカメが入っていますが、ワカメの味がしないで、やや甘い味になっています。

[写真]
「饅頭」という、あんこが入った日本の伝統的なお菓子と椿茶。地元の椿の葉を使用し、大船渡市内で様々な椿茶が作られています。甘い椿茶もあれば、落ち着いた味の椿茶もあるので、誰でも楽しめるでしょう。

まつりでのアクティビティ

つばきまつりではワークショップやアクティビティがあるので、来場者は様々な花に関連した体験や作業ができます。
例えば、先生が花のスワッグの作り方を教えていただき、来客が花の内装を作れるイベントなどがあります。

[写真]
先生たちがスワッグ作りについて教えている様子です。ワークショップで材料が用意され、参加費を払えば、スワッグ作りを体験でき、そのまま持ち帰る事が出来ます。

[写真]
完成したスワッグの写真

まつりでは、搾油の体験も可能です。まず、椿の実を集めます。それから、スタッフから教えられたとおり、椿の実を搾油の機械に入れ、手でレバーを押すと、椿油が出てきます。椿油は肌や髪の毛に付けるとサラサラになります。使ってみると、日本で椿の美容品が大人気である理由が分かります。

[写真]
椿の実の写真

[写真]
椿の実から出てきた椿油。そのまま無料で持ち帰る事が出来ます。

まつりでのおみやげ

椿油は料理に使うととても美味しいですが、まつりで搾油された油は食用の安全が保証されていないので、食用での使用はおすすめしません。ただし、まつり会場や館内で、地元で作られている食用椿油を買うことができます。また、椿油を使った料理をまつり会場で食べることができ、市内のお土産店では椿油で焼いたお菓子も買うことができます。

お菓子のほかに、椿館で椿鉢植えや、様々な花形のアクセサリーも買えます。

[写真]
様々な椿鉢植えが館内で売られています。500種以上もある中から、自分が気に入った椿が購入できるかもしれません。

[写真]
大船渡の地元の方々が作った、椿を基にした様々なアクセサリーを館内で購入することができます。椿の花びらが入ったペンダントを使用するアクセサリーから、花の形をし、赤に染めた魚のウロコが入っているアクセサリーまで、大船渡の椿も海も紹介するようなユニークな作品があります。

上演と特別出演

何も持って帰らなくても、特別出演(の鑑賞)はきっと思い出に残るでしょう。特に、大船渡市のゆるキャラ「おおふなトン」と、地元の保育園の子供たちの踊りを見れば、きっと感動するでしょう。

[写真]
地元の保育園の子供たちが「七福神」という伝統な踊り芝居をしている様子です。

[写真]
筆者(左)と大船渡市のゆるキャラ「おおふなトン」。おおふなトンは豚に見えるかもしれませんが、豚と言われると怒るらしいです。本当は、椿の妖精で、頭の部分は椿の花だそうです。おおふなトンの形は達磨という日本の伝統的な人形に似ています。達磨の特徴は何回転んでも起き上がる事で、おおふなトンも、よく転びますがよく起き上がります。これは大船渡が東日本大震災で受けたダメージから、復興し立ち直ることを表しています。

椿館以外の椿スポット

椿館で育てられている数百本の椿のほかに、周辺で自生している椿がたくさんあり、散歩やハイキングとともに楽しめます。

つばきまつりの会場の周辺にある碁石海岸は末崎半島東南端約6キロメートルの海岸線で島、岩等が有名です。海岸にある椿園は、海のそばに松と椿を楽しめる魅力的な場所となっています。

三陸のリアス海岸沿いに臨む碁石海岸遊歩道はみちのく潮風トレイルの一部にもなっています。みちのく潮風トレイルは「景色を誇るみちのく潮風トレイル」と「みちのく潮風トレイル、ついに完成」で以前KITAKAMI TIMESでも紹介されました。

[写真]
碁石海岸にある「乱暴谷」。椿館から五分ほど歩けば行けます。

[写真]
碁石海岸にある椿園。

最後に大船渡でもう1か所の椿の宝があります。そこは「三面椿」という樹齢1,400年以上の日本最古・最大の椿になります。

[写真]
三面椿は椿館から車で五分程のところにあります。なぜ三面椿という名前になっているかと思うかもしれませんが、この大切な木は神社の中にあり、神社の社殿の東、西、南の三面に植えられたもので、そのうち現在残っている東の椿が、岩手県の天然記念物に指定されています。

大船渡の椿の見ごろは3月の終わりまでとなっています。その後もしばらくは、椿が落ちた頃に赤とピンクに染まった道を歩く事が楽しめます。岩手県は、海岸沿いにも山にも様々な特別な花があります。大船渡の椿を始め、岩手県の自然の魅力を楽しんではいかがでしょうか。