(Written by Morioka City, translated by Amanda Wayama)
Spring is the season in Japan for both goodbyes, and hellos. The dividing line between March and April (the start of Japan's fiscal year) is where many greetings and farewells can be found.
In April, children graduate to the next school year. Children who cried at their pre-school graduation in March enter April proud of their shiny brand-new backpacks, walking on their own to their new elementary school. Elementary school students graduate to middle school; middle schools graduate to high school; high schools graduate to become university students or new workers. This is the season for change. Many people will say goodbye to the environment where they were raised, to go on to a new field of growth and development.
Even adults still see spring as a time for hellos and goodbyes. In many companies, personnel transfers happen in April, and some might even be transferred to another office in another town.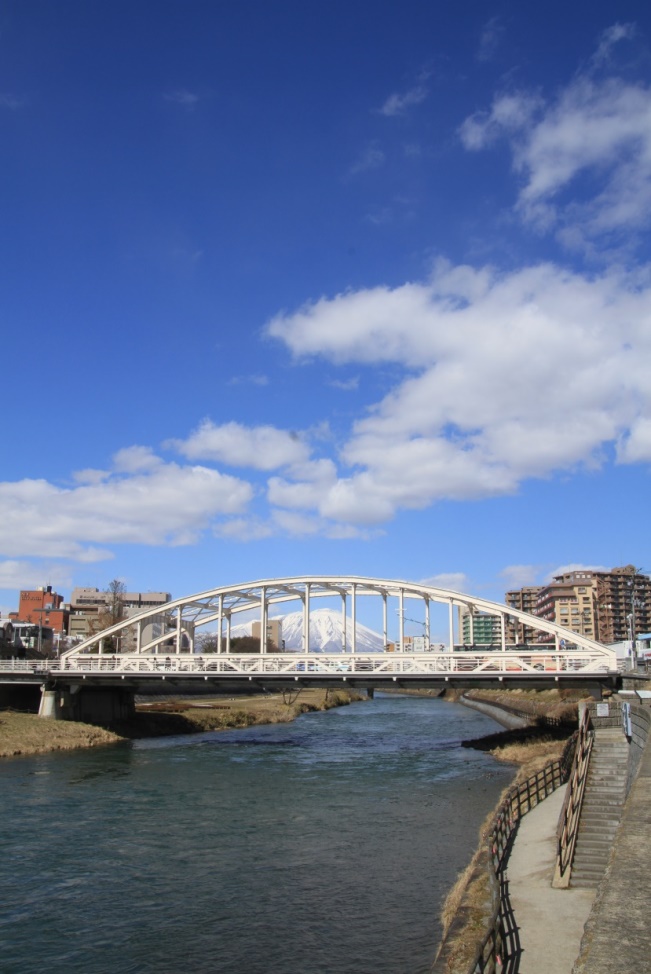 There is a bridge that crosses over the Kitakami River near Morioka Station called Kaiunbashi Bridge. Day and night, many commuters and students cross this bridge. Kaiunbashi means "Bridge to Open Up Your Destiny" in Japanese, but it's sometimes called another name: "The Bridge of Two Cries." They say it comes from families who have had to move up here from Tokyo due to a work transfer. When they first visit Morioka, they cry, "I'm in a place so far away!" But in their time here, they'll have been so moved by the kind people, the beautiful nature, and the delicious food that when they leave Morioka, it drives them to tears again.
When you look upstream from the bridge, you'll see the majestic Mount Iwate in the distance – this is a classic view that truly represents Morioka.
In Japan, the flowers of the cherry blossom tree represent spring and its various comings and goings. You'll think these flowers bloom so gorgeously, almost like they're celebrating the season of graduations and new beginnings, and right before your eyes, they'll flutter from the tree to the ground.
However, in Morioka, the cherry blossoms don't actually bloom in March. Cherry blossoms line the Japanese archipelago from north to south, and the cherry blossoms in Morioka bloom from April to May – almost as if they're trying to give courage to people working hard to overcome the challenges in their new life.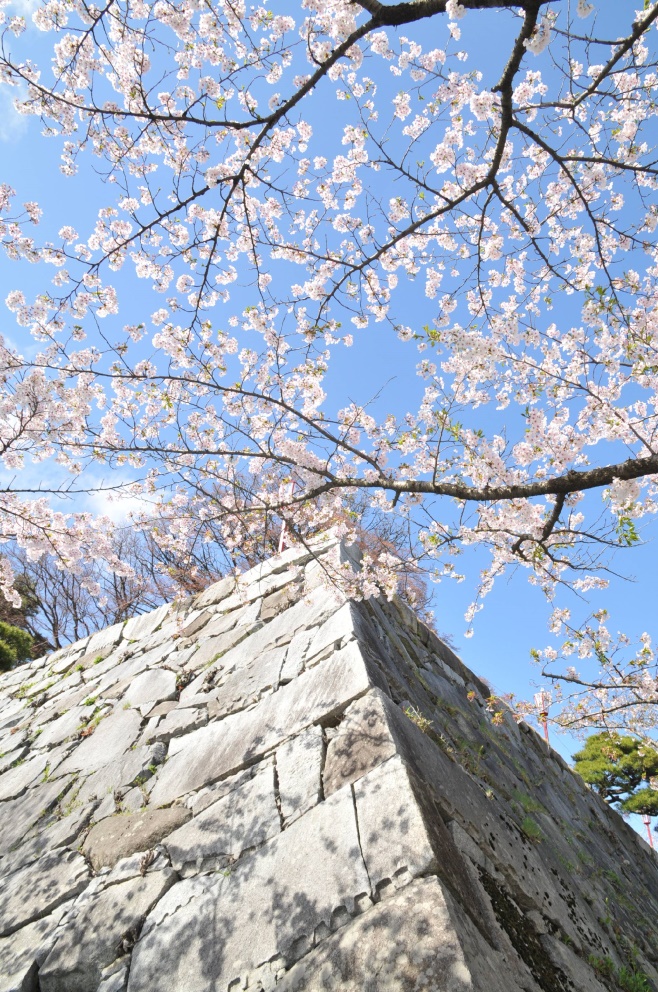 In Morioka Castle Park, rock walls remain from the feudal samurai period. Those walls are surrounded by cherry blossoms in full bloom, and the park fills up with the merriment of people who have waited so long for spring.
Japanese
もりおかの桜

春は別れと出会いの季節。
3月から4月への変わり目には,多くの別れと出会いが生まれます。

日本では、4月に進級します。
3月に涙ながらに幼稚園を卒業した子どもたちは、4月になると真新しいランドセルを誇らしげに背負って、自らの足で歩いて小学校へ通い始めます。
小学校を卒業して中学生に、中学校を卒業して高校生に、高等学校を卒業して社会人や大学生になるのもこの季節。
多くの人はこれまで育ってきた環境に別れを告げて、新たな成長のフィールドに飛び出します。
大人になっても,春が別れと出会いの季節であることは変わりません。
会社内で別の部署に異動することもあれば,転勤で別の町に引っ越すこともあります。

【写真】

盛岡駅前の北上川に架かる開運橋を、朝夕、大勢の通勤・通学者が渡ります。
開運橋は別名「二度泣き橋」と呼ばれています。
東京などからの転勤族の間で語られたのがその由来。
初めて盛岡を訪れたとき,「遠い所まで来てしまった」と泣き、盛岡を去る時には、人情に厚く、豊かな自然や食べ物に恵まれた盛岡での暮らしを思って再び泣くというもの。
橋の上流方向には岩手山がそびえ,盛岡を象徴する風景の一つになっています。

日本で、別れと出会いの春を象徴するのが,桜の花です。
卒業のシーズン、新たな出発を祝うかのように豪華に咲きそろったかと思うと、名残惜しくもあっさりと散ってしまう桜の花ですが、実は盛岡では3月には咲きません。
桜前線が日本列島を北上し、盛岡では4月から5月にかけて満開となります
まるで、新たな挑戦に挑む人を勇気づけるように。

【写真】

江戸時代の石垣が残る盛岡城跡公園では、満開の桜の花に包まれ、待ちわびた春を言祝ぐ人々でいっぱいになります。